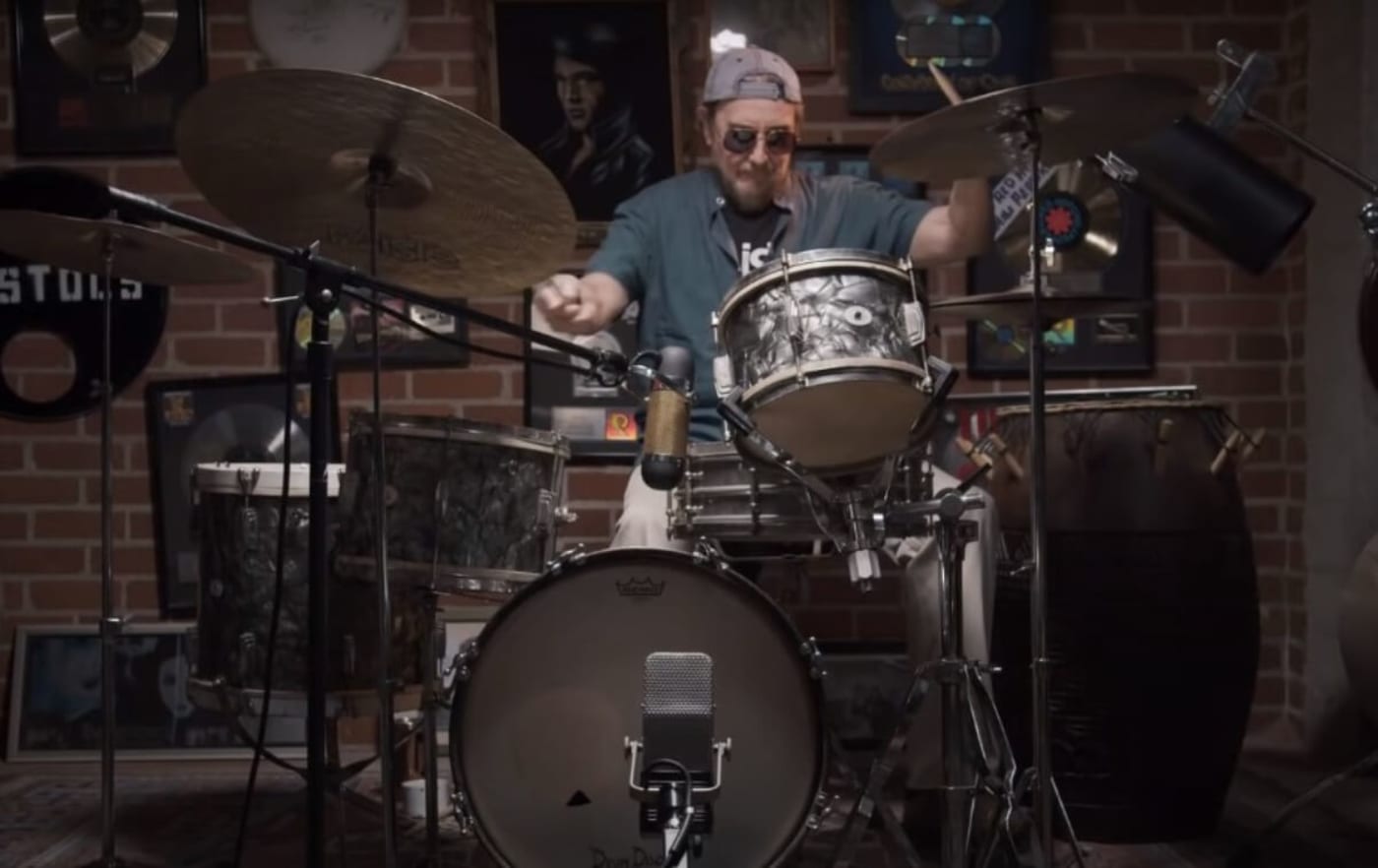 What do Jim Keltner, Ringo Starr, Steve Gadd, Jonathan Moffett and Nandi Bushell have in common?
They're five of over 100 notable drummers who recently participated in the most epic, varied, and engaging arrangement of The Beatles' "Come Together" you've ever heard. Immortalized in a fundraiser video called Drum Together featuring dozens of familiar faces, drum solos, jazz sections and more, what better way to mobilize the community to take action than by inspiring music-lovers to come together?
Organized by none other than Dom Famularo and award-winning-musician-turned-lawyer Brian Resnick, the video now has over 135,000 views and the aim is to raise $100,000 for WhyHunger. The nonprofit promises that 90% of donations go directly to program work like supporting community initiatives and grassroots movements that improve access to food.
Legendary session drummer Jim Keltner is one of the first faces you see in the video. He's appeared on hundreds of records, worked extensively with Ringo Starr, John Lennon and George Harrison, and has achieved a major legacy in the music industry.
His connection to The Beatles makes him a frontrunner for a cover like this, and the fact that the three first drummers in the video are all linked to Ringo's career – Jim, Gregg Bissonette, and Ringo himself – is no coincidence.
"We all can agree that no kid should be hungry, and everyone should have access to nutritious food. This is a great cause that I've supported in the past and a great track – one of my favorite Beatles songs. So when Jim Keltner asked me to join all these other drummers I was happy to," said Ringo.
Harry Chapin, the late son of Jim Chapin, co-founded WhyHunger in 1975 and coincidentally Jim Keltner tracked drums for Harry Chapin back in the day.
We chatted about how Jim got involved with the Drum Together campaign and why the drumming community is so special.
How did you get involved in the video?
I got a call from Dom. He has a real special talent for talking with people and building things like this. It was Ringo's idea to open up the video playing the bass drum part. He said "you can do the other bits" and I said "okay, I'll do the hi-hat and let Gregg [Bissonette] do the tom". Ringo had said he didn't want to do the toms – that would almost be sacrilege for him; he did it that one time on the actual record and that's it.
Gregg told me that if I wanted to play more they'd send me a chart. I got booked right around that time, which is crazy because I hadn't done anything for so long. Back in the day – pre-pandemic – a week would go by and then you'd work again. Now it's months. But as it usually works in my life, I get busy doing something. The thought of sitting down in my room with a chart and putting my iPhone up there or having an engineer come over…I couldn't put that kind of time into it, which was unfortunate, really. If I had known it was going to be that cool, I would've taken the time to do it. Ringo said he would've liked to come back each time it came back to the head of the song with the bass drum.
He called after he saw the video and said "man, I should've played some more!" Whoever put it together and edited it did a fantastic job. A couple of friends of mine who are real purists were upset that they did that to "Come Together" and they're missing the point. I thought it was really well done. I didn't recognize a lot of the drummers but they're just all so badass. You know, really, really great chops. It always thrills me as a drummer to see how advanced somebody can be and how advanced they can take the art of our drumming language.
Have you participated in similar initiatives in the past?
Not really – not since [The Concert For] Bangladesh. I'm sure there have been a few little things here and there. This one was spectacular. I think it's a good thing for anybody in the music business or who's got a platform to do. I think it's important for us to jump on board for really great causes. There's so much that we need to do. You really need people that are passionate and resourceful to get that kind of thing going.
Do you think drummers have a leg up when it comes to mobilizing the community for a cause? Is there something about our community or what we do that inspires people to take action?
Every drummer I've ever met seems to have a real sweetness to their demeanor. We're a gentle kind of people.
What I've always loved about our little community is something I used to say jokingly, but there may be something to it: My theory is because we beat the shit out of the drums, there's no need for us to be that way in life as people. All my drummer friends, we have that in common. I think we have a special community. Guitar guys are not like that.
I have always enjoyed meeting drummers, whether they're amateur guys doing it for the fun of it with drums in the basement, or all the top pros – amazing guys and my heroes and all that. But I especially love meeting the drummers that play for the fun of it. Because I remember what that was like. It's still fun for me, but when there are no high stakes involved, that's just a wonderful thing. I would love to have more time to myself with my drums.
What have you been focusing on since 2020? How have you kept moving forward during these strange times?
When all of this started happening, I had the idea that this was the time for me to work on my music. "This is going to be great. I'm going to be in my room, and make things work that I haven't done in a long time." That was my goal.
Time went by and I realized that I hadn't done any of the things that I planned to do. What had I done? One thing that I don't regret – but it did take up all my time – was I got really healthy. My wife is a great cook and she started experimenting with stuff. We both lost a lot of weight and I was shocked. For me, the biggest sacrifice was giving up the sweet stuff that I love. After you've eaten a nice healthy meal, who doesn't look forward to a wonderful piece of key lime pie? Instead, I'll have a fresh apricot – cut it in half and really savor it.
I was going to donate all these nice clothes I couldn't fit anymore – but now I can fit in them! I put on a pair of my 1971 jeans with all the patches and holes (that was embarrassing for my wife because nobody was doing that back then). I couldn't bear to throw them away. But I got right into them a few weeks ago!
There were positive things I did. Unfortunately, it wasn't the music. My beautiful music room is a mess; it became the place where I stashed everything. So now my next venture will be to clean out the music room and make my way to the computer, turn on all my microphones, and start recording myself which is one of my favorite things in the world.
As far as working, the workload is tremendously down, which hasn't been a bad thing for somebody like myself. It's all I've done all my life, at least three or four times a week, so a nice break like this was okay. The few sessions that I have done have been really fun.
I just love playing with great musicians. All you drummers out there, try to play with the best guys you can because that will improve your playing. That's what happened to me. I got really fortunate early on and everybody that I played with was so much better than me. That helped me to get more musical and connect with the actual drums. It's one thing to learn the details and the rudiments and the technical things about the instrument, but the music inside you is the most important part. That is what's going to improve and really blossom the more you play with people who you consider better than you.
I love the idea of people starting a band because you never know what might happen. That's exactly what happened with The Beatles, The Rolling Stones. We're talking ancient times here now, but those two bands still are the template for everything that we hear today.
It's great that we can still make music in times like these. Even so, the pandemic has made things even more challenging for people who were already struggling to put food on the table.
It's tough out there right now. I have such a love for my country. I love Los Angeles, New York, Texas, Louisiana, Oklahoma where I was born…and who doesn't love New Orleans? I spent a lot of time in the swamps in Louisiana living with my aunt and uncle when I was just a little kid and there's just magic in all the places that I've been around this country. It breaks my heart to see the division amongst all of us now. Everybody has an opinion but nobody really has the answer. I wish there was something we could do to bring us all together and realize that we are one.
You read about things going on around the rest of the world and you can't help but feel fortunate to be here. We could've been born in some little village in a poor area of the world with not enough food. That could've been us. I just feel very grateful.
Check out the WhyHunger video and think about sending a few bucks in. It's a really good cause. Think of people who are suffering compared to the way we live. Things may be rough for a lot of people here, especially because of the pandemic, but we don't have it nearly as badly as people in other countries.
It's so heartbreaking to me to see Haitians going through what they're going through. They live in this beautiful area of the world and have such problems with the leadership. And then to make matters worse, to have a devastating earthquake…it's just heartbreaking. Everybody needs help all around the world. There are so many needs and this is one of them. Hunger is a serious one. Take that into consideration.
---
The pandemic has had a dramatic impact on hunger and poverty rates across the globe, exposing just how many millions of people are struggling to make ends meet. From underlying issues of social and racial injustice to the lack of true living wages, the need for resources and investment in systemic change has been magnified.
"When it comes to impactful compositions, "Come Together" is at the top of the list. It was the perfect song to galvanize this community for such a critical cause," said Dom Famularo. "Our hope is that WhyHunger's Drum Together becomes the soundtrack for justice as we strive with one beat and one mission to end hunger."
How many drummers can you recognize in this epic video collaboration?
Alan White
Alex Acuña
Andrew Marshall
Angela Nelson
Anton Fig
Bill Burr
Bill Stewart
Billy Amendola
Bobby Sanbria
Brian Resnick
Brit Turner
Chad Smith
Cherisse Osei
Christian Euman
Clayton Cameron
Dame Evelyn Glennie
Daniel Druckman
Danny & Beth Gottlieb
Dave Weckl
David Rozenblatt
Debbi Peterson
Dom Moio
Fred Dinkins
Gary Seligson
Gerry Brown
Gregg Field
Gregg Potter
Howard Fields
Jack DeJohnette
Jeff Hamilton
Jerry Marotta
Jim Keltner
Joe Bergamini
Joel Rosenblatt
John Riley
John Roberts
John Robinson
Jon Fishman
Joseph Pereira
Jules Radino
Kenny Aronoff
Larry Lelli
Liberty DeVitto
Luis Conte
Mark Schulman
Matt Cameron
Matthew Strauss
Max Weinberg
Meytal Cohen
Michael Blair
Mike Portnoy
Mona Tavakoli
Nandi Bushell
Nic Collins
Nicko McBrain
Pablo Rieppi
Pedrito Martinez
Pete Lockett
Ralph Humphrey
Ray Brinker
Ray Luzier
Rod Morgenstein
Roxan Jurkevich
Shawn Pelton
Sherrie Maricle
Simon Kirke
Steve Gadd
Steve Jordan
Stewart Copeland
Valerie Naranjo
Vinnie Colaiuta
Virgil Donati
WhyHunger's Drum Together is made possible with the generous support from SONY and Apple Corps, and with sponsorship from Davis Polk, Cindy and Tom Secunda. Drum Together was arranged and co-produced by Randy Waldman; directed, edited and produced by Dakota Lupo and audio engineered and co-produced by Russ Miller.
To learn more about this initiative and the organization behind it, check out WhyHunger.org/drum.
Feature Image: Off The Record Vol. 3 – Ross Garfield's Jim Keltner Interview
SHARE THIS: