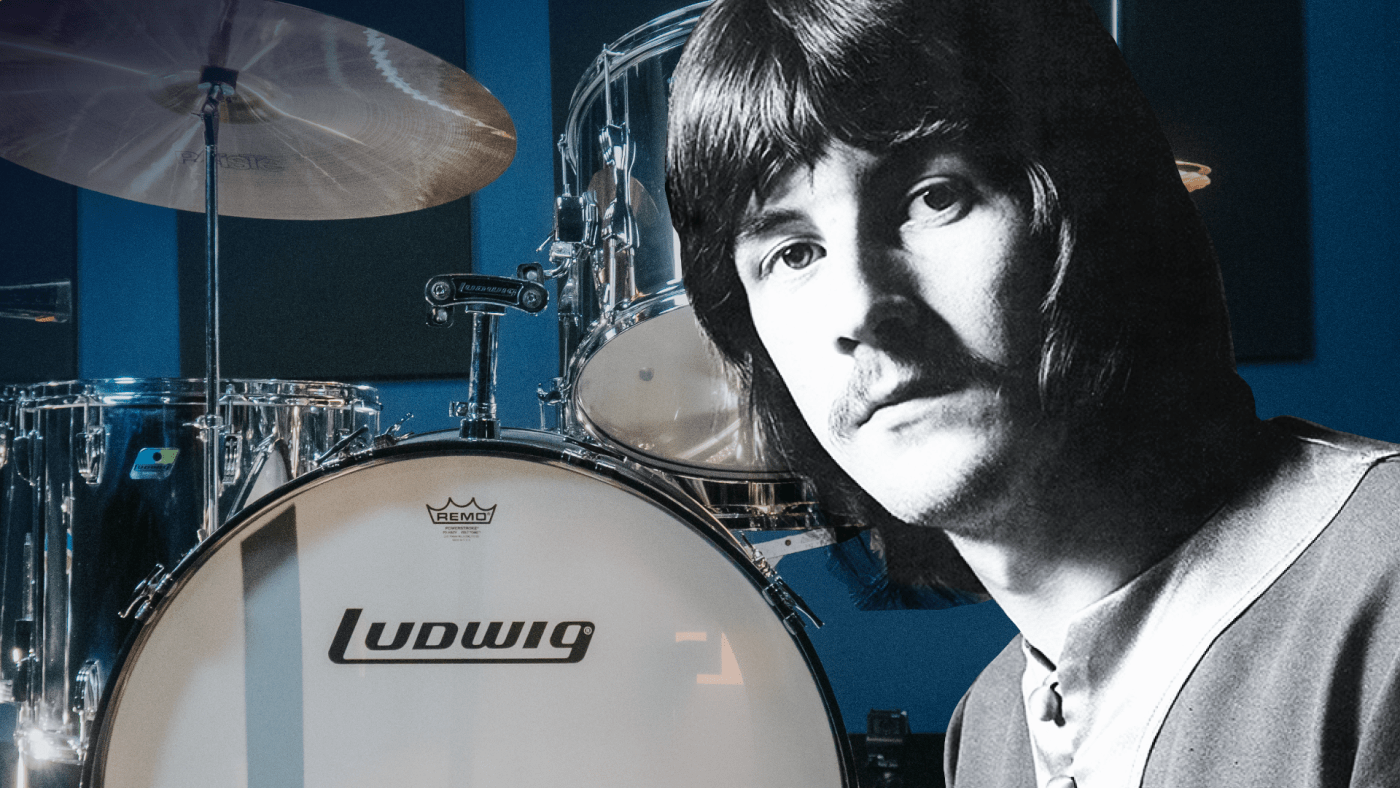 "It's not what you are, it's what you're playing."
Led Zeppelin's John Bonham was one of the greatest rock drummers in history. Known to fans as "Bonzo", his power and energy behind the kit were unmatched.
Here are 5 reasons why Led Zeppelin's stick wielder was a relentless dynamo.
1. Powerful playing
'Powerful drumming' is synonymous with Bonham. It's especially obvious in songs like "Dazed And Confused", "Rock And Roll" and "In My Time Of Dying".
Check out the intro groove on "Rock And Roll":
And then there's the shots and drum fills after the solo in "In My Time Of Dying", the intro of "Achilles' Last Stand", and the drum fill in "Dazed And Confused" where it transitions into the main 12/8 groove:
Don't get us wrong, though: Bonham wasn't just about playing heavy. He still had discipline and gave the music what it needed, whether it was a booming tom part or something more nuanced.
For example, check out how he transitions from the verse to the chorus in "What Is And What Should Never Be." He starts light on the ride with a cross stick and moves into a louder, driving groove.
2. Unprecedented bass drum work
Within 10 bars of Led Zeppelin's debut album, fans heard Bonham's awesome bass drum work in "Good Times Bad Times". This type of playing set him apart from other rock drummers of his time and double strokes on the kick quickly became part of his signature sound.
If you read drum music, here's the notation for that part:
You can also hear Bonham's legendary work on tracks like "Out On The Tiles", "Since I've Been Loving You", "Kashmir" and "Black Dog".
If you're looking for even more examples of his bass drum proficiency, check out these songs:
"Communication Breakdown"
"Heartbreaker"
"All My Love"
"Out On The Tiles"
"The Wanton Song"
3. An Undeniable Feel
Bonham had a distinctive laid back feel. Influenced by genres like jazz and blues, Bonham leaned heavily into triplets like Joe Morello, Buddy Rich, Gene Krupa and Max Roach.
Listen to how he infused his relaxed feel into "The Lemon Song", or the shots at end of the first chorus in "Out On The Tiles".
One reason his time feel was so incredible is because he wasn't metronomically perfect. He could push and pull depending on what the music called for.
You can also hear awesome syncopated hi-hat work on tracks like "Houses Of The Holy", "In Through The Out Door", "The Crunge" and "Fool In The Rain".
4. Recognizable drum grooves
Bonham undeniably created melodic beats and fills that even non-drummers can recognize, like "Rock And Roll" and "Immigrant Song".
And of course, there's "Whole Lotta Love", "The Ocean" and "Kashmir".
Learn Your Favorite Drum Parts
Get one step closer to Bonham and other legendary drummers with this
free pack of 40 drumming anthems.
You'll get note-for-note sheet music and handy playback tools so you can slow it down, loop sections, and reach your drumming goals faster.

5. Intense drum solos
As legendary as he is now, he only released two drum solo recordings during his life, which was tragically cut short at the age of 32. These were "Moby Dick" and "Bonzo's Montreux".
But every solo he played was a work of art and featured different textures, dynamics, spontaneity, creativity and technical prowess.
During each live show, Bonham would take a 15-30 minute solo while the rest of the band took a break. While they all had a similar framework, the solo sounded different every night.
He'd typically start by hand drumming on the kit, followed by congas, timpani work and even hits on the gong before busting into absolute fury around the toms.
One thing's for sure: no Bonham solo was complete without his signature triplets, leading with his left hand:
He'd often play them as crossovers around the kit, with sticking like this:
He'd often turn the triplet into a four-note grouping (LRLK), also known as the 'bucket-of-fish' lick, which he sometimes worked into a three-beat phrase. Here's an example taken from the song "No Quarter":
(Learn how to improve your triplets in this full drum lesson)
From playing with two sticks in each hand in "Four Sticks" to timpani work in the intro of "In The Evening", he really was one of a kind.
John Bonham redefined what it meant to be a rock drummer. If you still don't think he was a drumming genius, well, that's okay. We forgive you.
But if you love Bonzo as much as we do, you should check out this article next: 9 Bonham Grooves Every Drummer Should Know
SHARE THIS: