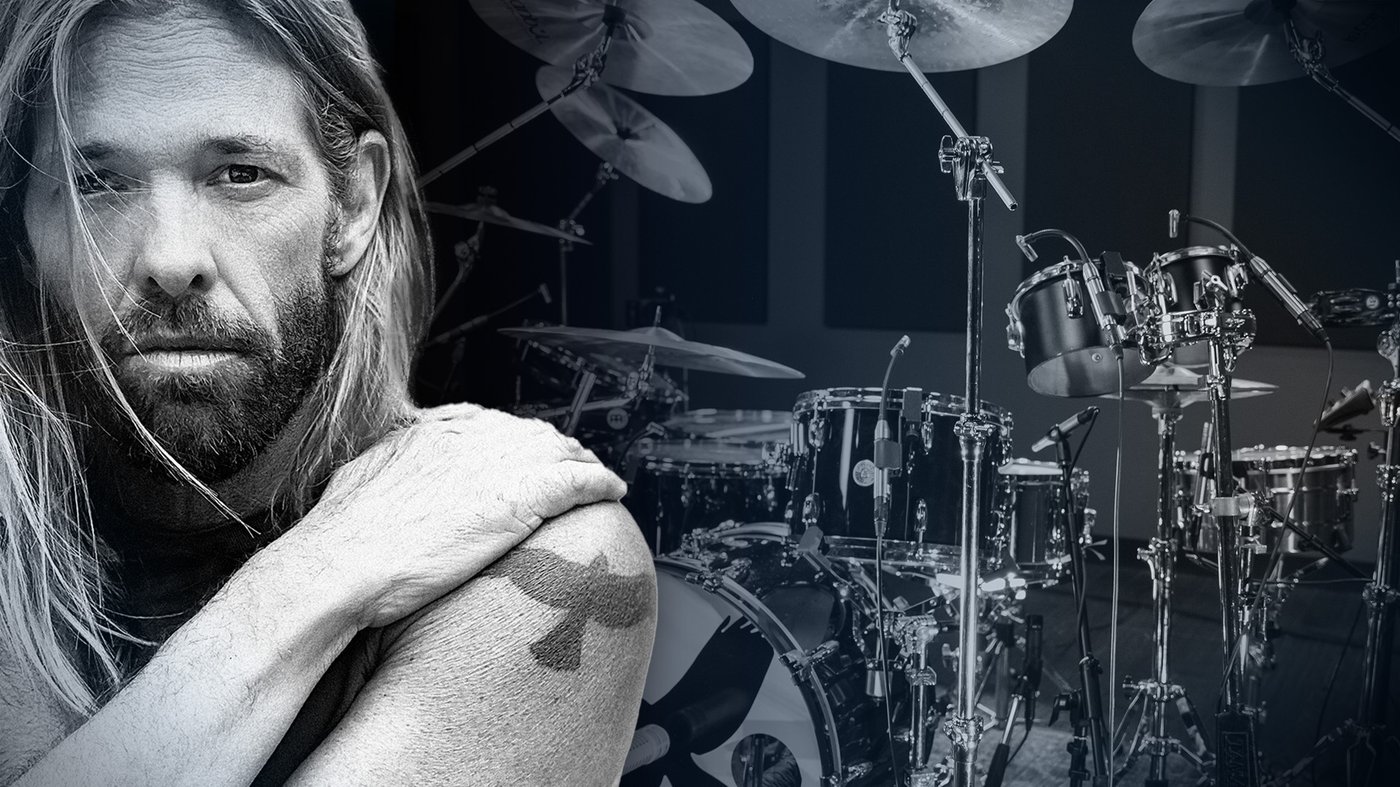 "What's it like being the drummer for one of the greatest drummers of the '90s?"
"Intimidating," said Foo Fighters drummer Taylor Hawkins.
But once he found his footing, Taylor become more than just 'Dave Grohl's drummer' – he became an icon and one of the top rock drummers of all time.
His power and energy were unmistakable. You can't get bored watching him play. He developed his signature style from influences like Roger Taylor, Neil Peart, Phil Collins, Alex Van Halen and Stewart Copeland. These influences came through in his fills and beats and even made their way onto his kit in the form of rototoms and concert toms.
He may no longer be with us, but Hawkins' enthusiasm and love for music will live on forever. And those are only a few of the reasons why we want to profile him here.
Watch the video above to find out exactly why Taylor Hawkins was our hero. And keep reading to get the drum music for some of his most iconic drum parts.
Table of Contents
Taylor Hawkins Drum Beats
Whether it's developing and expanding on one groove idea (like "Something For Nothing" by Foo Fighters) or writing drum parts that made perfect musical sense (like "I Got Some Not Being Around You To Do Today" from his 2016 solo record), Hawkins had a way of making sure his beats fit the song.
"All My Life" – Foo Fighters
Check out that offbeat bell pattern.
"Generator" – Foo Fighters
The drumming in this song resembles some of Stewart Copeland's parts on "Message In A Bottle" and "Synchronicity II" – and while it's not 100% confirmed that Hawkins recorded drums for this track, the style, grooves and fills have his trademark all over them.
"The Pretender" – Foo Fighters
If you're a Foo Fighters fan and you heard the verse kick/snare pattern by itself, you'd probably know exactly what song it was from.
"You Learn" – Alanis Morissette
Before joining the Foo Fighters, Hawkins worked with artists like Sass Jordan and Alanis Morissette.
Check out how he adapted the recorded/programmed drum parts in these two Alanis Morissette hits to something more 'drummy' live:
"You Oughta Know" – Alanis Morissette
"Rope" – Foo Fighters
Hawkins' syncopated bell patterns and tom grooves pay a nod to heroes like Stewart Copeland and Neil Peart while making the patterns his own. You can really hear his influences in songs like "Rope", which has a similar ride groove as the one from Rush's "The Spirit Of Radio".
"Aurora" – Foo Fighters
According to Hawkins, "Aurora" was his favorite Foo Fighters song, and the first drum track he ever did with the band that he really took pride in.
"Low" – Foo Fighters
This tom and snare groove is one of Taylor Hawkins' unmistakeable patterns.
"Times Like These" – Foo Fighters
It may be simple, but it's very recognizable!
"Louise" – Taylor Hawkins & The Coattail Riders
Hawkins wasn't just a 4/4, meat-and-potatoes kind of drummer. He got to use more of his odd time chops with his own band, Taylor Hawkins & The Coattail Riders, in songs like "Louise" and "Get Up I Want To Get Down".
"The Running Free" – Coheed And Cambria
Many don't realize this, but Hawkins played drums on this recording.
Taylor Hawkins Drum Intros
One of his biggest strengths was creating memorable intro parts that made a statement on the drums:
"Bridge Burning" – Foo Fighters
This track has an intense driving snare groove with crash accents.
"In Your Honor" – Foo Fighters
"In Your Honor" has a powerful drum entrance that goes heavy on the toms.
Hawkins left his mark on every song his recorded, especially the ones that called for an epic drum intro. Listen to "It's Over" and "Walking Away" by Taylor Hawkins & The Coattail Riders for even more examples.
Taylor Hawkins Drum Fills
It'd take hours to go through every single one of his best drum fills. So here are the most iconic:
"Rope" – Foo Fighters
As a huge Neil Peart fan, it's no surprise that this entire track is full of 'Neilisms', including some structural nods to Rush's "YYZ".
"Dear Rosemary" – Foo Fighters
This tasty fill consists of six stroke rolls with snare and tom accents.
"Congregation" – Foo Fighters
"Crossed The Line" – Taylor Hawkins & The Coattail Riders
Sometimes his most epic fills featured his concert toms, like this one from "Crossed The Line".
More Than Just A Drummer
While he was the drummer of one of the biggest rock bands in the world, Taylor Hawkins was a huge fan of music, period. He had a massive rock memorabilia collection and loved to nerd out about drums with other drummers.
He was never too humble to talk about how much he looked up to his favorite drummers, either.
An incredible bandleader and vocalist, sometimes Hawkins would sing behind the drums (like on Foo Fighters' "Cold Day In The Sun") or come up to the front of the stage and rock out while Dave Grohl hammered away on the kit.
The song "Sunday Rain" from the album Concrete And Gold features Hawkins on lead vocals – and the legendary Paul McCartney on drums!
Taylor Hawkins made being a drummer look like the most fun thing in the world. It's our responsibility as drummers to make sure his legacy lives on.
Learn a Foo Fighters song or listen to his drumming. Watch his interviews and share his work with the next generation of drummers so he can inspire many others in the years to come.
Here are five things we can learn from Taylor Hawkins – drumming wise and otherwise.
SHARE THIS: