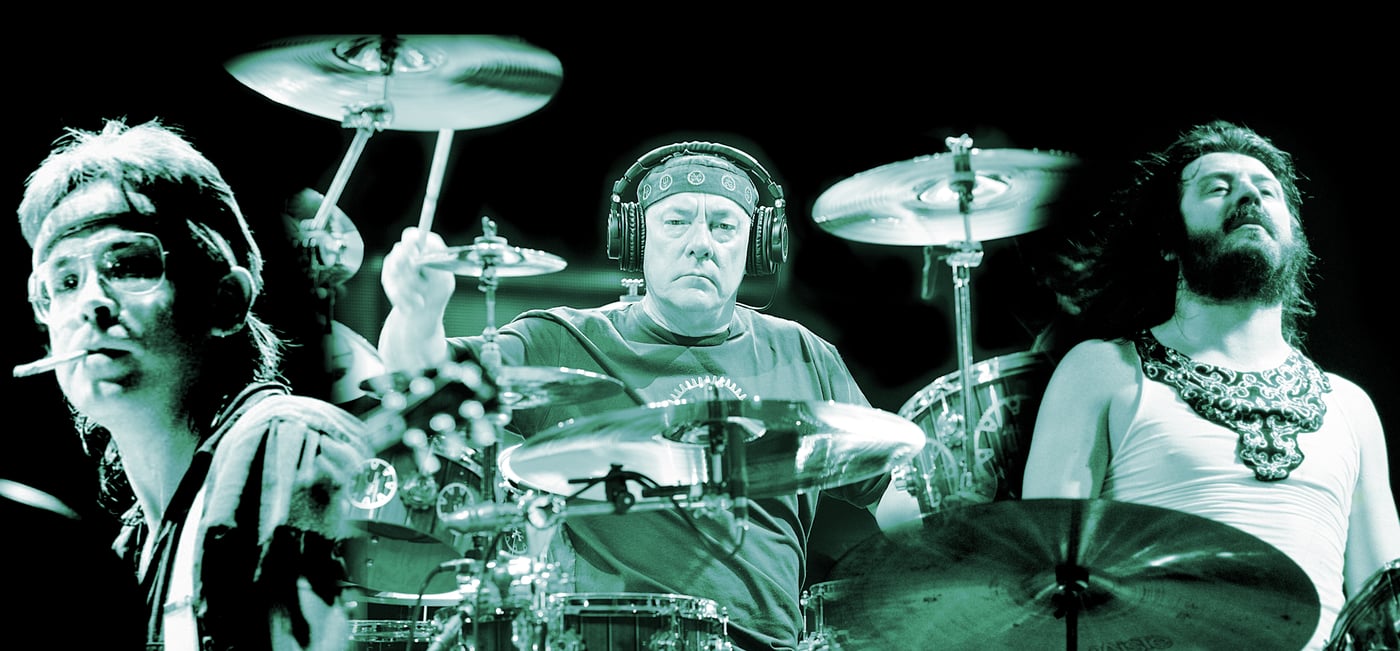 Scroll down for the 20 most iconic, recognizable drum beats of all time. And they're some of the best drum songs to learn!
There are certain songs that you can recognize instantly. Think of Slash's guitar riff at the beginning of "Sweet Child O' Mine", the bass line in Michael Jackson's "Billie Jean", or the lyric "Is this the real life?" sung by Freddie Mercury in Queen's "Bohemian Rhapsody". These are all songs that you and millions of other music fans around the world can recognize within seconds just by listening to a guitar part or lyric.
Since the Swing Era in the 1930s when the drum set started becoming an integral part of popular music, drummers have been playing and creating drum grooves that are just as recognizable as any of the melodic examples mentioned above. Here, we're going to showcase the top 20 most recognizable drum beats in history.
To make it on this list – which was created by surveying the Drumeo community and then narrowed down by several pro drummers – the beat would need to be so recognizable that if someone walked by a rehearsal studio and heard a drummer playing it, they'd probably know the song without needing to hear any guitar or vocals.
Let's get into the most famous drum beats of all time:
20. "Billion Dollar Babies" – Alice Cooper
This groove was played by Neal Smith on the song "Billion Dollar Babies", which was released on the record of the same name in 1973. In an interview with Jeb Wright of Classic Rock Revisited in 2016, Smith describes how he came up with this iconic intro: "The original idea for 'Billion Dollar Babies' was a more straight-ahead drum part. Because I'm a rudimentary drummer, I love flams. I wanted to do a big flam intro. It was my own edition of Charlie Watts on 'Get Off Of My Cloud.' I wanted to do something that was Neal Smith. Bob Ezrin said I could try it, but I had to play it perfectly all the way throughout, and I did."
19. "Take Five" – Dave Brubeck Quartet
In 1959, Dave Brubeck released Time Out with his quartet which featured jazz drumming legend Joe Morello on drums. Time Out was one of the very first jazz records to explore time signatures like 5/4 and 9/8. His composition "Take Five" became one of the best-selling jazz singles of all time. The opening 5/4 pattern that Morello plays features the standard jazz ride cymbal pattern (with one extra quarter note added), a bass drum stroke played on the downbeat of beat one, and some snare drum comping. 
18. "Crazy Train" – Ozzy Osbourne
Lee Kerslake plays this pattern on Ozzy Osbourne's heavy metal classic "Crazy Train" which was released on the record Blizzard Of Ozz in 1980. This pattern is played in unison with Bob Daisley's bass part once Randy Rhoads' guitar riff comes in. That's the main reason why this pattern is so recognizable – it accentuates the main riff of the song!
17. "Tom Sawyer" – Rush
The opening groove to the progressive rock anthem "Tom Sawyer" by Rush is one that few drummers master. "Tom Sawyer" is the opening track on Rush's Moving Pictures which was released in 1981. When I listen to this groove, two words that come to mind are precision and clarity. This groove is quick and will require a certain level of hand technique in order to play. Neil Peart forever!
16. "The Ballroom Blitz" – Sweet
"The Ballroom Blitz" is a glam rock classic from Sweet's 1974 release Desolation Boulevard. Mick Tucker's opening 16th note snare groove is full of energy and sets the tone for the rest of the track. Be sure to play it with a slight swing feel to match the way Mick played it on the record.
15. "We're Not Gonna Take It" – Twisted Sister
Cowbell and double bass. What else could you ask for in a drum intro? A.J. Pero's intro to Twisted Sister's 1984 hit "We're Not Gonna Take It" is undoubtedly iconic. You can practice this groove with double bass pedals or with a single one if you really want to work on your single pedal doubles.
14. "Sing, Sing, Sing" – Benny Goodman
This is the oldest drum beat on our list! This legendary floor tom groove was first played by Gene Krupa in 1937 with bandleader Benny Goodman. On the recording, you can hear him vary the accent patterns throughout, but the version shown here is what he plays at the very beginning of the original track. Be sure to play this one with a swing feel as well!
13. "Hot For Teacher" – Van Halen
Who's the first drummer you think of when you hear "double bass shuffle"? It's probably Alex Van Halen! "Hot For Teacher" off of Van Halen's 1984 was a game-changer for drummers. It was played at a blazing fast tempo and the drum patterns were extremely challenging to play (if you've heard the intro, you know what I'm talking about). The main ride groove that Alex plays features a left foot lead double bass shuffle pattern and a triplet-based ride cymbal bell pattern.
12. "Cissy Strut" – The Meters
In 1969, the New Orleans funk group The Meters released their instrumental classic "Cissy Strut" on their self-titled debut record. The mastermind behind the drum groove is Joseph "Zigaboo" Modeliste, also known as "Ziggy". This funk groove is syncopated with hi-hat accents and bass drum strokes that fill in the gaps left by the snare and hi-hats.
11. "Funky Drummer" – James Brown
"Give the drummer some!" This is what James Brown shouts near the end of the timeless funk classic, "Funky Drummer". Clyde Stubblefield's drum break in this song, which was released as a single in 1970, is one of the most sampled drum breaks in history. As of 2017, it had appeared in more than 1400 different recordings, particularly in hip-hop and rap songs. This 16th note groove is loaded with ghost notes, hi-hat openings, and syncopated bass drum strokes.
10. "Fool In The Rain" – Led Zeppelin
John Bonham's half-time shuffle on "Fool In The Rain" is iconic. Think of this groove like the Purdie shuffle but with a hi-hat opening thrown in on the last triplet partial of beat one. "Fool In The Rain" was released on Led Zeppelin's 1979 record In Through The Out Door but surprisingly was never performed live by the band.
9. "Superstition" – Stevie Wonder 
1972 brought us one of Stevie Wonder's greatest hits, "Superstition" from the album Talking Book. Believe it or not, it's actually Stevie Wonder himself playing drums on this track! The unmistakable swung 16th note groove was first played by Jeff Beck while he and Stevie were working together in the studio. This sparked the idea for Stevie to write the song "Superstition" on which he recorded his own drum track based on the original idea that Jeff had played for him. 
8. "Walk This Way" – Aerosmith 
Whether you first heard it on Aerosmith's 1975 release Toys In The Attic or on Run-DMC's 1986 release Raising Hell, you know the sound of Joey Kramer's groove on "Walk This Way". All in all, the groove is very simple, but that crisp open hi-hat on beat one is what turned this groove into something that drummers and music fans all around the world can recognize in an instant.
7. "Sunday Bloody Sunday" – U2
The military-style drum groove played by Larry Mullen Jr. at the beginning of U2's "Sunday Bloody Sunday" is a melody or musical hook unto itself. After being convinced by Andy Newmark of Sly & The Family Stone, this song and others from the 1983 War record were the first songs that Mullen recorded with a click track. The drums for "Sunday Bloody Sunday" (and some others on the War record) were recorded at the base of a staircase in Windmill Lane Studios in Dublin, Ireland.
6. "Smells Like Teen Spirit" – Nirvana
"Smells Like Teen Spirit" is an anthem of the 1990s along with many other tracks from Nirvana's 1991 international success Nevermind. This song kicks off the record and features Dave Grohl's raw power and energy behind the drums. When Kurt Cobain brought in the original demo tape of the song, drummer Dave Grohl and bassist Krist Novoselic weren't into it. But Cobain made the band play along to the main riff for an hour and a half. It was during that session where Dave Grohl came up with one of the most recognizable drum grooves in history.
5. "50 Ways To Leave Your Lover" – Paul Simon
Steve Gadd's groove on the 1975 song "50 Ways To Leave Your Lover" by Paul Simon is a groove unlike any other. It's played with the left hand on the hi-hat, it incorporates the hi-hat foot and the toms, and it even pulls in some rudimental ideas. Gadd describes this groove in Up Close, his 1994 instructional DVD, as being directly inspired by bebop jazz drumming. He explains how in bebop, the hi-hat foot is free to play on different beats and partials, as opposed to just on beats two and four. 
4. "Wipe Out" – The Surfaris
Back in the 1960s, "Wipe Out" was the standard for drummers. Every young drummer wanted to learn how to play what 18 year old Ron Wilson played on this surf rock classic by The Surfaris. Remember, rock music was still a relatively new style of music back in 1963 when "Wipe Out" was released, so a song like this with such a massive drum part was a big deal! 
3. "Come Together" – The Beatles
Ringo Starr's opening groove in "Come Together" from The Beatles' 1969 release Abbey Road is another groove that all drummers and non-drummers alike can recognize instantly. Ringo orchestrates this groove in a way that follows exactly what's happening harmonically and melodically amongst the other band members. He plays the ride in unison with the rest of the band on beat one, outlines the guitar riff on beat two using 16th note triplets, and brilliantly descends on the toms through beats three and four anticipating the harmonic change on beat four. This is the perfect depiction of Ringo's creative and musical genius.
2. "Rosanna" – Toto
Next up is Jeff Porcaro's half-time shuffle groove from Toto's "Rosanna" which was released on their 1982 record Toto IV. In an instructional video where Porcaro teaches this groove, he explains: "I stole that beat from listening to two records. One was Home At Last and Babylon Sisters, which are Bernard Purdie, Steely Dan records. Another is John Bonham on "Fool In The Rain," it's a Led Zeppelin tune." He goes on to mention how he also incorporated the Bo Diddley figure on the bass drum to make it his own. 
There are many debates in the drum community surrounding this groove because there are actually three versions of it that Porcaro played. The version here is the one that he played during the intro of "Rosanna". It's not until verse 2 where Porcaro adds in ghost notes to all of the middle triplet partials. Lastly, in the version that Porcaro teaches in his instructional video, he adds an extra bass drum stroke to beat three of the second bar which is never actually played on the studio recording.
1. "We Will Rock You" – Queen
Stomp-stomp-clap. Stomp-stomp-clap. You know the song: "We Will Rock You" from Queen's 1977 release News Of The World. Without a doubt, this is the most recognized drum pattern of all time, to drummers and non-drummers alike.
But wait, there isn't even a drummer on this track!
That's correct. Brian May intentionally chose to make this song as simple as possible, so that they could involve their audience during live performances. The stomping and clapping were recorded by all four band members – including drummer Roger Taylor – and then overdubbed with delay to make it sound like many people were stomping and clapping. When Queen performed this song live, Roger Taylor often played the pattern notated here.
That concludes our list of the Top 20 Most Recognizable Drum Beats! Do you agree? Are there other grooves that you think should've made the list?
Drumeo members get full transcriptions of each of these songs (and hundreds of other songs), but if you aren't ready to commit to a full membership, click here to get free note-for-note sheet music and handy playback tools for 40 of drumming's biggest songs – including some of the ones you've seen here!
SHARE THIS: