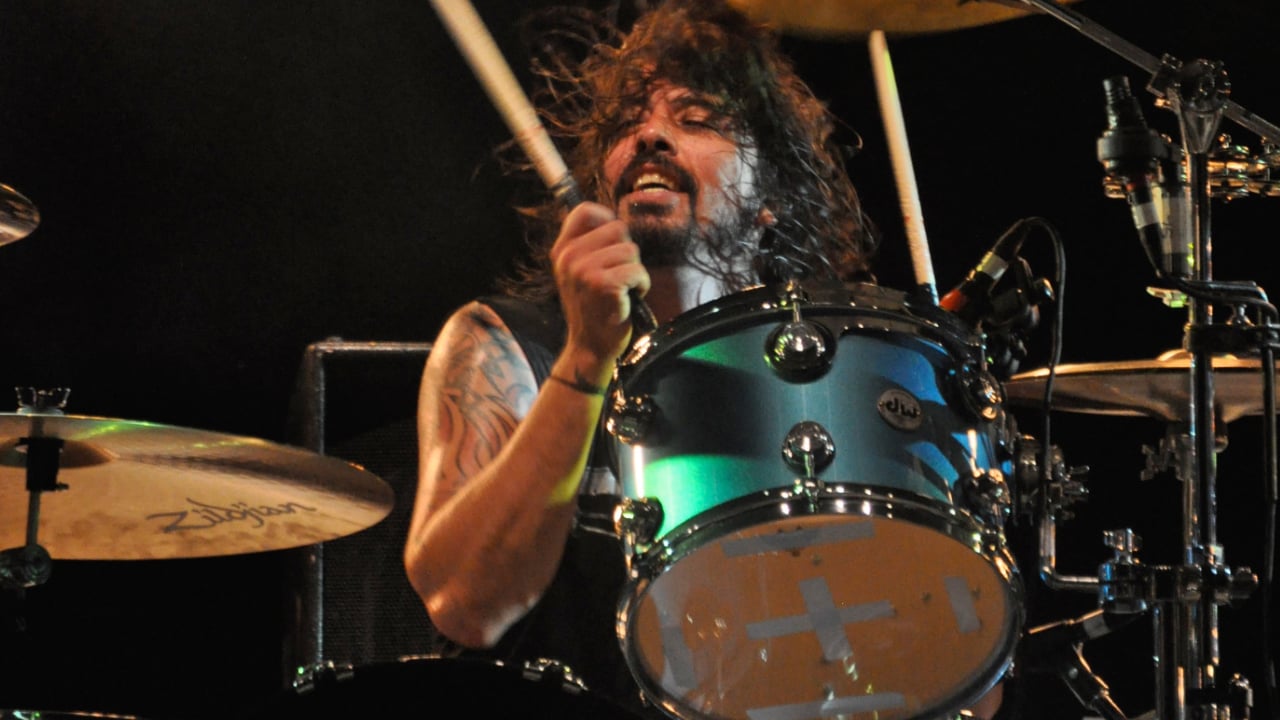 You might know him as the vocalist of the Foo Fighters, the drummer for Nirvana, or the nicest guy in rock. No matter how you slice it, Dave Grohl is one of the most influential drummers in rock history. He's also been inducted into the Rock & Roll Hall of Fame twice!
He's been a bona fide music icon since Nirvana burst onto the alternative rock scene in Seattle almost 30 years ago. His memorable drum parts on hits like "Come As You Are" and "Smells Like Teen Spirit" provided a soundtrack to the '90s for angst-ridden teens around the world. 
As if that weren't enough, his second act as the front man for Foo Fighters showed off his impressive musical versatility and rock star personality.
Why is Dave Grohl so awesome?
1. His drum intros are legendary
If you hear someone trading flams on the snare with open hi-hat hits and kicks placed in between, you don't even need the music accompaniment to know that it's "Smells Like Teen Spirit" by Nirvana. It's one of the most recognizable drum parts of all time.
Grohl's flams are iconic. You'll also hear his legendary style in the intros of Nirvana's "Scentless Apprentice", "Song For The Dead" by Queens Of The Stone Age, and "My Hero" by Foo Fighters.
2. His fills are unique
Whether it's Nirvana, Them Crooked Vultures or Grohl's early band Scream, Grohl's rhythmic vocabulary and precise execution are easily recognizable. The flams he adds to fills (in songs like "In Bloom" and "Smells Like Teen Spirit") come from his influences in disco music!
If you've heard "No One Knows" by Queens Of The Stone Age, you probably air drum that triplet-based fill. You can also hear Grohl's hand-to-foot combos on tracks like "You Know What You Are" by Nine Inch Nails, "Binge" by Scream, and "No One Loves Me & Neither Do I" by Them Crooked Vultures.
Grohl tends to use three beat phrases and loves playing them over the bar like (like in "Everlong" by Foo Fighters). And you can't deny that he loves creating tension with huge tom builds (like in "Breed" or "Aneurysm" by Nirvana).
No matter what he does behind the kit, he's always playing to support the music. If the song doesn't need chops, he stays simple – and that's noticeable on tracks like "February Stars" by Foo Fighters, "Heart Shaped Box" by Nirvana, or even "Tribute" by Tenacious D.
3. His drum parts are energetic and creative
Listen to "Elephants" by Them Crooked Vultures, the intro from "Hanging Tree" by Queens Of The Stone Age, or the chorus of "My Hero" by Foo Fighters.
Sometimes it's easy to forget what an awesome drummer Dave Grohl is. His parts are inventive and unique and he always plays what's best for the song. Everyone remembers the hits, but deeper cuts like "Stay Away" from Nirvana's 1991 Nevermind album really showcase what he's about. 
The tone of the drums is fat and beefy (like his idol John Bonham) and Grohl's parts perfectly complement the guitar lines. The verses, choruses and solo sections have different tone colors to give the song variety and move it forward.
His later work with Nirvana shows his musical growth and relentless drive to get better. His drumming on the hit song "Dumb" from the band's 1993 album In Utero is subtle and grooving, showing that Grohl is far more than just a rock basher. 
The intro and verses are played on the rims of the drums along with cross-stick and a sparse bass drum part built around the vocal melody. When the chorus kicks in, he plays the snare on beat 2 and the toms on beat 4 and the "and" of 4, almost like a slower version of a mambo. This is a bold creative choice since he could have just played a straight backbeat (which he saves for the end of the tune). However, this tonal variation makes the chorus so much more interesting! The feel is also excellent – he plays laid-back but not sloppy. This tune is only 2 minutes and 30 seconds long, but Grohl's musical choices give it a wonderful arc. This is some killer drumming. 
4. He's fearless
History has shown that creating great art requires taking risks, and Grohl has never been afraid to put himself out there and try new things. Nirvana's iconic 1994 MTV Unplugged performance is a perfect example, and it almost didn't happen. Kurt Cobain was unhappy with how the drums sounded when Grohl played with sticks in rehearsals. After a lot of tension and stress, someone ran to the music store for hot rods and Grohl delivered one of the most memorable drumming performances of all time. He was clearly out of his comfort zone, but he played with sensitivity and touch, giving the music exactly what it needed. In the process, he made it okay for rock drummers everywhere to turn down the volume and play "acoustic" sets. 
He took another huge risk by creating the Foo Fighters. After his time with Nirvana, Grohl could have had a long and successful career as a sideman with groups like Pearl Jam or Tom Petty and the Heartbreakers (both of whom wanted him). Instead, he started from scratch and created something that was uniquely his. He did exactly what he wanted to do, and without that fearlessness, Foo Fighters and all their hit songs would never have existed.
5. He's a well-rounded and versatile musician
Kurt Cobain always spoke highly of Grohl's songwriting and was beginning to involve him more in Nirvana's creative process at the time of his death. This faith proved to be well-placed, as Grohl has written some of the biggest smash hits of all time such as "Everlong," "My Hero" and "Best of You." 
Besides drumming and songwriting, he sings, plays guitar and fronts the band. This versatility and musicianship is a great quality for drummers to emulate. Playing other instruments and writing songs will help you become a better drummer.
6. He makes everyone around him better
Nobody is perfect and Grohl is no exception. But his bandmates clearly enjoy working with him and he's always been known as a team player who strives to lift up the people around him. He doesn't take himself too seriously (wearing a wolf suit on SNL, having a drum battle with Animal from the Muppets or (allegedly) writing one of the funniest tour riders in history).
He's also keenly aware of his power as a public figure. Look no further than his friendship and mentoring of 11-year-old drumming phenom Nandi Bushell. Grohl didn't have to invite her onstage to play "Everlong" with the Foo Fighters, but did so because he recognized her special talent and wanted to elevate her. He seems to genuinely enjoy helping others, a quality that can serve all drummers well musically and personally.
7. He's resilient
Like anyone, Grohl has faced his share of adversity, and the untimely death of bandmate Cobain at such an early age was a huge blow. Grohl had to recover from that while starting his own group, writing the songs and playing all the instruments himself on Foo Fighters early recordings until he found the right lineup. 
In 2015, he broke his leg but still fronted the band from a giant custom-built throne. Most musicians would have been at home resting, but Grohl didn't even miss a show. 
Since recovering, he's sent the throne to other injured musicians to use onstage including Axl Rose and Greyhawk bassist Darin Wall who was shot in the leg at a music venue. Not only is Grohl tough, he tries to inspire that same resilience in others.
And with the passing of Foo Fighters drummer Taylor Hawkins in 2022, he's still opted to move forward rather than call it quits. The band is continuing on with Josh Freese – a longtime friend of Grohl – on drums, which will hopefully help maintain a family feel in the Foo Fighters camp.
Simply put, Dave Grohl has had an extraordinary career as a drummer, songwriter, bandleader and public personality. He's truly one-of-a-kind and he's inspired so many people to start playing drums or guitar.
If you want to improve your rock playing, you need to check out the 12 best Dave Grohl drum beats.
SHARE THIS: