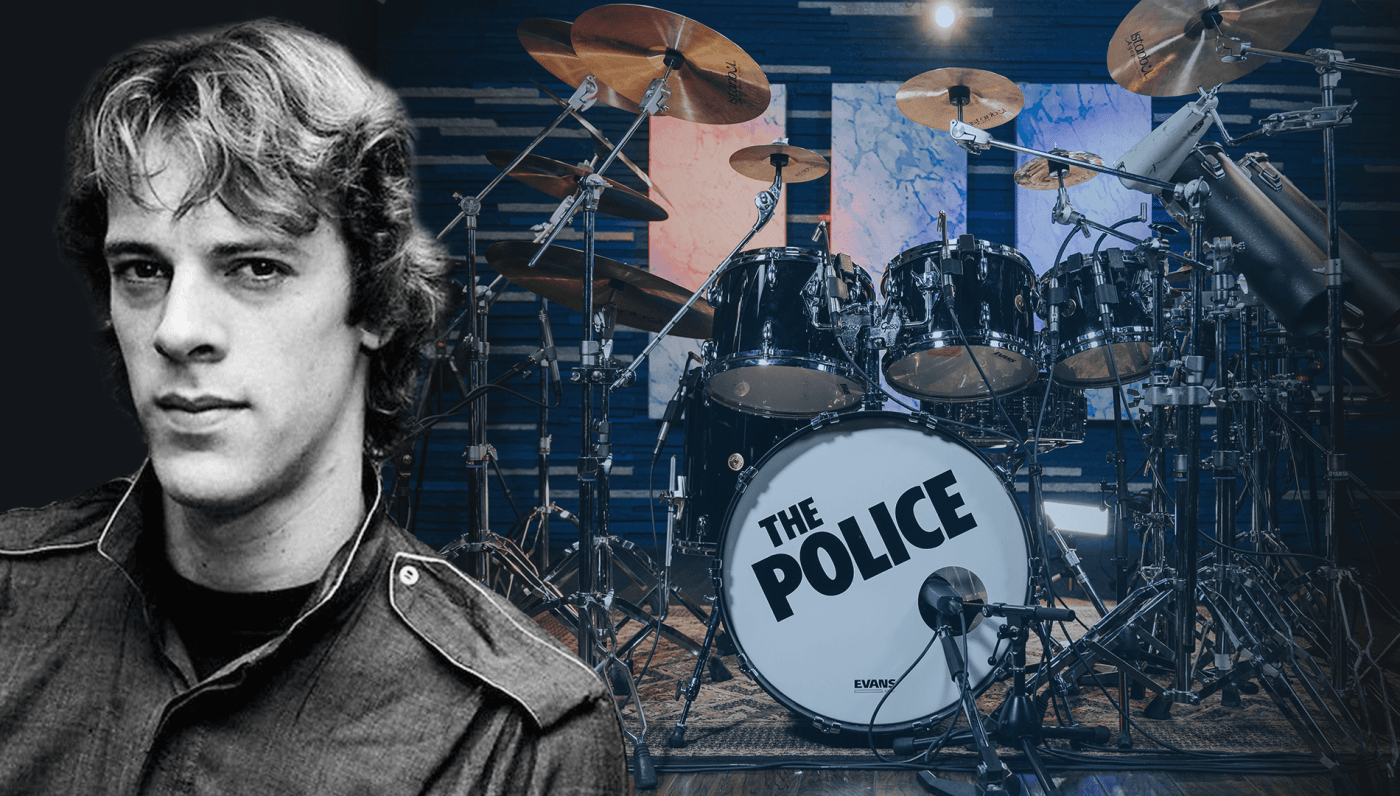 Stewart Copeland, longtime drummer of The Police, is one of the most unique drummers to come out of popular music in the last several decades.
His innovative sound is often instantly recognizable, between his diverse rhythmic influences, the way he creatively orchestrates patterns, and how he incorporates modern technology into his drum parts.
Here are three reasons why Stewart Copeland is one of the greatest drummers of all time:
1. His signature style combines unexpected influences
Born in the U.S. to a classical-loving mother and a jazz-loving father combined with a childhood spent in Egypt, Lebanon and England, Copeland grew up with many different influences.
His style combines reggae, jazz, Arabic music, Latin, and punk rock, which gives him a unique rhythmic sound. For example, unlike most pop or rock drummers, he won't wait until the end of 8 or 16 bars to add in a fill or chop.
Check out how he adds the kick only on the 'and' of beats 1 and 2 in "Roxanne" by The Police:
You'll also hear some cool syncopation in the chorus of "Next To You":
And the bridge of "Every Little Thing She Does Is Magic":
Copeland is also known for his hi-hat work, sometimes even grooving on a hi-hat part without a backbeat in songs like "Bring On The Night" and "Darkness".
Did you know Copeland is a left-handed drummer who plays on a right-handed setup? This could explain why he often opts for busier patterns on the left side of the kit (like in "Every Little Thing She Does Is Magic").
"Driven To Tears" also features some cool ride and hi-hat parts:
He incorporates toms in a unique way during the intro and first verse of "Next To You":
He's also taken influence from Arabic Baladi rhythms and reggae, where the bass drum emphasizes beat 3. Listen to the one drop feel in "Don't Stand So Close To Me" and "The Bed's Too Big Without You":
Copeland often omits the bass drum on the downbeat, which you can hear in songs like "Behind My Camel", "King Of Pain", and "Spirits In A Material World".
Listen to how the heavy punk groove changes to a reggae groove in the chorus of "Message In A Bottle":
And check out the cool syncopation in "There's A Spy In The House Of Love" by Animal Logic, one of Copeland's other projects.
2. His gear choices make his sound recognizable
His unique sound comes in part from his regular use of ice bells and Octobans. Copeland has been a consistent TAMA player with the exception of his high-tuned Pearl snare drum.
During a time where other drummers were going for a deep, heavy sound, the Police drummer typically tuned his snare and toms up high (one exception is his work with the band Oysterhead, where he opted for a deeper tom sound).
His cross-stick work in the intro of "Reggatta De Blanc" and the verse of "Wrapped Around Your Finger" adds nice percussive elements to each respective song:
Listen to how he'd add delay and other effects to the drums, like in "Walking On The Moon" and "Every Little Thing She Does Is Magic".
3. He thinks like a composer
…because he is one. His compositions are layered and each part is carefully orchestrated. Copeland has worked on soundtracks for movies like Wall Street and We Are Your Friends, shows like The Equalizer and The Amanda Show, games like the Spyro series and Alone In The Dark, and composed music for huge orchestras.
This composer's mindset has resulted in cool overdubs, like the tom dubs in the verse of "Message In A Bottle".
If you listen to Copeland's solo album The Rhythmatist, you'll hear a unique blend of acoustic and electronic sounds from the studio with raw recordings from his time in Africa.
For more sheet music and a deep dive into the entire Police discography, you can find note-for-note transcriptions, drumless play-along tracks and helpful practice tools (among thousands of other resources) in the Drumeo members area. Click here to get a free 7-day trial to Drumeo!
If you liked this video and article, check out the rest of the 'genius' series:
SHARE THIS: