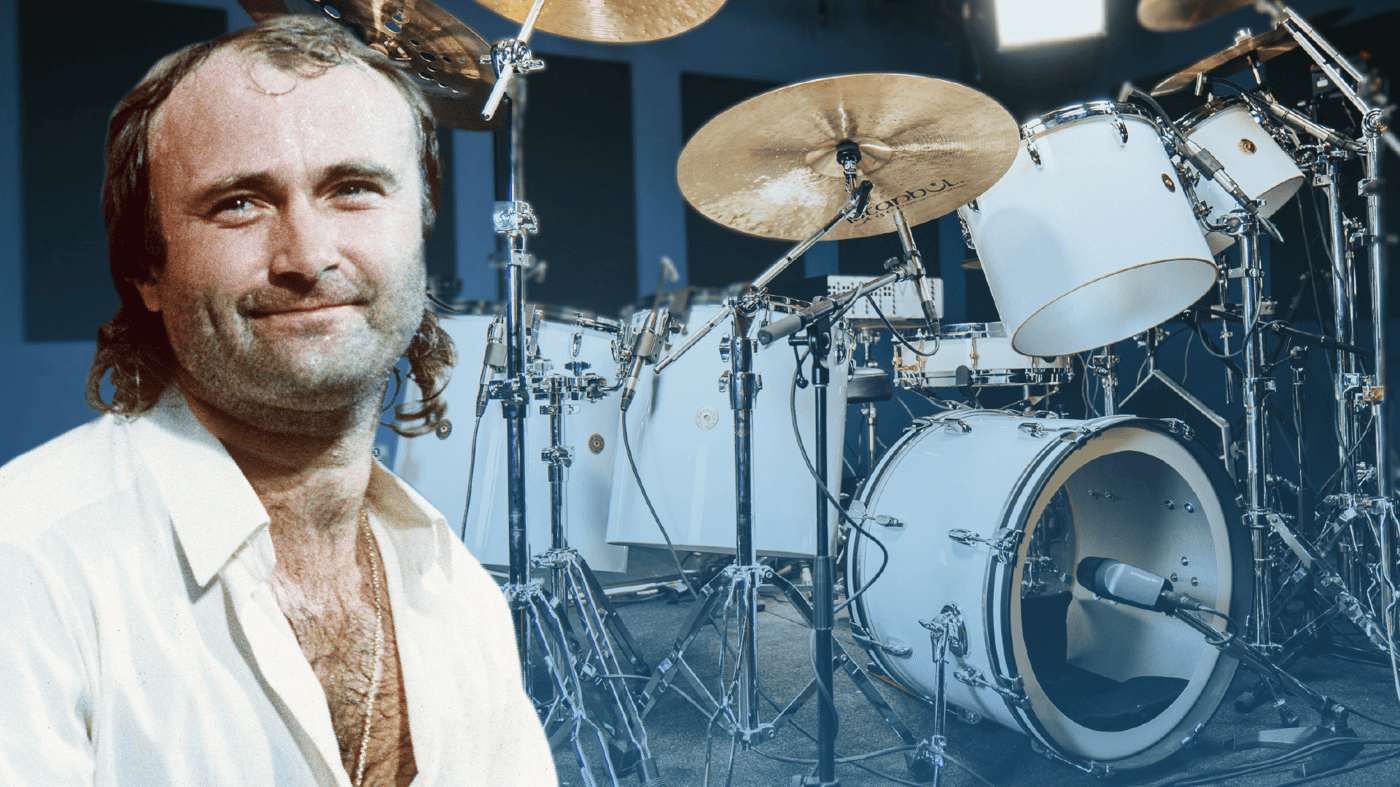 You may know Phil Collins as a solo pop artist, drummer and vocalist of Genesis, Disney soundtrack guru, session drummer, or all of the above.
Maybe his name rings a bell because he created one of the most famous drum breaks of all time (you know the one).
If you don't know Phil Collins, you definitely need to watch this video.
During his decades-long career, he developed a signature drumming sound that featured unique approaches to different time signatures, melodic grooves, and a groundbreaking hybrid style with electronic pads.
While he's no longer playing drums these days due to health concerns, he made his mark on the drumming world and set the stage for generations to come. Here are 5 reasons why Phil Collins has always been a drumming genius:
He wrote legendary drum Phils fills
Pretty much everyone knows how to air drum along to his iconic drum break in "In The Air Tonight". Could you imagine that song without it? This part also features his classic gated sound – a sound that was actually developed on Peter Gabriel's song "Intruder" which Phil tracked on drums.
For another example of his legendary fills, listen to the intro of "Easy Lover" – a duet with Philip Bailey of Earth, Wind & Fire.
He created a signature style
Phil loved to keep a groove going on the ride or crash while moving around the kit with the other hand. Listen to "Against All Odds (Take A Look At Me Now)" where he has triplets descending on the toms with one hand while the other keeps the beat going.
You'll hear even more evidence of his signature style in "Dance On A Volcano" by Genesis and "Woman In Chains" by Tears For Fears.
Complex time signatures were a breeze
Watch the video above to appreciate Phil's writing and artful touch on these parts. But if you want a list of key songs to check out, we'll deliver:
"Firth Of Fifth" by Genesis
"The Cinema Show" by Genesis
"Supper's Ready" by Genesis
"Turn It On Again" by Genesis
"Robbery, Assault and Battery" by Genesis
"Nuclear Burn" by Brand X
"Watcher Of The Skies" by Genesis
"Behind The Lines" by Genesis
"I Don't Care Anymore" by Phil Collins
His technical ability was second to none
Have you heard "Dancing With The Moonlit Knight" or "Los Endos" by Genesis, or "Kugelblitz" by Brand X?
Do yourself a favor and listen to them right now.
You can also hear Phil's amazing hand technique in Genesis songs like "The Lamb Lies Down On Broadway" and "Supper's Ready" (listen for the press rolls) or "The Battle Of Epping Forest" (listen for his articulate rudimental rolls).
On top of that, "Supper's Ready" and "The Musical Box" are full of precise bass drum playing and challenging syncopated patterns. Check them out!
He played electronic drums before it was cool
You could argue that Phil Collins helped make electronic drums cool.
Compared to Genesis' earlier records, the drums sound pretty different on Invisible Touch and their 1983 self-titled album. By this time, Phil had integrated a Simmons electronic drum kit into his acoustic setup. When soloing, he'd sometimes reach over to play the electronic pads in between ripping it up on the traditional kit.
Listen to "Second Home By The Sea" for a good example. Or "Tonight, Tonight, Tonight", where the second half of the song is stock sounds from the Simmons SDS7 module.
The double drumming on "The Brazilian" is another fun example. Phil would be on the electronic kit while fellow drummer Chester Thompson would play the acoustic.
If you weren't already a fan of Phil Collins – or you only know him for his vocal talents – we hope you've gained new respect for him as a drummer. He's truly one of a kind.
Want to learn more about why legendary drummers are so legendary? Grab a Drumeo membership and enjoy videos about Alex Van Halen, Neil Peart, Dave Grohl, Joey Jordison and more.
SHARE THIS: