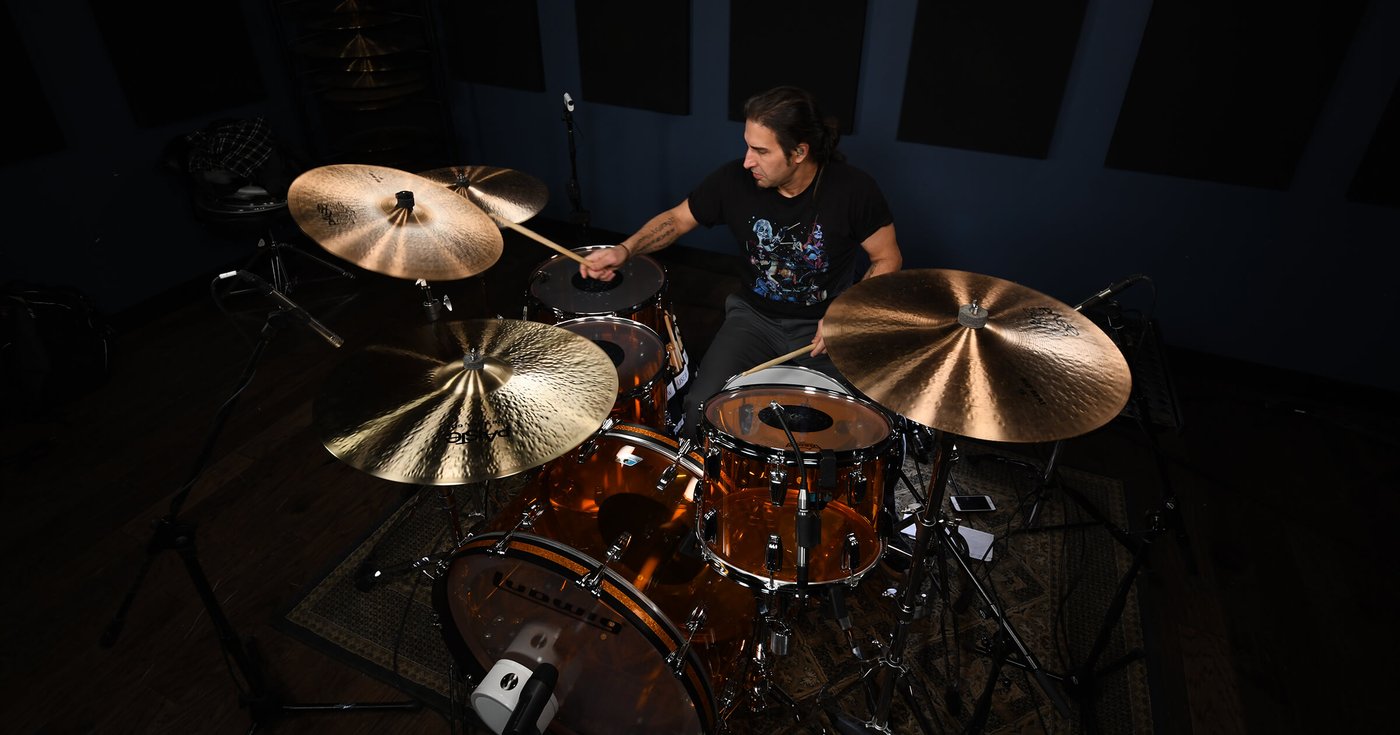 Led Zeppelin's legendary drummer, John Bonham, regularly tops 'best drummer' lists around the world. Brian Tichy – who once organized a tribute night to honor the 30th anniversary of Bonham's passing – is the perfect player to cover these five classic licks every drummer should know.
Of course, there's only so much one guy can cover in just 6 minutes, and this page teaches you just a fraction of Bonham's beats. It's actually part of a free hour-long course that includes tutorials on "When The Levee Breaks", "Fool In The Rain", "Good Times Bad Times", "Black Dog", "Immigrant Song", "Stairway To Heaven", "Rock And Roll" and "Moby Dick", plus an in-depth breakdown of Bonzo's trademark triplets.
If you really want to play like Bonham – or learn Led Zeppelin's greatest grooves – you need this free course. Click here to get 11 video lessons right to your inbox or drop your email address down below:

1. Crossover Triplets

L R F – a simple phrase with a left hand lead. Start with L R on the snare, then L F on the rack and floor toms. Then cross it over – left under right – before going back to the regular sticking. Try to keep time with your left foot.
2. "Fool in the Rain" Groove

Ready for that half time shuffle? You've got your right hand shuffling on the hi-hat, snare on beat 3, a groovy bass drum pattern, ghost notes and a classic hi-hat scoop. Mellow and cool.
3. "Good Times Bad Times" Groove

In this lick, you're riding on the cowbell with driving double strokes on the bass drum. Start slow, get it smooth, and make it groove. Brian suggests playing this on a 26" kick with no hole and no muffling to get the full effect!
4. "Rock and Roll" Intro

Some drummers don't realize this song has a pickup! The beat doesn't start on beat 1 – it's on the 'and' of 3 (think "Johnny B. Goode" by Chuck Berry). Get both hands moving together on those 8th notes.
5. Bonzo Live Fury!

Bonham would go into these 'fury' parts in the middle of a solo as he transitioned to the next part. Expect another left hand lead with some fast footwork and cool tom parts. The sticking is L L R F F, and you'll take it between rack and floor tom down to the foot.
If you love Bonham's beats, Brian Tichy has a whole course on Drumeo on Bonzo's top licks and fills. You can check it out for free with a 7-day trial of Drumeo Edge right here!
About Brian Tichy:
Brian Tichy is best known for his drumming with Whitesnake, Billy Idol, Foreigner, Sass Jordan, and Ozzy Osbourne. Besides substituting for Jason Bonham with Foreigner, he has organized, produced, and played in the drummer tribute "Bonzo, The Groove Remains The Same", celebrating the 25th anniversary of the death of Led Zeppelin's John Bonham.
Brian plays: Ludwig Drums, Paiste Cymbals, Remo Drumheads, and Regal Tip drumsticks.
SHARE THIS: