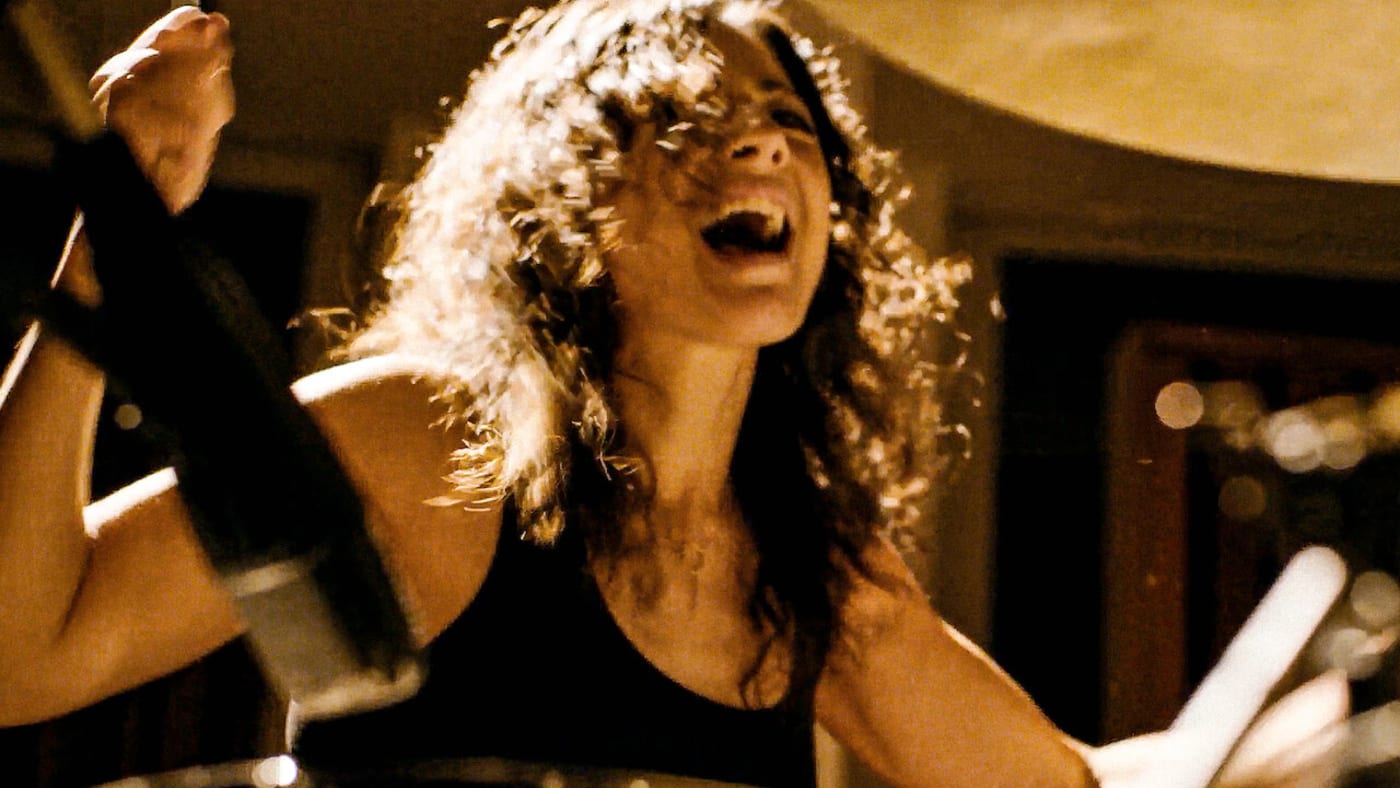 Drum movies are great for bringing our instrument into the mainstream, and Count Me In on Netflix features a mix of older-generation heroes and newer faces celebrating the joy of drumming.
This movie isn't intended to be a full history of the drums with every famous player in every style of music. That would be impossible! The documentary-style film is simply about why people love playing drums. It's uplifting, positive, and packed full of great stories, fond memories, and most of all, unbridled passion for the instrument.
Warning: Spoilers ahead!
The movie begins with artists like Stephen Perkins (Jane's Addiction), Nicko McBrain (Iron Maiden), Samantha Maloney (Hole), Emily Dolan Davies (Brian Ferry/The Darkness), Roger Taylor (Queen), Stewart Copeland (The Police) and Chad Smith (The Red Hot Chili Peppers) recounting their first memories seeing drummers on TV and feeling inspired to play. As Smith says, "everything about it was mysterious, magical and dangerous."
Then we see footage of the Beatles' iconic 1964 performance on The Ed Sullivan Show and hear from session legend Jim Keltner about the massive impact Ringo had on all drummers from that era. Clem Burke (Blondie) says "it was like these guys came down from outer space somewhere and were playing this great rock 'n roll music." Abe Laboriel Jr., who is Paul McCartney's current drummer describes the fire, intensity and "punk energy" Ringo brought to every live performance.
The film also gives a nod to The Rolling Stones, with Nick Mason (Pink Floyd) and Bob Henrit (The Kinks) talking about the heavy blues and R&B influence in British music in the '60s. Copeland describes the genius of the Charlie Watts' groove as "sophisticated dishevelment."
After this brief Brit-rock history lesson, the film pivots to explore the joy that artists like Cindy Blackman Santana (Lenny Kravitz/Santana), Ben Thatcher (Royal Blood) and Dolan Davies felt at getting their first drum sets. Laboriel Jr. sums it up, saying "that's what playing the drums to me is – the opportunity to play with other musicians." Then there's a segment paying tribute to Keith Moon featuring Ian Paice (Deep Purple), Topper Headon (The Clash) and Smith, followed by some fun memories from Copeland and Foo Fighters' Taylor Hawkins about how they started playing drums. These stories are the among the most compelling parts of the film.
Next we join Jess Bowen (The Summer Set) as she visits a backline shop in L.A. to pick out some drums for a jam session with a few other famous drummers. Ross Garfield ("The Drum Doctor") shows off his impressive inventory and talks about what goes into choosing the right drums for different musical situations. The film also introduces British drummer Ben Thatcher, whose energetic live performances with rock duo Royal Blood have earned him the respect and admiration of some of his drumming heroes.
Chad Smith puts it succinctly: "I want to see guys doing it with intent, conviction and doing it 'cause you mean it. If not, go flip hamburgers."
The film goes on to touch on the history of jazz, paying tribute to the influence of Elvin Jones, Art Blakey and Buddy Rich. McBrain has a mischievous twinkle in his eye as he talks about hearing a swing pattern, while Blackman Santana explains, "in jazz, you're able to make the music change and grow." Paice expands on this idea by discussing the importance of grace notes to how the groove feels.
Then we meet some more drumming greats. Smith describes Cream's Ginger Baker as "a jazz drummer trapped in a rock man's body" as we watch some great old footage of him playing a swing pattern while adding a double bass drum pedal. John Bonham is next, and the praise is effusive from Hawkins, Smith and Taylor. Maloney says "everything you need to know as a drummer, just listen to Led Zeppelin and you'll learn it."
Hawkins and Perkins remember their first time seeing Queen live, marveling at the creativity and orchestral nature of Taylor's parts. We also hear entertaining tales from Smith, Dolan Davies and Bowen as they recall their first professional experiences.
Then the film examines the early influence of punk music and how it differs from rock. Rat Scabies (The Damned) has some useful advice: "If they're singing, don't bash too many drums. When the singing stops, do whatever you like to bring in the next bit." Topper Headon from The Clash says "it's just like sprinting. You give it everything you can." Front man Joe Strummer throws some praise Headon's way, suggesting "you're only as good as your drummer. And that's really true. If we hadn't found Topper Headon, we'd never have got anywhere."
"You're only as good as your drummer."
Copeland also pays homage to The Clash as being at the forefront of adding reggae and funk ideas to punk drumming and making the music more dynamic. Laboriel Jr., Hawkins and Perkins laud Copeland himself as a major influence since he doesn't always play the backbeat in a traditional way. Perkins says "he's very unpredictable. That's the magic of him. He makes you feel comfortable in the most uncomfortable drum part."
Next is more Keith Moon love, and Perkins is clearly in awe of his brilliant musicality and wild personality. Paice's recollections of Moon are more bittersweet: "I met him a couple times and he was a sweetheart. But you could look in his eyes and say 'this man will never get to be 40 years old'." This was a briefly wistful moment in an otherwise upbeat 90 minutes.
The next segment, titled "Rise of the Machines" strikes a slightly awkward tone. Producer Andy Gray talks about the different sounds you can get by replacing a real drummer with a drum machine and demonstrates how to use the legendary LinnDrum, which appeared on countless hits from the '80s. Perkins talks about real drums versus programming, while Blackman Santana expresses how "the human element of the feel was taken out. And I like the human element because…I'm a human being."
The film quickly turns to the rise of MTV in the '80s and '90s, focusing on the influence of Nirvana and how it made people have fun and pay attention to drummers like Dave Grohl. Thatcher is clearly passionate in talking about how Grohl's playing impacted him as a youth.
Then we're back in present-day L.A. as Bowen chooses a drum set for her end-of-the-film jam with Blackman Santana, Smith and Perkins. "The Drum Doctor" again touches on gear choices and tuning before we rejoin the drum legends for some entertaining audition stories. These are the best!
Smith talks about the instant chemistry he had with The Red Hot Chili Peppers but remembers feeling like his "Detroit look" might not fit with the rest of the band (he decided to just try to "wow" them musically and hope for the best. Guess that worked out!). McBrain also remembers his first time jamming with Iron Maiden: "There was a magic. I knew that I was where I should be."
The most inspiring memory came from Maloney as she recounted getting an out-of-the-blue early-morning call from Nikki Sixx to sub in Motley Crüe. It was almost as if she was reliving that moment as she talked to the camera. She playfully says of her 6-month run with the band: "I did have some rock 'n roll stories from that time."
She also spoke of the challenges of being a female drummer in a male-dominated industry, themes that are echoed by Blackman Santana, Dolan Davies and Bowen. Blackman Santana shows her determination and resolve, saying "it is great to have a sense of who you are. When you know who you are and are solid in that, no one can tip you."
The film wraps up with a four drummer jam session featuring Perkins, Bowen, Smith and Blackman Santana. Perkins sums things up on a feel-good note, saying that by playing drums "you can connect with people and raise their level of happiness." That's really what Count Me In is all about.
Looking for more drumming movies?
There's a number of other drumming movies that have brought the instrument into the living rooms of mainstream audiences.
Whiplash provides a dark and complex portrayal of music education by chronicling the story of an aspiring student and his abusive drum teacher.
The 1959 film The Gene Krupa Story follows Krupa's journey from Chicago to New York in search of jazz stardom. While the film is a bit outdated from a societal perspective, there's plenty of fabulous music, as the real Krupa played drums on the soundtrack.
And then there's the 2019 hit Sound of Metal that explores the story of a drummer who loses his hearing, shining a light on a serious issue in the drumming community.
While these films aren't as upbeat and encouraging as Count Me In, they each make an enjoyable watch for drummers and non-drummers alike. So grab your popcorn, pull up a practice pad and enjoy!
SHARE THIS: