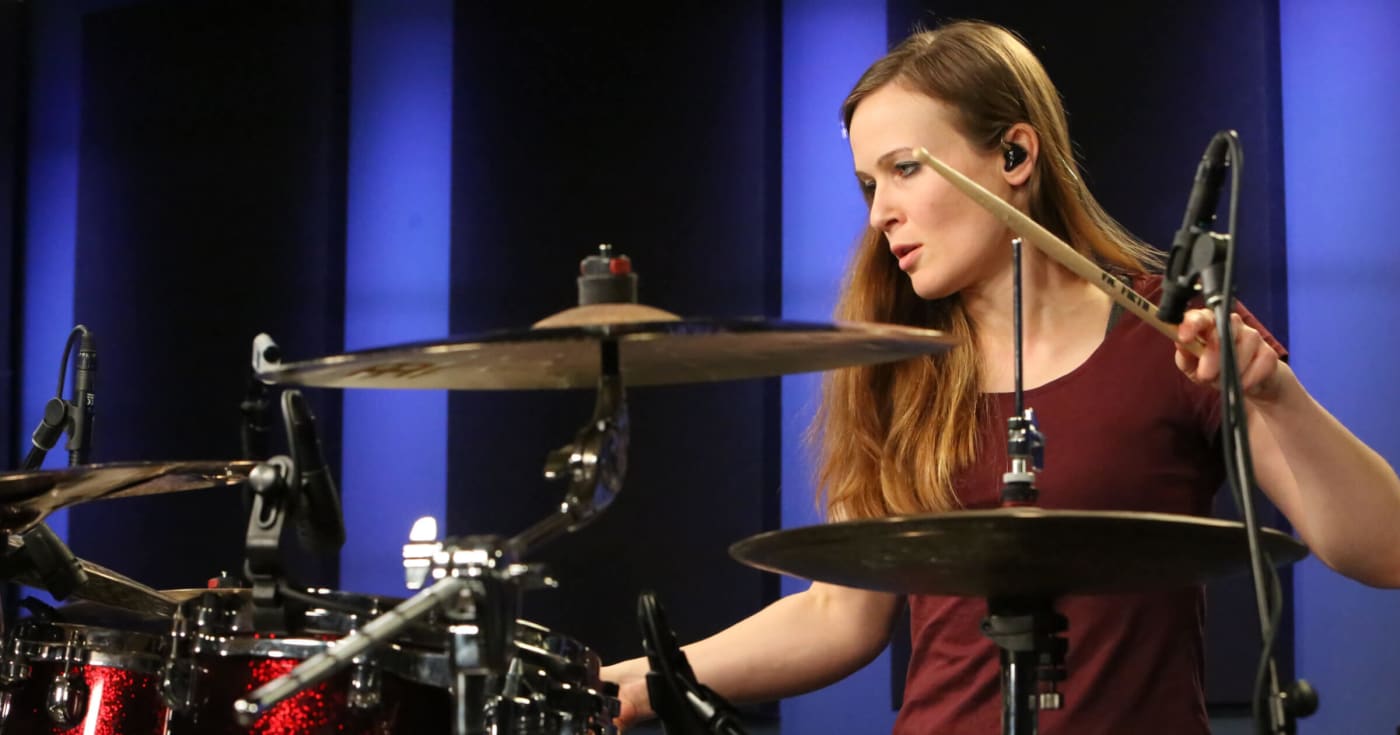 Introduction
Women and girls have been playing drums as long as drums have been around. With the growth of the internet and supportive movements around the world, the number of female drummers visible in modern music is growing quickly.
While it may seem silly to have a 'guide to female drummers' when there's no 'guide to male drummers', it's important to highlight and celebrate the major influence women have had on a male-dominated industry, and keep doing so until gender doesn't matter to anyone (psst…it shouldn't).
In this guide, we're only skimming the surface. It's heavily geared toward drum set players in North America in the last century. We'd eventually like to include major league percussionists like Jody Linscott, Bobbye Hall and Marilyn Mazur, and crossover performers such as Kiran Gandhi (MIA) and Kenya's Muthani Ndonga. Consider this an evolving resource!
A brief history of female drummers
Active in popular orchestras and swing bands from the 1920s to the 1950s – and the drummer for the original Broadway production of Cabaret – U.S.-based Viola Smith was one of the first professional female drummers on record. With very few women featured on the drums in her time, Smith was a pioneer and a prolific performer, appearing on The Ed Sullivan Show, the cover of Billboard Magazine, and even in an Abbott and Costello film. Amid the chaos of World War II, she published an article called "Give Girl Musicians A Break!", which argued that with many male musicians being drafted into the military, female musicians should be taking their place. She was reportedly known as "the female Gene Krupa".
In the 1960s, the world came to know and love Karen Carpenter: beatkeeper and vocalist for sibling duo The Carpenters. Not only was she a talented drummer, but during the bulk of the band's career, she sang while playing. While she moved into more of a lead vocalist position later on, she always considered herself "the drummer who sang". Around the same time, Honey Lantree of The Honeycombs (known for their hit 1964 single "Have I The Right") and Moe Tucker of The Velvet Underground (whose unique setup included mallets and an upturned bass drum) were breaking the mold for expectations of female musicians.
Teen band The Runaways blew up in the 1970s, and featured drummer and cofounder Sandy West, who is still considered one of the most influential female drummers in rock music today. At the end of the decade, all-female post-punk outfits The Slits and The Raincoats popped up in the London punk scene, which at the time was home to bands like The Clash, The Sex Pistols, and Siouxsie and the Banshees.
In the '80s, we started to see even more of a spotlight on women behind the kit. Sheila Escovedo ("Sheila E.") was touring with artists like Marvin Gaye and Prince, and releasing Grammy-nominated solo albums. Gina Schock rose to prominence as the drummer of new wave band The Go-Go's. And Girlschool – with drummer Denise Dufort – blew up in the New Wave of British Heavy Metal scene of the '80s, becoming an inspiration for women who wanted to hit harder.
Cindy Blackman Santana – previously an emerging jazz player – became the full-time touring drummer for Lenny Kravitz in the '90s. By this time, Grammy-award winning player and bandleader, Terri Lyne Carrington, had already launched an incredible career drumming with jazz legends such as Dizzy Gillespie, Stan Getz, Clark Terry and Herbie Hancock. Patty Schemel and Samantha Maloney became known for their roles in grunge band Hole (Maloney went on to drum for Mötley Crüe, and Schemel continued drumming with Courtney Love in her solo project).
Bands like The Donnas (Torry Castellano) were big with the teen crowd around the new millennium. Nu-metal also became popular around this time, where we saw drummers like Nao Kawakita (Maximum the Hormone) and Mercedes Lander (Kittie) laying down heavier beats in subgenres that featured even fewer women. When The White Stripes hit the mainstream in the 2000s, drummer Meg White became the benchmark for female drummers in the public eye, stirring up both praise and controversy for her minimalist playing style.
Around this time, the early days of YouTube meant a sudden international platform for musicians. Players like Meytal Cohen, Anika Nilles, and Senri Kawaguchi started racking up millions of views on their videos. Since then, thousands of girls and women have brought their talents to the masses by sharing their music online.
Learn these grooves played by women
"Violet" – Hole (Patty Schemel) – Click for sheet music
"Message True" – Terri Lyne Carrington – Click for sheet music
"Fell In Love With A Girl" – The White Stripes (Meg White) – Click for sheet music
"Synergy" – Anika Nilles – Click for sheet music
Female drummers by genre
This is definitely not an exhaustive list, but here are some notable players in each style to get you started. Some of these drummers fit multiple categories, but we've only included a few genres to keep things simple:
---
Jazz/Fusion/Latin
Terri Lyne Carrington (Dizzy Gillespie, Herbie Hancock)
Senri Kawaguchi (KIYO*SEN, Independent)
Hannah Welton-Ford (Various)
Allison Miller (Independent)
Sheila E (Prince, Independent)
---
Pop
Debbi Peterson (The Bangles)
Karen Carpenter (The Carpenters)
Gina Schock (The Go-Go's)
Cora Coleman Dunham (Prince, Beyonce)
---
Rock
Maureen (Mo) Tucker (The Velvet Underground)
Meg White (The White Stripes)
Jen Ledger (Skillet)
Sandy West (The Runaways)
Samantha Maloney (Hole, Motley Crue, Eagles of Death Metal)
Cindy Blackman Santana (Lenny Kravitz, Santana)
---
Punk/Grunge/Metal
Sandy West (The Runaways)
Janet Weiss (Sleater-Kinney)
Tobi Vail (Bikini Kill)
Demetra Plakas (L7)
Lori Barbero (Babes in Toyland)
Mercedes Lander (Kittie)
Linda McDonald (The Iron Maidens)
Torry Castellano (The Donnas)
Roxy Petrucci (Vixen)
Lux (Necromantix)
---
Female drum teachers on Drumeo
Here are 8 awesome female drummers you can learn from on Drumeo:
Female drummers you should follow
A quick Google or YouTube search can bring up hundreds, if not thousands of female drummers. Here are more established players and up-and-comers who have been making an impact in different ways:
Anika Nilles (Germany): An independent drummer and educator who started her career on YouTube, Anika is known for her progressive style, technique, and creativity.
Senri Kawaguchi (Japan): Senri is an award-winning jazz/fusion drummer whose talent was recognized at a very young age. She's an active solo and session player who has worked with artists such as Bootsy Collins and Guthrie Govan.
Taylor Gordon (USA): Known as "the pocket queen", Taylor is a drummer and producer who has played with Fifth Harmony, Michelle Williams and Daya, and with Beyonce at the Super Bowl Halftime Show.
Camille Bigeault (France): Camille is making her mark with odd time signatures and polyrhythms. You can catch her performing at drum festivals and as the drummer for French artist Jenifer.
Sarah Thawer (Canada): A dynamic session player whose abilities cover multiple genres, Sarah has shared the stage with artists like AR Rahman, Salim-Sulaiman, George Watsky and many more.
Veronica Bellino (USA): Currently the drummer for Life of Agony and DMC, Veronica has backed artists such as Jeff Beck, Richie Sambora, Orianthi, and more.
Camille Bigeault (France): Camille is an educator, purveyor of odd time signatures and polyrhythms, and the drummer for French artist Jenifer.
Didi Negron (USA): Didi spent seven years touring the world as the drummer for Cirque du Soleil's Amaluna. She is now the drummer for Alegria.
Kristina Schiano (USA): Her covers of popular songs and motivational videos have racked up millions of views online, and she uses her reach to inspire as many people as possible.
Elise Trouw (USA): Elise is a solo artist and multi-instrumentalist known for her live loops. Her exceptional songwriting and drumming skills have earned her millions of video views and an appearance on the Jimmy Kimmel show.
Cherisse Osei (England): Cherisse has performed with numerous international artists such as Simple Minds, Bryan Ferry, Paloma Faith and MIKA. With MIKA, she's performed on major TV shows including Good Morning America, The Tonight Show, Jimmy Kimmel Live, Ellen and The Late Show with David Letterman. Cherisse also displayed her talents at the 2008 Beijing Paralympic Games Closing Ceremony, which was broadcast to over 1 billion viewers.
Brooke Colucci (USA): Teen drumming phenom (known on social media as 'rock angel') is gaining popularity for her covers of popular rock songs.
Julianna Mascia (USA): Julianna is an up-and-coming session drummer who brings tons of personality and feel to the videos she shares online. She has shared the stage with Sammy Adams, Bernard Purdie, and more.
Elie Bertrand (Canada): Elie is a versatile drummer who has appeared at several international drum festivals and toured as a live musician with actor and comedian Stephane Rousseau.
Words of inspiration
"There's no right or wrong way of playing the drums." – Janet Weiss
"Playing the drums takes passion and dedication. But it also takes a bit of humility—in the sense that once you realize you're continuously growing and that there is always room for more growth, you'll be much better off." – Sheila E.
"If you're a drummer, you're a drummer. That's all there is to it. Your hands either obey or don't. And if they don't obey then you have to do whatever it is to make them obey. To me, that's got no bearing on gender. So I just hope that I inspire drummers to be drummers." – Cindy Blackman Santana
Playlist
Check out these tracks featuring female drummers:
SHARE THIS: