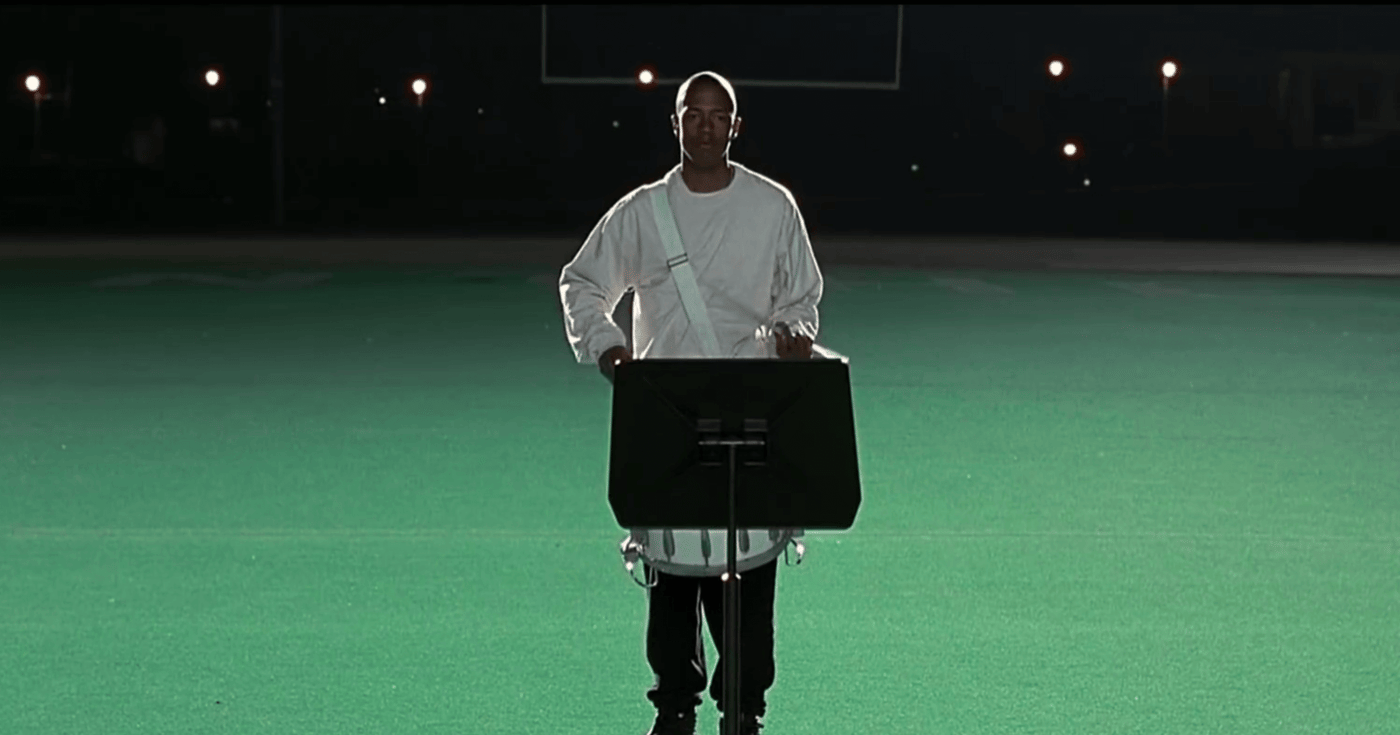 What drummer doesn't love seeing another drummer on the big screen? It isn't just a nice rush – it's important to the craft that drums are represented in pop culture and modern media.
But are the actors behind these kits actually drummers? Have they been playing for years, or did they take lessons for the role? Or is it clear that they've never held a pair of sticks before? How can you tell?
Will the non-drummers be exposed?
In the video above, two experienced drummers break down scenes from 11 different movies and TV shows and talk about if the drumming looks real, or if they were faking it.
The Big Short (2015)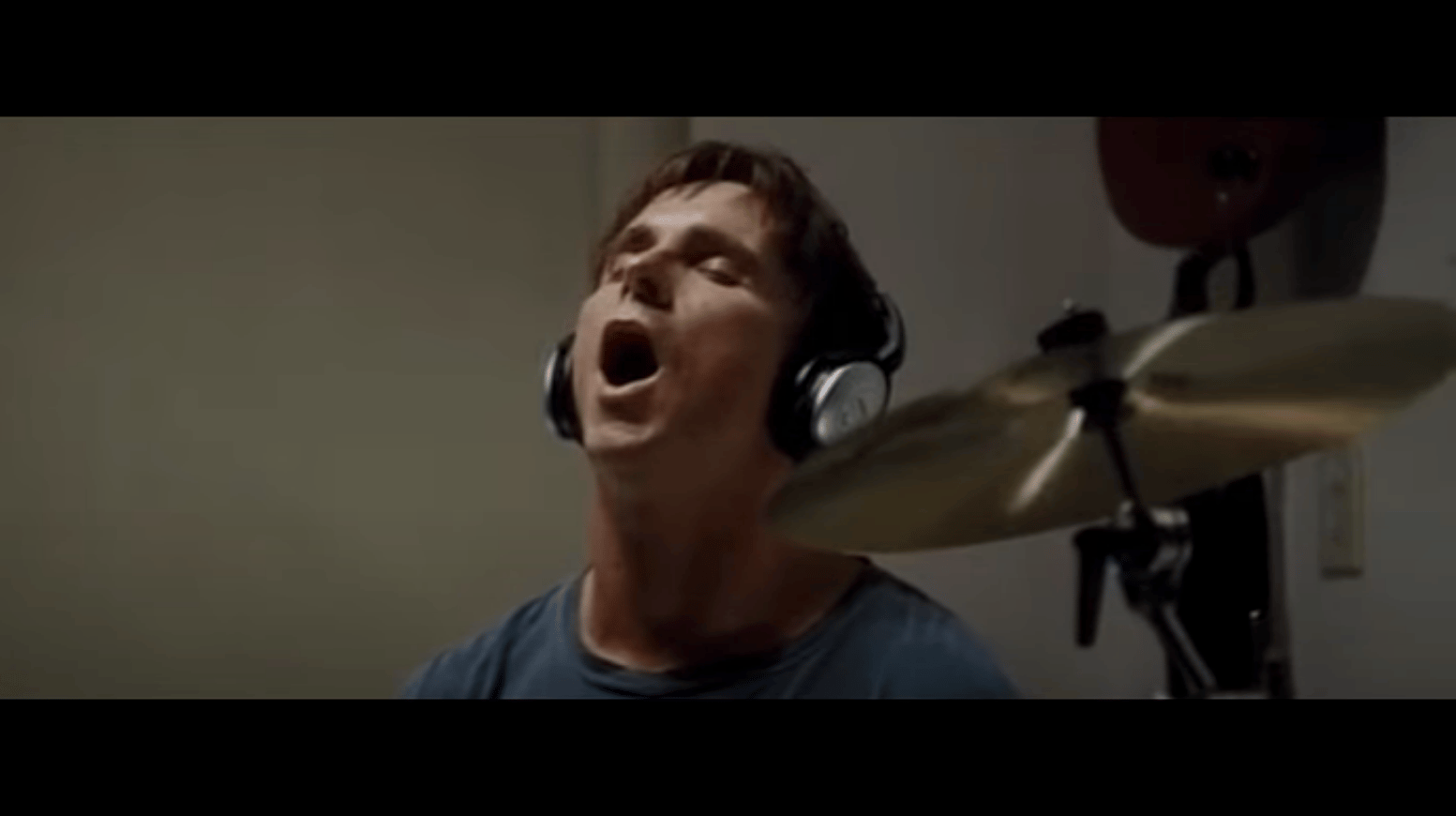 In this film, Christian Bale plays Michael Burry, a hedge fund manager who predicts the 2008 financial collapse. His favorite way to blow off steam is drumming – and in this scene, it's a Pantera tune. It's live audio, and Bale is actually playing!
You can tell from watching how he moves his arms that he isn't an experienced drummer, but he may have played before. Overall, an interesting take.
Drumline (2002)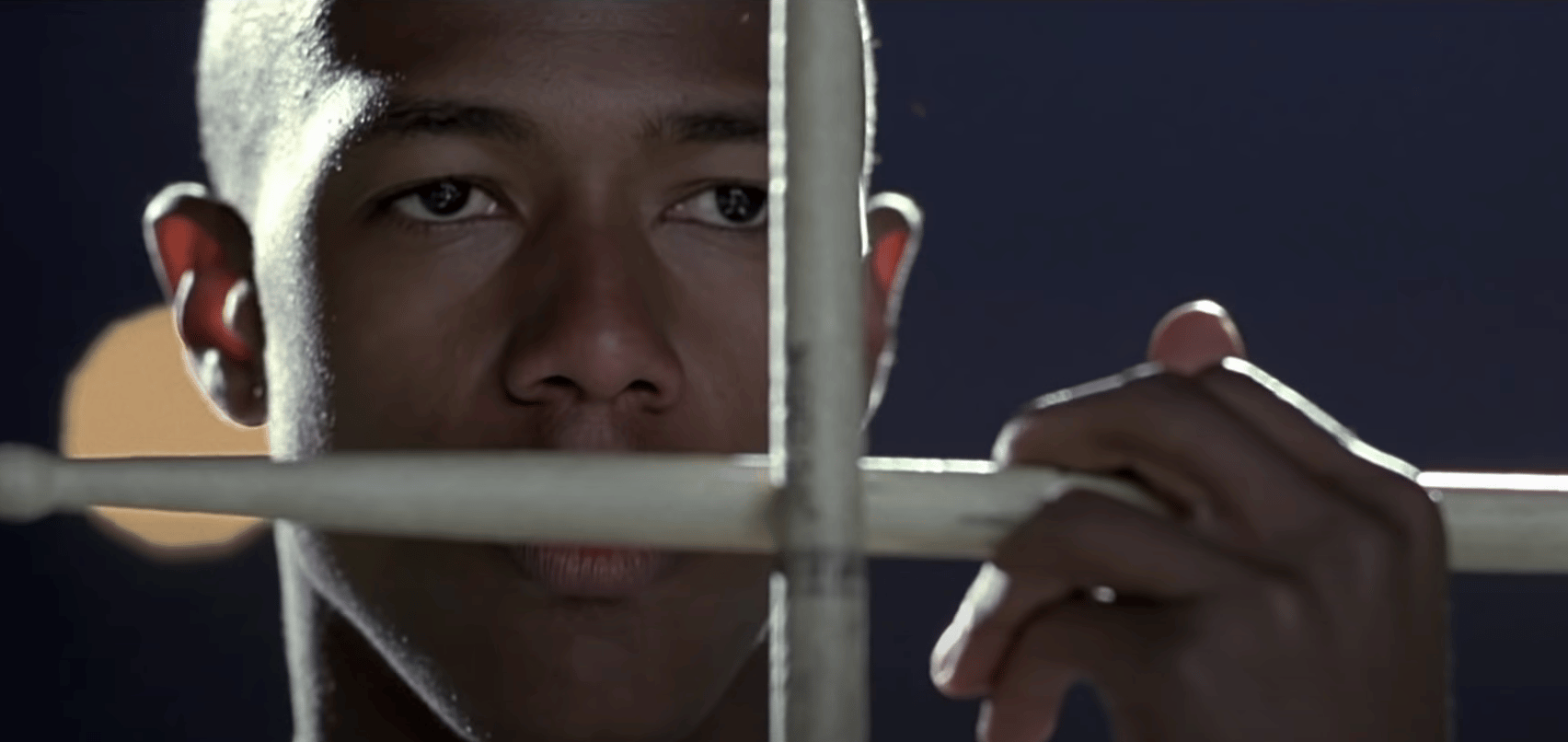 Drumline is a coming-of-age teen drama about a talented snare drummer (played by Nick Cannon) who joins a university drumline to lead its marching band to victory. In this scene, Cannon's character auditions by performing a complicated piece, with the catch that he can't read music.
We can't see his hands and face at the same time, so at first glance it's not possible to know if it's really Nick Cannon drumming. However, sources say that he spent a month preparing for the role with Florida A&M University drummer, Jason Price. Cannon is drumming in the movie, but most close-up shots and complex techniques were of Price's hands.
According to the actor, he went to sleep with sticks taped between his fingers to get used to holding them a certain way, and that he drummed until his fingers bled in preparation for the role. Now that's dedication.
Zachariah (1971)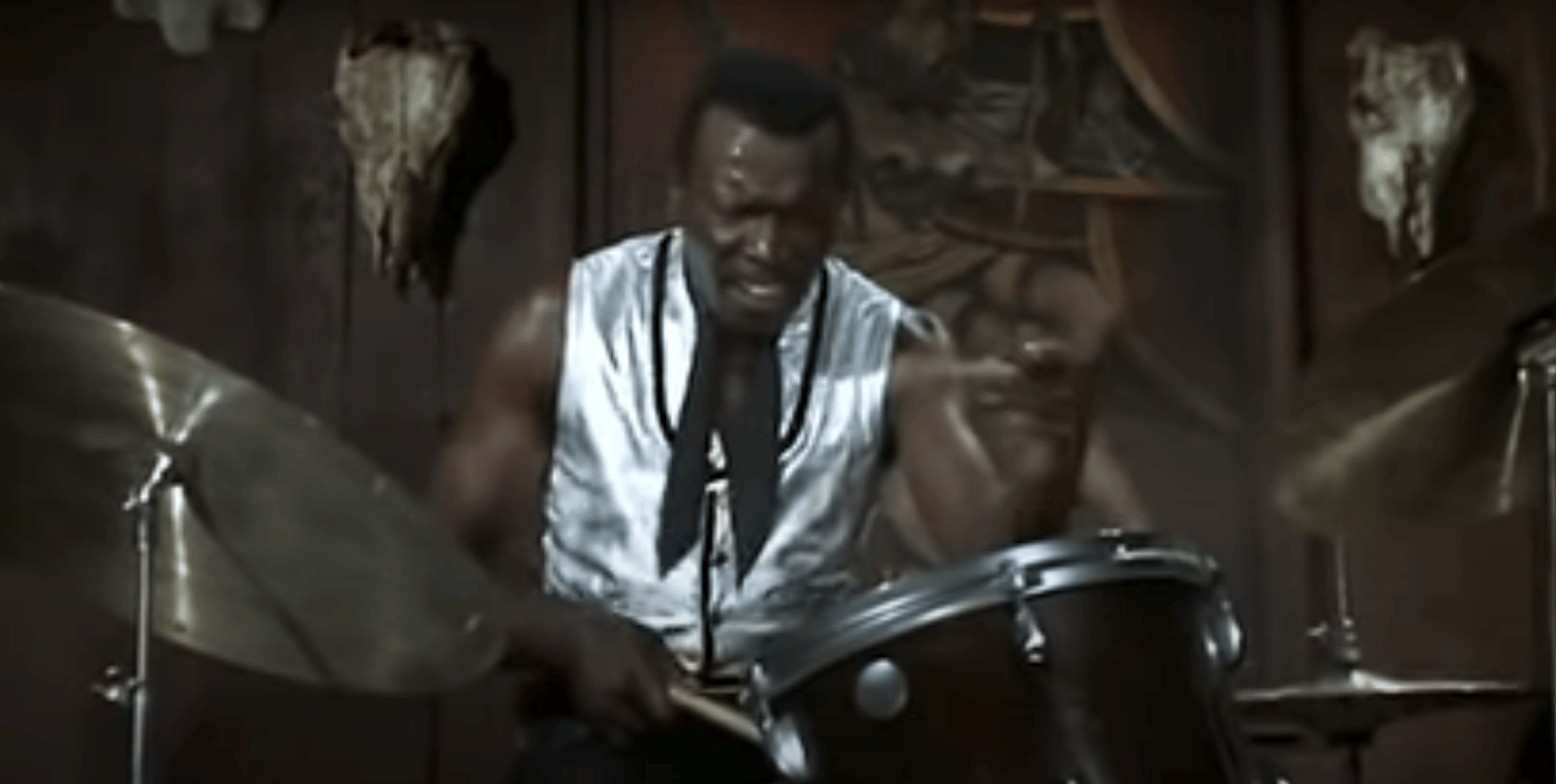 In this psychedelic musical film about two gunfighters who experience surreal visions on their journey through the West, character Job Cain (played by the legendary Elvin Jones) busts out a drum solo in a saloon after shooting an unruly patron. Apparently, the audio was so poorly recorded that New Orleans session drummer Earl Palmer was called in to overdub the solo (note for note, and "the hardest session I ever did").
Step Brothers (2008)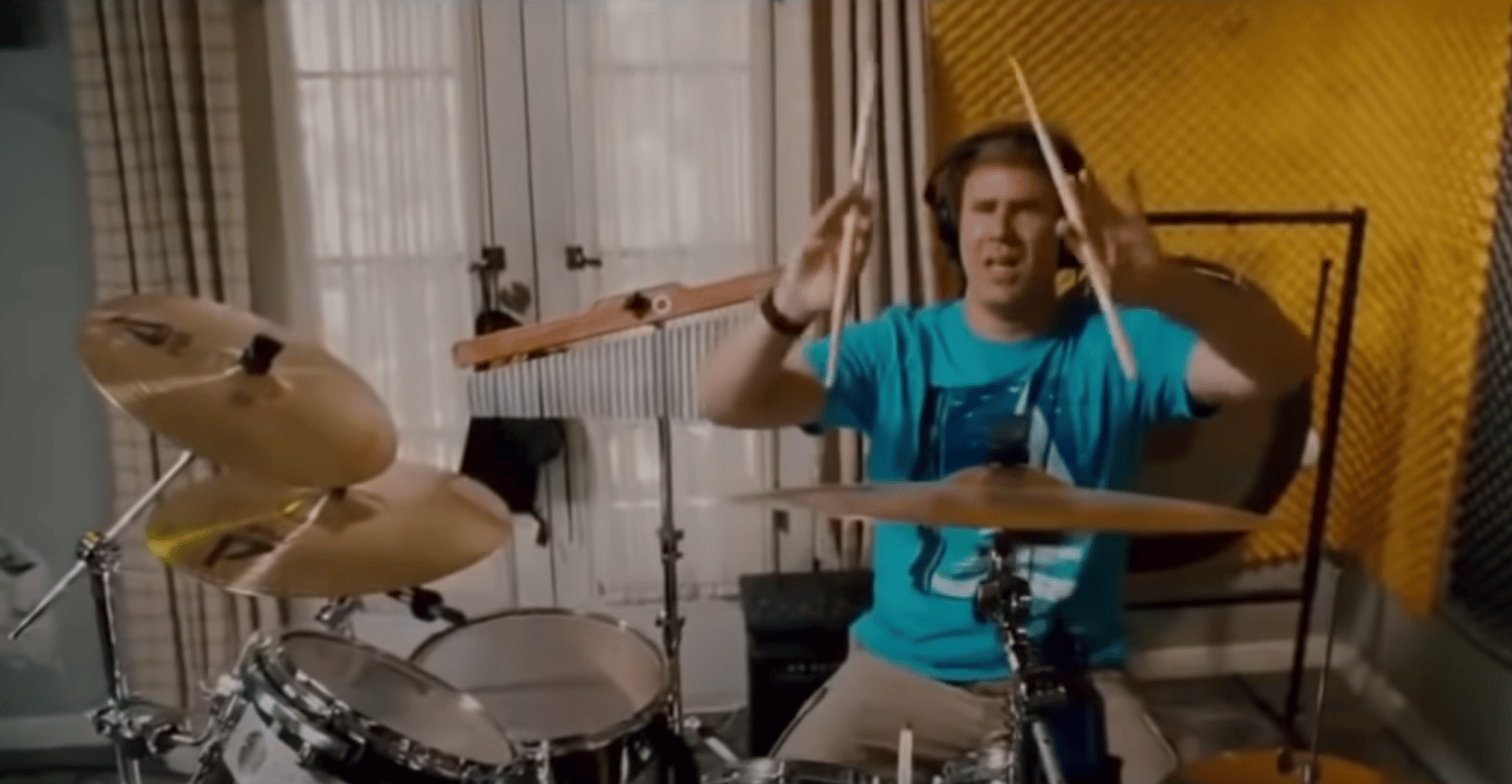 Two middle-aged men are forced into a fraternal relationship when their parents become romantically involved. Brennan Huff (played by Will Ferrell) unleashes his growing frustration wit his new family dynamic on his brother Dale (John C. Reilly)'s drum set.
The kit actually belongs to John C. Reilly, who learned to play drums for his previous role in the movie Georgia. But this scene focuses on Ferrell, who looks like he's never sat behind a drum kit before. However, that's just him in character, because he's definitely graced the throne at least once: in his famous Jimmy Fallon 'drum-off' against Chad Smith of the Red Hot Chili Peppers. But is he a drummer in real life? Probably not.
(P.S. The production company actually asked Drumeo to supply educational products for a scene!)
Mambo Kings (1992)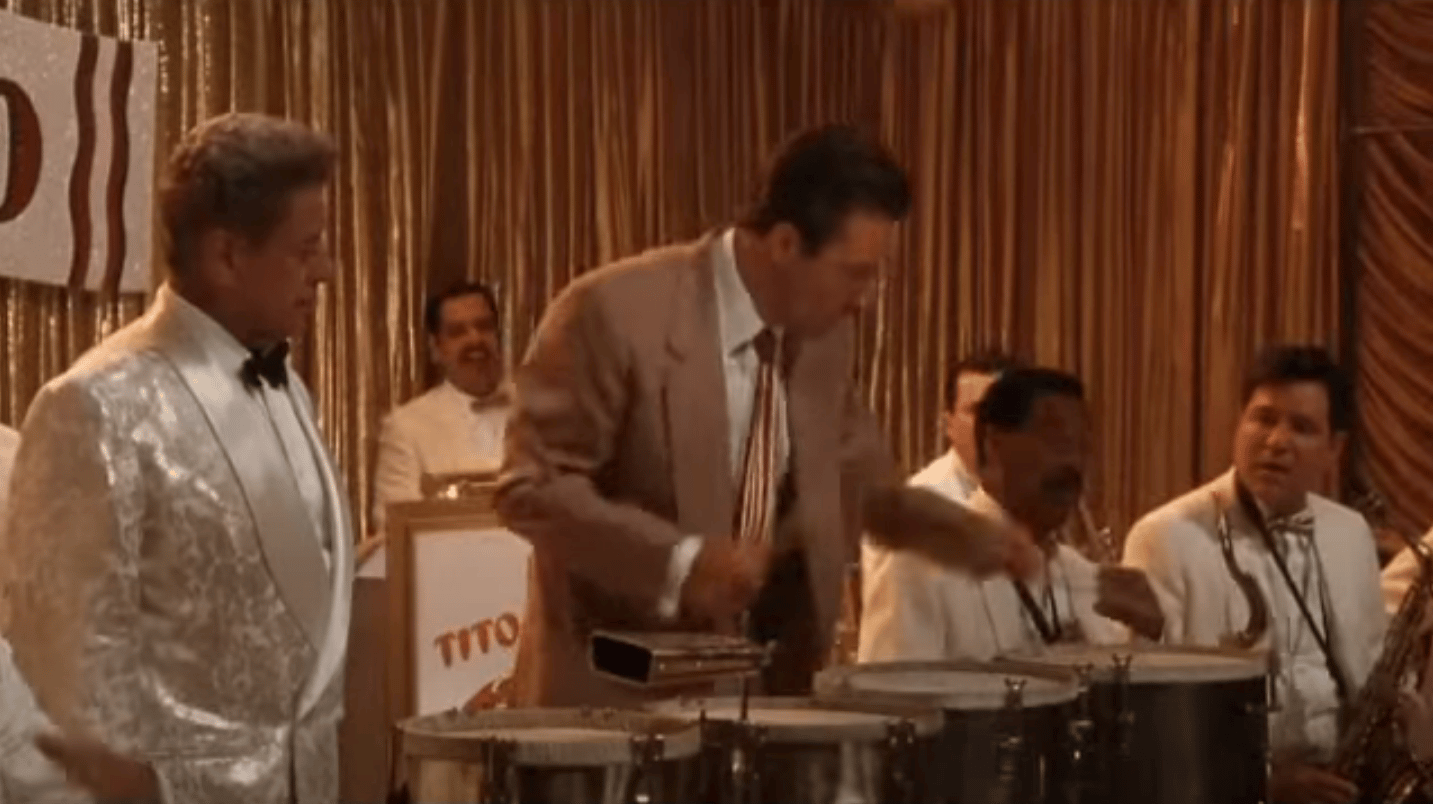 Based on the Pulitzer Prize-Winning Novel, two Cuban brothers, Cesar and Nestor Castillo (Antonio Banderas), arrive in 1950s New York with dreams of becoming rich and famous musicians. On their first night out in NYC, Cesar (played by Armand Assante) jumps on stage with Tito Puente to perform a timbale duet.
Assante played drums in a band in high school, but it was far from the Latin clave rhythms heard in this movie. He did practice for the scene with Tito Puente, and apparently had to recreate the duet at the movie premiere. It's not clear if the audio in the movie is really him, but it definitely looks like he's playing.
That Thing You Do (1996)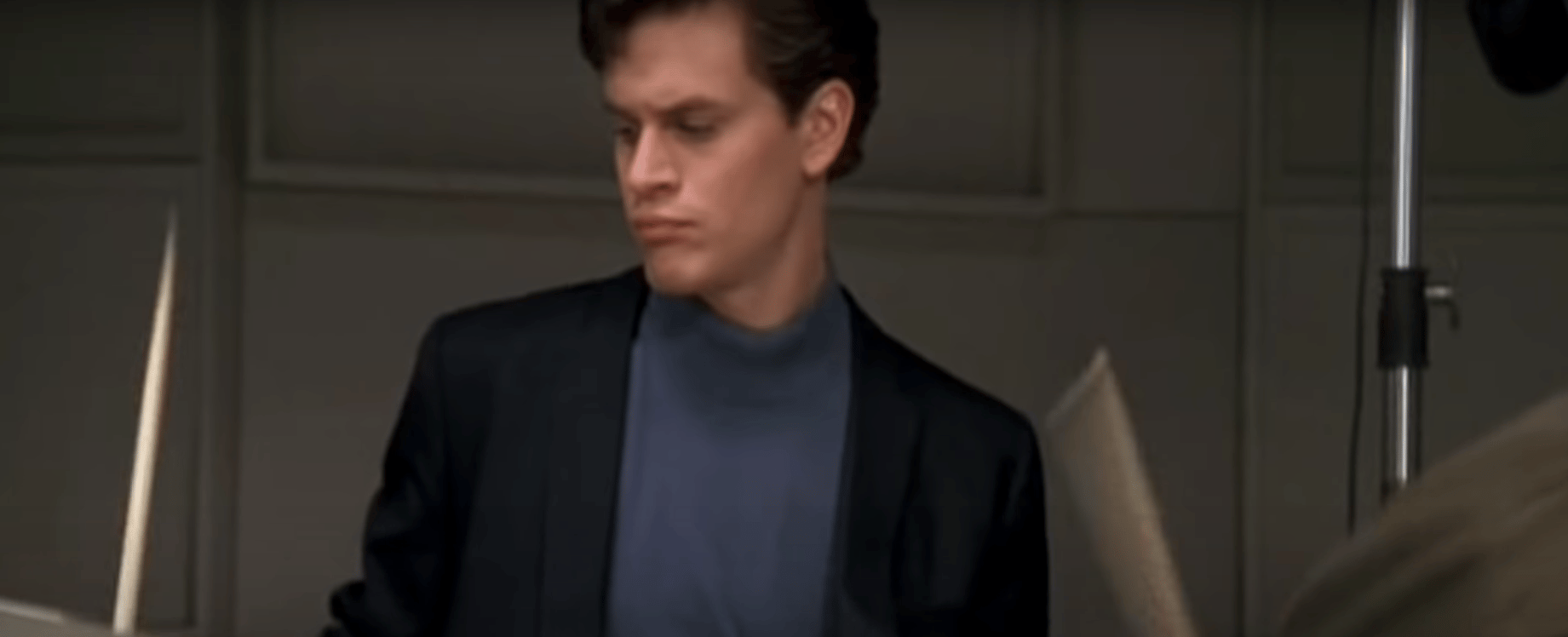 A young band in the '60s enters the studio to lay down their next single, but break up before recording. The drummer (played by Tom Everett Scott), who always wanted to play jazz, takes the opportunity to jam his true passion.
Drum educator Billy Ward taught Scott how to play for this movie. It looks like it may be overdubbed, but the actor is actually drumming.
The Office – S8E7: "Pam's Replacement" (2011)
The company's CEO walks in on three employees having a jam session in the warehouse. Soon after, pro musicians arrive and a drum battle between character Kevin (Brian Baumgartner) and drummer Steve Moore (who you might remember from this viral video) ensues.
Baumgartner apparently learned the drums for a previous episode where he played and sang a Steve Miller tune (but they couldn't negotiate the rights and had to overdub a different song). We don't really get to see him drum here – but it's entertaining.
Wayne's World (1992)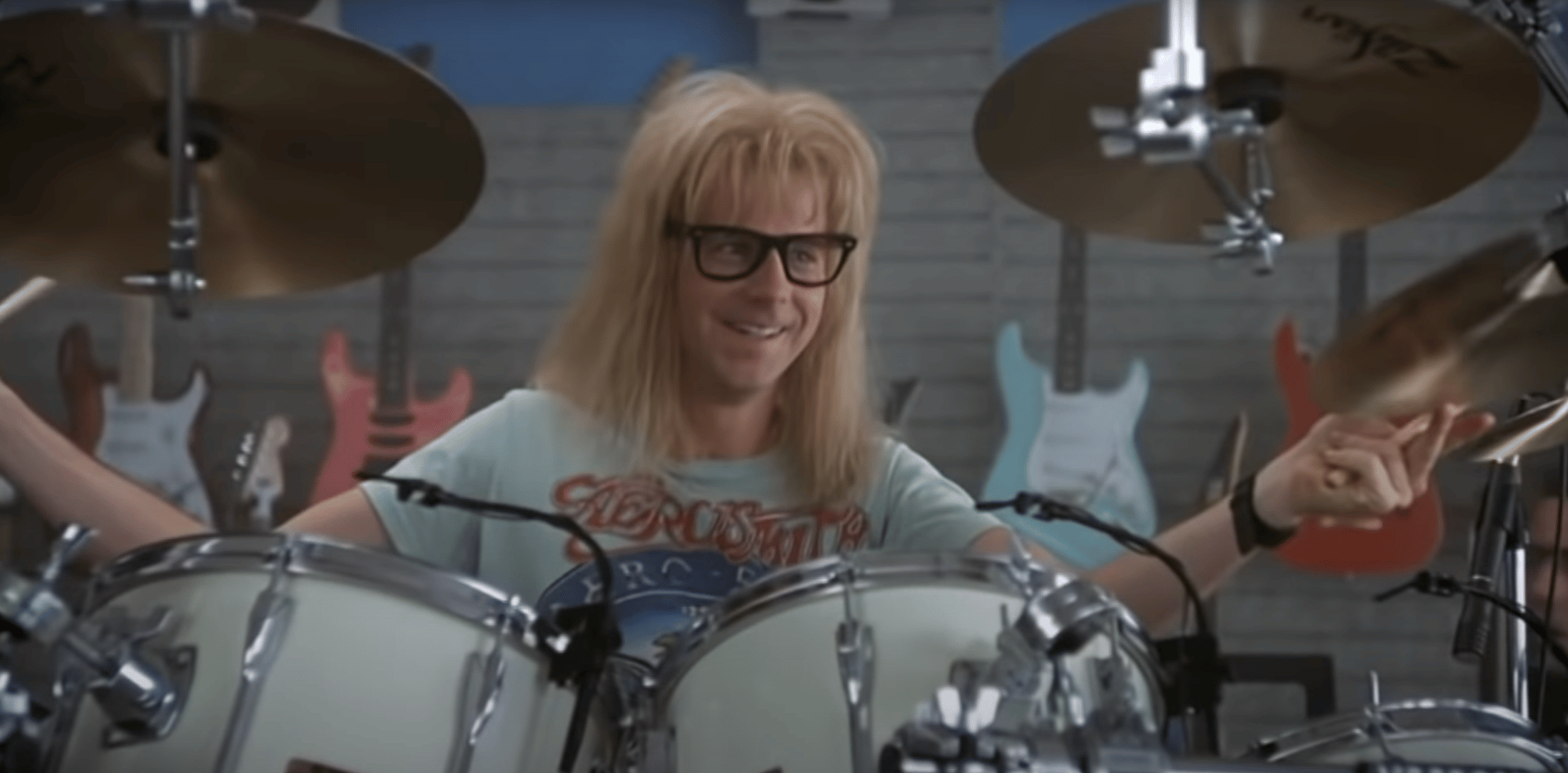 If you've never seen this movie, stop what you're doing right now and put it on. Wayne's World is about two rock and roll diehards coping with the repercussions of selling their public access TV show to a major network corporation. In this classic scene, bashful Garth (Dana Carvey) sits down behind the drum set in a local music store to perform a solo.
It's actually Carvey playing! He also featured his drumming skills in The Dana Carvey Show, his short-lived sketch show. Apparently he based the Garth character on his brother, who is also a drummer.
Modern Family – S1E21: "Travels with Scout" 2010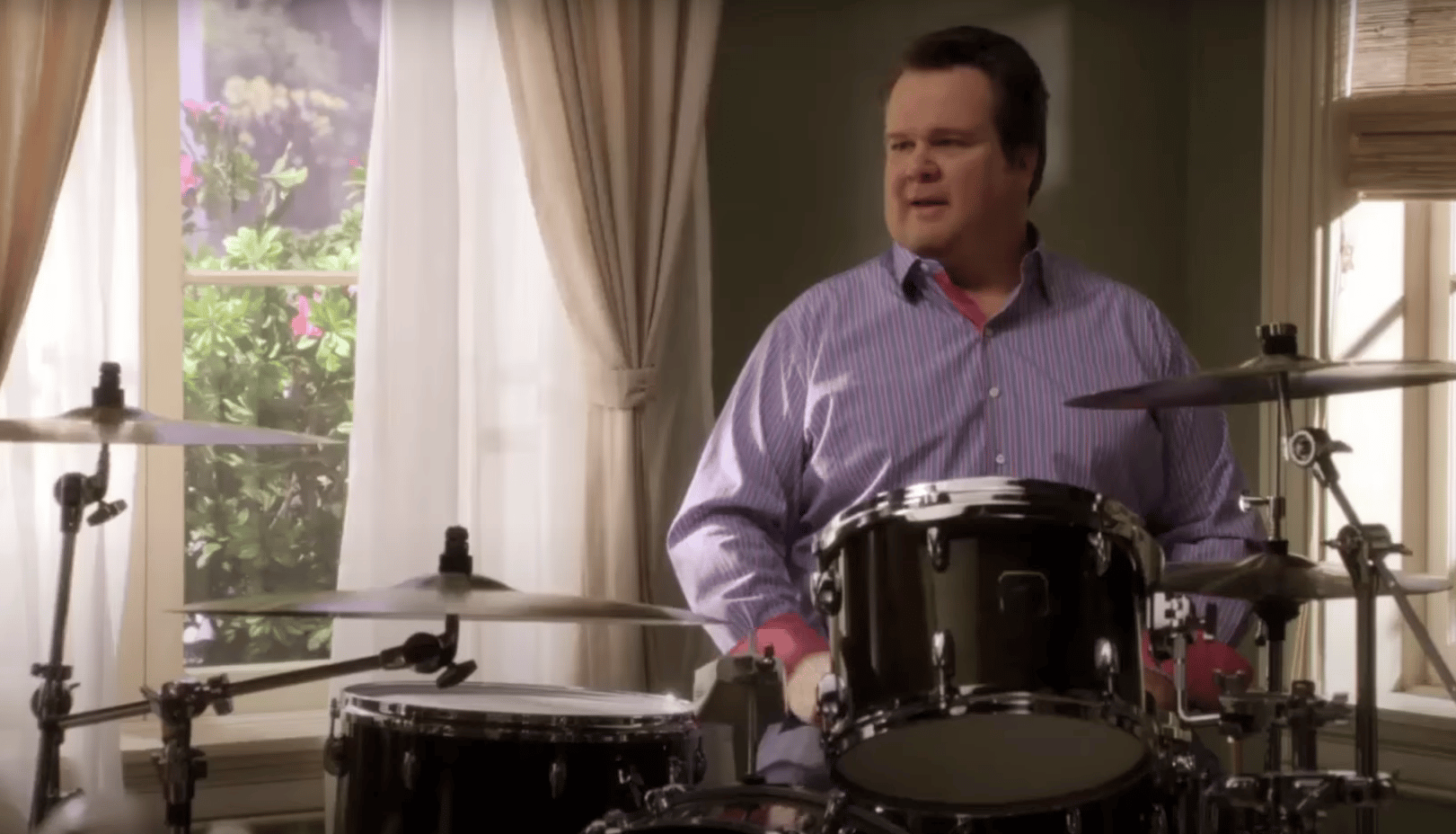 Cameron Tucker (Eric Stonestreet) offers to play drums for his niece's boyfriend's band after the original drummer moves back to Portland. In this scene, he pretends to not know how to play, but then proves otherwise. He moves around the kit nicely and looks like a real drummer.
As it turns out, he is. In a 2018 tweet, Stonestreet says that they used his actual kit for the scene. He got his first snare drum in the third grade and has appeared with Kansas State University's drumline. He regularly posts drumming videos on Instagram and even performed with Lady Antebellum in 2017 at their Kansas City stop.
Hop (2011)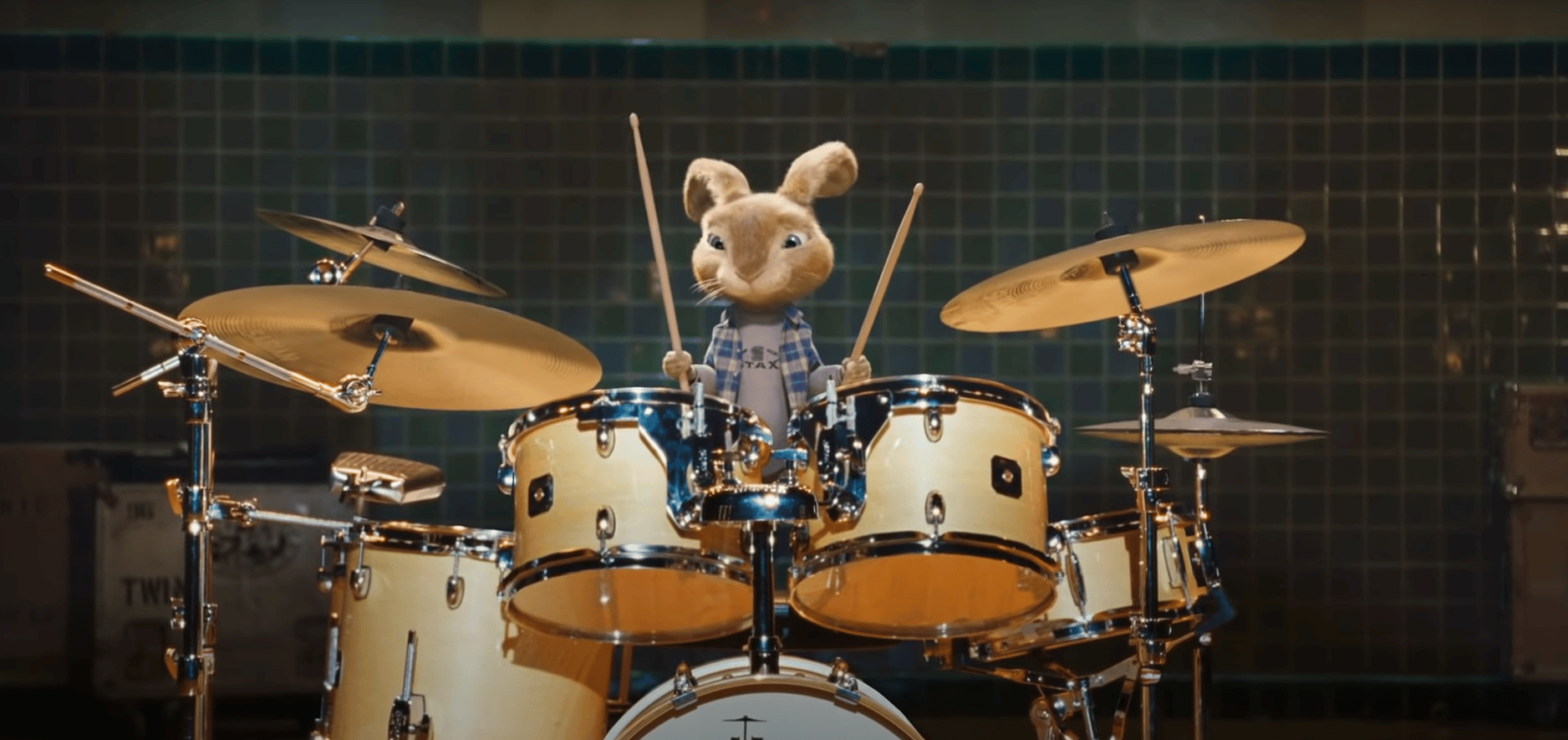 A talking rabbit named E.B. (voiced by Russell Brand) decides to ignore his family destiny as the next Easter Bunny and runs away to Hollywood to realize his dream of becoming a drummer. In this scene, he auditions for David Hasselhoff's talent show.
The drumming you hear is Zach Danziger, who has played on multiple movie soundtracks. Will watching an animated rabbit play the drums inspire kids? Hopefully!
Whiplash (2014)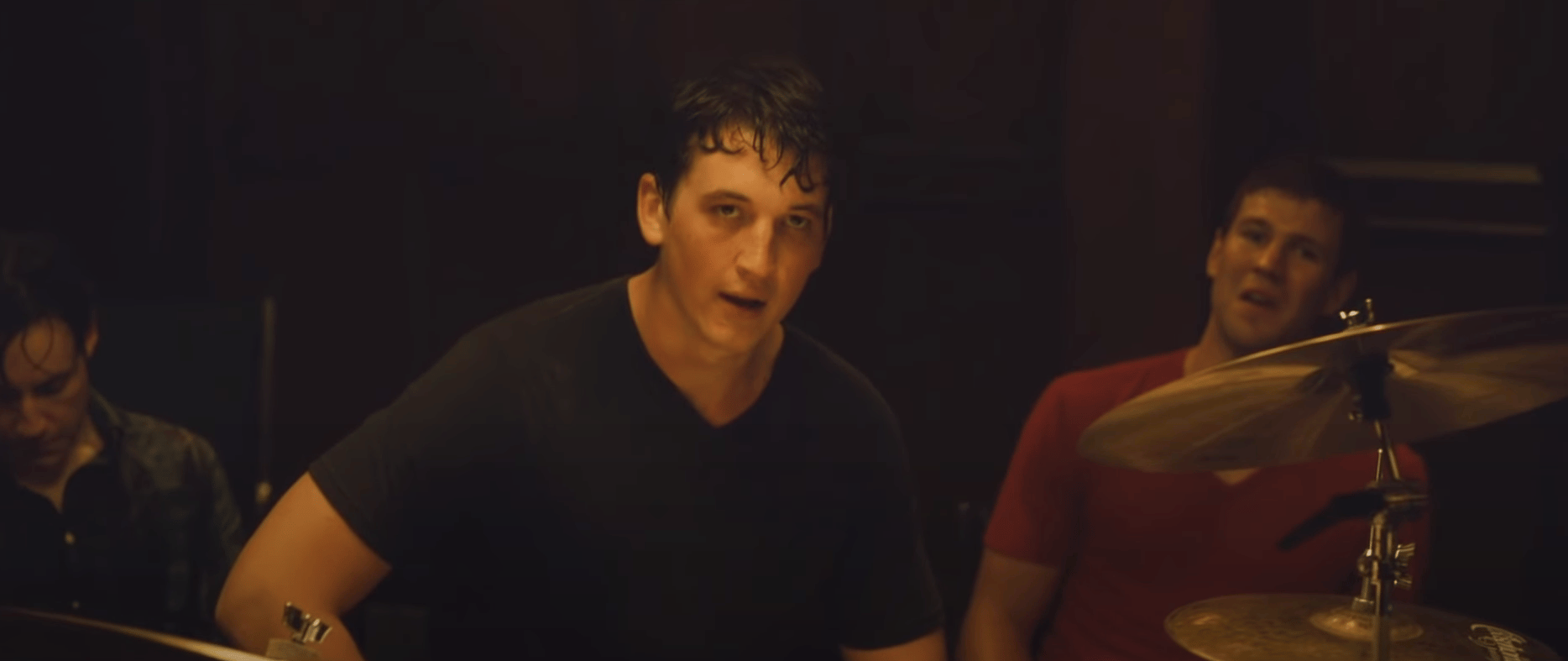 If you're a drummer, your friends may have asked you about this movie dozens of times when it first came out. Whiplash is about a character named Andrew (played by Miles Teller) who enrolls in a music conservatory to become a drummer, and ends up with an intense mentor (Terence Fletcher, played by J.K. Simmons) who pushes him to his limits with unconventional teaching methods. In one scene, he tries to earn back his spot as the core drummer in Fletcher's elite Studio Band.
Teller is actually a self-taught drummer who started playing at 15. However, he started taking lessons for four hours per day, three days a week to prepare for this role. He studied jazz greats like Philly Joe Jones and Buddy Rich, specifically focusing on traditional grip. The director based the Fletcher character on his own high school jazz drumming experience.
This movie promotes drummers as heroes, which is very cool – even though it's exaggerated. Luckily, most of us don't go through that much torture to achieve our dreams, although the concept of working hard and making sacrifices is real in many cases.
Drummers deserve to have their time in the Hollywood spotlight. What do you think? Is it better to cast a good drummer or a good actor? Which of these scenes is your favorite, and did we miss any?
SHARE THIS: