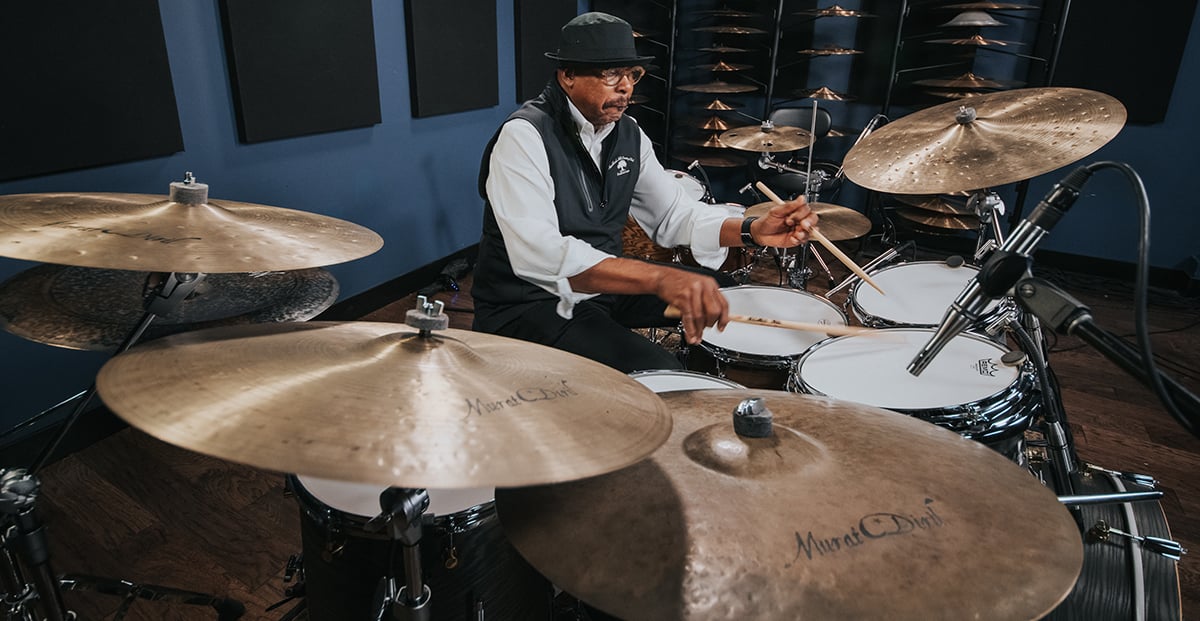 Let's say you play in a rock, metal, or R&B band and haven't checked out much jazz.
"Why should I learn jazz drumming? I just want to rock out!"
Studying jazz will make you a better overall musician and help you take your playing to the next level in every other style of music. The same skills you need to play jazz can help you get more gigs and even teach you social skills to apply to every other part of your life.
Still not sure? Here are a few more reasons to give it a shot.
Improve your listening and interaction skills
A drummer's number one job in a jazz group is to make all the other musicians sound better. How can I do this? By listening! In jazz, nothing is more important than your ears. You need to be able to hear what every other instrument is playing individually and how it all fits together with what you're doing. Just like in every other style, you gotta know when to fill and when to chill. 
Play with sensitivity, touch, and dynamics
Having trouble nailing the quiet breakdown section in a rock tune? Learning jazz will help you achieve a greater level of control over every note you play. This is both an "ears" and a "hands" thing and applies to metal, Latin, R&B, and every other style. More control equals a better sound.
Learn independence and enhance your technique
Studying jazz means freeing up all four limbs to play different parts and interact with each other to create your overall sound. The best jazz drummers can play the bass drum quietly, use their hi-hat freely, and play loose and melodic rhythms on the ride and snare. This is great for metal, prog rock, and everything else.
Improvise, adjust on the fly, and learn to be open-minded
One of the best things about jazz is that you never know exactly what's going to happen. Playing it can teach you how to take mistakes and turn them into incredible musical moments. Learning to expect the unexpected can bring you out of your shell creatively and be tons of fun.
Expand your musical vocabulary and play melodically
Being able to play melodically on the drum set is one of the most important lessons in jazz. This concept will help you come up with ideas for your drum solos and open your mind to new rhythms you didn't even know existed.
Learn to follow the form
Jazz drummers might sound like they're just chugging along and playing whatever they want, right? Nope! They're actually counting like crazy the whole time to keep the form, mark all the sections, and hold the band together. Jazz players also know how to read and write charts which will help you learn and memorize music more easily.
Improve your swing feel
While it's important to play cleanly and with precision, drummers are not robots and jazz drumming has a looseness to the feel that translates to many other styles. Knowing how to use the concept of swing can help your rock shuffle, your singer-songwriter gig, and your R&B playing.
Step up your social skills
Jazz is the ultimate democracy. Everyone gets a solo and supports each other to make the group sound better. It's a truly collective effort that can teach you empathy, patience, open-mindedness and camaraderie. These things can help you become a more well-rounded player and a better person.
Watch people call you for more gigs
Versatility is where it's at! Many of the best jazz drummers have gone on to mainstream commercial success by applying these skills to other genres. Here are some examples:
Whether you're a non-jazz drummer or an 'aspiring Steve Gadd', you can see why having jazz skills under your belt can help you across the board. What are you waiting for?
SHARE THIS: