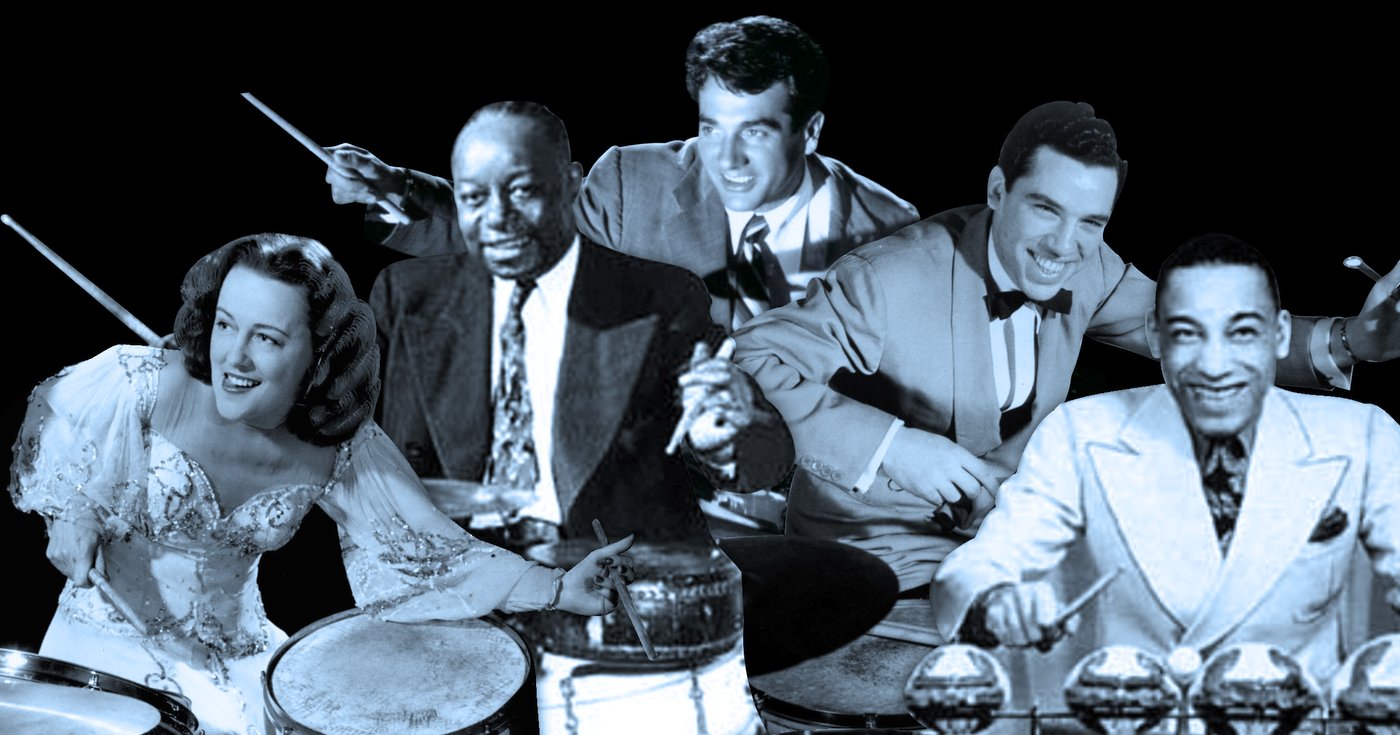 Editor's Note: This article was inspired by a conversation with Dom Famularo at the 2020 Drumeo Festival where he shared his personal list of who he considers the 'founding drummers' who shaped the instrument as we know it today. We wanted to capture this for future generations because every drummer should be familiar with these stories.
–
We wouldn't be where we are today without the drummers who came before us. We need to step back to understand how we can go forward. This is why it's so important to learn about the history of this incredible instrument.
In America, we have forefathers who had the vision of what they wanted America to be. They had a vision of being a land of liberty. A republic. A concept that hadn't been done before.
It's the same with the drum set. There were visionaries who saw the potential in something that wasn't there. They were holding a machete in a jungle and cutting a path, not knowing where they were going. They kept fine tuning the process and eventually made a clearing where they could settle.
America's founding fathers – Washington, Jefferson, Adams, and Franklin – were the force in the vision of what they saw the country to be. They had a vision that nobody else could see, so they had to sell the idea. They wrote the Declaration of Independence to explain what they were trying to achieve, and it inspired everyone to see the potential in a country people could have control over.
When we look at the first kit drummers, we can see how they created their own set of rules, too.
The gradual evolution of drum set playing
Early kit drummers, like Baby Dodds, were timekeepers. They didn't talk, they didn't arrange, they just set the tempo. They were at the back of the band. Since there was no amplification, it was often only the drummer who could hear the bass player standing beside them, and the bass player would help the drummer keep time. The rhythm section was mostly there to support the 'real musicians'.
Then guys like Chick Webb came in and started looking at the drum set as a way to create effects. Chick had leather straps hanging from a large armed boom and cymbals hanging flat over his head. He had wood blocks, cowbells, you name it. He was one of the first drummers to be a bandleader, and worked with Ella Fitzgerald and many other incredible musicians who went on to be superstars.
Buddy Rich told me that Chick Webb was his first – and biggest – inspiration.
Then you bring in players like Gene Krupa, who was the first to envision the drums as a solo instrument. At the time, this was shunned upon. You are a timekeeper. You are below human. You don't do any of that! Krupa had a vision, and he had to sell that vision.
Eventually, he spoke to Benny Goodman, who – according to Joe Morello – said, "I don't think anybody wants to hear a drum solo." They challenged each other to see how the audience would react.
After playing "Sing, Sing, Sing", Gene was asked to play several encores. The message was loud and clear. Drum mania had begun!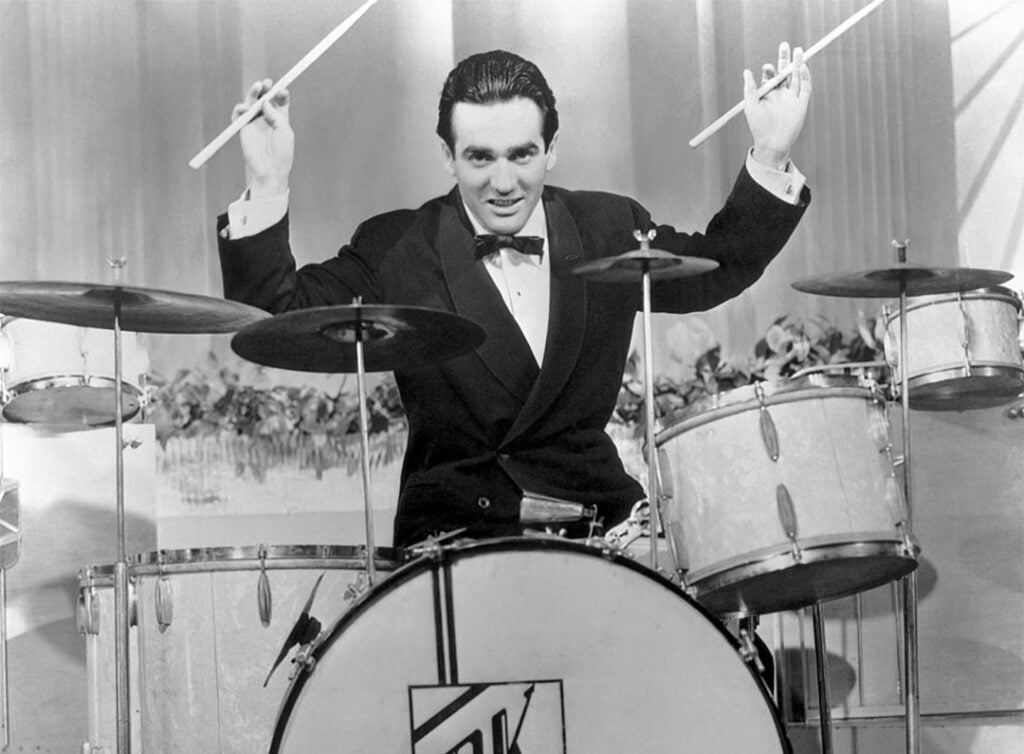 Every country has an anthem, and "Sing, Sing, Sing" became the anthem of drum expression. The song still inspires people almost 100 years later. Gene's solo changed the face of how people saw drummers. No longer were we just timekeepers. The drums were now a featured instrument!
Gene put the modern drum set on the map as an equal musical voice. He became such a huge celebrity that not only was he featured in over 100 movies, but Hollywood produced a movie about his life: The Gene Krupa Story. I advise all of my students to watch it!
The drum set was evolving beyond a simple snare drum and bass drum. It became a playground, with unlimited options for pieces and placement. Viola Smith was one of those drummers responsible for pushing the envelope of drum set size and sound.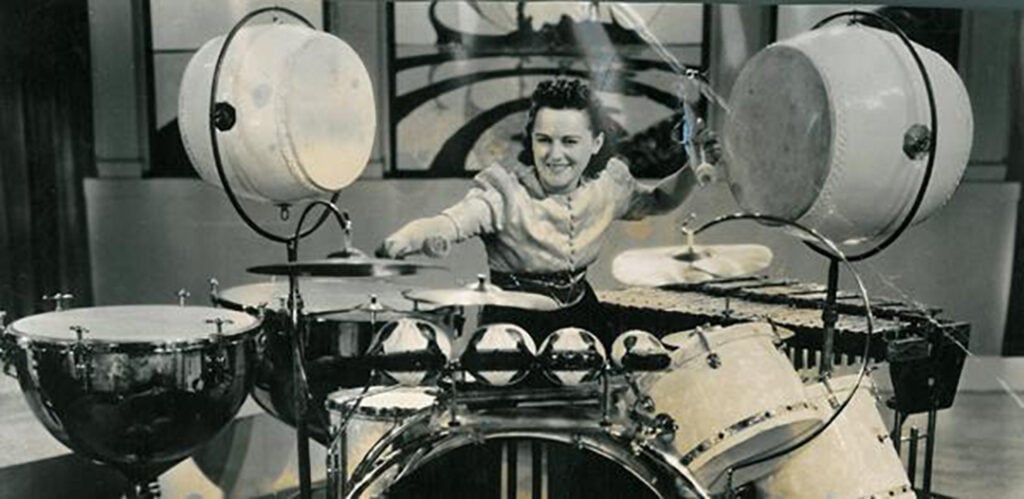 In 1935, George Lawrence Stone's book Stick Control was published, and it became a standard of education. It was one of the first typeset drumming books. At the time, there was a long process for printing: people had to take a metal sheet and chisel each of the notes into that sheet to create a negative. 
I'm sure it took incredible expense and time to do that, but now we had a document that – like the Declaration of Independence – showed our desire to learn and that our level of education was higher than they gave us credit for. When I found out that the negatives for Stick Control had been lost years ago and the only way to print the book was to take progressively lower quality pictures of each page, I worked with George Lawrence Stone's family to digitally re-engrave it and preserve it for generations to come. It is so important that we don't let our history disappear.
I often talk about inspiring people to aspire. To do so, I go back to the forebears who had the vision, the guts, the foresight, and the drive to create something that was not there before.
Tap dancing on the kit
When marching drummers came over to the drum set and were playing in those early bands, it was Louis Armstrong who really had the vision of this kind of 'bouncy' music. In the early 1900s, America's streets were 'paved with gold', so to speak, and millions of immigrants were coming from all over to be a part of this new world.
Armstrong witnessed people coming to New York to seek life, liberty, and the pursuit of happiness, realizing that if they worked hard, they could have a better life. We didn't have music that accommodated that bouncy, happy, free feeling, so he started writing in a jazzy way that encompassed that.
Louis Armstrong was the first advocate to really push this style forward. When he auditioned drummers, he was looking for someone who could play that 'bouncy' music. But most players at the time were military drummers who were too stiff and rigid.
Before I continue, you should know that the connection between tap dancing and drumming is important. In tap dancing, there's the time step, which became the jazz ride rhythm. Several great tap dancers also played drums, such as Fred Astaire, Sammy Davis Jr., and Gregory Hines.
Baby Dodds was a tap dancer and a drummer – a multi-talented performer, as many were in Vaudeville. Louis Armstrong noticed that his bouncy tap rhythms were perfectly aligned with the ideas he had in his head. "That's it!" he said. "You're the drummer for my band."
When Baby Dodds first learned the military drum, he would stand up and play on a marching snare. People were dancing to the bouncy, syncopated songs Armstrong had written. Sometimes the band would do two or three gigs per day, so it made sense for Dodds to sit down.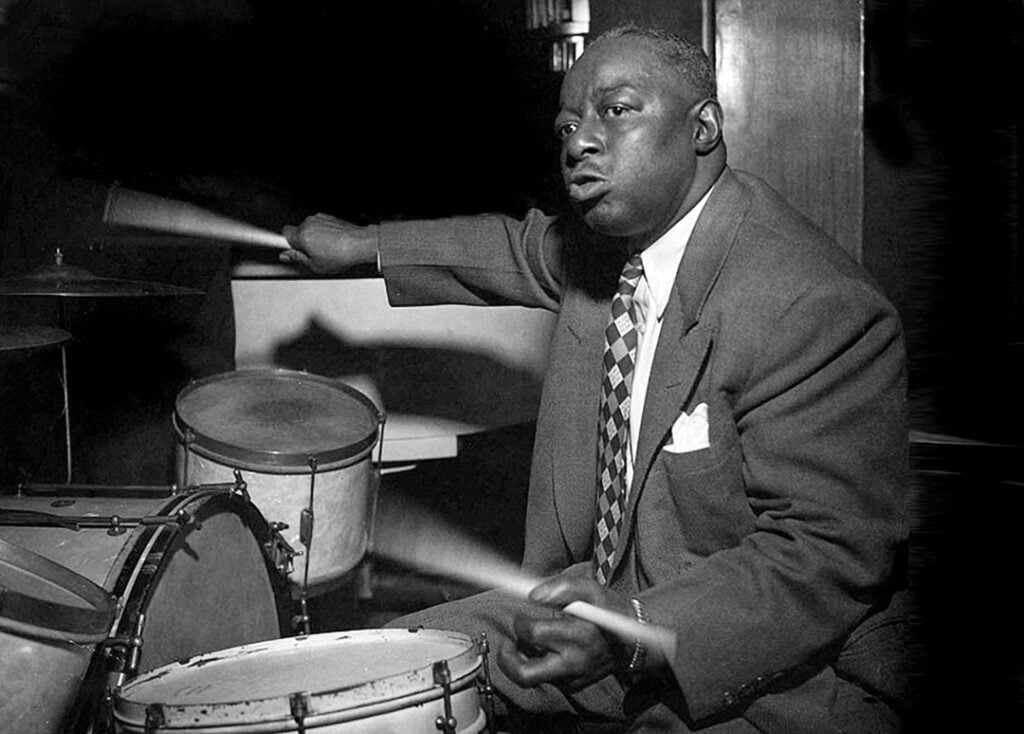 It's when Baby Dodds – and other young drummers of the time – sat down that the drum set really began to evolve. When those early drummers realized that sitting down was more conducive to this new music, the equipment had to catch up to the demands.
That meant a shallower snare drum that could be placed lower down, and a special snare stand. Bill Ludwig had developed a bass drum pedal so bandleaders didn't need to hire someone to play the bass drum. Sitting down meant the concept of drum set development was now in its infancy stage.
Since many early drum set players were tap dancers and had good control of their feet, the concept of controlling a pedal wasn't that big of a deal. Gene Krupa, Buddy Rich, Louis Bellson, Joe Morello, and Papa Jo Jones were tap dancers. So were Roy Haynes, Jack DeJohnette, Jimmy Cobb, Art Blakey, Art Taylor, Max Roach, and Elvin Jones.
And we can't forget Philly Joe Jones, Sonny Payne, Sonny Greer, Rufus Speedy Jones, and even Steve Gadd!
50+ founding drummers you should know
If you're looking for inspiration in drumming, start here. If you research any of the names on this list, you'll find yourself on the path of a creative vision. Even though we might think of them as much older, many of these drummers were youthful, phenomenal monster players who just didn't have the technology to capture the magic the way we do now.
Look at who they played with: Papa Jo Jones played with the Count Basie Orchestra, traveling on a bus from state to state, country to country, until Basie passed away. They kept going because of the sax player, Frank Foster. And they kept going after Foster passed away. In fact, the Count Basie band is still going to this day.
Sonny Payne filled in with Count Basie and recorded with Frank Sinatra live at The Sands. You want a lesson in Big Band? Listen to that album and transcribe his fills. Study it.
Cozy Cole opened up a drum school – one of the first drum set schools – with Gene Krupa in the '50s. I could go on and on.
The 52 drummers on this list greatly inspired me personally, and I knew many of them. I took lessons from Shelly Manne, Jim Chapin and Joe Morello. I knew Buddy Rich and talked to Gene Krupa once on the phone as a student. Krupa planted the seed of inspiration; that's what these people did. They were so passionate about what they did, they continue to inspire people to aspire.
Sonny Greer (1895-1982)

Baby Dodds (1898-1959)

Chick Webb (1905-1939)

Ray Bauduc (1906-1988)

Dave Tough (1907-1948)

Gene Krupa (1909-1973)

Cozy Cole (1909-1981)

Big Sid Catlett (1910-1951)

Papa Jo Jones (1911-1985)

Viola Smith (1912-2020)

Buddy Rich (1917-1987)

Irv Cottler (1918-1989)

Art Blakey (1919-1990)

Jim Chapin (1919-2009)

Shelly Manne (1920-1984)

Jack Sperling (1922-2004)

Philly Joe Jones (1923-1985)

Sonny Igoe (1923-2012)

Max Roach (1924-2007)

Louie Bellson (1924-2009)

Roy Haynes (1925-)*

Alvin Stoller (1925-1992)

Sonny Payne (1926-1979)

Stan Levey (1926-2005)

Elvin Jones (1927-2004)

Joe Morello (1928-2011)

Jimmy Cobb (1929-2020)

Charlie Persip (1929-2020)

Alan Dawson (1929-1996)

Ed Shaughnessy (1929-2013)

Art Taylor (1929-1995)

Mel Lewis (1929-1990)

Hal Blaine (1929-2019)

Ed Thigpen (1930-2010)

Joe Porcaro (1930-2020)

Frankie Capp (1931-2017)

Joe Cusatis (1931?)*

Jake Hanna (1931-2010)

Grady Tate (1932-2017)

Emil Richards (1932-2019)

Colin Bailey (1934-)*

Roy Burns (1935-2018)

Rufus 'Speedy' Jones (1936-1990)

Billy Higgins (1936-2001)

Louis Hayes (1937-)*

Horace Arnold (1937-)*

John 'Jabo' Starks (1938-2018)

Harold Jones (1940-)*

Clyde Stubblefield (1943-2017)

Michael Carvin (1944-)*

Tony Williams (1945-1997)

Ted Reed (1948-1987)
(*Starred drummers are still with us at the time of writing)
To learn more about the history of drummers and drumming, Daniel Glass and Kelli Tubbs have put out some incredible videos and books. We're on an amazing journey and there's so much to know!
Onward and upward,
Dom Famularo
SHARE THIS: