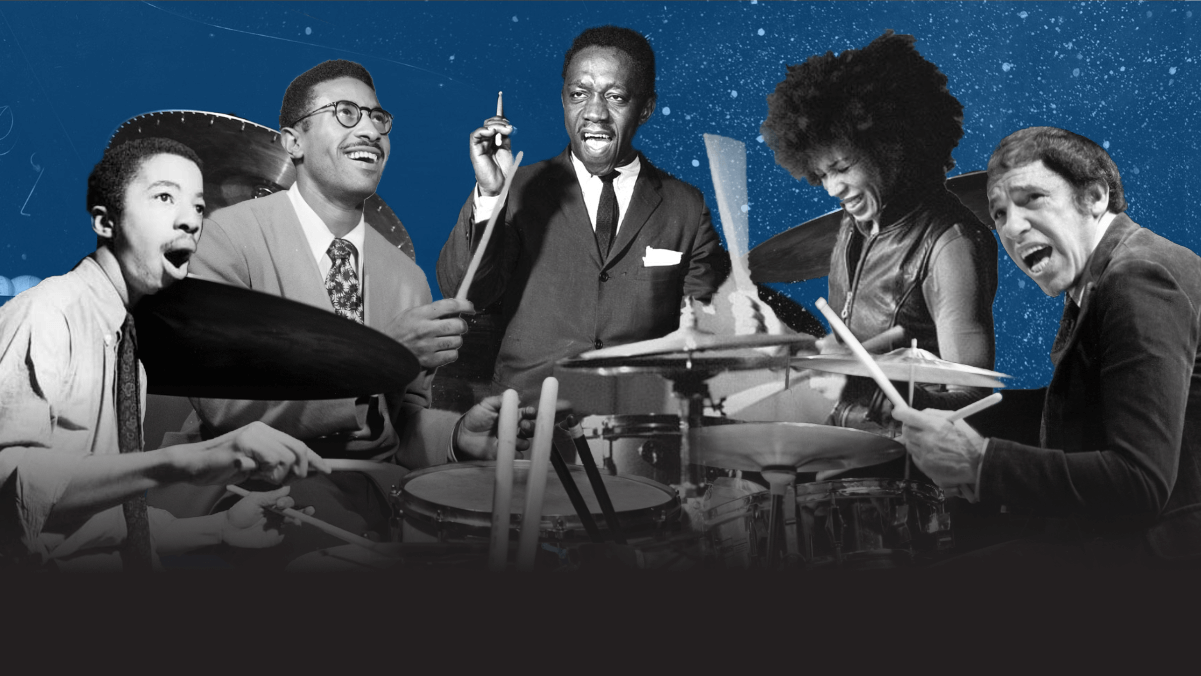 It's time to salute the biggest names in jazz! We polled the Drumeo team and our community of awesome members, and after lots of spirited debate, we came up with the top 25 jazz drummers of all time.
The list includes some of the earliest masters of the instrument as well as some modern heroes. We think these folks are the best of the best.
Here's how we picked them:
We focused mostly on drummers who play straight-ahead jazz, so you won't find as many fusion shredders or avant-garde cats on this list.
We picked these artists based on their incredible playing, association with famous acts, and influence on future generations.
You may not be familiar with every drummer on this list. That's ok! Part of what makes jazz awesome is that you can learn so much from musical giants of the past and then use it to become a better player. We hope this list will help you discover someone new who inspires you to want to learn and grow as a musician.
We know that everyone has passionate opinions, and that's great. We'd love to hear yours, so tell us who we left off!
(If you like these 'top drummer' lists, check out The Top 100 Drummers Of All Time)
The Top 25 Jazz Drummers
(In alphabetical order)
Louie Bellson
Duke Ellington once called Bellson "the world's greatest drummer." As one of the titans of the big band era, he had a brilliant career backing artists like Tommy Dorsey, Count Basie and Benny Goodman, and also achieved fame leading his own band where he pioneered the use of two bass drums. A true jazz hero!
Art Blakey
Nobody could swing harder than Blakey, and his infamous shuffle on the late 1950s Blue Note hit "Moanin" became one of the most iconic drum beats of all time. Although he didn't achieve widespread recognition until later in his career, his band The Jazz Messengers was a breeding ground for young lions like Wayne Shorter, Freddie Hubbard and Wynton Marsalis.
Terri Lyne Carrington
As a drummer and bandleader, her playing is dynamite and her incredible resume speaks for itself. From her work with Wayne Shorter and Herbie Hancock to her own Grammy-nominated band, Carrington has always brought incredible energy, boundless creativity and a deep groove to every musical situation. She is the first female musician to win a Grammy for Best Jazz Instrumental Album, and continues to pass on her knowledge as the founder and artistic director of the Department of Jazz & Gender Justice at The Berklee College of Music.
Kenny Clarke
"Klook" was one of the pioneers of bebop drumming in the 1930s and popularized the idea of keeping time on the ride cymbal instead of the hi-hat (he did it as a way to handle super-fast tempos). He was also one of the first players to use the bass drum to improvise and "drop bombs" on different beats, as most drummers had previously stuck to "four-on-the-floor" (playing all four quarter notes). Beyond these musical innovations, his impressive discography includes classic albums like Miles Davis' The Birth of the Cool (and he has one of best nicknames in jazz).
Jimmy Cobb
Jimmy Cobb is the jazz drummer you've heard a million times, but probably never knew it. His understated and swinging style made him a popular sideman for Miles Davis, John Coltrane and Cannonball Adderley in the post-bop era. As a member of Davis' famed quintet, he played on Kind of Blue, which is perhaps the most famous jazz album of all time. He also appeared on Miles classics like Sketches of Spain, Porgy & Bess and Someday My Prince Will Come.
Billy Cobham
His fiery and creative playing has inspired jazz and non-jazz musicians alike, as artists from Phil Collins to Prince have lauded his work with the Mahavishnu Orchestra. Cobham also appeared on the legendary Miles Davis album Bitches Brew, and his solo albums have received great acclaim (check out the 2-CD set Rudiments. Wow!). He also helped popularize the use of a gigantic drum set along with an "open-handed" playing technique, which wasn't common in jazz.
Jack DeJohnette
Jack is one of the most influential drummers ever and belongs on the Mount Rushmore of jazz (and also this list). His work with Miles Davis, Bill Evans and Keith Jarrett redefined the role of the drummer as a creative force rather than just a timekeeper. His unique melodic style and signature dry ride cymbal tone has graced hundreds of records.
Baby Dodds
Baby Dodds was born in the late 1800s and came to prominence playing with Louis Armstrong, King Oliver and Jelly Roll Morton on the New Orleans Dixieland scene. He influenced everyone from Max Roach to Art Blakey with his distinctive style that used the snare and bass drum to keep time. Dodds is credited by many as the inventor of the drum fill since he would play rhythms around the kit during breaks in the melody. Fun fact: he never used a hi-hat since he said "he could never get comfortable with them!"
Peter Erskine
Peter Erskine's work with jazz/fusion pioneers Weather Report and Steps Ahead vaulted him to prominence in the 1970s. He's appeared on over 700 albums and won multiple Grammy awards since then. His credits include everyone from Diana Krall to The Yellowjackets and Steely Dan, and his fluid and imaginative playing style has inspired drummers worldwide.
Mark Guiliana
He's the youngest person on this list, but his boundary-shattering creativity and brilliant playing confirms that he deserves to be here. From his duo with pianist Brad Meldhau (Mehliana), to his genre-bending performance on David Bowie's final album Blackstar, Guiliana has burst forward as a leader of the new generation of artists building on traditions of the past to push jazz forward.
Roy Haynes
Roy Haynes is one of those special drummers you can identify on an album after just a few seconds of hearing it. Over his nearly 80-year career, Haynes' original improvisational style has vaulted him to the top of the jazz universe. He's worked with artists like Chick Corea, McCoy Tyner and Eric Dolphy, and recorded on hundreds of influential albums along with leading his own Grammy-winning band. At 96 years young, he's still out there playing and inspiring future generations. That's a long and impressive run for one of the instrument's true masters!
Elvin Jones
What can we possibly say about Elvin that hasn't already been said? His work with John Coltrane produced some of the most famous and important jazz albums of all time, including A Love Supreme, My Favorite Things and Ascension. His fiery, triplet-inspired style completely redefined the instrument during his heyday in the '60s and became a blueprint for future generations of jazz drummers.
Philly Joe Jones
His 6-year run with Miles Davis in the '50s cemented his place as one of the most important voices of the "hard bop" era, and he also appeared on hugely influential recordings such as John Coltrane's Blue Trane. His super-swinging groove and fresh solo ideas gave these recordings a more contemporary feel, serving as a bridge between the bebop style of drummers like Max Roach and the later post-bop period of Elvin Jones. All aspiring jazz drummers should check out Philly Joe.
Jo Jones
They called him "Papa Jo," and his long run with The Count Basie Orchestra made him a significant figure in the history of jazz. He was one of the first drummers to start keeping time on the hi-hat and served as a major influence for Buddy Rich, Max Roach, Gene Krupa and many others. His light and crisp "Basie Swing" sound also included "feathering" (or gently playing) the bass drum on every beat. A true innovator.
Gene Krupa
His drum battles with Buddy Rich were legendary, and Krupa became one of the biggest household names of the 1920s even amongst non-musicians (we bet your grandparents used to talk about seeing him on TV). His work with bandleader Benny Goodman included the tune "Sing, Sing, Sing," which is one of the most famous drum solos of all time (Krupa was really the godfather of the extended drum solo). He's also considered one of the original innovators of the instrument itself, working with Slingerland and Zildjian to define how the modern drum set was put together.
Shelly Manne
Shelly Manne was one of the originators of the West Coast or "cool jazz" sound in the '40s and '50s, playing with groundbreaking bandleader Stan Kenton's orchestra. Manne was versatile, also working with bebop stars Dizzy Gillespie and Charlie Parker as well as backing Frank Sinatra, Ella Fitzgerald and Mel Tormé. He also recorded on a ton of Hollywood film soundtracks like The Pink Panther, West Side Story and My Fair Lady (the first album of a Broadway score).
Joe Morello
Most people have heard Dave Brubeck's "Take 5", and that's Joe Morello at his finest (here's a solo he plays with his hands). Nobody could play odd time signatures with such a silky smooth flair, and the Brubeck band became the most popular mainstream group in jazz after Morello joined in the late 1950s. His lengthy career included over 100 albums with artists like Brubeck, Gary Burton, and pianist Marian McPartland.
Sonny Payne
Best known for his long stint with Count Basie in the '50s and '60s, Payne brought serious showmanship, dynamics and musicality to the drum chair of this hugely popular big band. Basie called him the "spark plug" of the group, and he earned the respect and attention of peers like Louis Bellson and Elvin Jones who remarked that "he just made that band come alive."
Buddy Rich
Buddy was burnin', and everyone was burnin' for Buddy as he became a household name across America in the '50s after his appearances on the The Tonight Show Starring Johnny Carson. He redefined the role of the drummer to fit his virtuosity and showmanship, inspiring kids everywhere to ask their parents for a drum set. Beyond his jaw-dropping solos in his own band, Buddy also had an accomplished career as a sideman (here's some tasteful and swinging playing with Charlie Parker).
Max Roach
Max was one of the founding fathers of bebop, and his work with Charlie Parker and Dizzy Gillespie includes many of the most important recordings in jazz history (such as Miles Davis' Birth of the Cool). He was also a pioneer of solo drum compositions, and took jazz drumming to a new level with his nimble and creative playing (this video is just him on a hi-hat)! Many consider Roach to be the most versatile and innovative jazz drummer of all time.
Cindy Blackman Santana
Though she's also known as a badass rock star through her work with Lenny Kravitz, Cindy Blackman Santana has had a long and distinguished career in jazz. She's worked with everyone from John McLaughlin to Joe Henderson, pushing the boundaries of convention with her crisp and grooving playing style (this solo is nuts)!
Viola Smith
Smith was a groundbreaking pioneer for female drummers, appearing on the Ed Sullivan show five times during her heyday in the '40s and '50s. She was called "the female Gene Krupa," and her exciting solos and unconventional drum kit made her a national sensation (she used 13 toms, with a couple at shoulder height). She lived to the ripe age of 107, inspiring drummers everywhere to grab a pair of sticks and play drums.
Dave Tough
Though he may not be a household name, Dave Tough was one of the most important drummers of the Dixieland era, playing with Tommy Dorsey, Benny Goodman and most famously, Woody Herman's big band. He had a remarkably understated playing style and reportedly hated taking drum solos, preferring a more traditional and supportive role. Despite suffering from epilepsy and dying very young (41), he left an important legacy in the history of jazz. Dizzy Gillespie once said, "Dave never got in the way; he didn't overplay. What we need today are a few more Dave Toughs."
Chick Webb
Though he stood barely 4 feet tall, Webb was one of the most significant drummers of the Big Band era, with Buddy Rich calling him "the daddy of them all." Webb overcame tremendous adversity, using a 28-inch bass drum to power his band, which also featured a young singer named Ella Fitzgerald. His fiery playing paved the way for drummers like Rich, Gene Krupa and Louis Bellson, all of whom cited him as a major influence on their playing.
Tony Williams
It's hard to overstate the massive impact Tony Williams' playing has had on generations of drummers. He joined Miles Davis' quintet at age 17, recording legendary albums like E.S.P., Nerfertiti and Miles Smiles, later getting into rock and fusion with his own band The Tony Williams Lifetime (check out the double album Emergency with John McLaughlin and Larry Young). Tony was the among the best of his generation, and it's easy to wonder what incredible music he might be playing had he not died so young. Tony was a true master.
That's it! We hope this list inspires you to watch some videos, get lost in the stories and dig into the rich history of jazz drumming.
(P.S. Did your favorite drummer not appear on this list? Maybe they're on the list of the Top 100 Drummers Of All Time!)
SHARE THIS: