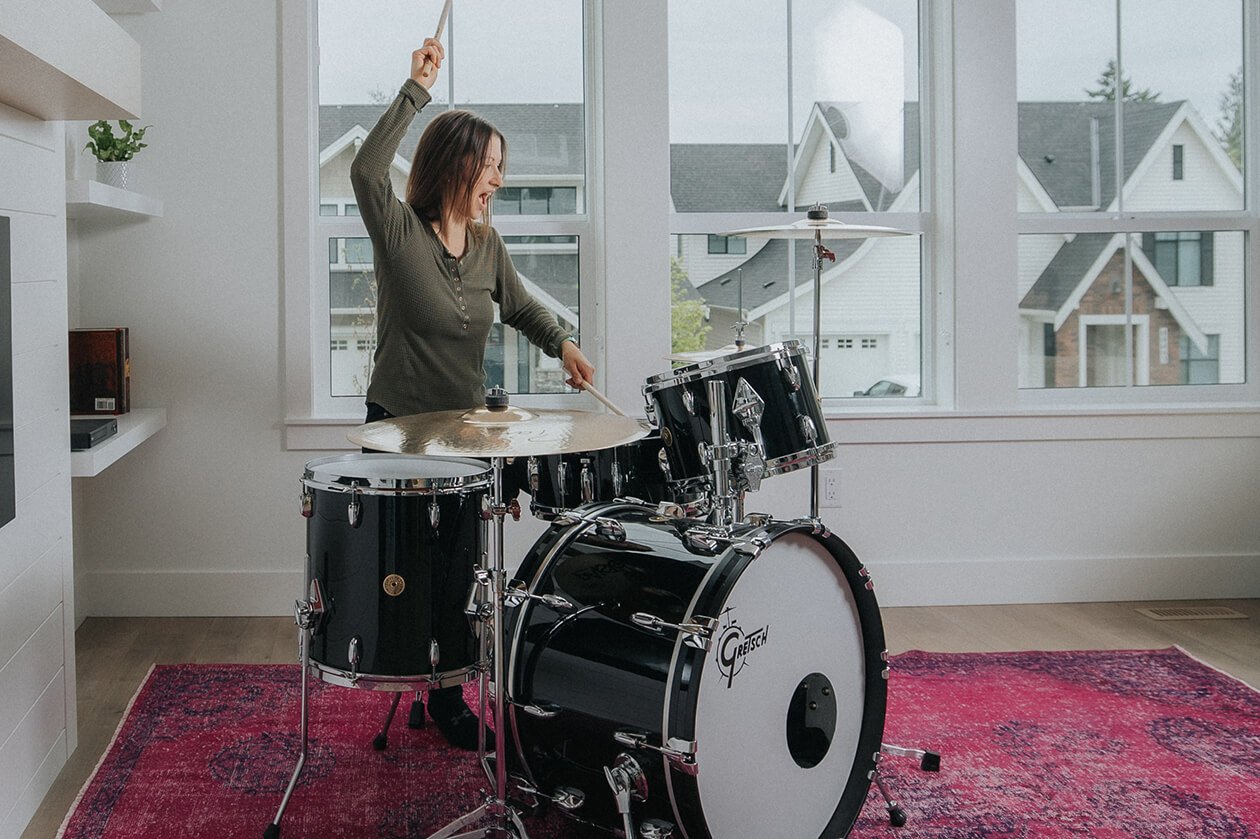 As a beginner drummer, getting your first drum set is the most amazing feeling in the world. 
It's the moment when everything feels possible and all your hopes and dreams can become a reality. It's the moment when you feel like you belong to a special community and can express yourself musically in ways you never thought possible. 
Don't want to do your own research and just take our word for it? Here are the two beginner drum kits we recommend the most:
Best beginner drum set (acoustic): Pearl Roadshow ($659)
Best beginner drum set (electronic): Roland TD1-DMK ($549)
Whether you're a parent looking to make your child's drumming dreams come true or an adult buying your first set to play with friends, start lessons or just to have a creative outlet, making a big purchase can feel overwhelming.
There are so many brands and models on the market, and it's hard to know where to start. This buyer's guide will go over some of the most important features to look for and recommend a few beginner kits to set you on the path to drumming happiness. 
(Psst…you should also check out New Drummers Start Here – a $7 course that'll take you from a total beginner to playing drums with real music in 90 days or less.)
Jump ahead
What to look for
Many people begin their musical journey by getting a drum pad or a snare drum. But once the drumming bug has bitten, it's time to level up and get a full kit. Here are some things to consider when you're shopping:
How are you using it?
Is it going to sit in one spot at home for practicing and recording, or will you be transporting it around to play shows or jam with other people? It's important to consider space/noise constraints as well as how heavy it is.  
What's included? 
Many entry-level kits are sold with everything you'll need to get started: snare drum, bass drum, toms, cymbals, and hardware. However, sometimes you'll have to buy certain things "à la carte" which can get expensive. Cymbals in particular can really jack up the total price tag.
(Click here for our guide to the best cymbals)
How much does it cost?
Maybe you're not sure if you or your child is going to stick with the instrument and don't want to drop a ton of cash right away. However, you usually get what you pay for, and sometimes having a nice instrument that you're excited to play will make you feel inspired to practice and improve. Luckily, there are some good choices out there that won't break the bank (more on that in a bit).
How big is the kit?
Some beginner drum sets are full-sized, while others are made specifically for kids. It's important to be able to sit at a comfortable height and reach all parts of the kit without twisting, leaning, or leaping out of your seat. If you're a large person, skip the junior-sized drum sets with single-braced hardware and get something that fits your body type.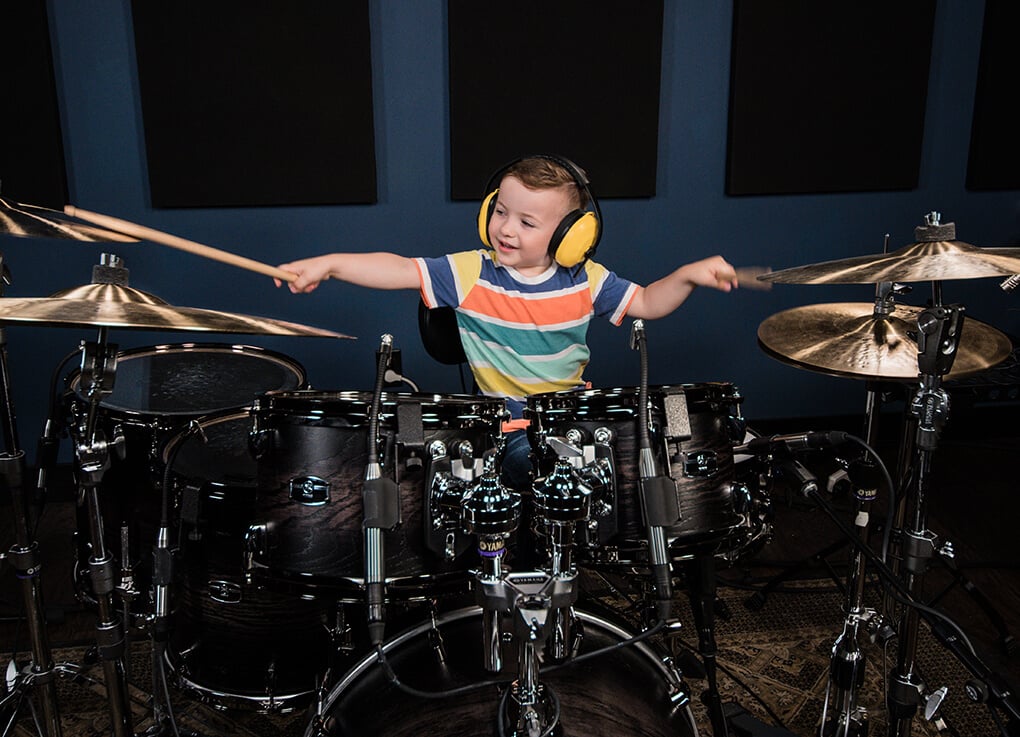 You shouldn't need an engineering degree to assemble a drum kit, but some come together more easily than others and many come with instructions. If you're just starting out, you probably don't need an 11-piece kit with Rototoms and 8 cymbals. Note that the term "pieces" only includes the drums themselves and not the cymbals. 
Most entry-level kits come with 4 or 5 drums: a snare drum, 1-2 mounted tom, one floor tom and a bass drum, plus a hi-hat and 1 or 2 cymbals. You can always buy more cymbals or drums to add later.
What style of music do you want to play?
Are you an aspiring rock star, a metal maven or a jazz jammer? There are kits and sizes suited to each style, but the best ones are versatile and work for almost anything (it's really more about the player than the gear). As you learn more about the instrument, your ear will evolve. Your musical tastes could also change over time. The ride cymbal that sounded great when you bought it might be due for an upgrade after a year or two of playing.
How do you want it to sound?
If it doesn't sound good to you, don't buy it! This seems simple, but you should like the sound of the kit if you're going to be playing it for hours at a time. Do the drums sound big and boomy or thin and papery? Drums can be tuned and heads replaced, so you can somewhat alter the sound if you want. However, cymbals aren't as sonically flexible, so what you buy is what you get. If the cymbals give you a constant din of thick and unforgiving metal "clangs," they won't be much fun to play or listen to (here's looking at you, parents).
What's the hardware like?
Drum hardware can be the unsung hero or evil villain of any kit. Good hardware makes it easy to focus on playing, while wobbly thrones, sinking stands and malfunctioning pedals can be a major bummer. Whether you're buying a new or used kit, make sure the hardware is solid. Lightweight stands will work for a child, but if you're an adult, get something a little heavier that can withstand a pummeling.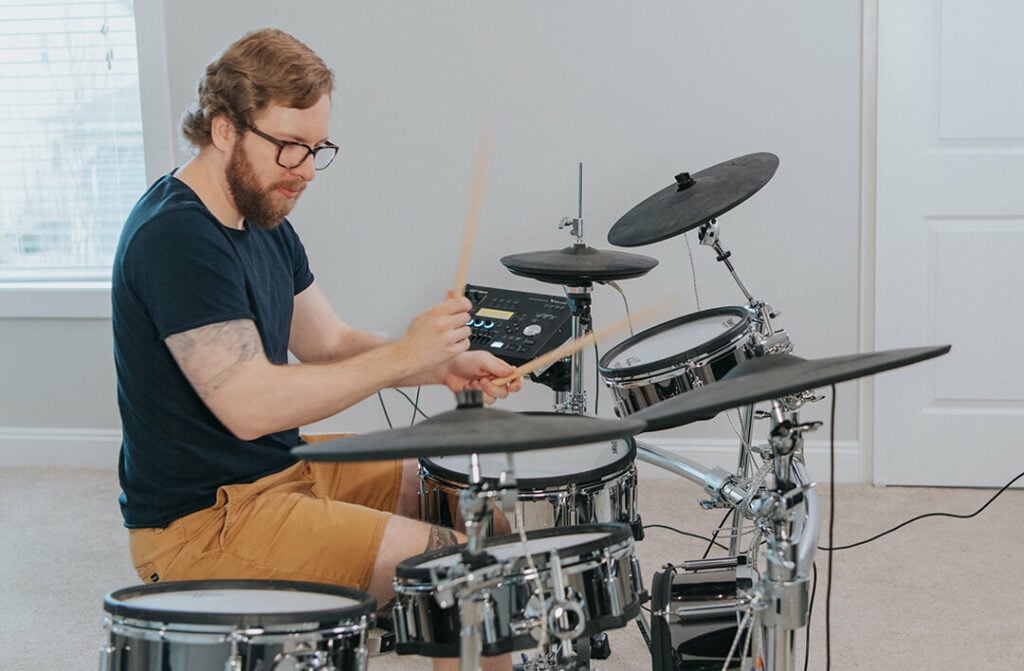 How loud is it?
If you really have a noise issue at home, an electronic kit might be the way to go (your neighbors, pets and sleeping babies will thank you). However, if you've got a basement or garage where you can rock out, it's better to start learning on an acoustic kit since it'll teach you the control and dynamics you'll need to play out in the world with other musicians. Sometimes switching from an electronic to acoustic kit can be a real challenge since the feel and sizes of the drums and cymbals are totally different. You can always grab some Silentstroke heads and low-volume cymbals to decrease the noise output of your acoustic kit.
How durable is it?
What happens if something breaks after a month? What if you decide you don't like what you bought? Many kits have a limited warranty, and if you purchase from a larger outlet like Guitar Center or Sweetwater you can usually return it as long as there's no damage or missing parts. It's also great to support your local drum shop, since you'll often get personalized service and lots of choices.
Does it look nice?
While looks aren't everything, having a kit that looks cool can make you more excited to rock out on it (and show it off to friends and family). Some people don't care as much about this feature, but a few entry level kits have fun wrap and finish choices.
Additional features 
Here are some must-have drum accessories (consider if they're included or sold separately – it's usually the latter):
Sticks (at least a couple of pairs)
A rug (to keep the drums from sliding)
Good sound-isolating headphones (not iPhone earbuds)
Earplugs (gotta protect your hearing)
Music stand (for lessons)
Duct tape or dampening gels (to reduce the ringing, if necessary)
Drum key (for tuning the drums)
Stick bag (most can attach to the floor tom)
Cases (if you're planning to take them out of the house)
If you still have questions, check out the 'how to choose drum equipment' section in this huge guide on how to play drums.
Now that you know what to look for, let's check out some kits.
The best beginner drum sets
What you get:
Drums:
5 pieces – 12" snare, 2 mounted toms, floor tom, bass drum 
Junior: 8"/10"/13"/16" – Standard: 10"/12"/16"/22"
Cymbals:
1 pair of hi-hats, 1 crash cymbal 
Junior: 10"/13" – Standard: 14"/16"
Hardware:
Hi-hat stand, bass drum pedal, 1 cymbal stand, snare stand, throne, 2 tom arm mounts
Extras:
2 pairs of drumsticks, cymbal bag, Pearl Drums poster
The lowdown:
The Roadshow series is a direct descendant of the classic Pearl Export which has launched the careers of some of the world's best players over the years. These drums are sturdy and dependable, and the poplar wood shells sound pretty good for the price. The Junior model has smaller drums and hardware which is perfectly suited for kids. These drums are also versatile enough to handle rock, jazz, metal, and any other style (the 22" bass drum on the Standard model is a beast). 
You might want to add a second cymbal since it only comes with a crash. The cymbals are a bit thick, so this is probably the best place to start if you're thinking about upgrading. One of the best features about Pearl drums is their customization, as they have plenty of sizes and finishes to choose from. They also sell a 4-piece option and a 5-piece with one mounted and two floor toms.
What you get:
Drums:
8" snare, 8" toms (x3), kick drum tower
Cymbals:
13" hi-hats, 10" ride, 10" crash
Hardware:
Aluminum mounting rack, pedals, module
(Drum throne sold separately)
Extras:
40 preset kit options, 60 play-along tracks, cables, drumsticks, drum key
The lowdown:
If noise is an issue, this tunable mesh electronic kit offers a lot of bang for your buck for around $400. It's compact, has USB connectivity and a conveniently organized module with buttons for each drum arranged in the shape of an acoustic kit.
The Command Mesh model is a similar kit with a few more bells and whistles for $799 (bigger snare, additional sounds and customization options). The built-in play-along options are a fun addition for beginners. 
However, there are a few downsides to entry-level electronic kits. They don't look and feel much like acoustic drums since the pads are much smaller and the cymbals are made of thick, clunky rubber. This kit is a good starter option, but will probably require an upgrade sooner than some of the other kits listed.
What you get:
| | |
| --- | --- |
| Drums: | 4 pieces: 12" snare, 10" tom, 13" floor tom, 16" bass drum |
| Cymbals: | Hi-hats, 1 crash/ride |
| Hardware: | All included (tom and cymbal arms, snare stand, hi-hat stand, bass drum pedal, throne) |
| Extras: | 1 pair of sticks, drum key, video tutorial for assembly instructions, introductory lessons |
The lowdown:
This one is built specifically for kids aged 4-10, and has a lot of nice features for a bargain-basement price. Everything you'll need is in the box, including the stands, hardware and two cymbals. The included lesson pack is also a nice touch for drummers just starting out. Questlove and Ludwig designed this kit to be easy to set up, and it's clear they thought of all the details.
The main drawback to this kit is that your child will outgrow it quickly and you'll be shopping again soon. However, for just over $300, it's a worthy choice for tiny rockers-in-training.
5-piece Birch Kit (Shells Only) – $749
What you get:
Drums:
5 pieces – 14" snare, 2 mounted toms, floor tom, bass drum (10"/12"/16"/22")
Cymbals:
None
Hardware:
Shell Pack: tom mount only
Full Package: tom mount, bass drum pedal, 2 cymbal stands, hi-hat stand, snare stand, throne
Extras:
None
The lowdown:
The Stage Custom is another classic model, and its quality craftsmanship and warm sound have made it a top choice for beginners and pros for many years. The drawback is that it's a little pricier than some of the others, and you'll need to pay extra for the hardware and cymbals. 
However, if your wallet can handle it, this kit is a good investment since you shouldn't need to upgrade it as quickly as some of the cheaper options. They also have some very appealing finish choices (the cranberry red model is gorgeous).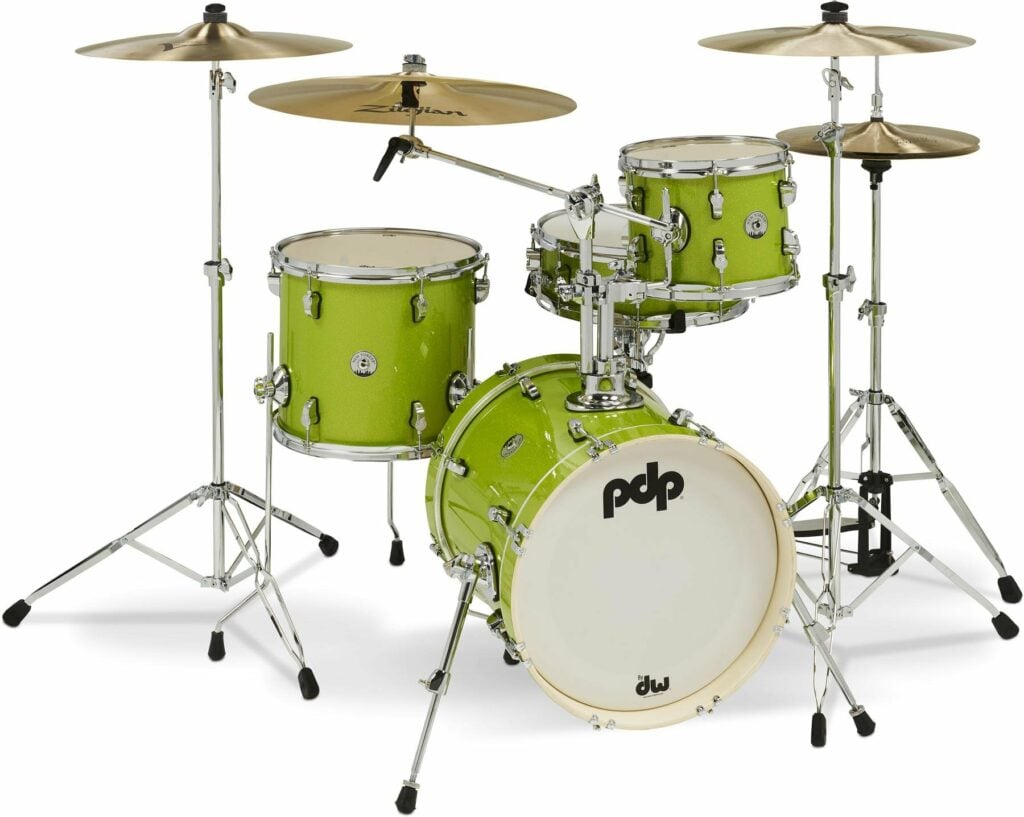 What you get:
| | |
| --- | --- |
| Drums: | 4 pieces: 14" snare, 10" tom, 13" floor tom, 16" bass drum |
| Cymbals: | None |
| Hardware: | Tom holder, bass drum riser (everything else sold separately) |
| Extras: | None |
The lowdown:
If you're looking for a compact acoustic kit to fit in a small space, the New Yorker might be the perfect choice for you. PDP (Pacific Drums & Percussion) is an offshoot of the high-end brand DW (Drum Workshop) aimed at providing quality gear at affordable prices, and this kit has a lot to like. The modest 16" bass drum comes with a riser that lifts it off the ground so the bass drum pedal hits the center of the drum.
These kits also come in a variety of colors (the electric green sparkle will definitely turn some heads). The downside is that the stands and cymbals are sold separately, which will increase the overall cost well beyond the $450 price tag of the shell pack. It also has only one mounted tom instead of two.
What you get:
Drums:
5 pieces: 8" snare, 6" toms (x3), kick drum pad
Cymbals:
10" hi-hat, 12" cymbals (x2)
Hardware:
Rack stand, hi-hat pedal
Extras:
Built-in

metronome

, 15 drum kits, play-along tracks, USB input
The lowdown:
Roland V-Drums have always been at the front of the pack when it comes to simulating the feel of acoustic drums since they feature high-quality mesh heads. These have a better rebound and response than hard rubber pads making the TD1 a solid starter set for kids and adults. It has 15 built-in kits, over 250 other sounds, and a USB input you can use to connect it to your laptop or other devices. It's also compact and has a metronome and a couple of lesson exercises to get you started.
The main drawback is that the pads themselves are a little small and the cymbals aren't that similar to metal ones, so switching over to an acoustic kit for school or lessons might not be as easy as it might be on a higher-end electronic kit.
What you get:
| | |
| --- | --- |
| Drums: | 5 pieces: 14" snare, 2 mounted toms, floor tom, bass drum  (10"/12"/14"/18") |
| Cymbals: | 14" hi-hats, 18" crash/ride |
| Hardware: | Hi-hat stand, snare stand, 1 cymbal stand, bass drum pedal, tom mounting bracket, throne |
| Extras: | None |
The lowdown:
This is another good option in the "all-inclusive" category. The Meinl cymbals are a nice addition to the package and represent an upgrade over many entry-level options. The toms and snare are on the beefier side, but the 18" bass drum is a good choice for space-conscious buyers. You may eventually want to add a second cymbal, however there's a lot of value for your money here. The straight cymbal stand that converts to a boom stand is great for getting the positioning just right.
More beginner drum kit options
A compact 4-piece shell pack at a nice price. 
A 5-piece birch shell pack with large drum sizes. Good for rock drumming.
A 4-piece shell pack with mahogany shells and a vintage vibe.
An affordable electronic kit with rubber pads and over 400 quality Yamaha drum sounds built in.
The Bottom Line
There are so many choices and brands out there, and everyone has different needs. The shell packs offer a lot of quality, but require more money and legwork to gather all the necessary parts together. The electronic kits are perfect for noise issues, while the "all-inclusive options" are a great way to hit that "easy" button and get going quickly. Whether you buy acoustic, electronic, large or small, getting your first kit is a special experience you'll remember forever! 
This article contains affiliate links, which means we might earn a small commission from the product seller if you make a purchase. For more info, check out our privacy page.
SHARE THIS: