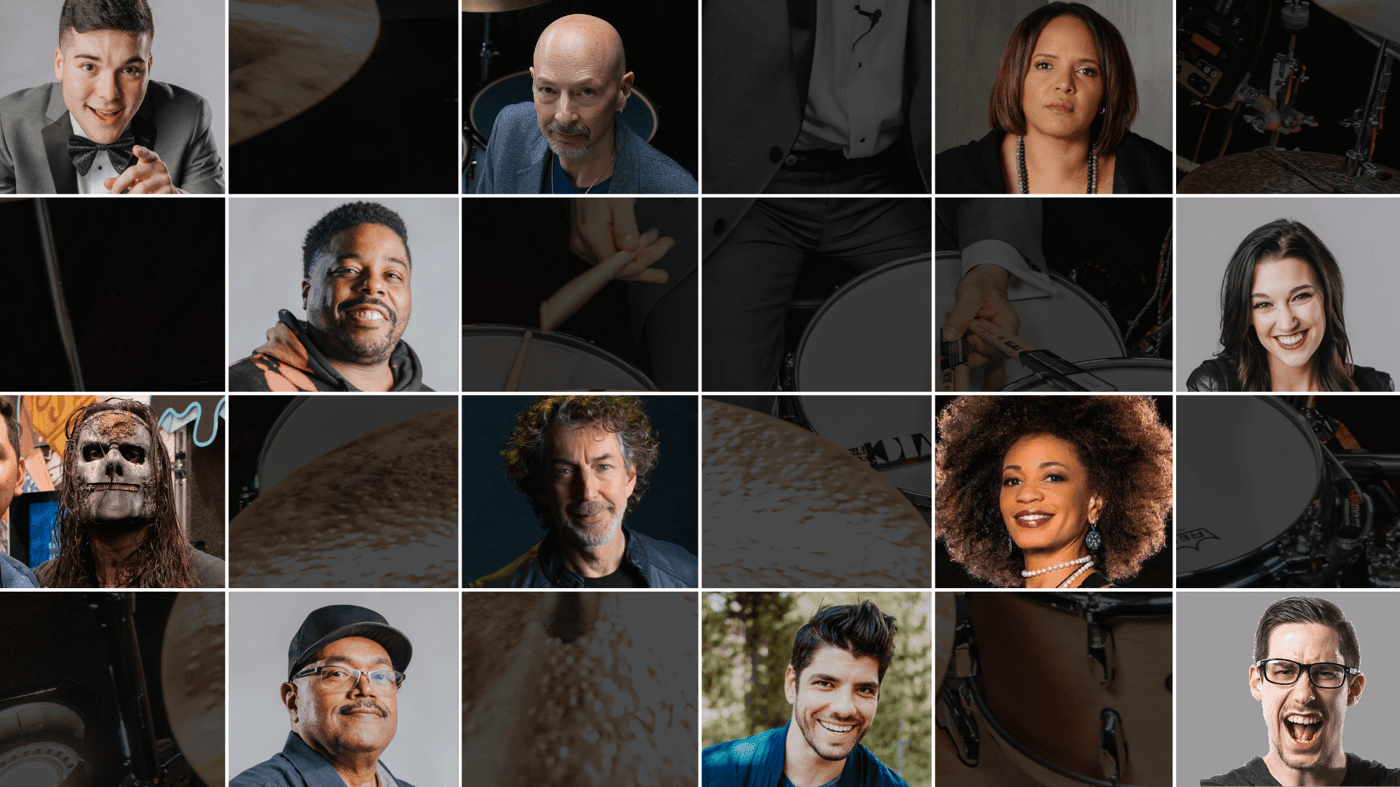 Last year, we launched Drumeo Coaches – a program featuring a diverse group of pro drummers hosting live Q&As, lessons and demonstrations with Drumeo students.
The best part about having a personal coach is someone to cheer you on and share advice – especially when they can relate to your challenges.
This year, we have a whole new roster of coaches coming on board. We'll be featuring one of these coaches per month, and each coach will also host a live Q&A. The original Drumeo Coaches (like Aric Improta, Larnell Lewis, Todd Sucherman and Dorothea Taylor) will still be accessible and running live sessions throughout the year.
Let us introduce the ones who are coming on board for the first time!
Hannah Welton
Writing The Perfect Drum Parts
Hannah Welton was the drummer for Prince from 2012 to 2015 as a member of his backing band, 3RDEYEGIRL. You can hear her drumming and vocals on the 2014 album PLECTRUMELECTRUM, and she also performed live with Prince on his Live Out Loud and Hit And Run tours. If you want to work on your composition and performance skills, Hannah is the perfect coach! Click here for a lesson on how she learns songs quickly.

Greyson Nekrutman
Big Band Drumming
Greyson Nekrutman was recognized by the National Association for Music as one of the top-performing high school jazz musicians in the US. Nekrutman has made a name for himself with his big band tributes and covers on social media, as well as for his work with Bakithi Kumalo. He's quickly rising to the top as a star in his own right, and if you want to work on jazz or big band drumming – as well as speed, technique, and chops in general – you'll learn a lot from Greyson as a Drumeo Coach.
He shares his tips here on nailing 5 'impossible' Buddy Rich licks.

Aaron Spears
The Building Blocks Of Drum Chops
As a top pop drummer, Aaron Spears is living the dream. Currently the live drummer for Ariana Grande, the Grammy Award nominee has worked with Usher, Backstreet Boys, Lady Gaga, Miley Cyrus, Chaka Khan, James Brown, American Idol, and much more. With appearances on SNL and The Grammy Awards, Spears is known for his undeniable chops and linear soloing style.
This Drumeo Coach will break down the building blocks of drum chops and how to practice and apply them across different genres.

Dennis Chambers
Funk Drumming
Dennis Chambers is a legendary American drummer who has recorded and performed with artists such as Santana, Steely Dan, Parliament/Funkadelic, John Scofield, Carl Filipiak, John McLaughlin, Niacin, Mike Stern, and many others. Dennis is mostly known for his ability to perform with impeccable and funky timing in many different styles, as well as his incredible chops. He can play in a wide variety of musical genres, but is most notable for his jazz fusion, funk, and Latin music playing.
If you want a masterclass on funk drumming and groove, Dennis Chambers is your man.

Jay Weinberg
The drummer for one of the world's biggest metal bands, Jay Weinberg has been behind the kit with Slipknot since 2014. While his previous experience includes drumming with bands like Against Me! and Bruce Springsteen's E Street Band, metal is his bread and butter. Weinberg's flying feet and hands make fast, aggressive drumming look like a breeze – but of course, it takes a while to get there.
Drumeo members will be able to check out his tips and videos to level up your metal drumming (plus get behind-the-scenes content!).

Simon Phillips
The Science Of Drum Sound And Performance
Grammy Award-nominated drummer, producer, and composer Simon Phillips has been at the top of his game for over 40 years. With a resume that features work with artists like Jeff Beck, The Who, Brian Eno and many others, Phillips' skills transcend musical style. Many know him as well from his longtime stint as the drummer for Toto.
As a Drumeo Coach, Phillips will show you how to get the best sounds from your kit, how to play with a pro's touch and more.

Steve Smith
Soloing Perspectives
While many know him best as the former drummer of Journey and recent inductee into the Rock and Roll Hall of Fame, Steve Smith is an award-winning musician and session player who has worked with artists from Dweezil Zappa to Mariah Carey. Having sharpened his career further with tributes to Buddy Rich and his longtime jazz band, Vital Information, Smith isn't just a jack of all trades: he's a master of multiple styles.
He'll teach Drumeo students how to play musically and dynamically, no matter what level you're at.

Cobus & Casey Cooper
The Drummer Games
You might know Cobus Potgeiter and Casey Cooper as two of the most popular drummers on YouTube. And you might remember their now famous Sweetwater showdown. We love their rivalry so much, we decided to bring them to Drumeo for some more competition.
It's called The Drumeo Games, a masterclass where Cobus, Casey, and Drumeo's Jared Falk will compete in games like 'fastest drummer', 'groove off', and 'chop challenge' while bringing some practical takeaways to the table.

Cindy Blackman Santana
Known primarily for her work with Lenny Kravitz and Carlos Santana and supporting top jazz artists, Cindy Blackman Santana expertly blends jazz and rock skills, taking a page from the book of Tony Williams (one of her biggest inspirations). A highly-acclaimed drummer from a young age, Blackman Santana has seen decades of success as an independent artist and bandleader and a unique personality behind the kit.

Terri Lyne Carrington
Beyond Drumming For Drummers
Terri Lyne Carrington has been a respected fixture of the jazz scene for decades as a drummer, bandleader, composer and producer. With several Grammys under her belt, live and/or studio sessions with artists like Herbie Hancock, Stan Getz, John Scofield and Diana Krall, she's the founder and artistic director of the Berklee Institute of Jazz and Gender Justice and she was recently elected to the American Academy of Arts and Sciences.
Carrington is bringing her insights on leadership, history, and contemporary drumming to Drumeo students this year in hopes of helping drummers become more well-rounded, aware, and empowered.
Not a Drumeo member yet? Get access to all of these coaches, plus thousands of video lessons from the world's top drummers and teachers, thousands of play-along songs, an active support community and much more by clicking here!
SHARE THIS: