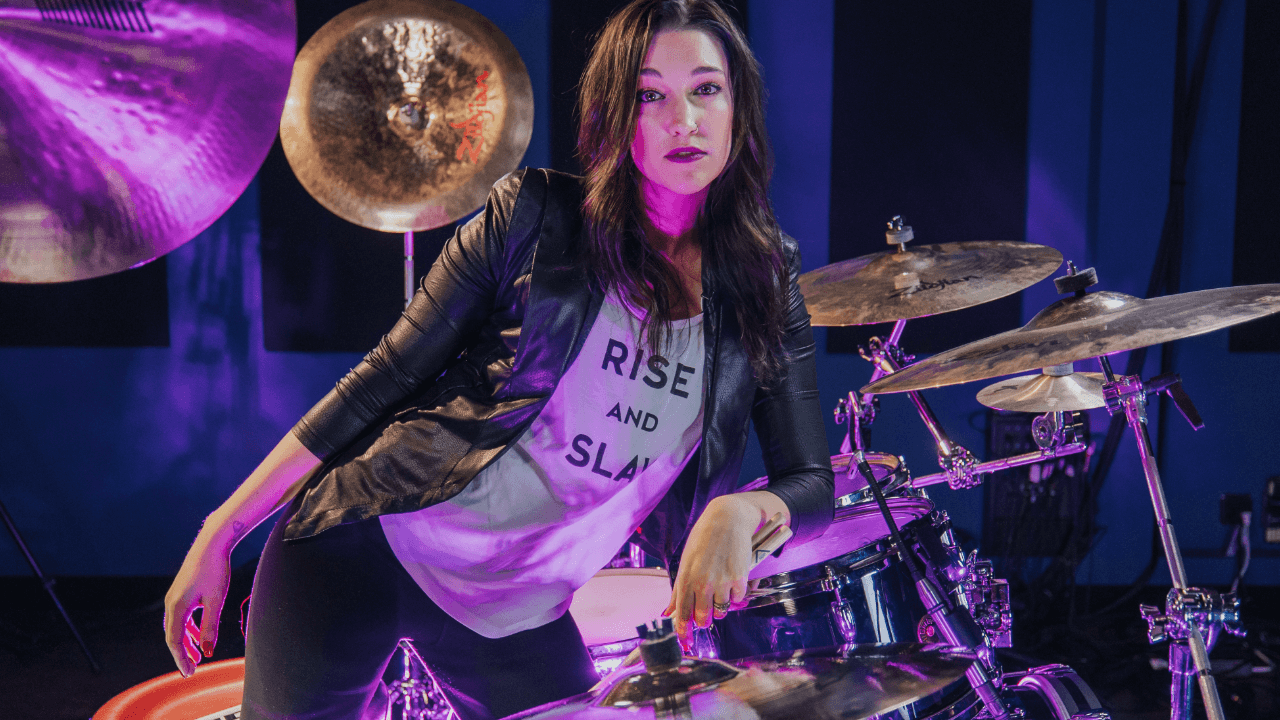 Are you ready to get your funk on? Hannah Welton worked with Prince from 2012 until his passing in 2016 as part of his backing band, 3RDEYEGIRL. A product of the social age, she got her big break when Prince discovered her on YouTube, so it's no wonder Welton emphasizes the importance of practicing regularly and sharing your playing online ("Because you never know who's going to come across your work!")
A bonus of working with Prince was that he was an exceptional drummer and groove writer himself, so when you were playing parts he'd written, you knew they'd be perfect for each song.
Enough of the backstory. Bring on Hannah Welton's 5 favorite Prince grooves!
"Let's Work"
Prince asked Welton to keep the tip of the stick on the top of the hi-hat to get an even-sounding beat (say bye-bye to accents and a heavy-handed rock approach). She'd also accent the kick that fell on the one, and play pickups on the kick softly so the bass drum part would ebb and flow.
"Purple Rain"
Because this song was such a massive hit for Prince, Welton wanted to make sure she approached this song with integrity. It can be tempting to try and fill the space when playing ballads, but letting a simple groove do its thing means the other instruments and vocalist can shine.

This groove is similar to the one in "Let's Work", but unlike that song, this has more of a driving hi-hat with accents. Welton would move to a soft ride part in the chorus to let the cymbal sing, and add crashes, ride bell and fills in the solo to elevate the section.
"777-9311"
Originally performed by The Time, Prince used a drum machine for this groove, so it can be hard for human drummers to recreate it perfectly. Welton picked apart each aspect of the groove. She'd try to figure out what the hi-hat was doing, then listen again to what the kick was doing before deciphering how they worked together.
Drummers (human ones, that is) tend to add an extra snare pickup on the 'a' of 4 going into the top of the phrase, but that's not how it sounds on the record – so pay attention!
"Mountains"
Welton used a Roland SPD-SX sampling pad to get the claps in this song. But before bringing in the samples, she had to make sure she was comfortable playing the part.
Break down the first groove first – don't move onto the phrase with the toms until you're comfortable with the part that comes before it. When you're ready, keep in mind that the samples come in on the 'and' of 2.
"Musicology"
Now that's a funky groove! Welton learned this part from previous rehearsal recordings played by John Blackwell. Later on, Prince wanted to make it even more funky, so he pushed back beat 4 – just enough to create some tension – and a snare pickup as it goes to the top of the phrase. He also wanted Welton to 'dance' on the hi-hat using a dynamic touch. The only rule? It has to be funky.
If you enjoyed this lesson, Hannah is a featured coach for Drumeo members (check out the free 7-day trial), which includes an upcoming course all about how to write the perfect drum parts. Don't miss it!
SHARE THIS: