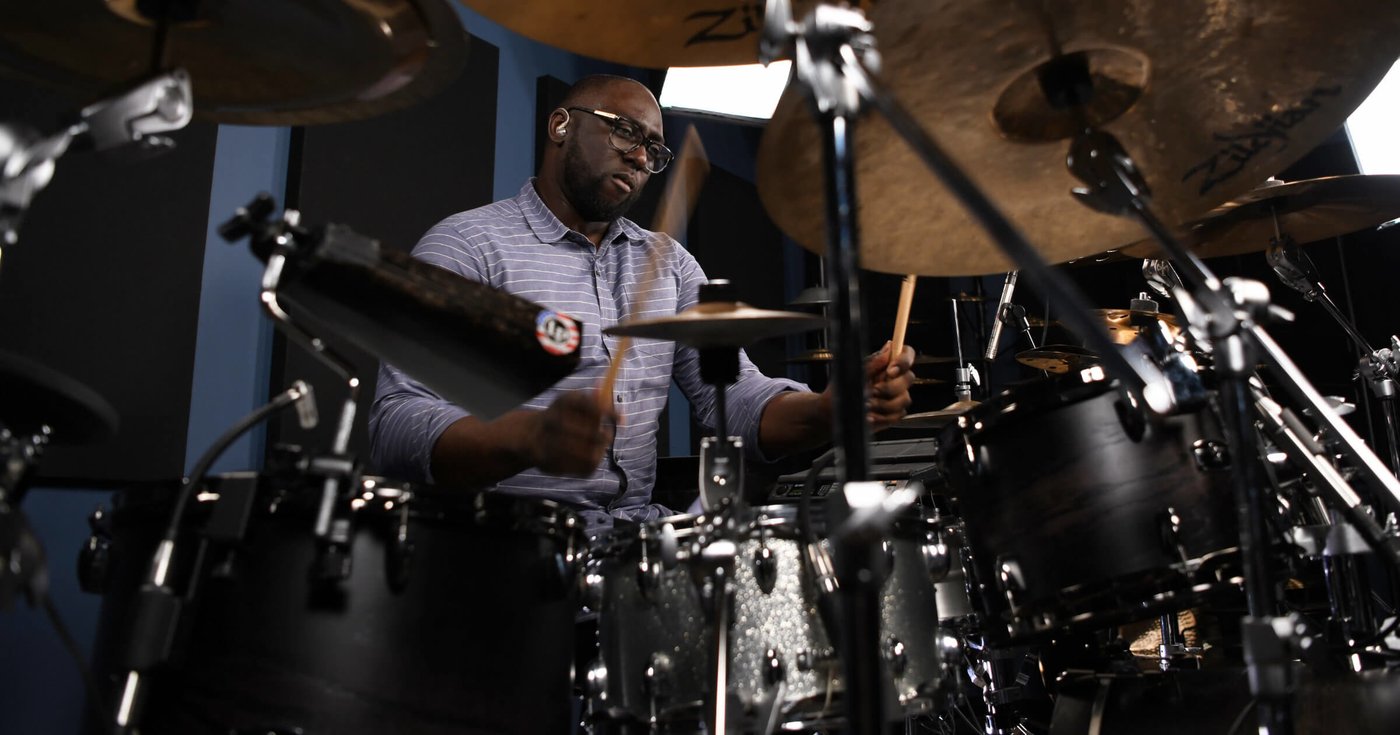 The incredible Larnell Lewis is back at Drumeo for another mind-blowing full lesson. In this video, Larnell demonstrates how to build epic, killer fills powered by the kick drum.
You'll learn how adding or removing the bass drum can create a sense of tension and release, get ideas on where to place the bass drum in a fill, and pick up many other tips along the way (like why you should always take the time to play things slowly, and how to start mapping drum fills on a grid).
We often hear big or epic massive fills and it can be challenging to figure out how to put it together. Don't worry – Larnell's here to teach you how to get there with flair!
Lesson Index:
0:31 – SONG: "Change Your Mind" by Larnell Lewis
5:45 – Introduction
10:55 – SONG: "No Access" by Larnell Lewis
16:50 – Adding an approach note
21:18 – Adding double kicks
29:51 – Understanding low and high frequencies
33:50 – Snare diddle fill (RLLRRK LRRLLK)
38:40 – Putting it all together in practice
45:35 – Larnell's words of wisdom
47:45 – SONG: "Chick's Pain" (Drumeo playthrough)
51:19 – SOLO
If Larnell blew your mind in this free lesson, just wait until you check out his course, Blueprint to Soloing, coming soon to Drumeo Edge!
About Larnell:
Larnell Lewis is a Grammy Award winning musician, composer, producer, and educator. Along with his long-standing position behind the drums in Snarky Puppy, Larnell has led many highly successful groups of his own and toured the globe with some of the most well known names in music, including Etienne Charles, Gregory Porter, Benny Golson, Lalah Hathaway, John Scofield, Pat Metheny, Lisa Fisher, Kurt Elling, Gary Burton, and more.
Larnell plays:
Yamaha Drums
Zildjian Cymbals
Evans Drumheads
Promark Drumsticks
Follow Larnell:
YouTube
Twitter
Instagram
Facebook
Website
Check out Larnell's new Juno-nominated album "In The Moment"!
SHARE THIS: