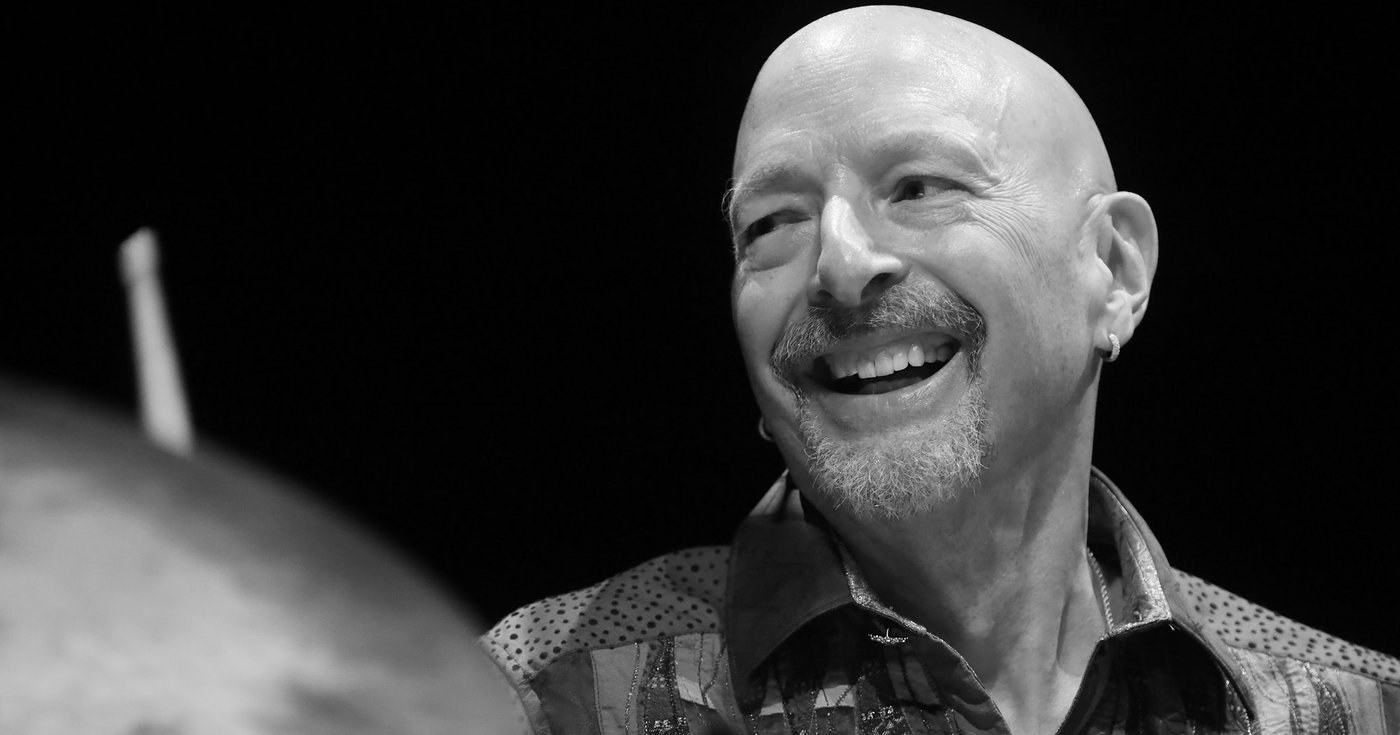 "I allow it to be what it is."
Steve Smith is a treasure to drumming culture. He was inducted into the "Rock and Roll Hall of Fame" and he's been awarded many times over in the industry, including the Modern Drummer readers poll where he was voted "Best All-Around Drummer" five years in a row. The list goes on and on and you will always find him on the top 100 drummers of all time lists as well. There is no question that Steve Smith is one of the finest drummers in history.
He is probably best known to most people as the drummer for Journey. He recorded six albums, including Journey's most popular album "Escape", during his tenure with them. However, regardless of his massive success with Journey, Steve is a jazz drummer at heart. He has been the bandleader of his group Vital Information since the early seventies and of course, in between, has been a sideman for artists such as Jean-Luc Ponty, Steps Ahead, Dweezil Zappa, Bryan Adams, Savage Garden and many others.
What I find personally fascinating about Steve is his evolution as a musician. When I watch performances from the '70s and '80s, I hear a completely different Steve Smith than what he is today. With his introduction to Carnatic music by the great Zakir Hussain, Steve's path went far in that direction. If you look at his path of development, he has had many deep periods of growth. In my opinion, I can't think of many drummers who have mastered as many disciplines within drumming as Steve has.
I would imagine that Steve will always be on a path of discovery and refinement with music and drumming. Even quite recently, since the beginning of the COVID-19 pandemic, he has stated that he has gone back to basics, practicing slowly. Even after over 60 years of playing the drums, Steve is still going back to basics to continue improving and evolving and that is truly inspiring.
In this episode:
You will hear about…
Steve's headaches with being a bandleader
How Steve allows musicians' true selves to alter the delivery of his music
The fascinating story of how Steve was introduced to Carnatic and Hindustani music
Steve's approach to learning new music quickly
Steve's drum art
Steve's thoughts on pursuing our creative passions
Steve's experience adapting and transitioning to learning how to play with a click
The value of seeing live music
Why you should listen:
Well, an interview with Steve Smith is not something to pass on. He has so much knowledge that is backed up by profound levels of experience. He is someone we should be listening to and learning from. Besides that, his story about how he learned Konnakol and his time with Zakir is truly fascinating stuff.
Follow Steve:
Instagram
Facebook
Twitter
Website
Follow Drumeo Gab:
Instagram
Facebook
YouTube
Photo: Ronn Dunnett
SHARE THIS: