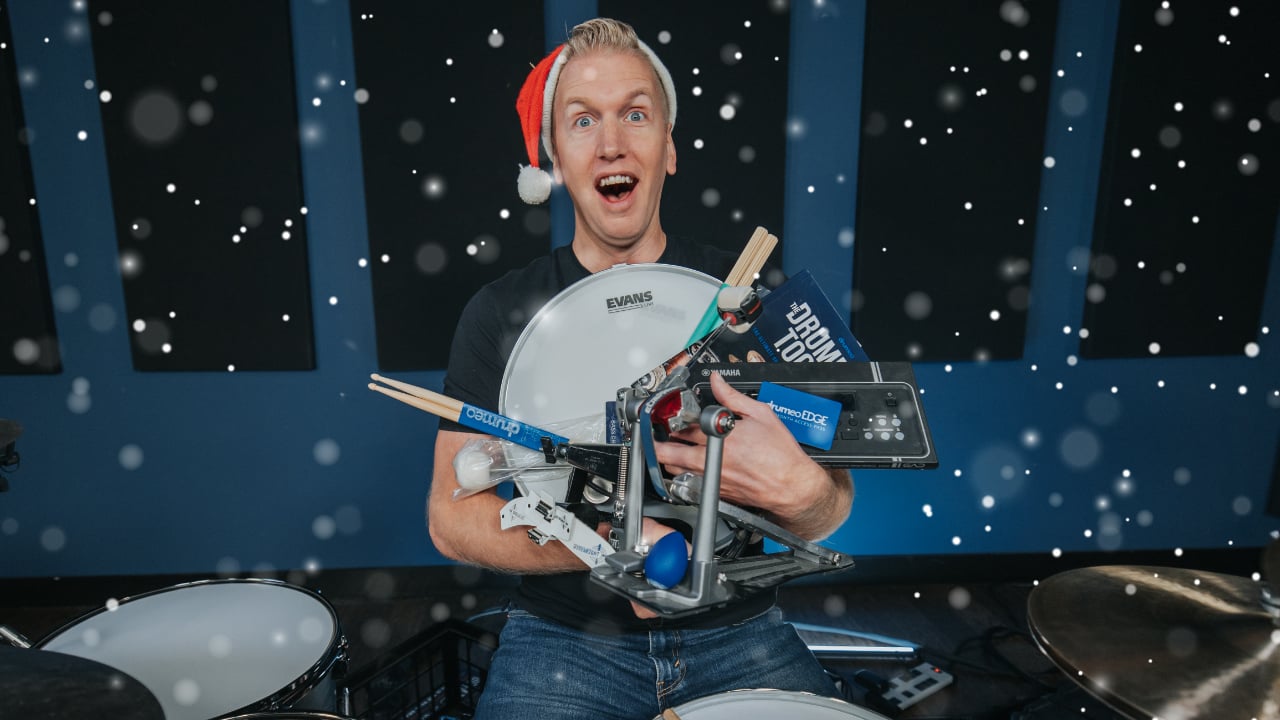 What do you get for somebody who has wants it all? If you want to put a smile on a drummer's face, check out this list of over 100 drum products from $5 to $500+ that make awesome gifts for the percussion enthusiast in your life.
Creating Sounds
Drumsticks ($5-60)

You'll most likely spend around $10-15 for a pair of regular drumsticks. But the sky's the limit with options:
Drumeo Sticks ($9-13) – Every drummer can use more drumsticks!
Hot Rods (Dowel sticks) ($30-80) – For quiet playing.
Signature Sticks ($12-16) – Play the sticks designed and endorsed by your favorite drummer.
Brushes ($20-60) – Great for jazz and creating new sounds on the drum kit.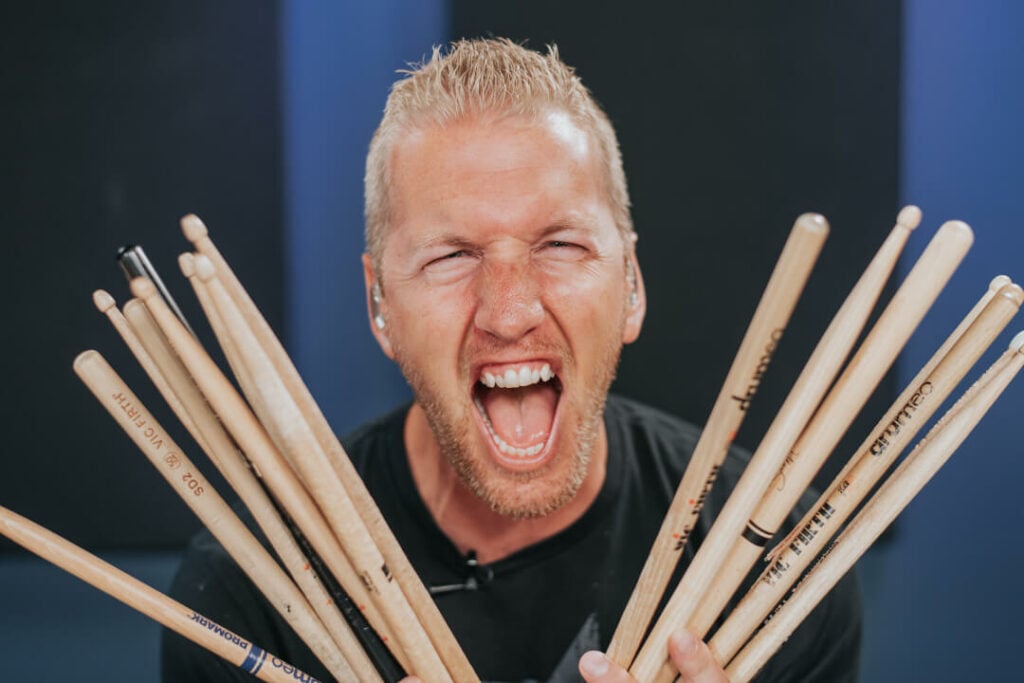 Big Fat Snare Drum ($30-45)
Change the sound of your snare drum instantly and get rid of overtones (something most drummers don't like). It's magical!
Drumeo Tone Control Kit ($72 for 4)
These clamp on the edge of each drum and dampen the sound, which means less ringing and more awesome. They come in a 4-pack and we usually sell out of these, so you can search 'snareweight' on Amazon if we're sold out ($20-30 for a single one).
Low Boy Custom Bass Drum Beaters ($28-45)
This company makes beautiful beaters that come in different materials (like wood, felt, or leather) so you can get different sounds out of your bass drum.
Egg Shakers ($3-8)
These are useful for all different types of gigs!
Drumheads ($15-100)

After a while, drumheads get worn down, stretched out, and even dented – so drummers need to replace them. Look for heads from Aquarian, Evans, or Remo.
Tom Packs ($100-200) – Pick up a 3-pack of Remo tom heads (make sure you know what size toms the drummer uses).
Snare Heads ($20-60) – These need to be replaced the most because drummers use them the most. The most common snare drum size is 14″ in diameter. Try an Evans G1, Evans UV1, Remo Emperor, or a coated Remo Ambassador.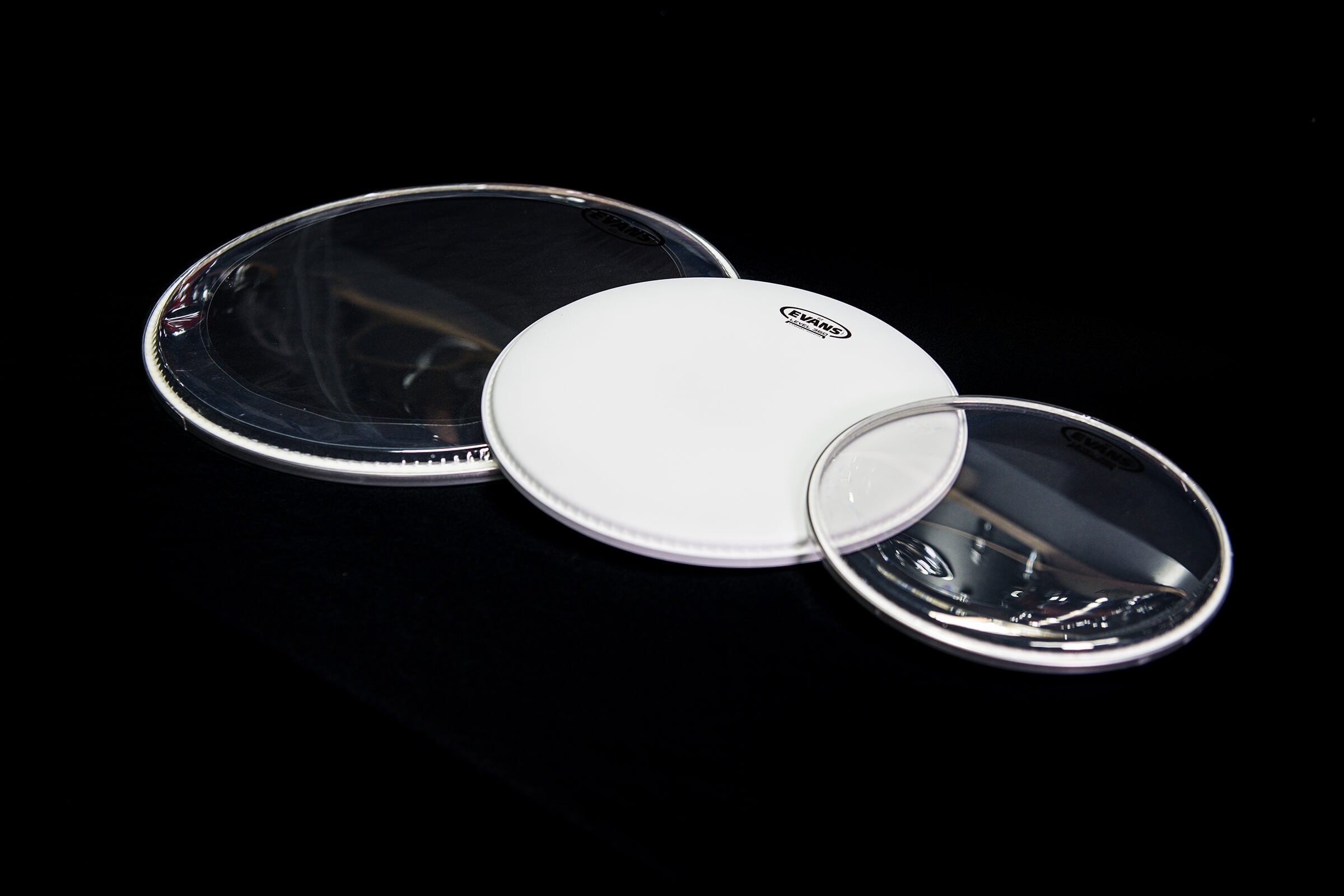 Danmar Metal Kick Pad ($12)

Attach this 'sticker' to the bass drum head to get a unique sound and attack. Todd Sucherman (Styx) swears by it and it's great for rock and metal.
KickBlock ($30)
Drummers hate when the bass drum starts sliding away, which can happen if the surface under the drum is slippery and can't stand up to the drummer's energy. Prevent bass drum creep with this foam block (the heavy duty Velcro on the bottom is a lifesaver on any carpet).
DrumDial ($100)

If you aren't a drummer, you might not know that drums need to be tuned. We like to listen to certain notes on our toms, but it all comes down to the tension on the top and bottom heads. DrumDial allows you to measure the tension around each drum and makes tuning much easier.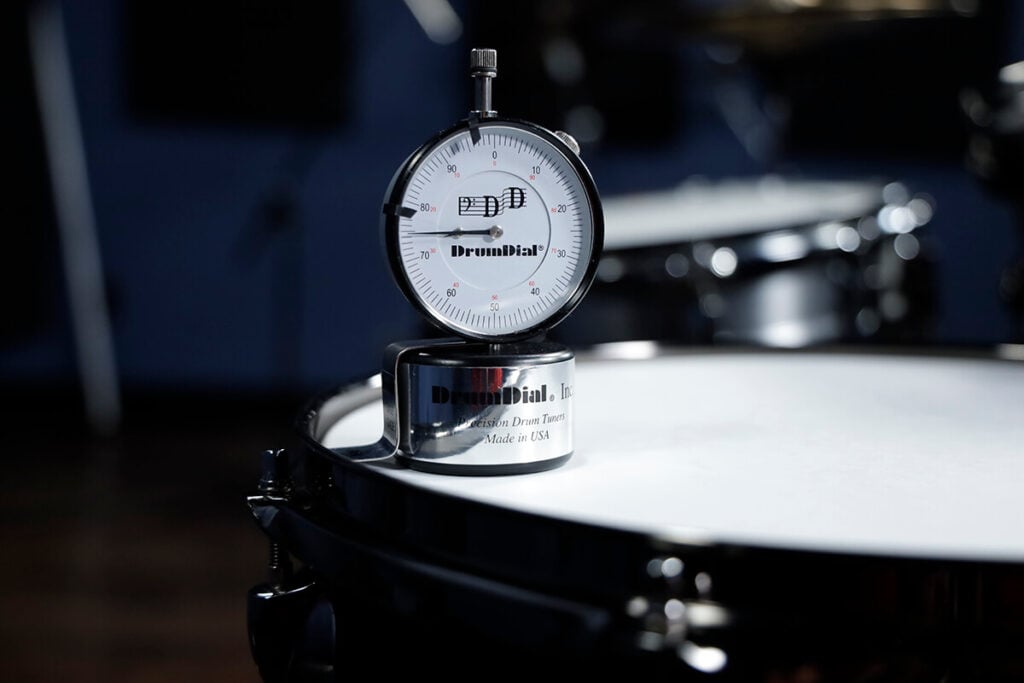 Evans Torque Key ($5)
It's small, cheap, and fits in your pocket or stick bag. This special drum key helps to make sure the tension is even around the drum (not as accurately as the DrumDial, but it's still useful).
Cymbal Cleaner ($20)
Some drummers never clean their cymbals because age can change the sound slightly. Make sure you find out if the drummer you're buying for likes clean or dirty cymbals! If it's the former, pick up some Zildjian Cymbal Cleaner or Groove Juice.
Bass Drum Os ($19)
Add a cool look to the bass drum port (a hole in the drum's resonant head) while reinforcing the hole so the drummer or a sound engineer doesn't tear the drum head putting blankets or mics inside.
Cympad Cymbal Felts ($13 for 5)
These 'felts' are actually made of dense foam that increases the cymbal's resonance while protecting the cymbal from damage by the metal on the stand. These come in multiple colors, so you could match them with the kit if you want.
The most important gift for drummers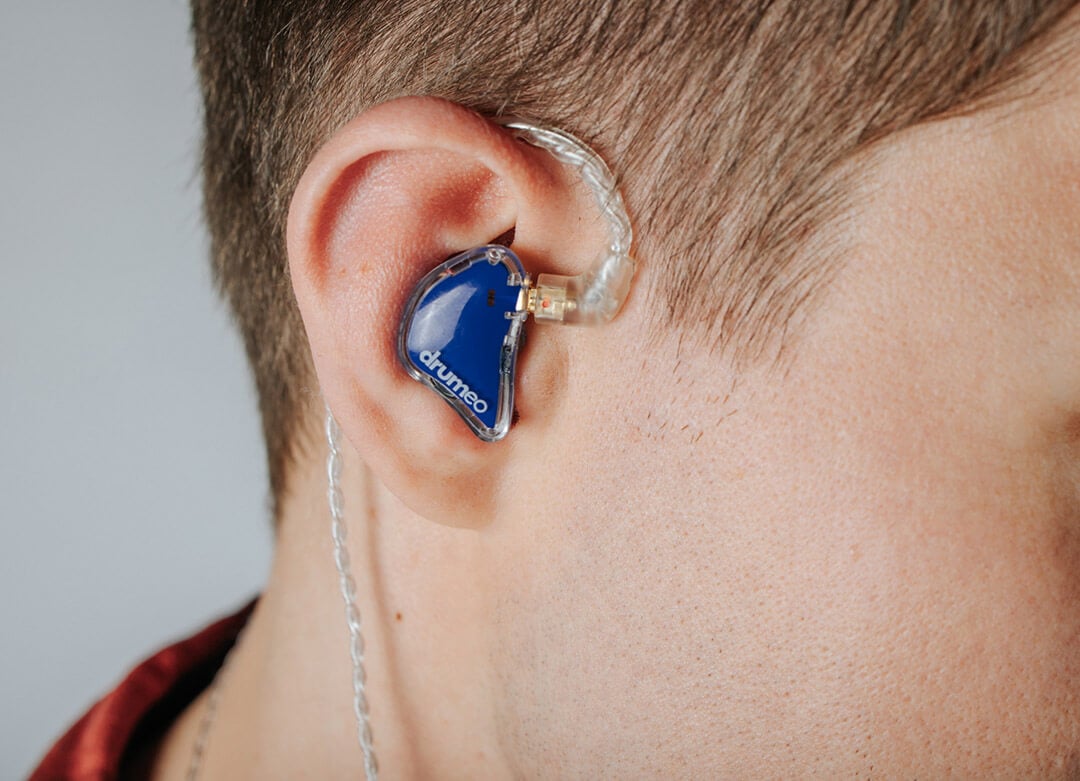 Keep loud sounds out while still listening to your favorite songs. Drumeo's EarDrums are triple-driver in-ear monitors that seal in the music while reducing external volume by up to -29dB.
Pick up a pair for the drummer in your life and make sure they hear it all for years to come.
GrooveTech Multi-Tool ($22)

Like a survival tool for drummers, this multi-tool is full of different accessories to tune, screw, cut, and more. Check out the GrooveTech model or this one from Tama.
Hole Cutter ($10)

If the drummer doesn't have a hole in their bass drum head (used to change the sound of the drum or easily allow microphones and/or dampening to be placed inside), they can use a hole cutter to do it themselves. It's cheaper than buying a whole new head with a pre-punched hole, and could make a good stocking stuffer for the serious drum aficionado who's got multiple kits.
Drumeo Comfort Cover ($79)

This is the ultimate gift for a drummer's behind: it turns any crappy old stool into an extremely comfortable seat. It's much cheaper than buying a whole new throne, and especially useful for a gigging drummer who's regularly borrowing gear.
Auxiliary Kick Mount ($50-70)

Legendary drummer Horacio Hernandez uses this kind of auxiliary pedal, and now you can too! Use this mount to attach a pedal on one side and a wood block or cowbell on the other side, freeing up your hands for other rhythms. Check out these options from Meinl and Gibraltar.
Quick-Release Cymbal Toppers ($5 for one, $60 for a pack)

Easy to clamp on and take off, these cymbal toppers make setting up or changing cymbals much quicker than with the traditional twist-off ones. These are perfect stocking stuffers.
Drum Key ($5-25)

Regular drum keys (for tuning drums) are inexpensive and simple. But…
If you want something special, try the GrooveTech T-Handle Drum Key ($24). This key is amazing for someone who needs a bigger drum key (ex. a drummer who wants more crank – like a mechanic's ratchet – or who has less finger dexterity. Drumeo's drum tech, Tyson swears by this!
Drop Clutch ($24-44)

A drop clutch lets a drummer switch their hi-hats to closed mode by hitting it once. Then they can move their foot from the hi-hat pedal to a double bass pedal. Perfect for metal drummers!
Drum Cases ($50-350)

No more scratches and dings on your drums! Cases make sure you can transport them safely. Make sure you know the sizes of the drums (in diameter and depth) before buying a set of these.
Hard cases (like these ones from Protechtor) are more expensive but they're much more durable. Soft (like these ones from Protection Racket) are easier on the wallet and good for local gigs.
Education
An awesome gift for drum students (or aspiring ones), these are some of our recommended drum books:
The Best Beginner Drum Book ($30) by Drumeo
The Drummer's Toolbox ($30) by Drumeo (featuring 101 styles of drumming)
New Breed ($30) by Gary Chester
The Weaker Side ($11) by Dom Famularo and Stephane Chamberland
Pathways Of Motion ($30) by Steve Smith
Gaddiments ($25) by Steve Gadd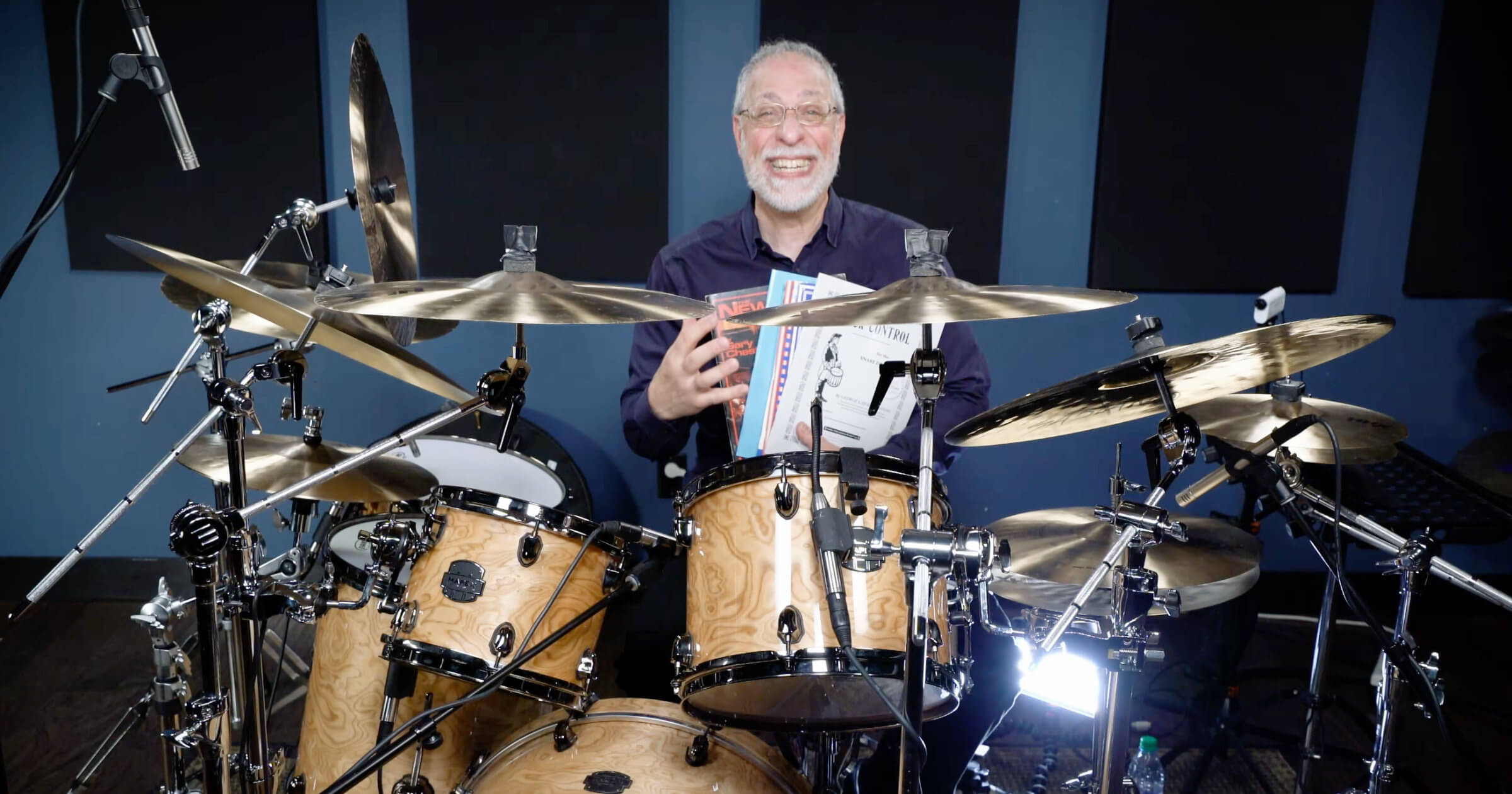 Drumeo Edge ($29/mo, $240/yr)

Online drum lessons are perfect for any drummer who wants to learn on their own schedule and on their own terms. Get them a Drumeo membership card (a 1-month or annual pass) for access to over 3000 hours of lessons, 2000+ song transcriptions, personalized feedback, a coaching program featuring celebrity drummers, a lively community, Netflix-style drum documentaries and much more.
Kit Add-Ons
Splash Cymbal ($50-300)
Add more cool sounds to the kit with a splash cymbal (they usually come in 8″ or 10″). The one shown in the video above is from Paiste but you can find cheaper models under $100 like this Zildjian S Series.
Cymbal Stand (60-120)
Get a stand or cymbal arm ($30-100) to mount a cymbal. Perfect if you plan to gift a splash cymbal like the suggestion above!
Cowbell ($150-80)

More cowbell? Always! You can find small cowbells, big cowbells, and even cowbell trees (with multiple cowbells). You'll need an auxiliary mount ($30-60) to add it to the kit.
Tambourine ($30-100)

You can hit it with a drumstick when it's mounted on the drum kit, or 'shake' it with a foot pedal if it's mounted on the hi-hat stand.
Yamaha EAD10 ($550)

This is one of the most popular drumming add-ons right now, and if you give this module as a gift, you'll be someone's favorite person ever. The EAD10 (which stands for Electronic Acoustic Drums – watch the demo here) is a cheaper, simpler way to mic a kit, add different effects and filters, and make it easy to film and record yourself playing along to music with the free app.
Casey Cooper Igniter Snare Drum ($329)

This drum is perfect as an auxiliary snare to give the drummer more sonic options. You get a lot of bang for your buck – it's a lot more affordable than similar snare drums.
Apps
If you want to send someone a gift from anywhere in the world (and save on shipping costs), get them an app!
Gap Click ($3) by Benny Greb helps you keep time with gaps in the

metronome

. Improve your internal clock!
liveBPM ($4) tracks the speed at which you're playing drums.
Tempo Advance ($4) lets you create different metronome variations and has a ton of features like building setlists for live gigs.
Drumeo App (free with a Drumeo subscription) gets you access to a huge library of videos and 2000+ songs to drum along to.
Moises (free for the limited version or $5/month for premium) uses AI technology to remove drums (or vocals, or guitars) from songs so you can add your own or play along to drumless tracks.
Not enough drummer gifts for you? Find more at these links:
*This article contains affiliate links, which means we might earn a small commission from the product seller if you make a purchase. For more info, check out our privacy page.
SHARE THIS: