Ever discovered something for your kit that you couldn't wait to tell all your drummer friends about?
Drum accessories have come a long way since the days of clumsy hardware, cheap cases that fall apart after two months, and hi-hat clutches that come unscrewed at the worst possible time. 
Be warned: the products on this list may become the new unsung heroes of your drum setup. Some of them have been around for years, while others are new and under the radar. 
All prices are listed in USD and subject to market changes.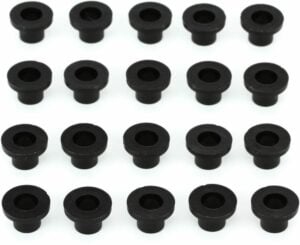 Are the tension rods on your trusty snare slipping out of tune? Are you constantly retuning your toms on humid days? Hendrix Sleeved Washers are a cheap and reliable solution (pick up a 20-pack for $8.99). They're compact, easy to pop on any drum, and they actually keep the tension rods from de-tuning. Set it and forget it!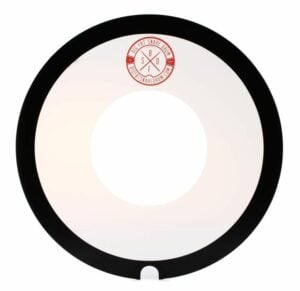 If you're looking to create a second snare sound without dragging around another drum, this thin plastic ring is perfect. The base model makes your snare sound fatter and deeper (think of a really dry '70s tone), and they also have donut-style rings, "snare-bourines" and other fun options. Pick one up and lay it right on the head for a magical transformation at an affordable price.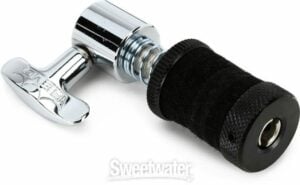 This one falls into the "why didn't someone think of this 30 years ago?" category. This sturdy clutch from Remo solves every hi-hat clutch problem in a simple way. You loosen the top washer and push in the pin for trouble-free locking/unlocking. It's easy to swap cymbals and the tension (or amount of "give" between the felts and the top hat) remains the same every time. More importantly, it will never slip or unscrew while you're playing. Yes please! It's $26.41 and worth every penny.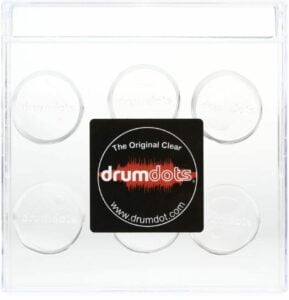 Even the best-sounding drums sometimes have unwanted overtones. These silicone dampeners solve that issue without completely killing the tone of your drum or leaving a filmy residue on the head (we're looking at you, duct tape). Drumdots are made of a clear polymer designed to let the good frequencies resonate while the gnarly stuff gets filtered out. They come in small and large sizes (both $10.99/pack) and you can also pick up an aluminum travel case.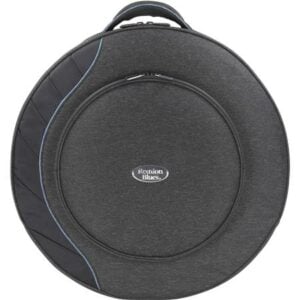 This could be the best cymbal bag you'll ever own. It checks all the boxes for both a hard case and a soft bag since it's lightweight and flexible enough to cram a ton of stuff into (cymbals, the top of your throne, iPad, water bottle), but strong enough to protect that stuff. The backpack straps are comfortable and will last through years of abuse (we're looking at you, NYC subway). These are a bit pricier than some others, but they'll last as long as 3 or 4 cheap bags.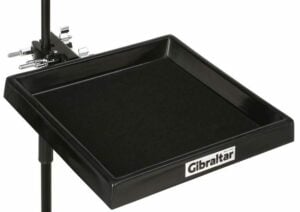 Did your keys just disappear under your floor tom? Are you about to totally destroy your phone by stepping on it every time you stand up? Pick up this cool little table from Gibraltar to accessorize your practice space, or take it on a gig to hold your set list, egg shakers, or cold beverage. It's only 12 inches, lightweight, and has a simple mounting clamp. This is the thing you never thought you needed until you got one.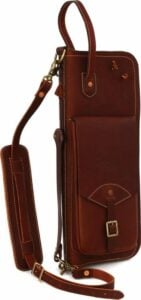 Ok, so maybe you don't think you neeeed a leather stick bag. But you should grab one anyway since it's the nicest one on the market today and it'll make you feel good. Yes, $199 is a lot, but it'll essentially pay for itself when you don't have to replace it after a year like some cheaper ones. It has a detachable leather strap, tons of extra pouches, and will attach to your floor tom or stand alone with the help of a drum stick (which is a totally ingenious and super-cool feature). They also make a more stripped-down canvas model for $69.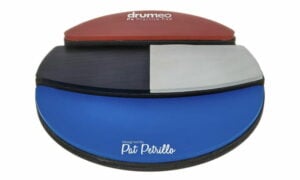 We might be a little biased here, but this is a great pad that can help you become a better player for $59. It has four surfaces that all feel different, which is a great way to get your brain thinking about drum set ideas while you warm up. It can also help you work on targeting just the right spot. The softest surface is great for quiet practice, while the other quadrants have varying degrees of rebound.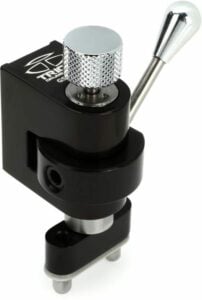 The GS007 from Trick makes it easy to change your snare settings with one quick motion – perfect for a mid-song switcheroo. You'll have four different sounds at your disposal (tight/medium/loose/off) and it's pretty easy to install with a couple of screws. This sturdy, slick-looking chrome throw-off is a worthy upgrade to your snare drum for $84.99.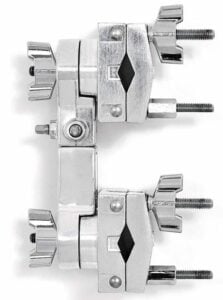 Want to squish in an extra crash cymbal but don't have room for a bulky stand? This solid clamp from Gibraltar may be just what you need, and it can hold cowbells, woodblocks, or anything else with a universal arm mount. It also allows for flexible positioning and won't break the bank.
This is another snare upgrade that can make a huge difference in your sound for a bargain price. These are wider than your average snare wires and their responsiveness and sensitivity is off the charts. They're also dual-adjustable, which means you can tune the sides independently from the center to customize the response!
Your bass drum deserves some love too, and Low Boy has custom beater options for every playing situation. There's the "leather daddy" for a powerful punch, the "felt daddy" for a traditional feel and the "puff daddy" for a softer attack. They also sell a "power switch" attachment to quickly swap out your beater without a drum key.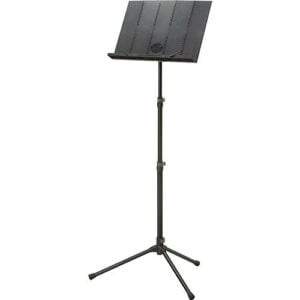 This stand hits the perfect sweet spot between "crappy wire stand that won't hold my giant book of charts," and "high school band monstrosity I can't take anywhere." It's made of lightweight, durable plastic and folds up into a little carrying case that'll slide right into your hardware bag. It's super adjustable, has a solid base, and costs $34.99. Well worth it!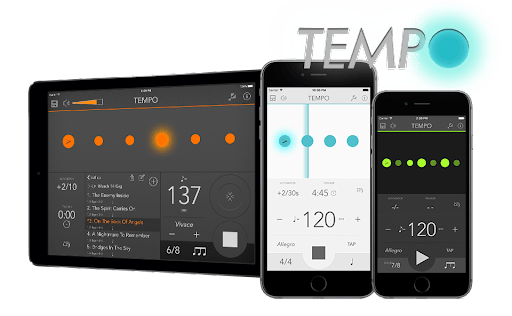 "There are so many free metronome apps out there for iOS and Android…why should I pay $2.99 for this one?" Every drummer needs a metronome on their phone these days, and this is the app the pros use. It lets you make setlists with pre-set tempos stored, practice a ton of odd time signatures and it's especially accurate with super-fast tempos. It's also easy to use and features a Lite version as a trial.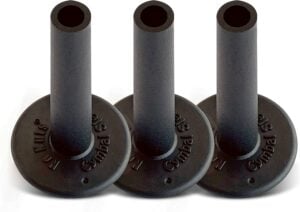 Keep dropping those wing nuts? You won't need them anymore if you pick up a 3-pack of these handy No Nuts cymbal sleeves ($18.84). They're made of strong and flexible rubber that slides snugly onto any cymbal stand. This makes changing cymbals easy, and all you'll need is a felt.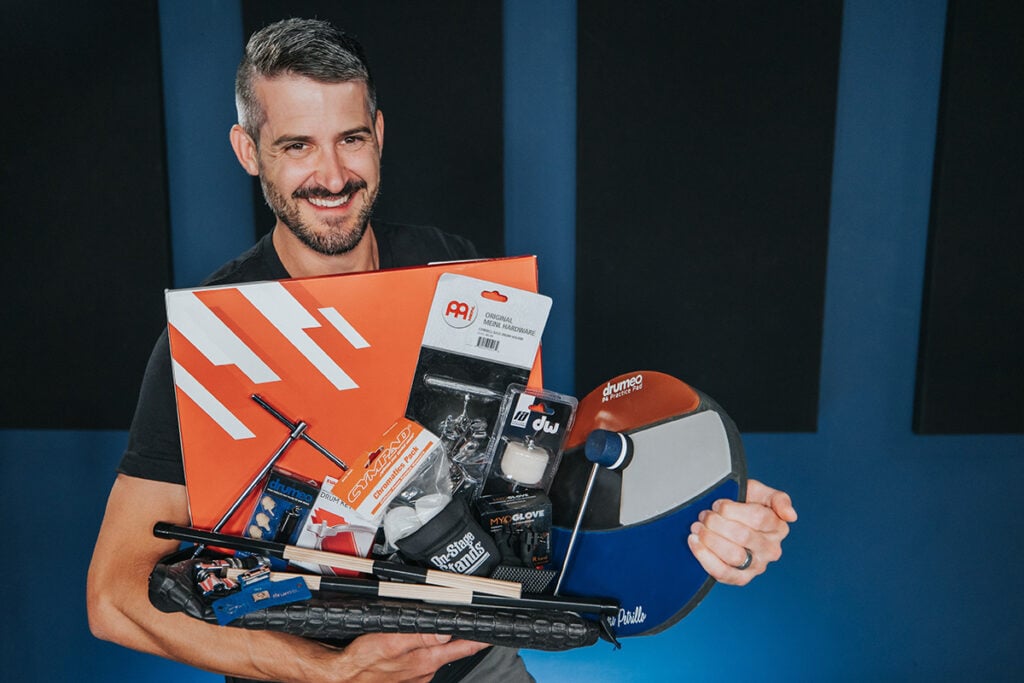 Honorable Mentions:
Pageflip Firefly Bluetooth Page Turner ($109.95) – It turns pages for you!
Rolls PM Personal Amp Monitor ($44) – This lets you hear the click, your drum mics, and other live necessities.
Beyerdynamic DT770 Pro Headphones ($159) – Great quality for the price!
Pearl PTT13 Drummer's Tech Tool ($15.99) – Like a Swiss Army Knife for drummers.
Having these drum accessories in your arsenal will make life easier, spice up your kit, and give you more reason to rock out! How did you ever survive without them?
*This article contains affiliate links, which means we might earn a small commission from the product seller if you make a purchase. For more info, check out our privacy page.
SHARE THIS: