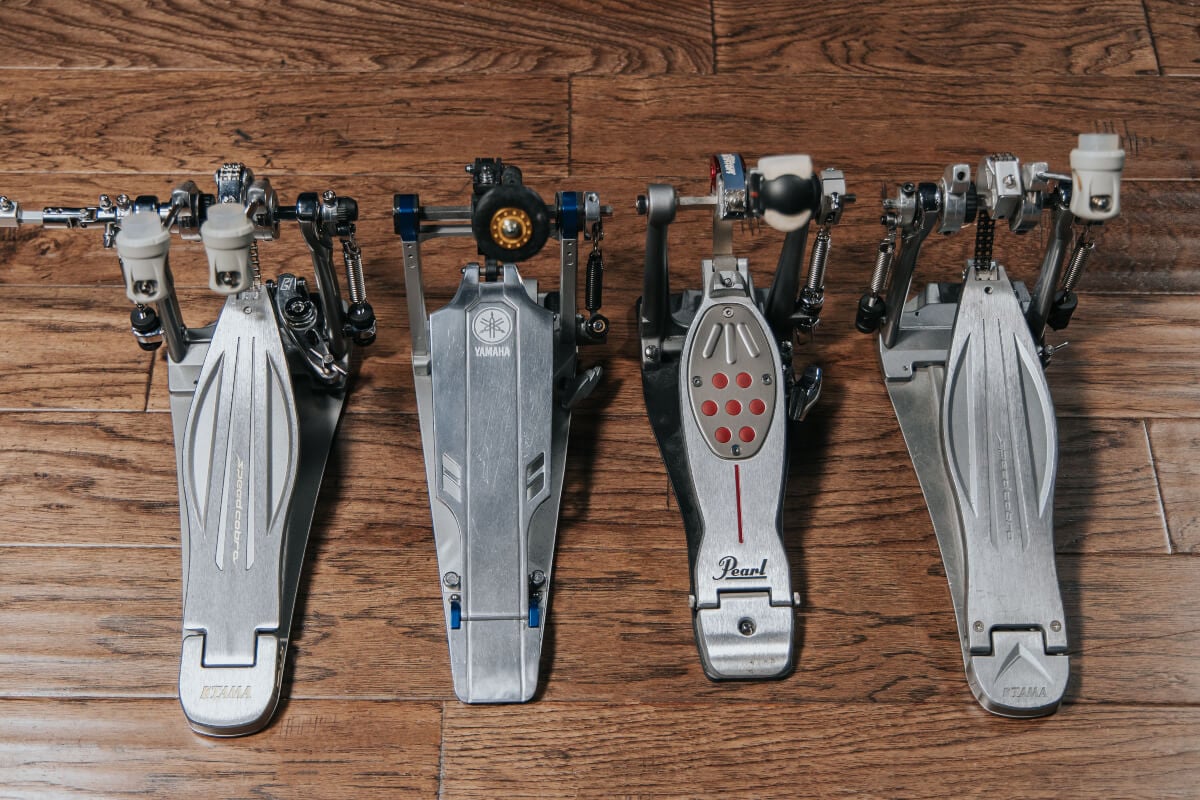 This guide will help you choose the best bass drum pedal for you.
It's time to put your best foot forward! The kick pedal is one of the most important parts of the drum kit, and picking the right one can be a challenge.
So many brands. So many features.
This guide will cover everything from chains to footboards and beaters to help get you started. 
---
History Of The Bass Drum Pedal
The invention of a device that allowed the drummer to play the bass drum and snare at the same time was the key that unlocked the modern drum set. 
Before William F. Ludwig and his brother Theobald began manufacturing and selling the first modern pedals in 1909, bass drum pedals were clumsy and fragile. Most were made of wood and relied on an awkward swinging rope pulley system with a cymbal striker that didn't offer much control or playing response. While some of the designs were ingenious and creative, most were pretty hilarious by modern standards. 
That all changed with Ludwig's creation of a "direct drive" pedal which had a solid bridge between the footboard and the beater. This was a game-changer! 
Fast forward to 1934 when Ludwig put out the "Speed King" model, which introduced the idea of adjustable spring tension and ball-bearings (they kept refining it up to 1950 and still sell a close replica). After a few years of stagnation and clumsy wooden options due to the metal shortage of World War II, the first "chain drive" pedals changed the game again in the late 1970s (legend has it that a clever bike mechanic in New York came up with the idea).
40 years later, we've got double pedals (thanks Louie Bellson), single and dual chains, belts, springs, extra-long footboards, linear and offset cams and more good options than we know what to do with.
Let's check out the different parts of the bass drum pedal.
Bass Drum Pedal Components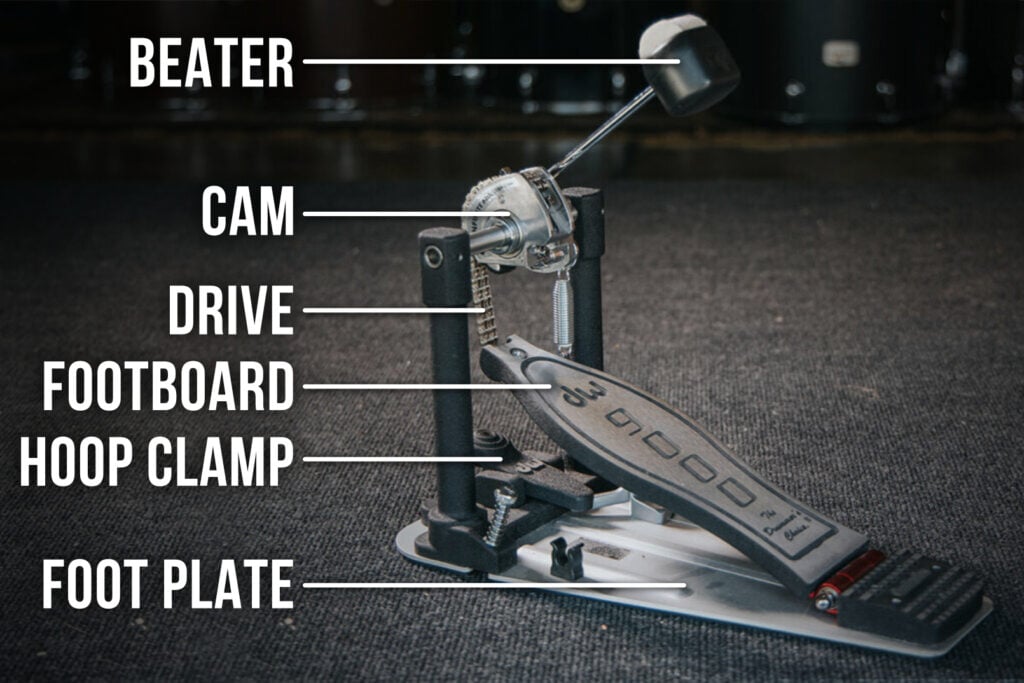 Drive System
The drive system connects the footboard to the "cam" (which we'll discuss in a minute), catapulting the beater forward to strike the head when you step on the pedal. While there are always variations, you essentially have three main options:
Chain drive
This is the most common and popular type of pedal. Single-chain pedals are lightweight and portable for quieter playing styles, while dual-chain are more sturdy for powerful rock playing.
Direct drive
The solid bridge between the beater and the footboard makes these pedals super-responsive (some drummers actually find them to be too sensitive, so go try one out)! These are popular with metal drummers looking for increased speed.
Belt drive
Many drummers love belt drive pedals because they're smooth, silent and powerful. They have a similarly sensitive feel to direct drive pedals and can work for many different types of playing.
Cams
The cam is the small piece of metal that connects the drive system (chain or belt) to the beater. (Note: direct drive pedals don't have cams since the beater and the footboard are already connected). Some high-end pedals actually have adjustable and replaceable cams.
There is no right or wrong here, and which type you choose is personal preference. Try out some different pedals and find one that feels perfect for you. 
Here are the two main types of cams and how they affect the feel and playability of the pedal:
Linear
The round shape of the cam creates an even resistance throughout the duration of the stroke. Many drummers feel these offer maximum control and speed.
Offset
The cam isn't quite round which causes the beginning of the stroke to feel a little more "delayed," with the beater whipping through the zone as it gets closer to the head. These are popular with drummers who want more power.
Footboard
There are lots of different features to choose from here, and every drummer's foot is different. 
Standard Footboard 
Many modern pedals have a "split" footboard with a hinged heel piece you can anchor your foot onto for more power and control. 
Extended Footboard
These don't have the heel piece and are longer in length, which some drummers prefer for sliding their foot back and forth for faster doubles and bounces. "Longboards" are especially popular with metal drummers.
Slide your toes on there and give them all a shot!
Springs
Getting the spring tension set just right is one of the most important parts of getting comfortable with your pedal. Whether your pedal has single or dual springs, it can be impossible to play if the resistance isn't right. Many modern pedals have easy spring tension adjustment options (you can also try some of this kick pedal lube to loosen things up even more). 
These minor adjustments can go a long way, and most pedals will also allow you to change the angle of the beater. If the beater is too close the head, the action won't be right, and if it's too far away, you can smack yourself in the shin, which is no fun. We've all been there!
Bass drum beaters
The material, shape and weight of your beater can have a huge impact on the sound and feel of your pedal. Many pedals are sold with beaters that have dual playing surfaces to give you more sound options. We'll go over some specific products later, but here are few of the main features:
Felt beaters
This is the most common type of beater and they feature a solid combination of attack and tone. You can get felt beaters with different levels of firmness, which can affect the feel and sound.
Plastic beaters
These have more attack and less tone quality, which is great if you really need to cut through the mix onstage. However, their sound is a bit flat and cold for some playing situations.
Leather beaters
These are less common, but offer a nice sonic compromise between felt and plastic.
Wood beaters
Wood beaters are great for heavier playing and on electronic kits since they have a ton of attack.
Wool/Fleece beaters
These offer the softest attack and work great for playing jazz and mellower styles.
Round bass drum beaters
Many traditional pedals have round beaters, and many drummers prefer them since their weight is evenly distributed. 
Flat bass drum beaters
Some players feel that these help you get cleaner strokes with fewer unwanted bounces and hiccups. The weight is often concentrated more in the back on the beater head which can help you create a more powerful "whipping" action. 
If you want other beater shapes, you can find options that resemble modern flat beaters but have a concave or oval-shaped playing surface.
Heavy or light beaters?
It's up to you! Heavy beaters can create more power, while lighter ones offer more speed and control. Most people prefer something in the middle.
Now that you've checked out all the parts from ankle to toe, let's go over the multitude of options on the market today to find the perfect pedal.
All prices are listed in USD and subject to market changes.
Cheap Bass Drum Pedals
(Single $70-$150/Double $200-$350)
These will get you started without breaking the bank, but lack some of the features of higher-end models.
Yamaha FP7210A (Single $69.99) 
This is a nice single-pedal option if you aren't playing loud. It has a single chain and a horizontal frame brace instead of a solid metal piece that rests on the floor, which is great for efficient packing. These resemble pedals from the early days and work great for quieter playing styles.
Tama HP200P Iron Cobra 200 (Single $74.99/Double $199.99) 
The Iron Cobra has been a popular and dependable option for years and features a solid footboard with a single chain offset cam for a powerful stroke. It also has dual-surface felt and plastic beaters.
DW 2000 Series (Single $99.99)
DW 3000 Series (Single $149/Double $319)
DW makes some of the best pedals around, and these models have a lot to like for the price. The 2000 series has a single chain design while the 3000 series features a dual-chain. Both have a solid footboard, an offset cam and dual-surface beaters.
Gibraltar GRC5-S Road Class (Single $89.99)/Double $199.99)
This is a sleek, no-frills option that gets the job done. The footboard is narrow and lightweight, and the action on the single-chain is smooth. Some drummers might find the beater to be an unusual shape, but it's easy to swap out and shouldn't deter you from picking up this pedal.
Pearl P930 Longboard (Single $109/Double $285)
This is a great choice for drummers who want to try out an extended footboard without breaking the bank. The hingeless board is adjustable and has smooth action, plus Pearl hardware has a reputation for being solid and long-lasting.
Mid-Range Bass Drum Pedals
(Single $150-$350/Double $500-$700)
Stepping up a level in price unlocks some cool new options, and this set can get the job done for weekend warriors, students and pros alike.
DW 5000 Series (Single $249/Double $529)
These pedals are sturdy, reliable, and totally worth the upgrade from the lower models. They feature a dual-chain (which will hold up better for heavier playing) and an improved clamping mechanism to attach to the hoop. The beater is double-sided (felt/plastic) and the offset cam packs a powerful punch as the beater accelerates through the zone.
Sonor PB Standard Jojo Mayer model (Single $249)
Many drummers love belt-drive pedals because they're smooth, silent and powerful. This sleek model from Sonor has a linear (round) cam made for speed and a classic circular beater, and it packs up efficiently (we wish it could make us play like Jojo Mayer).
Yamaha FP9500C Double Chain Drive (Single $239.99)
This one's built for power and durability and has a handy option to swap out the chain for a nylon strap if you're looking to change the action. It also features a dual-sided beater, a convenient side-tightening hoop attachment screw, and its own carrying case.
Trick Drums Dominator (Single $319.99/Double $659.99)
Fed up with chains? Cast them off and grab this direct drive pedal that creates a solid bridge between the beater and the footboard. Fewer connecting parts means a smoother action and (usually) fewer parts that can fail at the worst possible time. The adjustable split-cam design makes this a popular choice for metal drummers looking for blazing speed and efficiency.
Pearl 2050C Eliminator Redline Chain Drive (Single $249/Double $529)
If you're super-picky about the feel, this could be the pedal for you since it's all about customization. It has four cams you can swap out to change the playing action, the beater has four different surfaces, and the footboard offers plenty of adjustability. They also sell this exact pedal with a belt-drive option for the same price.
Best Bass Drum Pedals
(Single $350+/Double $700+)
When it comes to drum hardware, you usually get what you pay for, and these pedals have all the bells and whistles. 
DW 9000 Series Chain Drive (Single $379.99/Double $779.99)
This is one of the top chain-drive pedals on the market today. The 9000 Series has all the features of the earlier models plus a fully adjustable cam system, a free-floating swivel spring (for less resistance), and a nylon strap you can swap in for the chain. It also contains aircraft-grade aluminum. Pick this up and get ready to fly!
Pearl P3000C Demon Direct Drive (Single $419/Double $829)
This pedal is built for speed and features some of Pearl's trademark customization options for the most finicky of feet. It has "ninja skateboard ball-bearings" and you can pop a couple of screws off and convert it to a longboard in seconds. They also sell a chain drive option for the same price.
Tama HPDS1 Dyna-Sync (Single $349.99/Double $699.99)
This direct drive pedal is Tama's appeal to chain-drive players who want to try something new. There are tons of customizable options that don't require swapping out parts, from the Slidable Cam system to the Optimized Transmission Design, which allows you to dial in your preferred level of speed or power. 
Yamaha FP-9 Direct Drive (Single $349.99/Double $679.99)
These direct-drive pedals have a stylish design and many useful features, including a self-locking spring tension knob for adjustments on the fly, and weights you can attach to the beater for power or speed. Like many other high-end pedals, Yamaha also offers an identical chain-drive option for drummers who prefer a more traditional feel. 
(Watch Larnell Lewis use this pedal)
DW Machined Chain Drive MCD (Single $579.99/Double $1049)
This has great features like an easily adjustable cam system, customizable dual chain, ergonomic aluminum footboard, and a contoured heel plate. Despite its lightweight look, this pedal is built to last and comes with a carrying case and interchangeable beater surfaces. If your wallet can handle it, this is one of the best pedals around. 
Bass Drum Beaters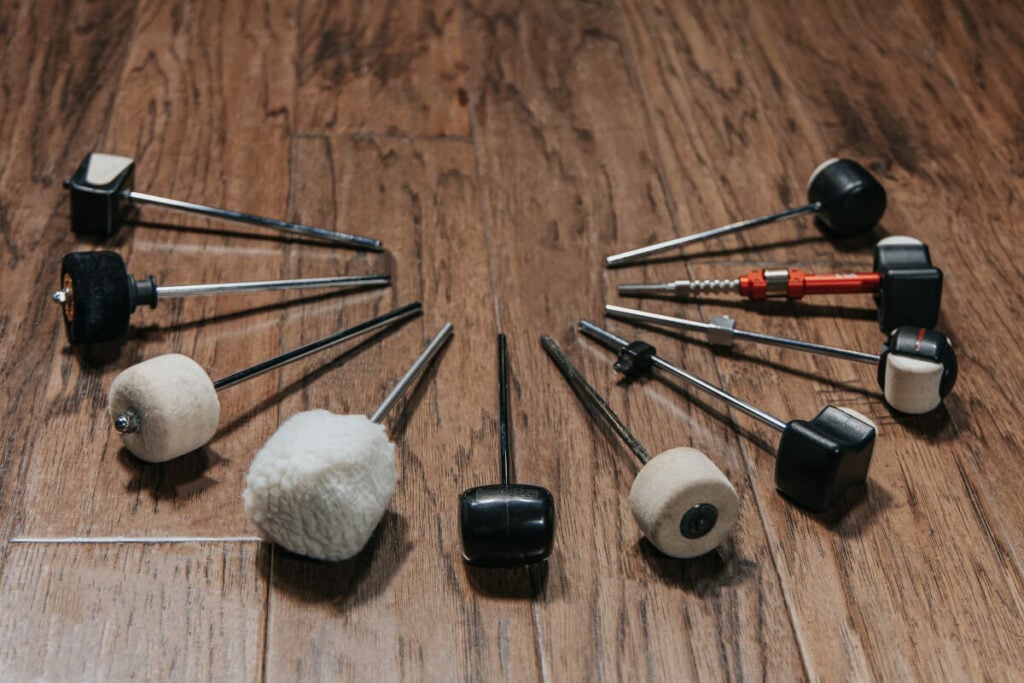 While many of these pedals offer various beater surfaces and weights, there are plenty of additional choices out there for drummers who want to customize their experience even further. 
Let's take a look at some of the options:
These are custom-built in a variety of bright-colored and stylish designs. They offer lightweight (80g) and regular (95g) sizes with four different playing surfaces. They also sell a cool Powerswitch attachment screw to help you quickly swap out the beater on any pedal.
Good for any style, the flat striking surface has a nice combination of warmth and attack.
This will cut right through any mix and is especially good for playing metal and other heavier styles. This model also works well with electronic kits.
This is a nice "in-between" option since it has the punchiness of wood combined with the pleasant tones of traditional felt. This one is also good for e-kits.
Made from lambswool, this fuzzy beater is perfect for jazz or any music style where you want a more gentle attack. You can also use it on a cajon.
This one is built for drummers who like traditional round beaters but want a ton of attack. 
It has a similar design, but with felt to add a bit more tone. The oval shape provides two choices of striking surface.
This one is a unique option with a wide wooden shaft and harder felt beater – good for drummers who want to try something new!
The fuzzy fleece around this large round beater provides a softer attack, while the center is hard and solid. It's good for jazz and quieter styles.
The folks at Ahead are at the forefront of developing fun and cutting edge bass drum accessories. Here are a few of the most innovative. Note that some require a steel shaft adapter, which is sold separately.
(You can use these with a cajon, too!)
Nylon Brush Kick Beater ($38.99)
Want a brush as your kick drum for an acoustic coffee house gig? They have a wire brush option too.
Leather Slap Kick Beater ($54.99)
This one sounds like you're smacking the drum with a leather-clad glove.  A creative and interesting choice.
The cup-shaped plastic striking surface gives it a ton of attack and boom, while the hard surface on the opposite side is brighter.
Switch Kick Quick Release Kick Beater System ($49.99)
The beater is a standard dual-sided felt/plastic, but the design enables you to switch between beaters and sounds quickly and easily. All the Ahead beaters fit neatly into this system.
Innovative Percussion Beaters
This company sells beaters custom-built for a few of their artists.
Jim Riley KDB-DP Yarn Beater ($23.99) 
This is one of the few yarn-wrapped beaters on the market and Jim Riley (Rascal Flatts) uses it to get a punchy, yet warm tone. Despite its solid core, it's super lightweight.
Brooks Wackerman KDB-3 Wood Beater ($21.99)
This round wooden beater is best for metal drummers looking for a firm attack.
Chris McHugh KDB-1 Yarn Beater ($22.25)
It has an unique oblong shape that maximizes the point of surface contact with the head. The wooden core means it still has plenty of punch.
This is a big round cork beater wrapped in polyester which pays tribute to the fleece options of long ago. It's lightweight and best suited for quieter playing or any style where you're looking for a softer attack.
KAT Percussion Beaters
Silent Strike Bass Drum Beater ($17.99)
The beater is actually a tennis ball that produces little-to-no sound on impact, which is perfect for electronic drums or nighttime practicing.
Specialty Pedals
Here are a few more useful pedals for a variety of playing situations.
Gibraltar Strap Drive Cajon Pedal ($134.99) 
This is a cool option that allows you to sit on a cajon and hit it with a remotely positioned pedal. Great idea!
Roland KT-10 Kick Trigger Pedal ($289.99)
An electronic trigger pedal with adjustable spring tension and super-smooth action? Yes please! This is a worthy upgrade for any e-kit, and they also have options like the RDH 100A ($199.99) which mirrors the look and feel of traditional pedals with features designed specifically for e-drummers (quiet action, self-aligning durable plastic beaters). 
(For more information on this topic, check out this comprehensive Guide to Buying Electronic Drums).
Offset Eclipse Double Bass Drum Pedal ($469.99)
This unconventional symmetrical design has the beaters in the middle with the pedals on either side. This is great for drummers working with complicated setups or looking for something fresh and new.
Meinl Direct Drive Double Cajon Pedal ($199.99)
For acoustic metal sessions! Seriously, this is a cool idea.
The Bottom Line
There are so many pedals and accessories out there, and everyone has different needs. Regardless of what style you play, it's always a good idea to invest in quality gear that will withstand the test of time. So find one that feels great, put the pedal to the metal and you'll be ready to rock out in no time!
*This article contains affiliate links, which means we might earn a small commission from the product seller if you make a purchase. For more info, check out our privacy page.
SHARE THIS: