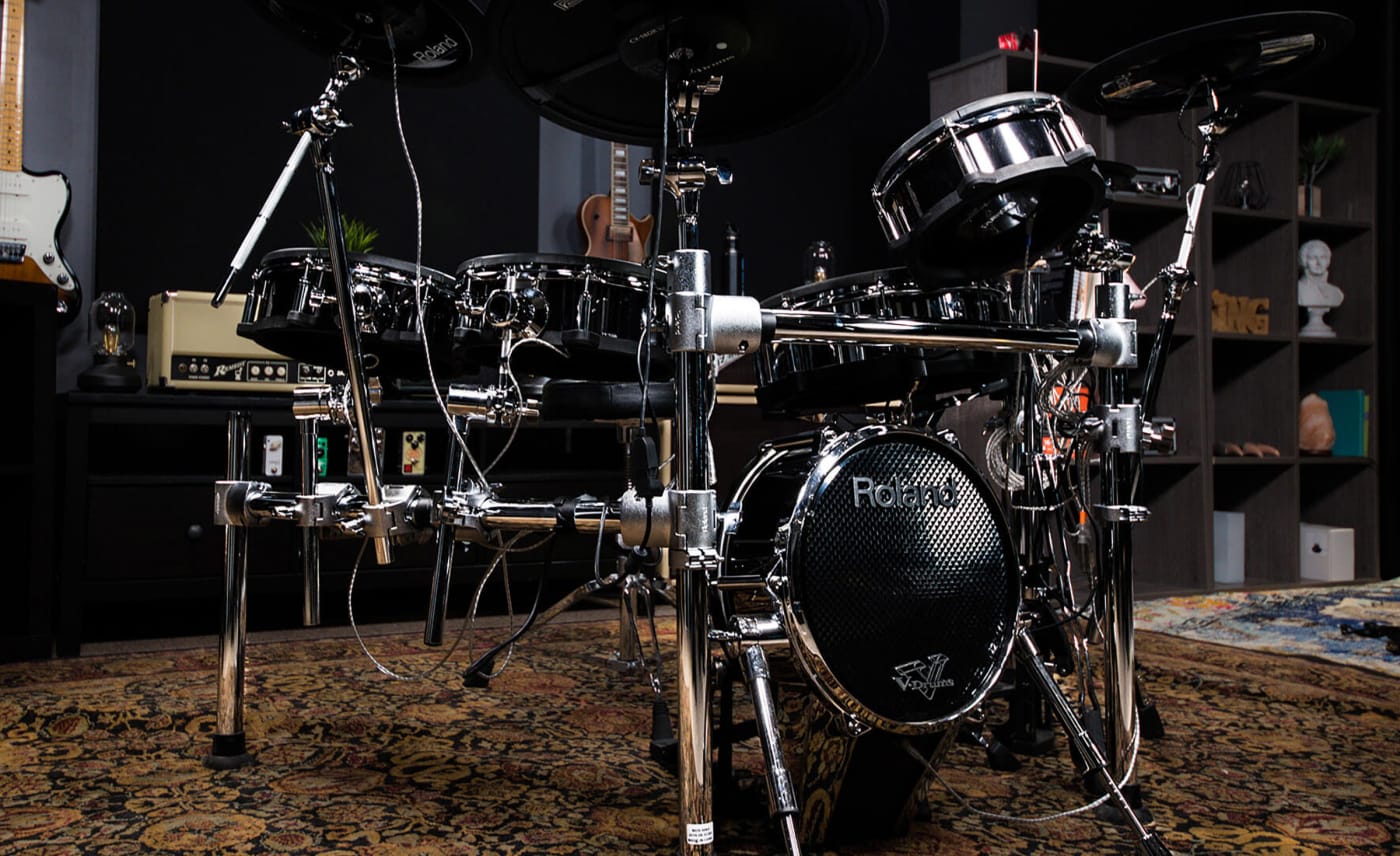 This guide will cover some of the best electronic kits at different prices and help you find the perfect fit for your apartment, garage, or studio.
Electronic drums have come a long way since the days of sterile rubber pads that felt more like kitchen counters than real drums. The sounds are better, the hardware is sturdier, and the designs are sleek and inspiring.
There are also more brands and models to choose from. Many are cheap and functional, while others have a ton of features but will cost more in return. With so many choices, how do you find the right one?
Drumeo has 9 electronic drum kits and 62 acoustic kits between our studio and warehouse. We've spent years getting to know the products on the market and even researching the history of electronic drums. We hope this guide will help you decide which kit is best for you!
---
Here are a few options in each price range to get you started. Since there are so many kits on the market, we've also included a table at the end of this guide with even more options.
(All prices listed in USD and subject to market changes)
Keep in mind that most electronic kits don't come with a drum throne, so you'll probably need to buy a seat!
Entry Level Electronic Drum Sets (Under $1000)
Features
Why buy it: This kit is affordable and simple.
Toms: 3
Cymbals: 3
Kick tower: No
Snare stand: No
Hi-hat stand: No
Kick pedal: Included
Details
Pros: The sounds are top notch – all Yamaha electronic kits feature their acoustic drum sounds built in to the sample library. This one has 10 preset kit options plus over 400 percussion and keyboard sounds. A $500 kit with the high-end sonics of the Yamaha brand? Sweet deal! This model is also compact and includes the useful DTX-40 Touch app for iOS or Android that has lessons and play-alongs. It even has a record-and-share function to help you make your first viral video. The hardware is durable, the module is functional and simple to use, and it also packs up easily if you ever need to transport it.
Cons: The rubber pads. This is a good kit if you're just starting out or on a super-tight budget, but it doesn't look or feel much like an acoustic drum set. This an important consideration since many students practice on an electronic kit at home and then play an acoustic one for lessons or school band. The playing action on the rubber pads is very different and could make that transition harder.
Features
Why buy it: Most budget kits don't come with mesh heads. This one does!
Toms: 3
Cymbals: 3
Kick tower: No…kinda.
Snare stand: No
Hi-hat stand: No
Kick pedal: Sold separately
Details
Pros: Roland V-Drums have always been at the front of the pack when it comes to simulating the feel of real drums. The reason: high-quality mesh heads. These have a better rebound and response than hard rubber, making the TD1 a solid starter rig for kids and adults. It has 15 built-in kits, over 250 other sounds, and a USB port you can use to connect MIDI instruments from your laptop. It's also very compact and has a metronome and a couple of exercises to get you started on the path to drumming greatness.
Cons: The price is higher than other entry-level kits. The module is also fairly basic and may not have enough features and flexibility for intermediate players.
Features
Why buy it: Mesh heads are rare at this price point, and so are kick towers. It's a great starter kit.
Toms: 3
Cymbals: 3
Kick tower: Yes
Snare stand: No
Hi-hat stand: No
Kick pedal: Included
Details
Pros: An all-mesh kit for under $400 is a good deal, and the Nitro Mesh from Alesis has a lot of useful features. It offers an 8" snare, 3 toms, two cymbals, a hi-hat, and a kick pedal. It has 40 different preset kit options and 60 play-along tracks, and also comes with cables, a pair of sticks, and a drum key to get you going right away. It's compact, has USB connectivity, and has a conveniently organized module (we're big fans of the buttons for each drum being arranged in the shape of a real kit).

For a step up, the Alesis Command Mesh model ($749) is a similar rig with a few more bells and whistles (like a bigger snare pad and additional sounds and customization options).
Cons: The quality of the built-in drum sounds is a little uninspiring. There are a lot of strange and fun tones, but it's hard to find a realistic-sounding basic kit. The aluminum rack it's mounted on could also be sturdier and the cymbals are a bit clunky. As Brooklyn Guitar Center salesman and electronic drum expert Ozzie Martinez explains, "With the Alesis kits, people tend to buy the inexpensive ones and use them to trigger their own sounds."
Features
Why buy it: Tunable mesh heads, larger pads and a great teaching app.
Toms: 3
Cymbals: 3
Kick tower: Yes
Snare stand: No
Hi-hat stand: No
Kick pedal: Included
Details
Pros: You might recognize the name Simmons as the creator of the hexagonal-shaped SDS-V drum machine that popped up on so many hits of the '80s. It revolutionized electronic drums forever (Rick Allen of Def Leppard actually used it to compensate for the loss of his left arm). The current version of the company is owned and operated by Guitar Center and we think their kits have some nice features for the price.

The SD350 has tuneable mesh heads, 10 preset kits, and 179 sounds to choose from. But the highlight is the Simmons Drums App, which has teaching tools and play-alongs that are perfect for beginner drummers. The SD600 model has larger pads, which is one step closer to that acoustic feel.
Cons: The snare on the SD350 is mounted to the rack directly under the hi-hat, so if you're used to playing an acoustic kit, the layout feels a bit different. The pads are quite small and the cymbals are thick and don't move much, which could make switching over to an acoustic kit for lessons or performances feel very different. The durability of this kit is also a question mark and the 350 model requires a lightning-to-USB adapter to use the app. One other important note: Simmons sells a monitor you can use to hear your kit in the room. But after testing it, we think you're better off upgrading to something like this Roland PM-100 drum monitor for $300 instead.
Features
Why buy it: Small enough for a kid's bedroom.
Toms: 3
Cymbals: 4
Kick tower: Yes
Snare stand: No
Hi-hat stand: No
Kick pedal: Included
Details
Pros: You can't beat getting 5 mesh drum pads and 3 cymbals for this price. Donner is an intriguing under-the-radar option for parents who want to get their kids started on drums without making a huge investment. This kit is small enough to fit into the corner of your bedroom and features 225 unique sounds and 20 built-in play-alongs to get you started.
Cons: The price is good, but the quality…we're not sure. Some users have reported issues with the responsiveness of these drums, while others like the feel compared to other kits in this price range. The DED-100 ($269) is an even cheaper option that has a flimsier frame, shallower pads, and no actual bass drum (just a trigger pedal). If you decide to go with this brand, the 200 model is a better bet.
Mid Level Electronic Drum Sets ($1000-$3000)
Features
Why buy it: Full-sized hi-hat, plenty of sound options.
Toms: 3
Cymbals: 4
Kick tower: Yes
Snare stand: No
Hi-hat stand: Sold separately
Kick pedal: Sold separately
Pros: This new release from Yamaha features killer drum sounds along with increased pad sensitivity for a more realistic playing experience. You can also have a blast creating your own sounds in real-time using the effects knobs on the module. It has a full-sized hi-hat stand and a study kick drum pad which, despite the larger footprint, are both nice additions.

The kick drum mount also has a softer playing surface to make it feel more like a real bass drum. The rubber cymbals are a bit thinner than entry-level models and tend to move more like metal ones when you hit them. This is one big difference you'll notice across the board when you step up from the beginner kits to mid-level options.
Cons: The toms are rubber pads, while the snare has a silicon-based head called the TCS which is like a softer version of the mesh heads. However, for $300 extra, you can upgrade to the 6K3-X series which has TCS heads on all the drums. Some drummers love these, while others find them to be too far removed from the feel of an acoustic drum. Try them out at your local drum shop if you can!
Features
Why buy it: Most kits at this price point don't let you import your own sounds. This one does!
Toms: 3
Cymbals: 3
Kick tower: Yes
Snare stand: No
Hi-hat stand: No
Kick pedal: No
Pros: The snare! It's 12" of double-mesh and we're excited to shed some rudiments on a super-realistic playing surface (that's also tunable). This kit has 50 preset kit sounds from the higher-end TD-50 module and includes two 8" mesh toms, two 12" cymbals, and a 10" hi-hat. It's also compact and has USB connectivity and an SD card slot so you can bring in your own sounds.

The TD-17KVX model is $500 more and adds one additional ride cymbal and hi-hat pads you use with a full-sized hi-hat stand (not included).
Cons: The 8" toms feel a bit small compared to the larger snare. The hi-hat mechanism is also lacking in comparison with the KVX model, but we're not sure if that's worth the extra $500. While the ride cymbal has 3 playing zones (ride/crash/bell), the other cymbals are dual-zone and don't have a bell sound option.

You could also save a couple bucks and downgrade to the TD-07KV ($1029) which has smaller pads and a standalone hi-hat pedal. However, we think the TD-17KV hits the sweet spot as far as price and features that offer the best value.
If you're going to spend $1000 and get into the mid-range kits, you might as well spend a few dollars more and get something a little nicer.
Features
Why buy it: Dual-zone cymbals, adjustable mesh heads and bigger pads.
Toms: 4
Cymbals: 4
Kick tower: Yes
Snare stand: Included
Hi-hat stand: No
Kick pedal: Sold separately
Pros: Most electronic drums in this price range don't come with dual-zone cymbals (this one has a triple-zone ride) or an extra tom, so you're really getting that 'bigger kit' experience without the higher price tag. Adjustable mesh heads and bigger velocity-sensitive pads give a natural response that feel a lot like acoustic drums, and – unlike most entry-to-mid-level options – this one comes with boom arms! The module has 50 preset kits, which you can customize with your preferred levels of reverb, compression and more. If you don't like the stock samples, you can import your own.
Cons: The DM10 has a bigger footprint than most other mid-range kits, so you'll need a bit more space. The kick tower is relatively loud (it 'clangs' somewhat), so keep that in mind too. The kit doesn't have a full hi-hat setup, which may seem odd considering it has extra toms and cymbals.
For those with a bigger budget, you can try the Alesis Strike Pro SE ($2699), which has larger toms, a full-sized bass drum, and even more cymbals.
Professional Electronic Drum Sets (Over $3000)
Features
Why buy it: Realistic snare drum, XLR stereo out, bigger kick pad.
Toms: 3
Cymbals: 4
Kick tower: Yes
Snare stand: Sold separately
Hi-hat stand: Sold separately
Kick pedal: Sold separately
Pros: The TD-50 series is one of the jewels of the Roland brand, and it's easy to see why it's so popular. This is a kit that you can actually take to a gig since it has an XLR stereo output you can send directly to the sound system. It also has an SD card input so you can easily bring in any sounds you want, and it's great for recording since you can connect directly to your DAW via USB and capture up to 10 channels at once.

It also has some of the most realistic electronic cymbals on the market including an 18" ride, a couple of crashes (12" and 13"), and an 11" hi-hat that you mount on a traditional hi-hat stand (sold separately). This kit is good for pros and serious hobbyists alike, and you really can't go wrong with V-Drums.

The upgraded TD-50KV model ($6499) has a larger 13" hi-hat with deeper toms, a bigger bass drum, and a sturdier rack. For $400 more, the TD-50KVX model has all that plus a 22" kick drum.
Cons: If you're trying to fit this into a small space, you're probably out of luck. While it's smaller than some of the hybrid models, the TD-50K base model is still almost 5 feet wide and 4 feet deep. You'll also need to shell out separately for the bass drum pedal, hi-hat stand, and throne.
Features
Why buy it: Real wood shells, 3-zone cymbal pads, Live Set recall and more.
Toms: 3
Cymbals: 4
Kick tower: Yes
Snare stand: Sold separately
Hi-hat stand: Included
Kick pedal: Sold separately
Pros: The DTX10 is one of Yamaha's flagship electronic kits and there's a whole lot to like here. One highlight is the Yamaha sound library, which features great acoustic kit sounds and synth options. Like many other kits in this price range, it has easy USB compatibility for bringing in your own sounds, multi-track recording (this kit comes with Cubase software), and playing live on stage. You can program your favorite settings into the 'Live Set' function and apply them to the kit instantly with the push of a button. The crashes and ride come with 3-zone pads for extra detailed playing.
Cons: As we mentioned earlier, the silicon-based TCS heads are a hotly debated topic among drummers who believe they don't offer the same feel and responsiveness as mesh – so while you have the option to choose between the two materials with this kit, we're only including the mesh version here. Like many other high-end models, this kit also has a larger footprint to consider if you're trying to stash it in the corner of your bedroom or set it up on a small club stage.
Features
Why buy it: Full-sized pads, full-sized (18″) bass drum, great samples…the list goes on and on.
Toms: 3
Cymbals: 3
Kick tower: Yes…a full-sized bass drum!
Snare stand: Included
Hi-hat stand: Sold separately
Kick pedal: Sold separately
Pros: Pearl and Korg teamed up to create this high-end kit and it's impressive. It has an 18" bass drum that looks just like an acoustic drum and uses the PureTouch electronic pad system, which makes the drums and cymbals feel closer to the real thing. The attention to detail on this kit is off the charts, and the module is sleek and easy to use. It has 35 drum set options and a ton of real Pearl drum samples to choose from. The chrome-plated hardware rack is sturdy and solid.
Cons: Price. This is a lot to spend on a kit and it's not going to be easy to fit into a smaller space. For $200 less, Pearl offers an e/Traditional version of this kit without the full-sized bass drum, but even that still takes up a good amount of space.
Features
Why buy it: Real wood shells, detailed sound customization, full-sized drums, realistic feel and more!
Toms: 3
Cymbals: 4
Kick tower: Yes…a full-sized bass drum!
Snare stand: Sold separately
Hi-hat stand: Sold separately
Kick pedal: Sold separately
Pros: With real wood shells, these beauties look like acoustic drums. They include the easy-to-use TD-27 module with tons of features to EQ, tune and manipulate your sound. The cymbals are thinner than many others and have good sensitivity and response. This is a great choice for those who want an electronic experience that simulates an acoustic kit, and Roland has been at the front of the pack of the electronic drums market for many years.
Cons: Your wallet might cry a little, especially since this price doesn't include some of the necessary hardware. Roland does offer the similar VAD 306 model ($2599) for drummers who want to experience some of these high-level features on a tighter budget. The 306 uses the TD-17 module and has shallower shells and only 4 drums. There's also the breathtakingly beautiful 706 model with even more features, which will set you back a cool $7999.
Features
Why buy it: Full-sized shells, great hardware, touch screen module, great sound library.
Toms: 4
Cymbals: 4
Kick tower: Yes…a full-sized bass drum!
Snare stand: Sold separately
Hi-hat stand: Included
Kick pedal: Sold separately
Pros: There's a flood of new brands on the e-drums market and GEWA offers one of the most interesting high-end kits out there. Their G9-Pro C6 model features full-sized shells (10"/12"/12"/14"/18"), Gibraltar hardware, and cymbals modeled after the popular Paiste 2002 Series.

GEWA partnered with Remo to make some impressive True Rebound mesh heads based on the Ambassador. They're like 2-ply versions of the Remo Silentstroke heads (which are single-ply). This design team definitely heard the calls from drummers who want electronic kits to feel more like acoustic ones.

This model has a super slick direct-touch interface and plenty of functionality for pro audio recording and adding effects. The module even comes with WiFi. This kit is amazing! But…
Cons: With a price tag over 6 grand, the G9-Pro C6 won't be an option for many buyers. It also has a large footprint and the futuristic carbon-wrapped shells and industrial-looking cymbals may not appeal to everyone. You do get a lot for your money, and we look forward to seeing if GEWA is able to come up with a more competitively-priced option to contend with other brands in the mid-tier e-drums market.
DIY Hybrid Kit
Pros: Don't like any of these choices? Build a franken-kit! Many drummers use triggers, a module, and silent drum heads to create a fully customizable e-drum playing experience at a lower cost.

You can start by picking up a module like the Roland TD-17 ($649), the Yamaha DTX Pro ($799), or the Pearl Mimic Pro ($2199).

Then grab a set of triggers like this cost-effective set of 5 Ddrum red shots ($99), the highly regarded Yamaha DT50s ($89/each), or this top-of-the-line set of 4 Sensory Percussion triggers from Sunhouse ($1299).

Top it off with a pack of Remo Silentstroke heads ($94) and presto, your acoustic kit has transformed!
Cons: Going this route takes more time and research. Another big issue is compatibility. Will all these parts work together? Will the triggers be responsive and sensitive? How will it sound? What cables and adapters will I need? This option also does not solve any issues with fitting the kit into a smaller space.
At the end of the day…
There are so many options. However, you tend to get what you pay for. The cheapest kits are good to get you started, but if you decide to upgrade, spend the extra cash for quality products like the Roland TD-17, TD-27, or Yamaha DTX6K2-X.

The highest-end models like the Roland TD-50 and the Pearl e/Merge Hybrid kit offer a ton of features, but many are just as bulky as an acoustic kit and extremely pricey. Go to the store, test out everything, and find one that fits your budget and inspires you to rock out!
Compare all these kits side by side
Want to look at your options in one convenient, easy-to-browse place? Click here for a table that compares models, prices, features, and more.
Here are some features to keep in mind when you're shopping:
Do the drums have mesh or rubber heads? Mesh comes with a better feel and more realistic rebound. They're also quieter when you hit them, which is important since many people choose electronic kits because they don't make a lot of noise (sleeping children, nosy neighbors, skittish pets).

Are the cymbals thick or thin? If they're made of thick, unforgiving rubber, it will be hard to simulate the rebound and feel of a real cymbal. Some of the higher-end kits have thinner cymbals that actually move more like metal ones when you hit them.

Is the hardware sturdy? It's no fun buying a new instrument and having it fall apart after a few months. Durability is important.

How much space does it take up? Besides the noise, many people choose electronic kits because they don't have room for a large acoustic setup. Make sure to measure your space before you buy!

Is it easy to use? On an acoustic drum set, you can sit down and play without dealing with electronics and wires. All electronic kits have a module or "brain" that controls everything, and the interface is different for each brand. Check out the display screen. Is it small and grainy, or pleasing to the eye? You'll be staring at it a lot!

How does it sound? Some people also choose electronic kits because they want more sonic options, and more volume control and consistency than what an acoustic kit can offer. All the kits listed below have a ton of different drum sounds, and it's important to pick something that you think sounds good and inspires you to play. Often you'll be using headphones, but also consider how it sounds through an amp or speaker if you want to use it for band practice or a lesson.

Does it have good response? You might find it frustrating if you hit an electronic pad or step on a hi-hat pedal and hear a split-second delay in the sound.

Does it have any fun extra features? Some kits let you attach external USB devices and bring in your own sound sample library (Superior Drummer, Get Good Drums, and SSD are a few examples). Many also have built-in play-along tracks and even let you change the room tone so it sounds like you're playing in different places (it's like drum tourism)!

Are you comfortable playing it? Does it feel like a real kit or a toy? Will this instrument enhance your playing or inhibit it? Are the toms 6" wide and squished together, or does it feel almost like a real kit? Drummers come in all shapes and sizes, so what's right for someone else might not be a good fit for you. Go to the store and try some stuff out!
If you're still unsure about if electronic drums are right for you, click here.
*This article contains affiliate links, which means we might earn a small commission from the product seller if you make a purchase. For more info, check out our privacy page.
SHARE THIS: