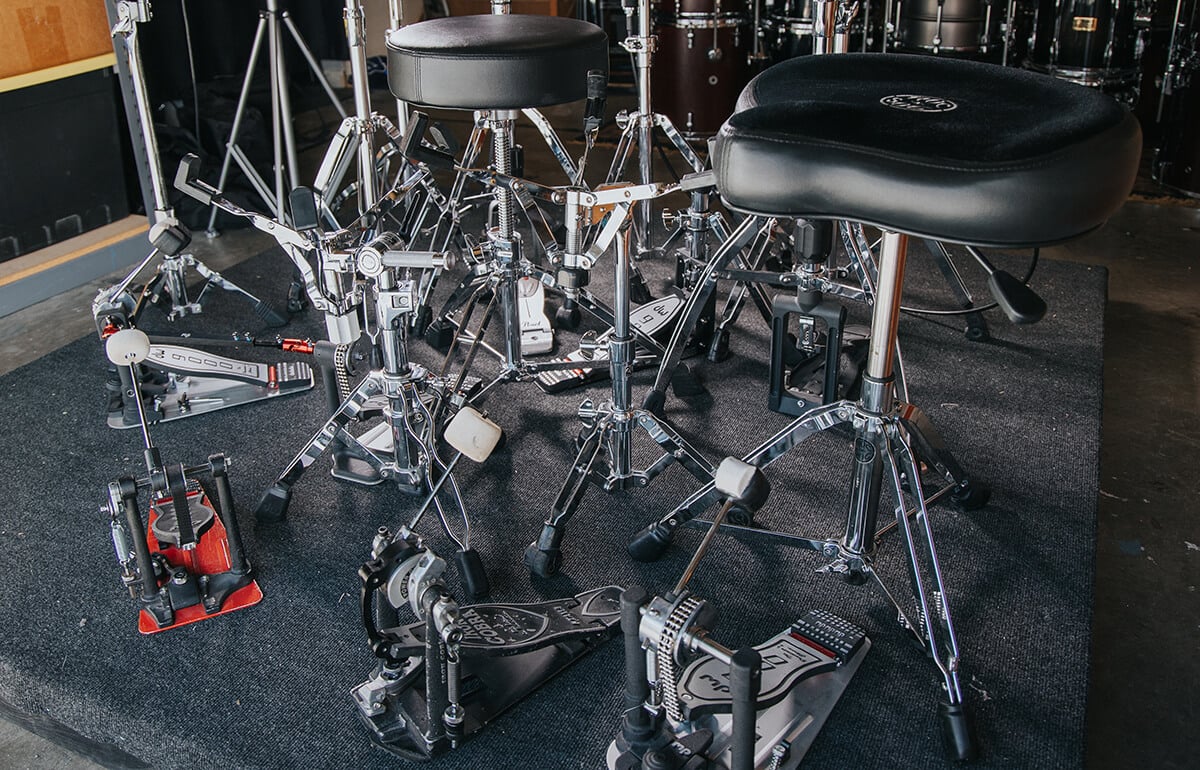 Drum hardware is a really important part of your setup, and it's so easy to overlook. Cymbals and shells cost more money and you actually hit them to create your sound. Good hardware can make it easy and fun to play while broken stands, wobbly thrones, and bad clutches can totally kill the vibe. We've all been there! 
There are so many different types of hardware, and this guide will go over options for each part of the kit and include some product recommendations to get you started. While good stands and pedals are almost always worth the extra cost since they'll last longer than their budget counterparts, everyone's needs are a little different. 
With that in mind, here are a few things to look out for when you're buying:
Home or away?
The first step to finding hardware that works for you is to think about where you'll be using it. Are you playing shows in beer-soaked dives and jamming it into a crowded bag every night, or will it sit in one spot in your home or practice space?
If you're playing onstage, you'll need heavier stuff that'll hold up to the rigors of travel…but not so heavy that it's a drag to pack up and carry it home. 
Is it sturdy?
Nobody likes a runaway hi-hat stand, flimsy bass drum pedal or falling cymbal stand. What style of music you play and how hard you hit has a big impact on what you should buy. 
If you're a metal drummer, it's probably wise to avoid lightweight gear, while jazzers can get away with lighter cymbal stands but might want to invest in a heavier hi-hat stand to accommodate that style of playing. 
What gear is it holding?
You probably don't need a 10-pound, double-braced monster of a stand to hold your splash cymbal. You also don't want to put your vintage 22" ride cymbal on a rusty old bucket of bolts with no collars or felts (it'll damage the hole).
Your throne is especially important, since the "gear" it'll be holding is you! If you're a bigger person, get something that'll support you and make it comfortable to play. Even if you're not, get a nice throne anyway. As the pros will tell you, it's always worth it.
How's the positioning?
Space is often a consideration at home or onstage, and setting up your hardware can sometimes feel like doing a jigsaw puzzle. 
Maybe one leg of that super-bulky hi-hat stand bumps up against the wall, but a smaller one will fit in the space. Maybe a boom stand will get your crash in the perfect spot when a straight stand won't cut it. Or maybe you need that straight stand since the boom arm is in the way of something else. 
So many options! Think creatively and customize so you're comfortable and everything is exactly where you want it. Take the time to get it right and you'll thank yourself later.
How does it play?
The whole job of drum hardware is to enhance your playing experience. Your bass drum pedal and hi-hat stand should have smooth action, and it's a bummer if the chain squeaks or there's too much resistance. 
Now that we've gone over a few important considerations, let's check out some options for different parts of the kit.
(All prices are listed in USD and subject to market changes)
Snare stands
Your snare is front-and-center and takes a ton of pounding in any style of music, so a stand that wobbles, sinks, won't open wide enough or doesn't have solid legs is one to avoid. Before you buy, think about the diameter and depth of your snare, as well as the weight. Here are a few different types:
Lightweight snare stands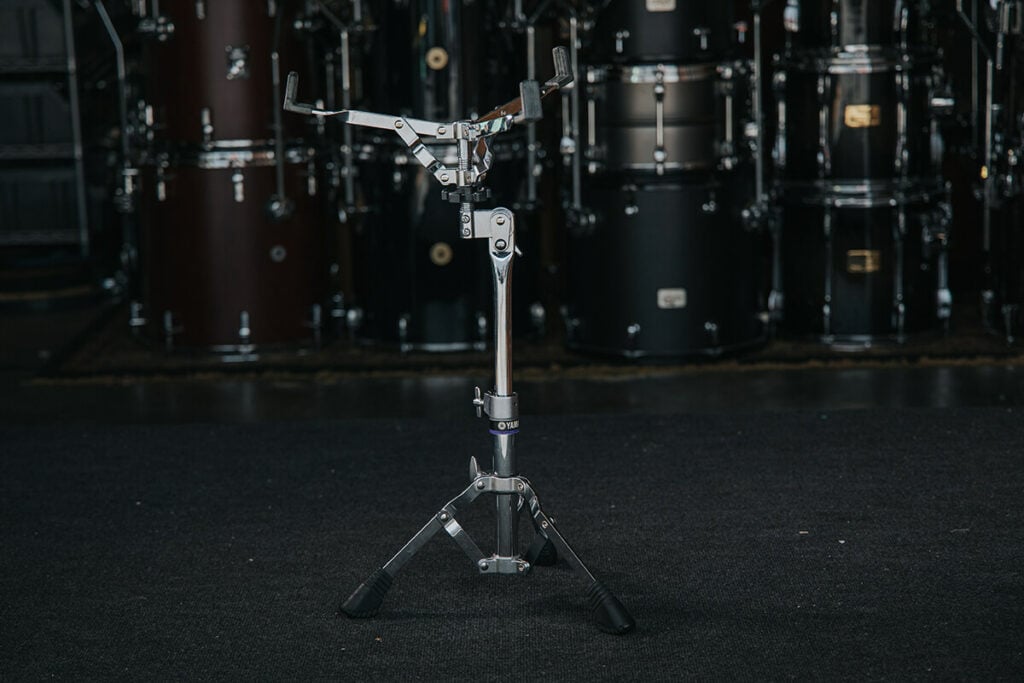 Pros:
If you play gently, a single-braced stand could be the way to go for two simple reasons: price and portability. This ultra-lightweight option from DW weighs less than 3 pounds and costs $99. This retro-style stand doesn't take up much space onstage or in your bag, and also has "flush-base" hardware, which means the three legs sit flat on the ground instead of in a pyramid (which adds stability since it's so light). 
There are also options like this Yamaha SS-3 stand which offer a more traditional basket and legs with thicker, lightweight tubing. Grab one for your coffeehouse gig, 13" snare or practice pad.
Cons:
A lightweight stand won't cut it if you've got an enormous metal snare and bang the crap out of it. Many drummers are also not a fan of the old-style snare basket with only one adjustable prong. A lot of these streamlined stands also have a narrower range of height options and are just as expensive since they're in high demand.
Middleweight snare stands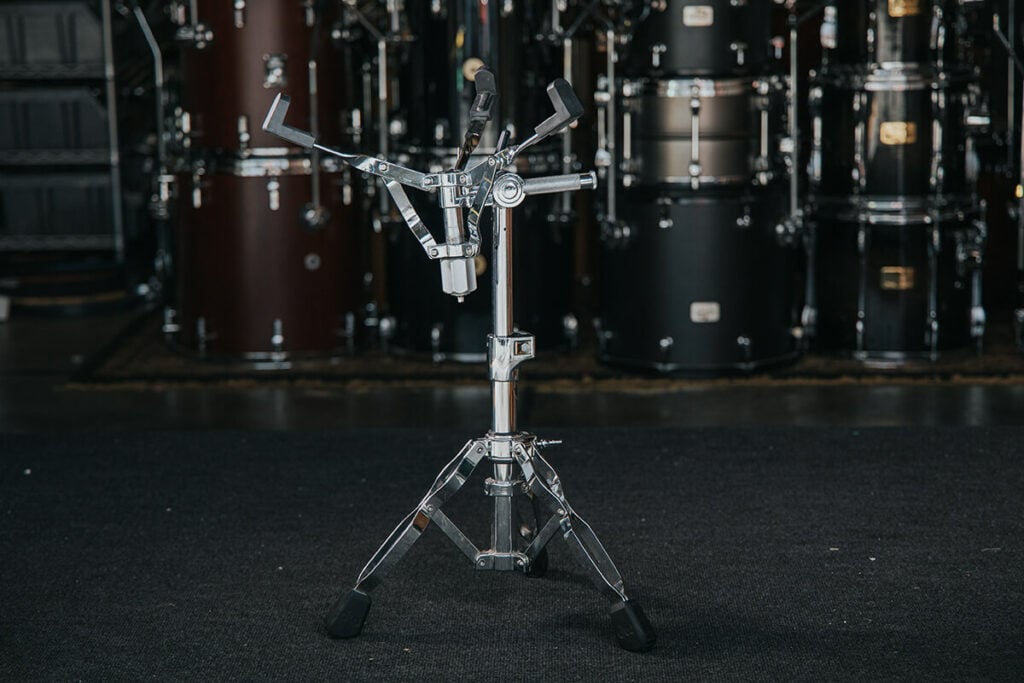 Pros:
These fit most playing situations since they're double-braced, which means they have extra metal supports on the legs and body. Most can hold drums 10"-14" in diameter and have a height range of roughly 18"-27". 
This DW 5000 Series is sturdy, has memory locks (great for keeping the height consistent) and a fine-tooth tilter so you can get the angle just right. 
This Gibraltar 5706 stand might not offer the same stability as the DW, but it's a good medium-weight option for a bargain price ($55).
Cons:
A double-braced stand means more metal to carry and pack up, and the DW model is about 8 pounds. It'll also take up more space behind the kit and in your case, plus the price is a little higher ($150).
Heavyweight snare stands
Pros:
These provide maximum support and sometimes come with cool features like the soft neoprene grips and ultra-wide base on this DW 9399 ($199), or the giant rubber feet on this Pearl 1030 Series ($195). If you're a road warrior or big basher, investing in a heavy-duty stand is the way to go.
Cons:
They're hefty and huge, so if you don't have room to spread out, consider a mid-range, double-braced option instead. Your back and knees will thank you (unless you're a rock star and have roadies). All of these top-of-the-line features also come with a higher price tag.
Hi-hat stands
Standard 3-leg hi-hat stands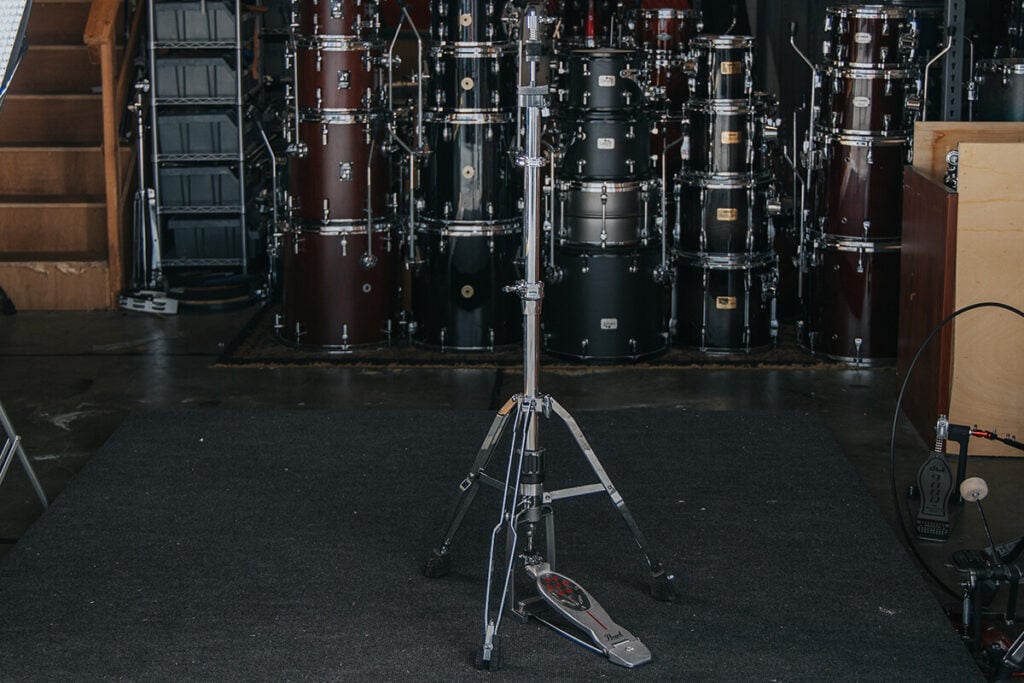 Pros:
This classic style is the most stable and works best for a majority of playing situations. There are basic options like this double-braced Tama HH 205 Iron Cobra which is adjustable, sturdy and affordable ($89). The Pearl H-930 offers enhanced features like a longer, "demon-style" footboard, non-slip rubber feet and no-rattle tubes for a smooth and quiet playing experience ($199). 
You can also check out high-end options like this DW 9500D which has a solid metal footboard for added stability and a feature called "The Double Eccentric Cam" which provides the highest level of sensitivity and response ($399). 
Cons:
Three-legged stands can sometimes be tougher to get in the perfect position, especially if you use a double bass drum pedal. The legs are bulky, and even lower-priced stands that don't have a solid metal footboard can be pretty darn heavy. 
The longer footboard is a popular choice for folks with bigger feet, and like most hardware, it's largely a matter of personal preference and comfort. Whatever you get, it's also worth upgrading the clutch to a quick-release option like this one from Remo that won't slip or come unscrewed ($26).
2-leg hi-hat stands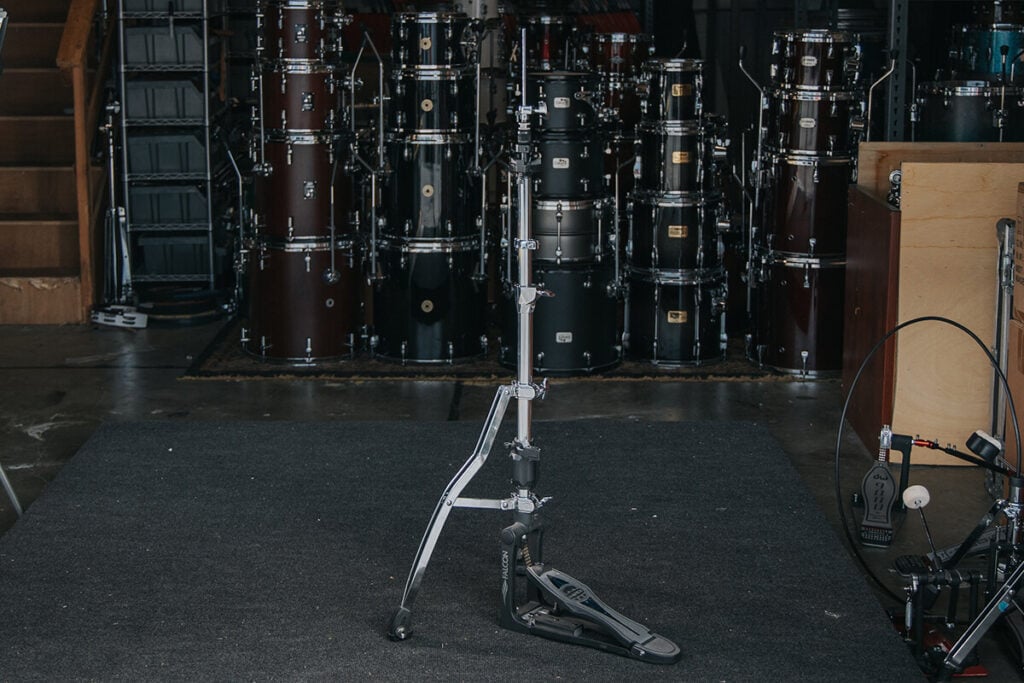 Pros:
These offer more positioning options by using the footboard as a third leg, and one fewer leg also means less weight to carry around. The Tama Speed Cobra is a lightweight but sturdy option at an affordable price ($129). 
For a slight upgrade, check out this Gibraltar 9000 Series which has a direct-pull chain for a smooth action as well as a quick-lock clutch ($199). 
At the top end of the market is this sleek and futuristic Black Widow model from Trick which has highly adjustable and removable legs, lightweight tubing, and a wide footboard ($499).
Cons:
While 2-legged stands are great if you play with a double pedal or have major space constraints, many drummers feel they simply do not have the stability of the 3-legged models. If you're playing jazz, it's probably best to steer clear of these. 
Remote hi-hat stands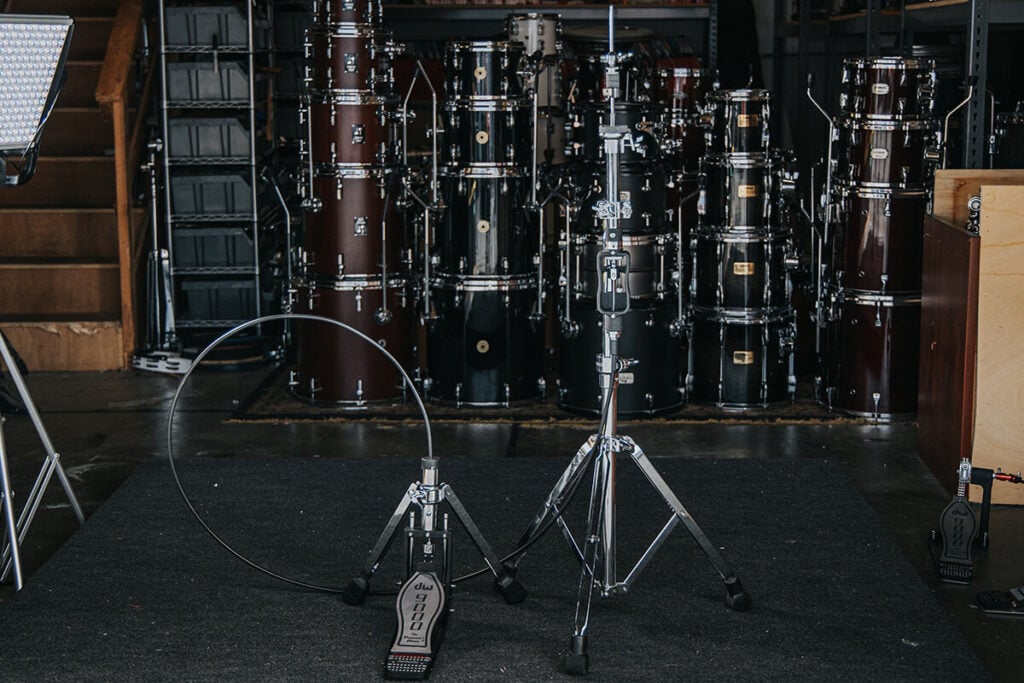 Pros:
This is an interesting option for drummers who just can't get the positioning of their hi-hat the way they want it. Maybe you prefer the cymbals on the right side of the kit while you step on the pedal with your left foot, or maybe you don't have room for another large metal tube. 
Remote stands connect the pedal and the cymbals using a flexible wire cable, and this DW 9000 Series features an 8-foot cable, infinitely adjustable spring tension, and its own carrying case ($429).
Cons:
While these stands are ergonomic, some drummers feel that they aren't quite as sensitive as traditional ones depending on the positioning and angle of the cable. It could also be a drag to carry it in a separate case from the rest of your hardware (which calls the durability of this style of stand into question). 
The price is also quite high, as most remote stands like the DW, this Pearl RH2050 Eliminator, and the remote Iron Cobra from Tama are typically in the $400-$500 range. 
Remote stands are great if you want to add a second hi-hat to your kit, but might not be the best choice as your primary hi-hat stand.
Bass drum pedals
While there are many important features to compare on both single and double pedals, the chain is a good place to start. The next section compares single/dual chain, belt drive and direct drive pedals. 
The footboard is also important, as some of the lightweight single pedals have a horizontal frame brace instead of a solid metal base plate. 
You'll also want to consider the beater that comes with the pedal, but it's easy to swap this out if you're looking to change the sound or upgrade to something else (Low Boy makes some super-cool custom ones). 
The spring tension is another piece of the puzzle, and higher-end pedals definitely have more customization and flexibility in this area.
Chain drive pedals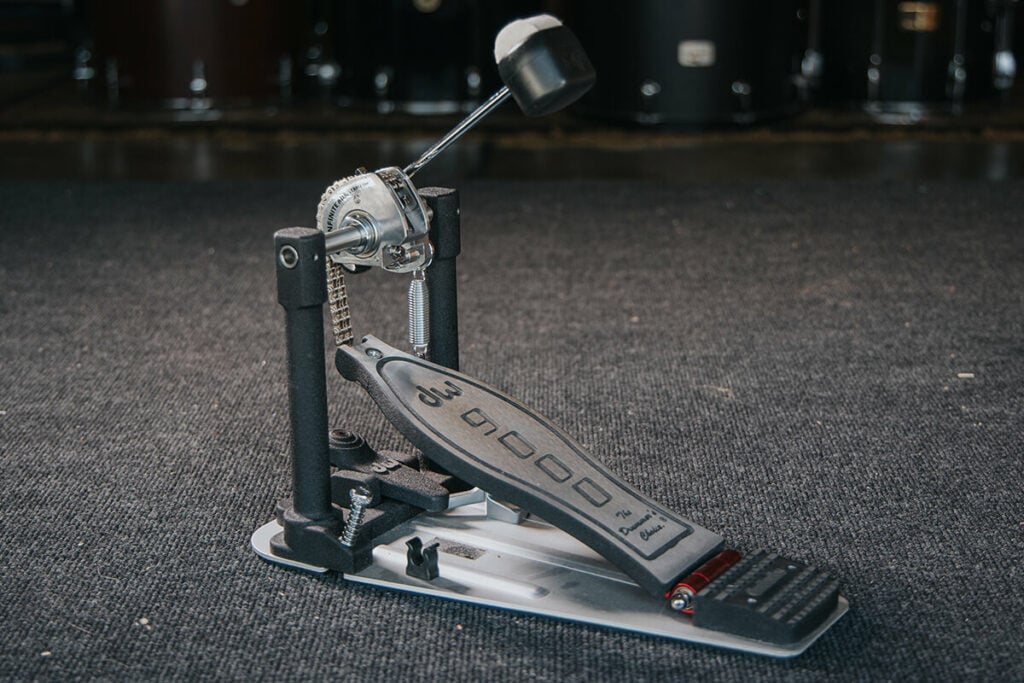 Pros:
Inexpensive and lightweight single pedals like the Yamaha FP7210A have a single chain and a horizontal frame brace, which are great for efficient packing. This is a pretty nice option for $79 if you're not playing loud and heavy. 
The DW 3000 Series features a dual chain and solid footboard, which will give you more stability (single/$169, double/$319). 
At the high end of the chain drive spectrum is this DW Machined Chain Drive MCD option which has a customizable dual chain, an ergonomic aluminum footboard and a contoured heel plate (single/$579, double/$1049).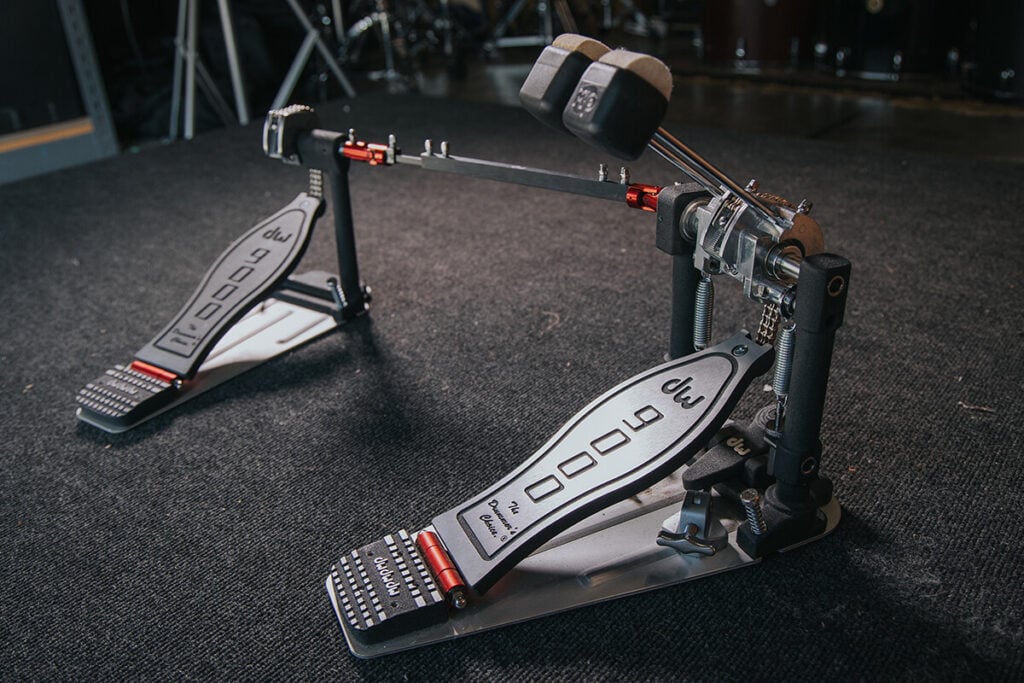 Cons: 
Although chain drive pedals have gotten much better over the years, they can still fail if the alignment gets off. They can also wear down and get rusty over time which will affect the action of the pedal. 
While single-chain options are good for quieter drumming, dual-chain is a safer bet if you're playing loud rock, R&B or metal.
Direct drive pedals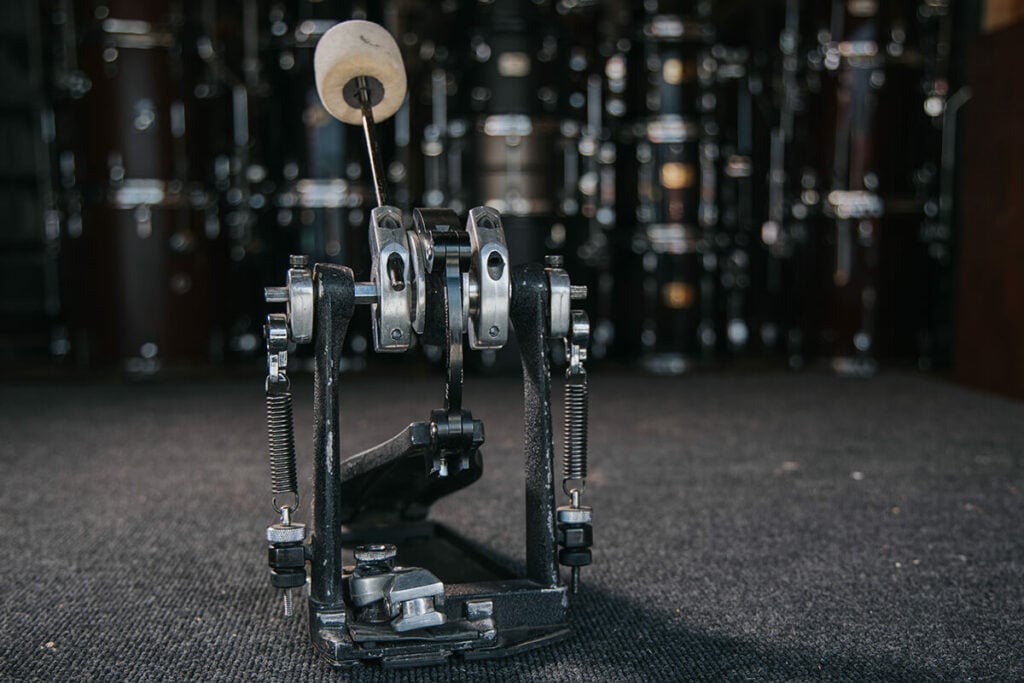 Pros:
Fed up with chains? Cast them off and grab a direct drive pedal like the Trick Dominator (single/$319, double/$549) or the Pearl Demon Drive (single/$419, double/$829). Many drummers (especially metal drummers) love direct drive pedals since they create a solid bridge between the beater and the footboard. Fewer connecting parts means a smoother action and (usually) fewer things that can fail at the worst possible time. 
The DW Direct Drive pedal is a higher-priced option with a lightweight aluminum footboard (single/$579, double/$1049).  
Cons:
These pedals are usually more expensive than chain drive options and some drummers actually find them to be too responsive, preferring to have a little "play" in the action. It's a personal preference, so go try one out!
Belt drive pedals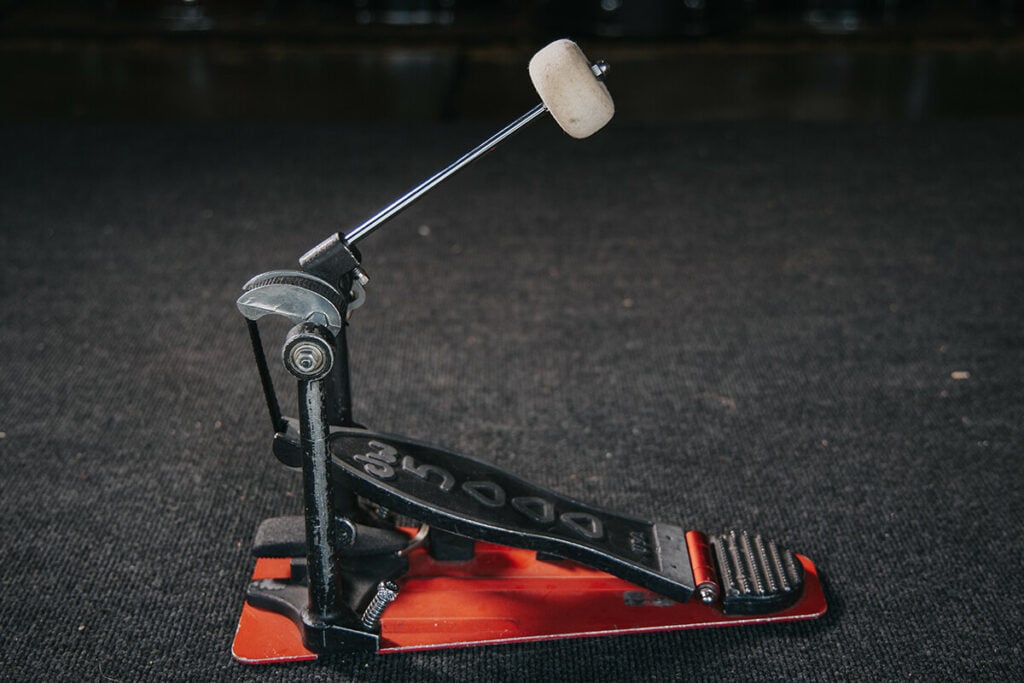 Pros:
Many drummers love belt drive pedals because they're smooth, silent and powerful. The sleek Sonor Jojo Mayer model from Sonor ($249) has silky playing action and packs up efficiently (if only it could make us play like Jojo Mayer). 
The Pearl P502B Eliminator Redline is a nice double pedal option for a decent price in this category ($529).
Cons:
Just like with direct drive pedals, some players find the action on these to be different to the chain drive pedals they're used to. They also generally cost more than chain drives, and the belts can wear out and break over time.
Cymbal Stands
Straight stands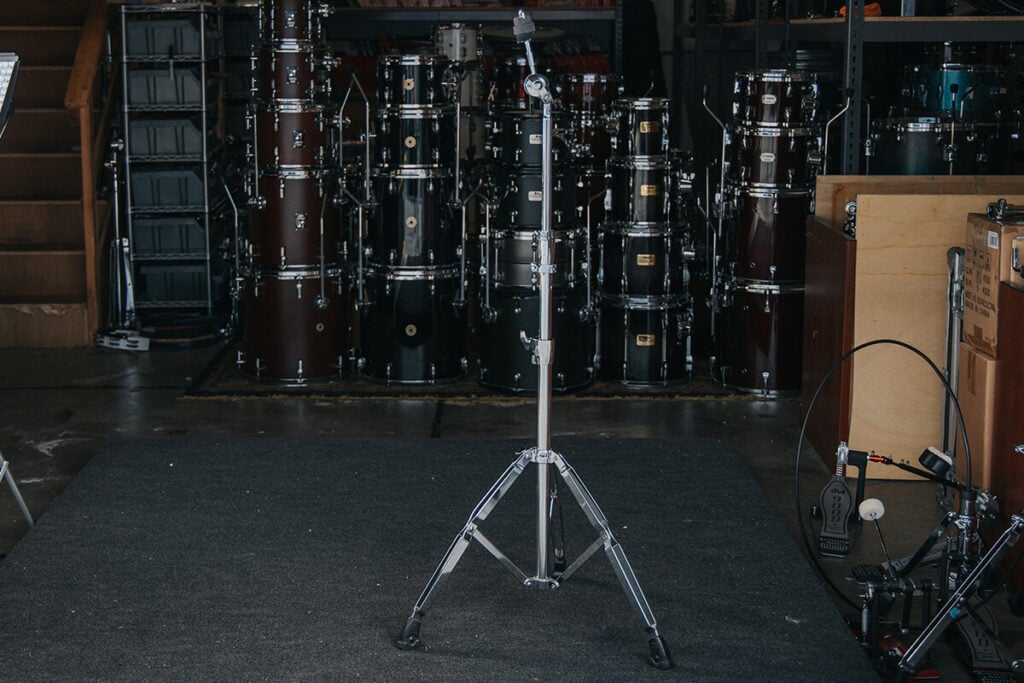 Pros: 
Straight stands like this medium-weight option ($69) from Gibraltar are portable, inexpensive, and won't take up as much room in your setup. This ultra-light stand ($79) from DW also has flat-bottom legs to add additional stability. These are perfect if you're dealing with space constraints or want the lightest load possible in your hardware bag.
Cons:
The biggest drawback to straight stands is their lack of positioning flexibility. Some of the single-braced lightweight stands in this category also don't provide as much stability as boom stands (you might not want to use a straight stand for your heavy 24" ride).
Boom stands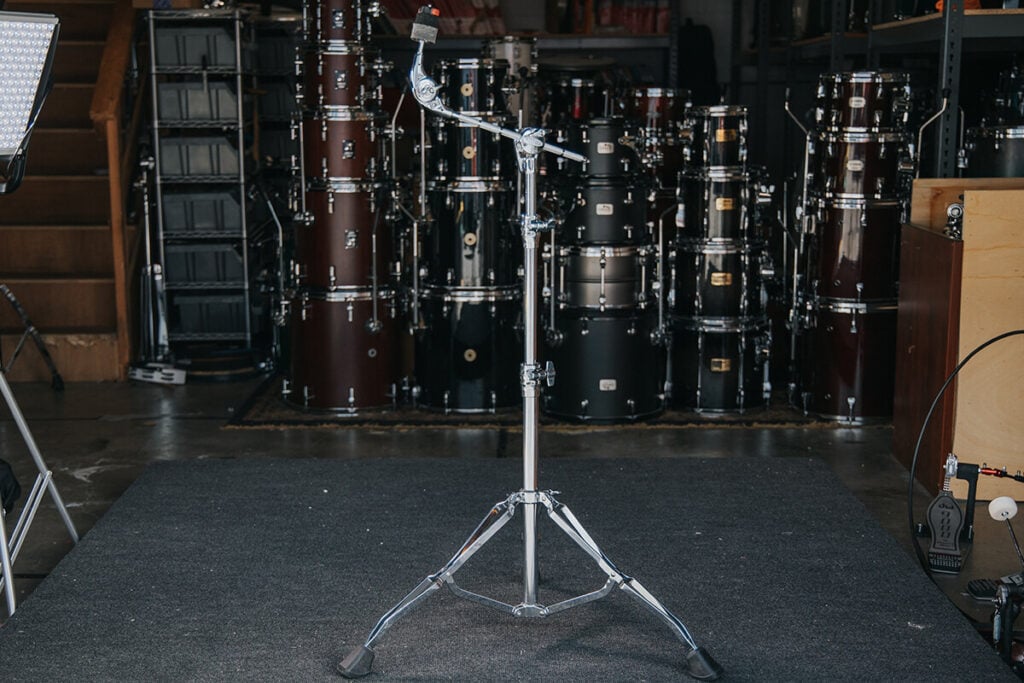 Pros:
As any drummer with a big kit can attest, boom stands make it possible to arrange your metal jungle of legs on the floor while still getting the cymbal itself in just the right spot. 
Some, like the Pearl BC930 Series ($112) feature a uni-lock tilter so you can get the angle just right, while this heavy-duty stand ($134) from Gibraltar has memory locks for consistent positioning every time. 
You might also want to check out boom/straight hybrids like this DW 9000 Series ($199) where the boom arm telescopes inside the tube. Best of both worlds!
Cons:
Boom stands are heavier and take up more space onstage or in your hardware bag. They're also generally more expensive than straight stands.  Every playing situation requires different hardware, so it's best to mix and match until you find the perfect setup for you.
Arms & clamps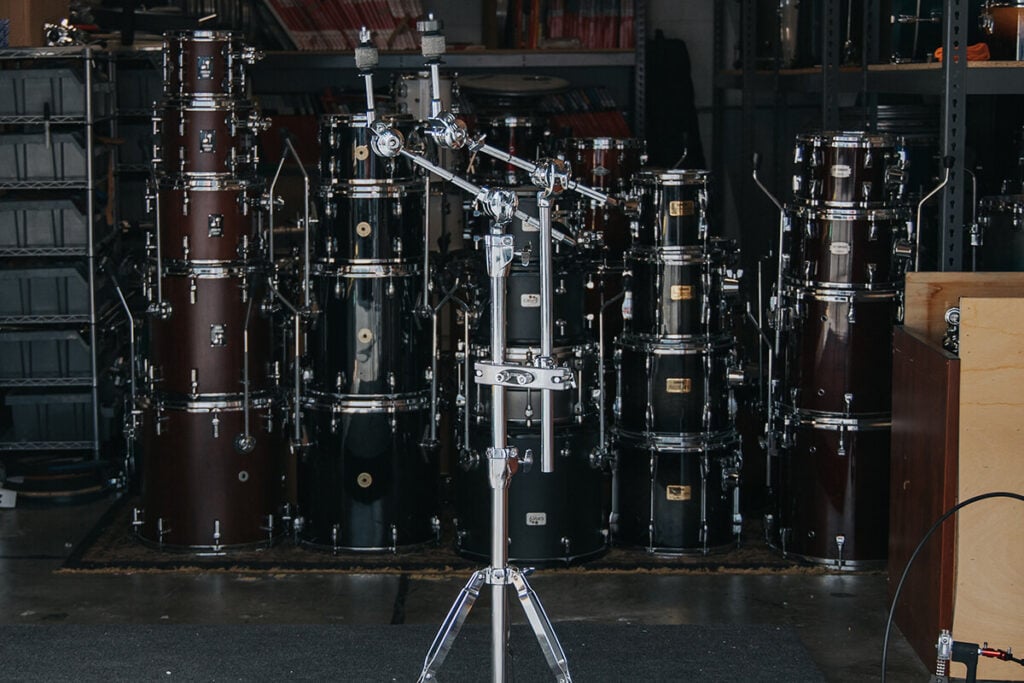 Pros:
Still can't get that cymbal in the sweet spot? Try attaching a boom arm ($65) to another stand using one of these industrial clamps ($49). If you don't have room for the boom, here's an even more compact option from Pearl ($75). 
Cons:
The boom arm/clamp combo doesn't offer as much stability as traditional stands. While these work like a charm for smaller cymbals, they're not meant to hold your heaviest gear.
Thrones
Many drummers would argue that this is the most important piece of hardware on the whole kit. You can't play your best if you're sinking, wobbling, or just plain uncomfortable. Here are a few of the many styles of thrones on the market today:
Traditional drum thrones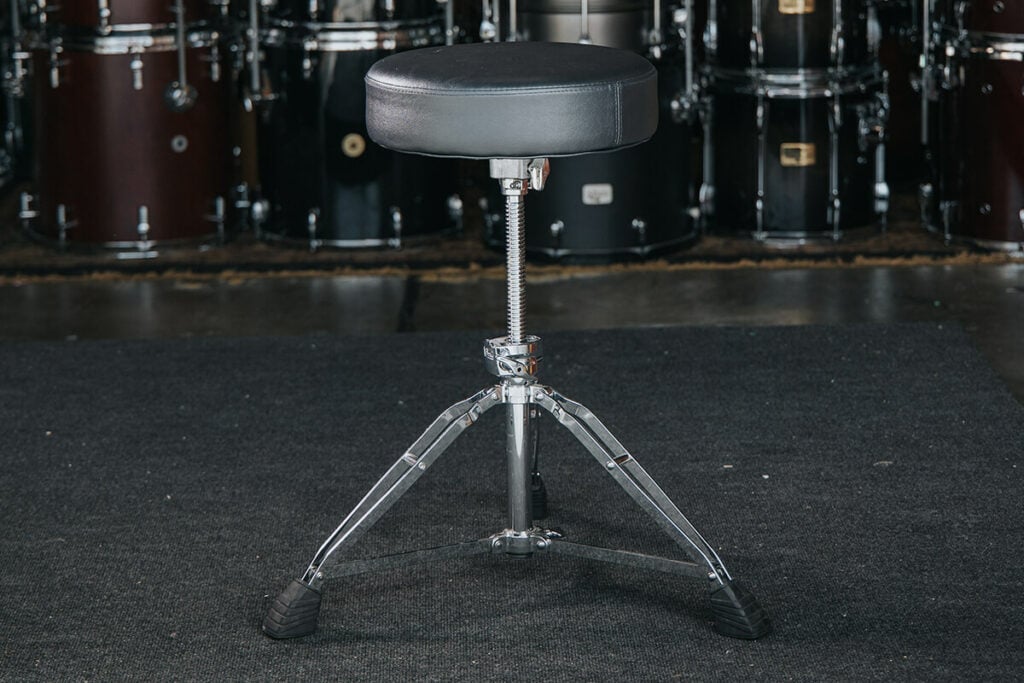 Pros: 
Traditional round thrones are the choice for drummers who prefer a classic look and feel. This Gibraltar round top is sturdy, dependable, and won't break the bank (or the back) for $99. 
However, if you're a larger human, check out this beefy (and chic) option from Pork Pie ($180). The height is adjustable from 21.5"-28" and the legs are double-braced and rock solid.
Cons:
Many drummers feel these thrones offer less comfort for their legs and back since they're not as perfectly molded to the human body. Sitting on a traditional throne for long periods of time can cause less-than-perfect circulation in your legs.
While the big 'n beefy options are more padded, they're also bulkier and heavier. Also, avoid thrones that require manual screw adjustment to change the height.
Bicycle style drum thrones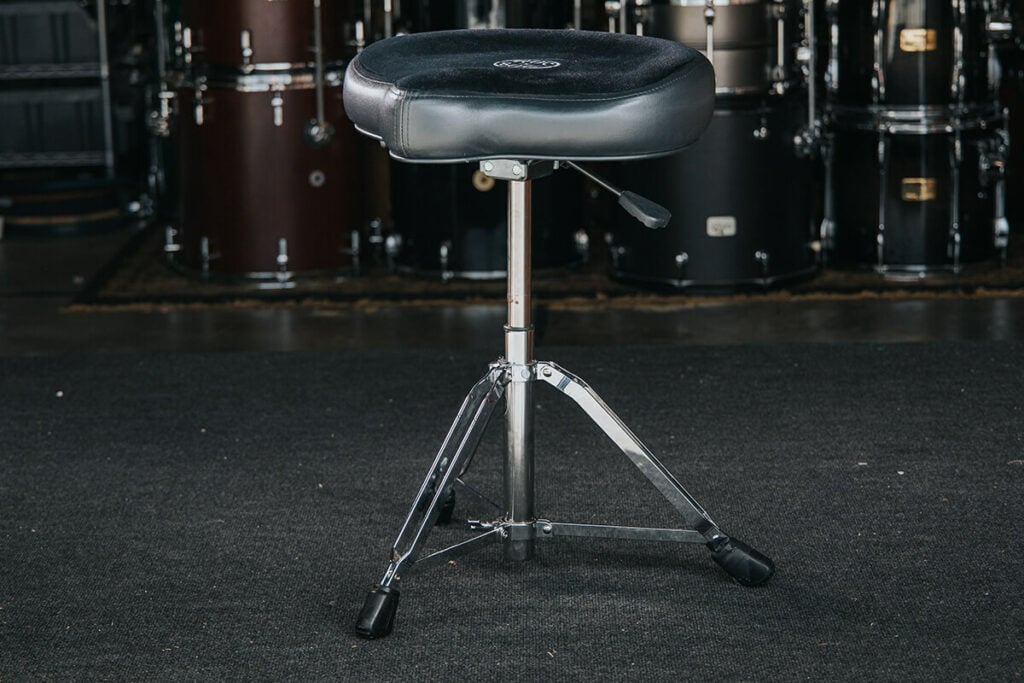 Pros:
These seats have better back and leg support since they're molded to fit your frame. The Roc-N-Soc Manual Spindle ($195) is a comfy option, and you might also like the DW 5000 Series ($179). These models use a manual spindle to change the height.
There are also hydraulic bicycle-style thrones, which you can adjust with a lever. They tend to bounce a bit as you play. Check out this awesome Nitro Gas throne from Roc-N-Soc ($210) or this DW 9000 Series tractor-style option with an even wider seat ($279). 
Cons:
Some drummers don't like the bouncing feeling of bicycle-style hydraulic thrones, while others swear by the extra impact cushion they provide. There are also features like backrests and split seats that some drummers love. 
Whether you get a traditional, bicycle or hydraulic option, steer clear of the super-cheap stuff. Your rear end will thank you!
The bottom line
Drummers come in many shapes and sizes, and so does drum hardware. If you're not comfortable with what you've got, change your setup! Try things out and customize so you can play your best and feel great behind the kit.
*This article contains affiliate links, which means we might earn a small commission from the product seller if you make a purchase. For more info, check out our privacy page.
SHARE THIS: