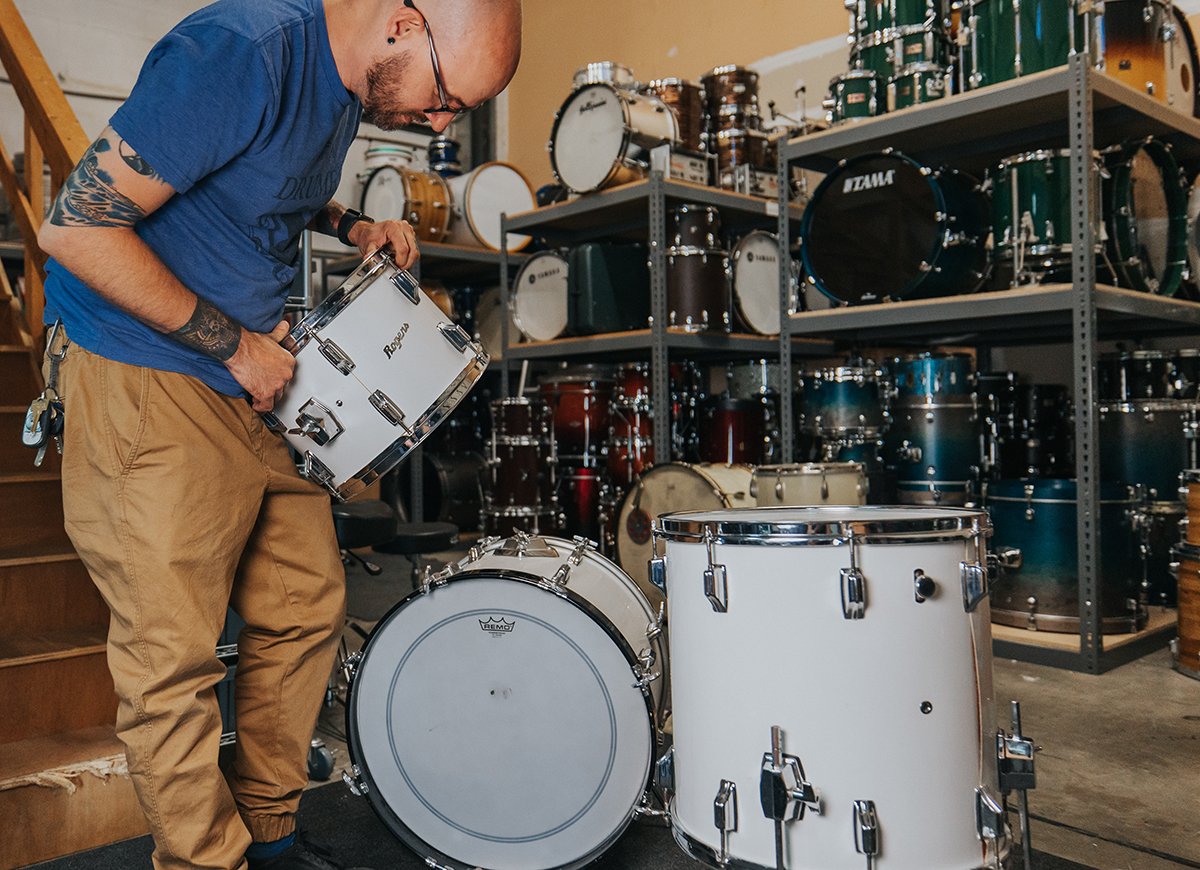 Buying a used drum set can be stressful. Drums are made up of so many important parts and you probably have a lot of questions!
How do I know what to look for and how much should it cost?
What components are actually a big deal and what can I swap out easily after I buy?
How can I tell what condition it's in and if it'll suit my needs?
What if I'm buying online and can't take it for a spin? 
Here's one big reason to consider a used kit: you'll be able to get a higher-quality instrument than if you spend the same amount of cash on a brand new entry-level rig.
Here are some things to look for when you're shopping online or in person.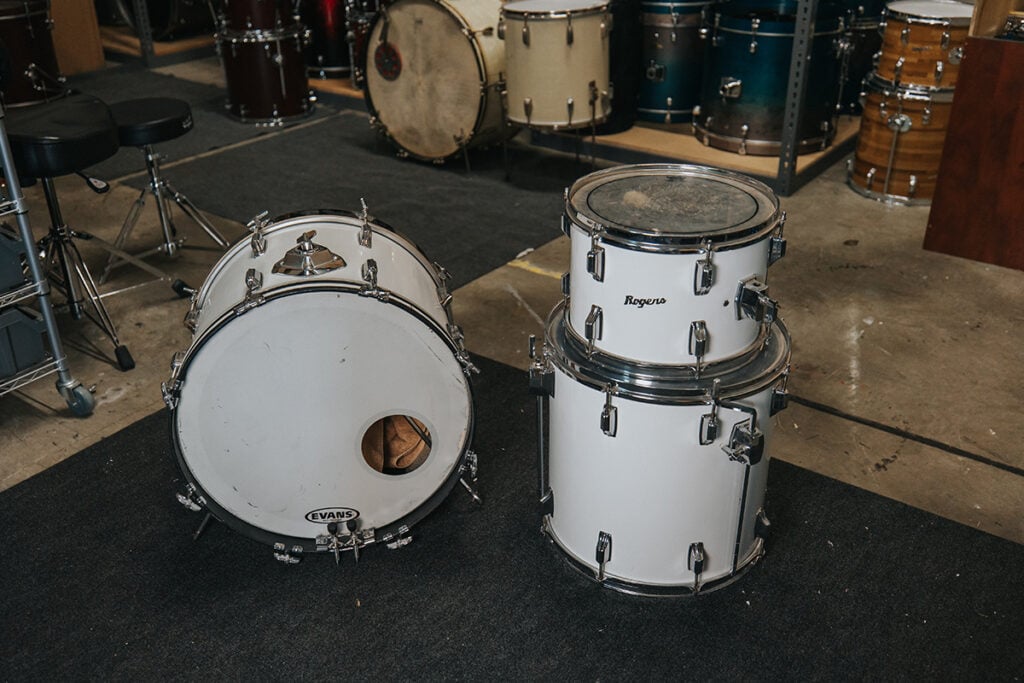 Getting started
Actually seeing and testing used drums is the best way to determine exactly what you're getting and what condition they're in. Yes, it's more work to go to a store and it'll definitely limit your available options. There's also a good chance you won't score as good of a deal as you might on popular used gear websites like Reverb, Craigslist, Facebook Marketplace and eBay.
However, going to a store will dramatically reduce your risk of ending up with a total dud. For many first-time buyers, that security is worth the extra cost. That said, you can find some great deals on resale websites if you know what to look for. This Facebook group, for example, is one place to start.
Honestly, this is a lot like buying a used car (but way more fun, and hopefully without a pushy salesperson)! Whether you're shopping online or in person, start by coming up with a budget. After you find a few options, do some research to see what new ones are selling for on websites like Sweetwater or guitarcenter.com.
But how do I know what a used kit is worth and how much should I pay?
Drums do lose value after they're sold (although sought-after vintage drums are sometimes worth more), but the price you'll pay really depends on the condition of the kit and what's included in the package. Drums are meant to be played, so little cracks or dings shouldn't deter you from buying a great-sounding used kit (although they could help you negotiate the price).
However, there's a big difference between normal wear-and-tear and a kit that's been beaten up, dragged around, and run over by a tanker truck.
Snare & toms
How do the bearing edges of each drum look? Are there cracks in the wood? Is there any warping from water damage? This can really affect the sound. If you're shopping in person, ask the seller to pop the heads off (or even better, bring a drum key with you) so you can have a quick look.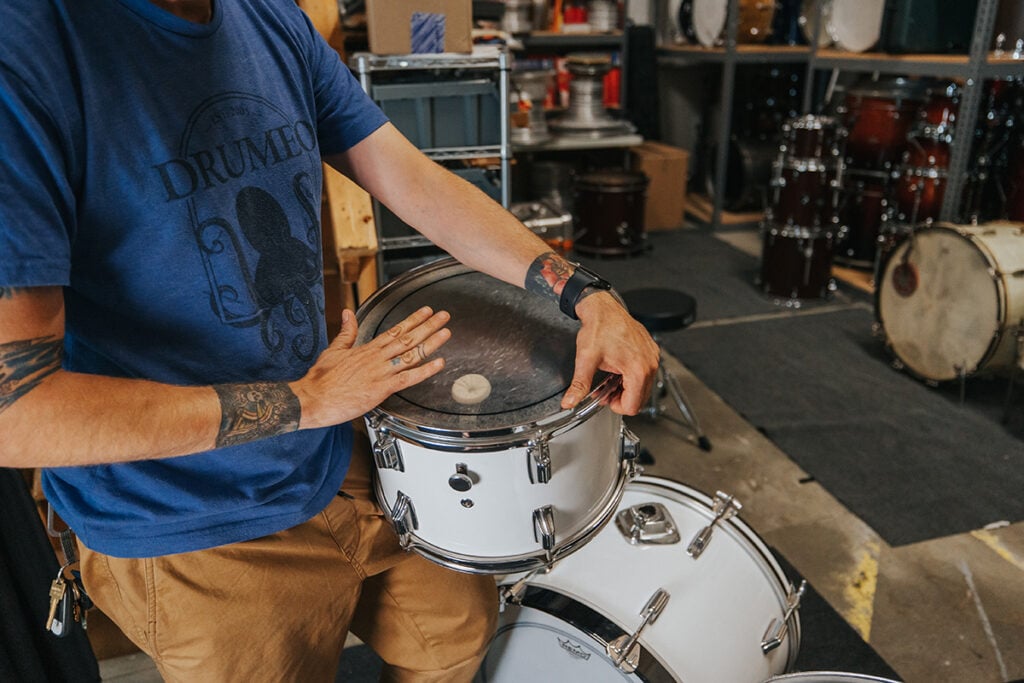 But wait – if I'm buying it online, how can I tell? Well, that's tougher, but you can always ask for more pictures or video if you're not seeing something clearly or aren't sure after looking at the original ad.
Are the metal hoops rusty or bent? What about the tension rods and lugs? Drums have many small bits of hardware that all work together to make the instrument playable. These things may not seem important individually, but if enough of them go wrong at once, it could be a real mess! That great bargain might not seem so awesome if you have to spend a ton of cash replacing things.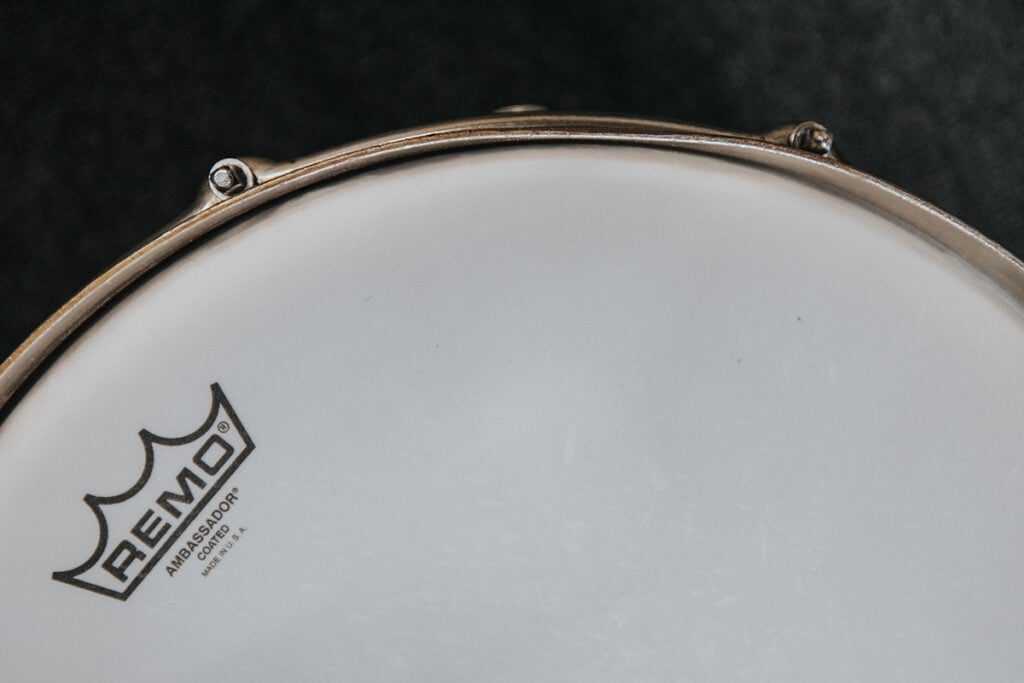 The snare drum is one of most delicate parts of the kit, so check out how well it's been taken care of. How is the strainer? What about the snare wires and tape/strings? Are there any loose lugs? Will it stay in tune? How are the top and bottom heads? Heads are easy to replace, but make sure to factor that into your costs.
Bass drum 
Most drummers have experienced the joy of the "runaway bass drum," so check the legs and make sure they lock tightly into place. Are the spurs still there and will they hold?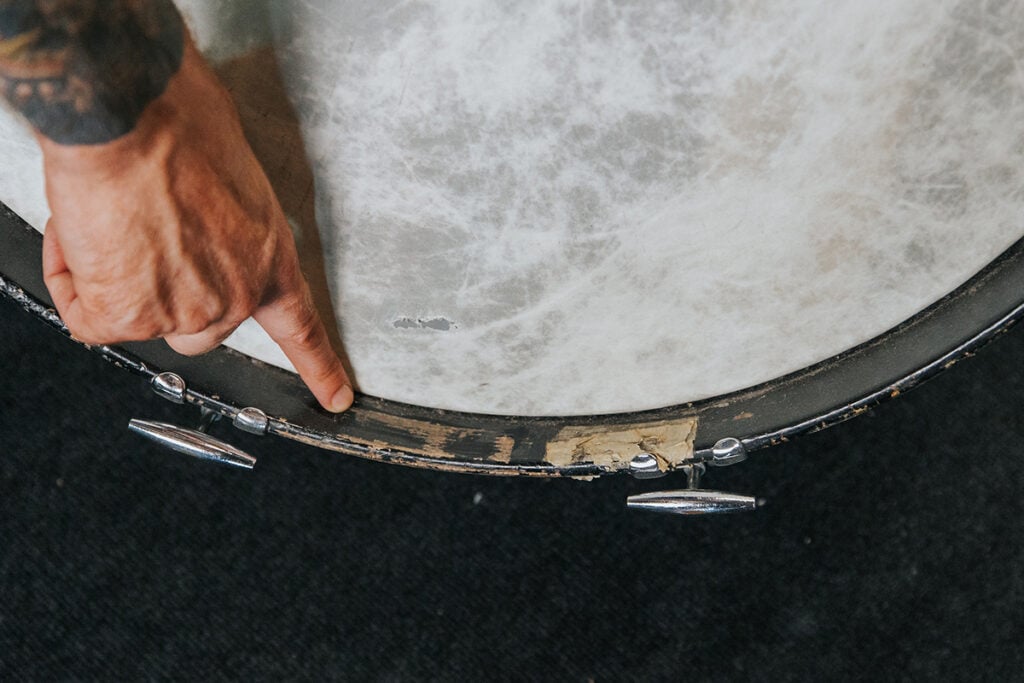 What's the condition of the wood on the hoop where the bass drum pedal attaches? Make sure it's not rotted or damaged so your pedal will lock firmly in place.
It's also important to check out the pedal itself to make sure the action is smooth and there are no missing parts, rusty chains, or bad beaters. 
Hardware 
This is really important. Solid drum hardware is always worth the cost, and this is the part of your purchase that's the toughest to verify online. If you're a heavy hitter, single-braced hi-hat and cymbal stands may not cut it.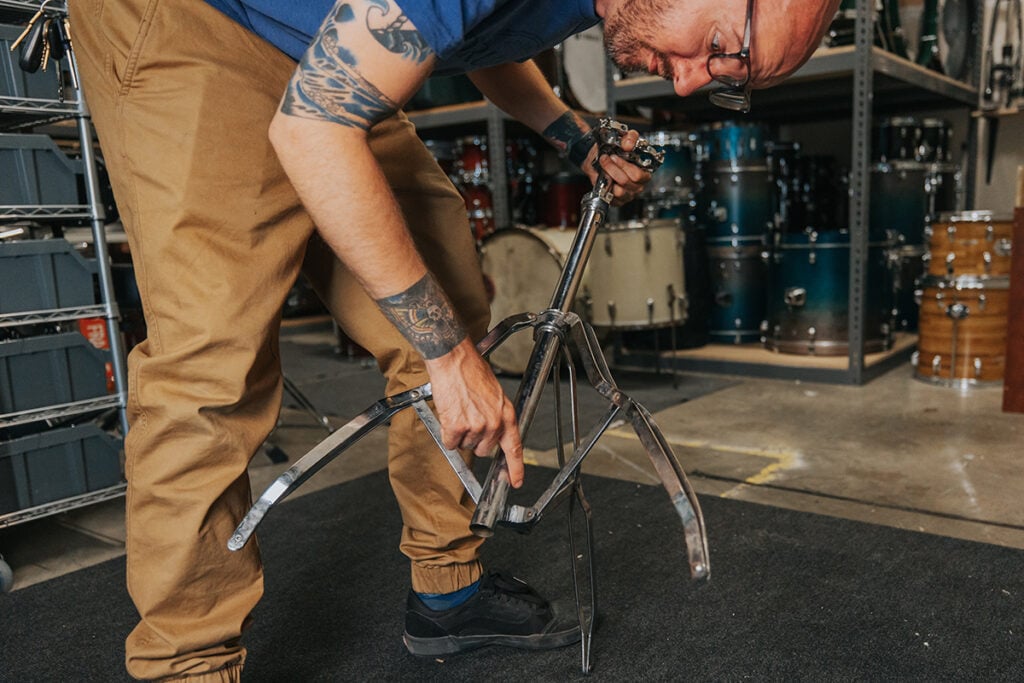 Check to see that all the stands have collars, felts, and wing nuts. You can replace these if needed, but again make sure to take that extra cost into account.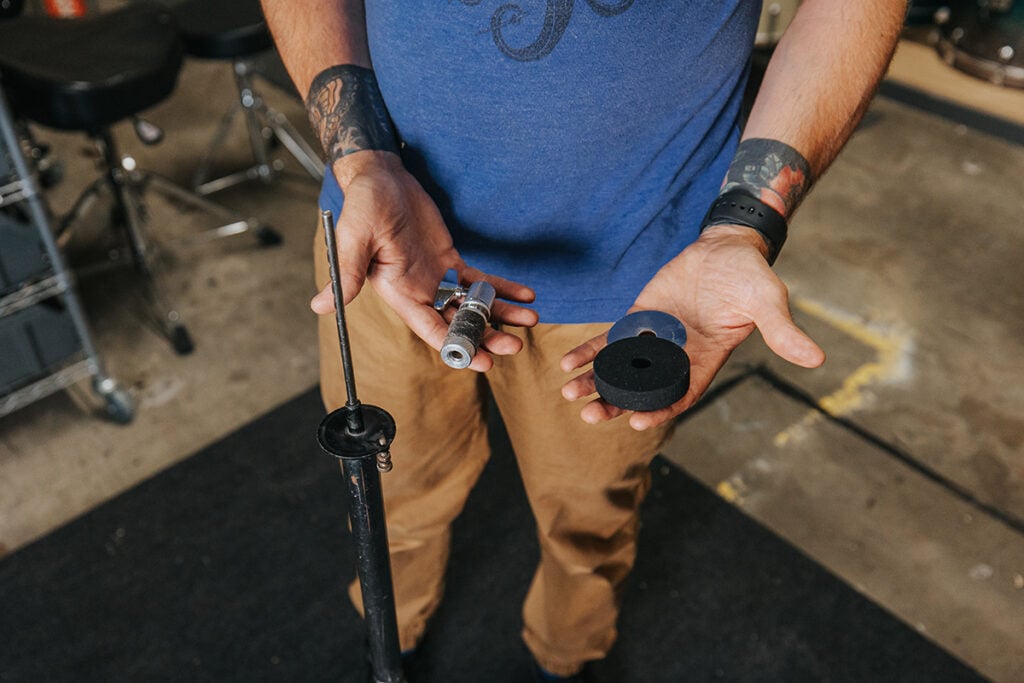 And don't forget about the throne! Even the best drum set won't be much fun to play if you're wobbling around like a drunken sailor or can't get it to the correct height.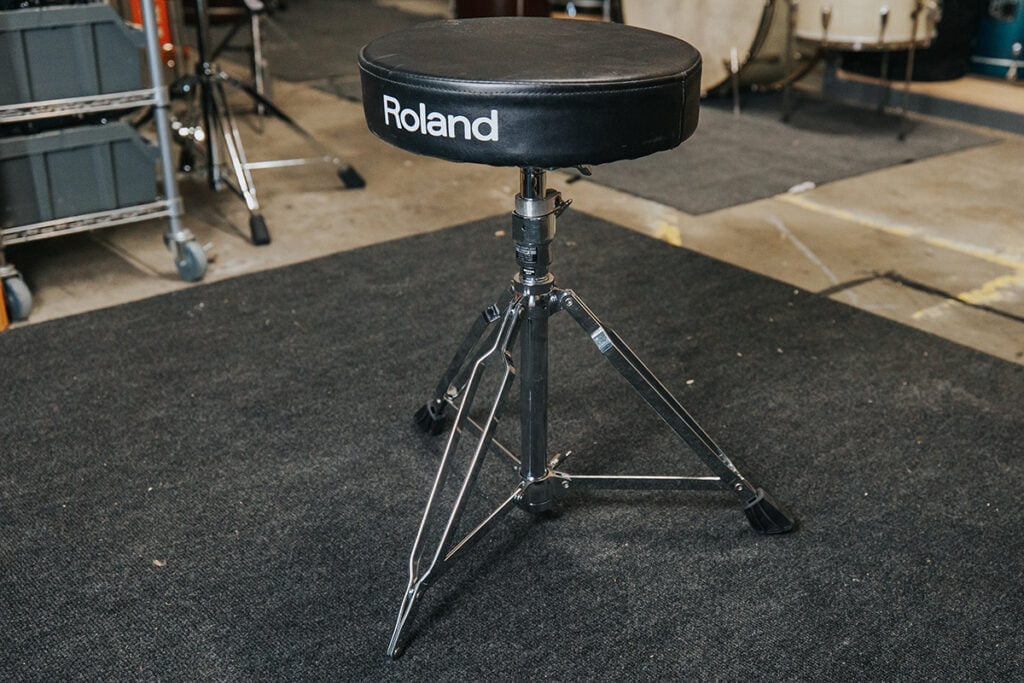 The hi-hat stand is one of the most complicated mechanisms on the kit, so make sure the legs and footboard are solid. Check to see that the height is easily adjustable and the clutch doesn't slip. Make sure the screw that adjusts the tilt is working properly, and if there are memory locks have a look at those too.
If you're buying online, ask specific questions about this stuff. If the seller is evasive or doesn't answer, that might be a red flag.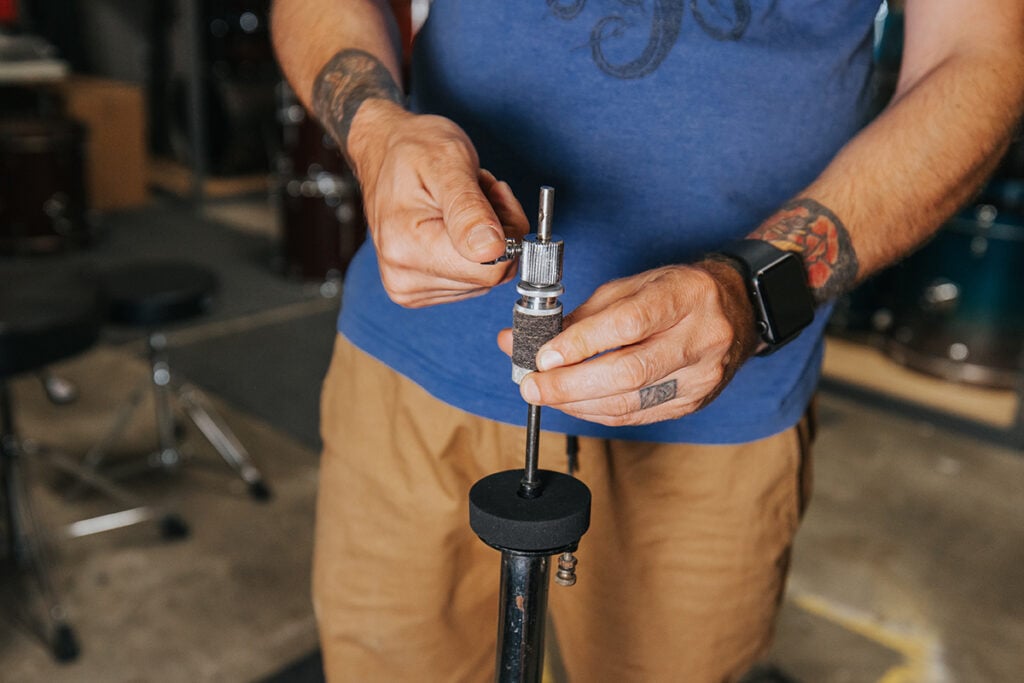 Cymbals
Make sure there are no cracks. The most common spots they occur are in the bell hole (if the player isn't using proper felts/collars) or the outer edges of the cymbal. If you do decide to purchase a used cymbal with cracks, beware of them spreading. 
Also keep an eye out for oxidization or rust on cymbals (it looks like a green fungus or discoloration). A small amount is not necessarily a deal-breaker since it won't drastically alter the sound, but it could be a sign that the cymbal hasn't been taken care of…and serious cases are pretty nasty.
Cymbals are especially tough to buy online since no two sound exactly the same. One good strategy is to go to a store or a friend's house and try out the model you're interested in, then look for the same model online.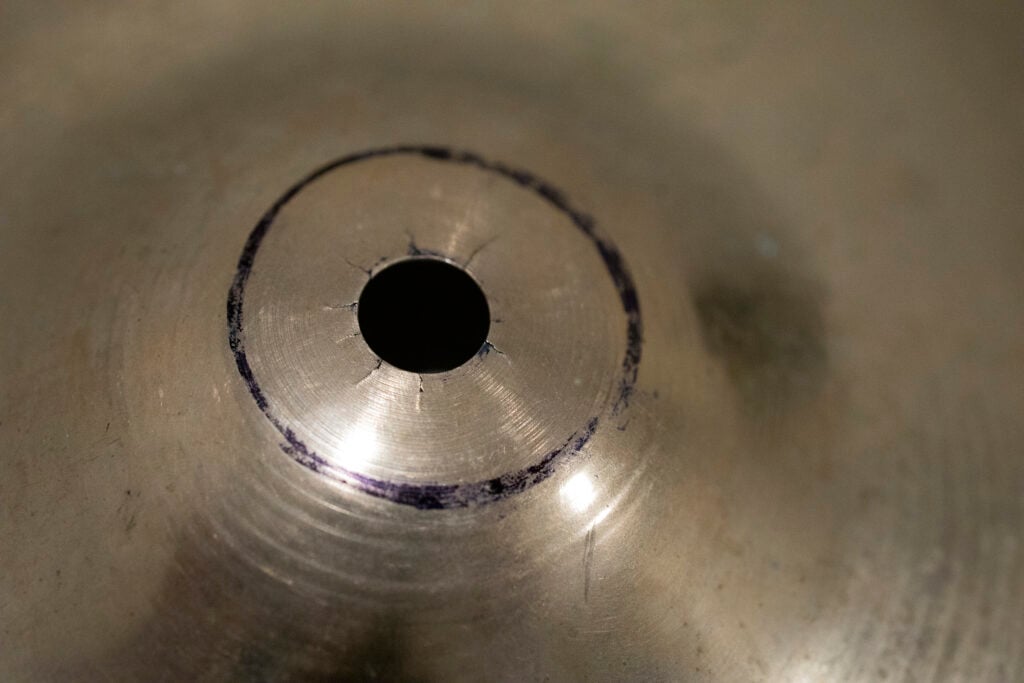 Cases
You'll definitely need cases if you'll be transporting the drums around. For soft bags, check the zippers to make sure they slide properly and hold in place. Make sure the handles and straps are in good condition and won't break after a couple of weeks. If you're buying nice drums, hard cases are a must. Make sure the clasps all lock in place and the lids all close firmly.
The whole package
The key to any used gear purchase is to ask a ton of questions.
How many previous owners did it have?
Where was it kept (climate-controlled studio vs. Grandma's musty basement)?
Was it used for playing shows or has it sat in one spot for years and never been played?
Just like with buying a car, it's not necessarily the amount of use that's important, it's the type of use (highway miles vs. city miles).

Let's not forget the most important factor: how does it sound? If you're buying online, you can't really tell. But you can do some homework and find an identical or similar item to test, then hunt for a deal. It's also good to think about what you'll be using it for.
The used gear market has options for every situation if you know what to look for.
If you're buying in person, check out all the parts mentioned above and consider what's included. Are you just getting the shells, or is it "all-in?" Hardware like thrones and hi-hat stands can be surprisingly expensive to replace. Music stores may not be willing to negotiate the price much, but private sellers online might (make sure to meet in a safe location if you go check out a kit from Craigslist or Facebook Marketplace). That way you'll get the best of both worlds: you get to check out the kit in person, and you can negotiate a great price on something you really like.
If you're buying online, check the seller's ratings and don't be shy about requesting more pics, audio, or video. Even if a kit is listed in "excellent" or "good" condition, those terms leave a lot of room for interpretation. It's also important to note that when you buy on sites like Reverb, there are taxes, service fees, and extra charges for shipping (drums are heavy so watch out). These can really jack up the final price beyond what you thought you were paying.
Here's the bottom line: there's always going to be a bit of guesswork involved in buying drums online, but doing your research and being prepared to negotiate will put you in the best position to nab a killer deal.
SHARE THIS: