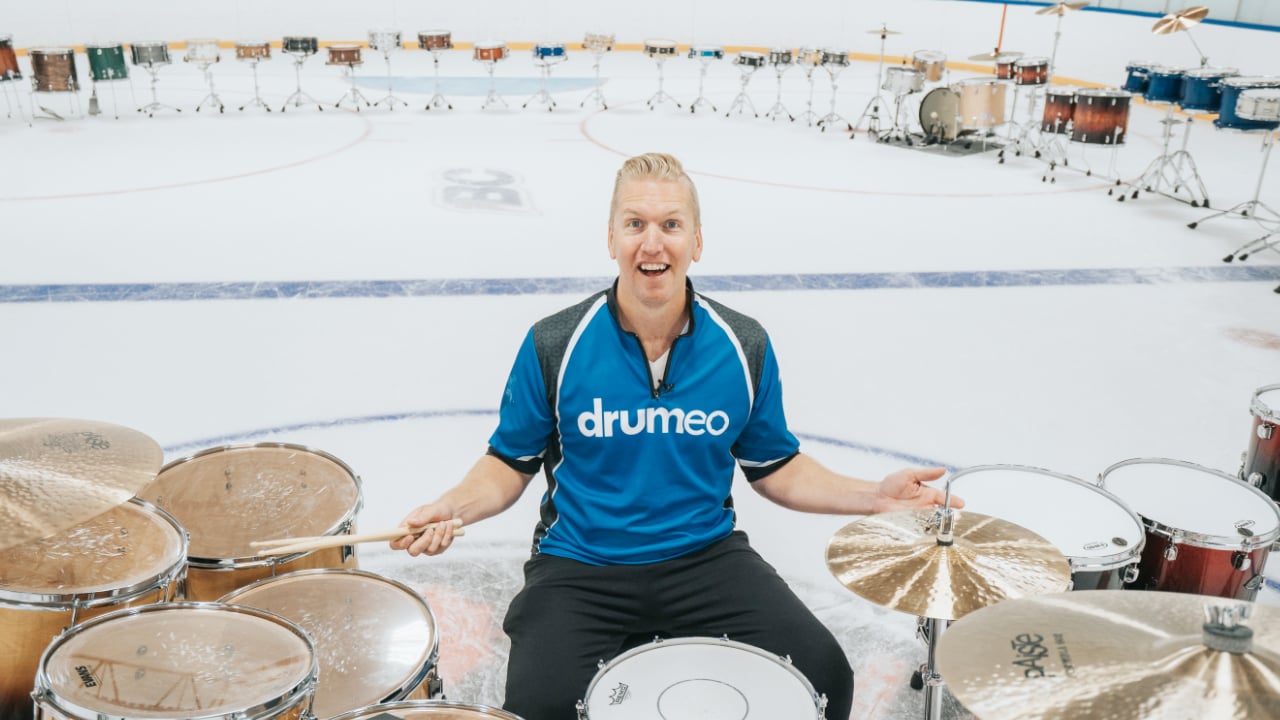 Lace up your skates, hit the ice, and get ready to…drum?
Here's the backstory: "Wipeout" by The Surfaris is basically one long drum fill. And we wanted to make another 'holy crap, that's a lot of drums' video that would outdo Jared Falk's "In The Air Tonight" masterpiece.
We were going to film this in a parking lot. We set up all the drums. But then it started to rain, so we had to cancel the shoot.
The next time we tried to film this in the parking lot, it rained again. We needed to come up with a new plan.
Can we do this indoors? Where can we find enough space to hold 125 drums and 3 drum sets, and won't inspire the neighbors to call the cops?
The answer was the local ice rink.
And lo and behold, we now have the most Canadian video we've ever filmed at Drumeo (although this video of Todd Sucherman drumming on a mountain is pretty Canadian).
Don't worry – no drums or pedals were harmed in the process. We actually covered the kick pedals in rubber gym mat material to make them skate-proof.
125 drums is a lot of drums. We're fortunate to be in a position where we have everything we need to make our videos and play the instrument we love. Not everyone is so lucky, so we've partnered with a charity called MusiCounts where all funds raised provide instruments to schools in need.
From October 1-10, we matched your donations (up to a total of $50,000). Our goal was to raise $100,000, and donors received perks like a month-long Drumeo subscription, awesome drumming course packs and more. Thank you!
SHARE THIS: