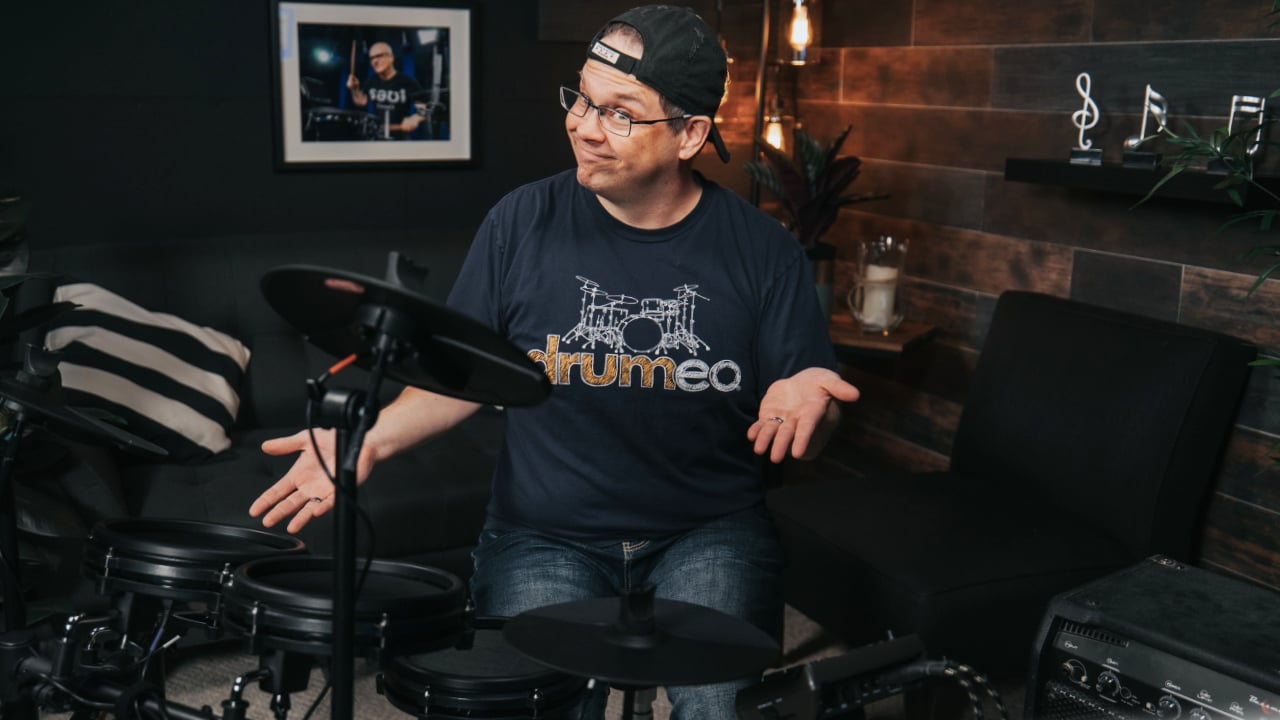 Electronic drum sets are all the rage. They won't break your back. Your neighbors won't call the cops on you. And unlike tuning acoustic drums, you can change how they sound with the push of a button.
This 15-minute crash course on electronic drums shows you how to choose the right e-kit and how to get the most of it once you own one.
Choosing an electronic drum set
Should you buy a new or used kit?
New kits tend to work the best, include the newest technology and, like phones and computers, are sometimes less expensive than earlier models when they were first released. If you buy new, you get:
The latest technology
The newest sounds
Updated pads
A more modern ergonomic design
A full warranty
If you're looking into used electronic drum sets, consider its age and the generation of the technology. If it's over 10 years old, you'll get old tech that might not give you the best playing or connectivity experience.
It's normal for rubber surfaces to have stick marks, but if they look shiny or eroded (from being played a ton), you probably need to replace these pads. Luckily, if you have worn mesh heads, they're inexpensive and easy to replace compared to rubber.
Also worth noting: your hi-hat pedal controller should move freely and not wobble. You can inspect the module for dust or loose wires as well, but the best way to know how well it works is – you guessed it – to turn it on.
How much do electronic drums cost?
These kits come at different price points, which range from several hundred dollars to several thousand dollars.
Entry level drums come with rubber pads or simple mesh heads, basic modules (which are easy to operate but lack many features), and are super affordable. They're also typically pretty small and take up the least amount of floor space.
(Pssst: If you're new to drumming and this is your first kit, you might also want to read this article.)
Here are three affordable kits (under $1000 USD) to check out – and they're all great drum sets for beginners: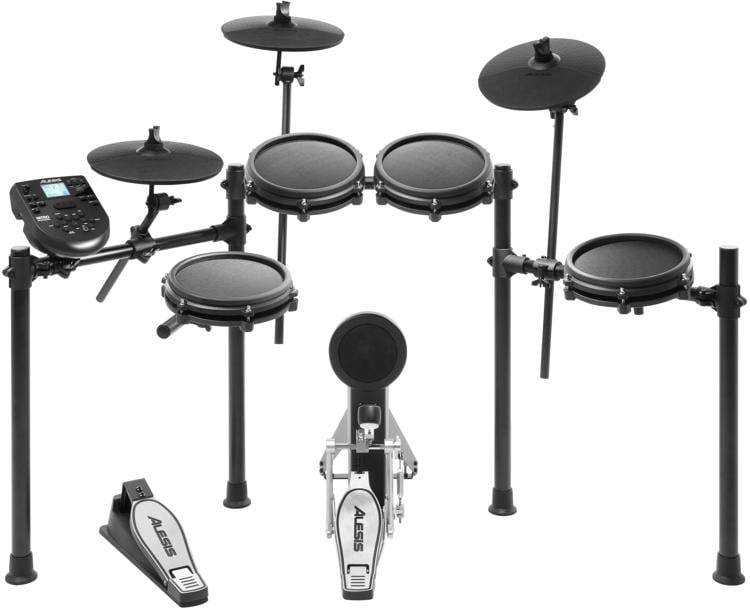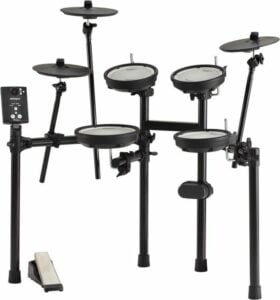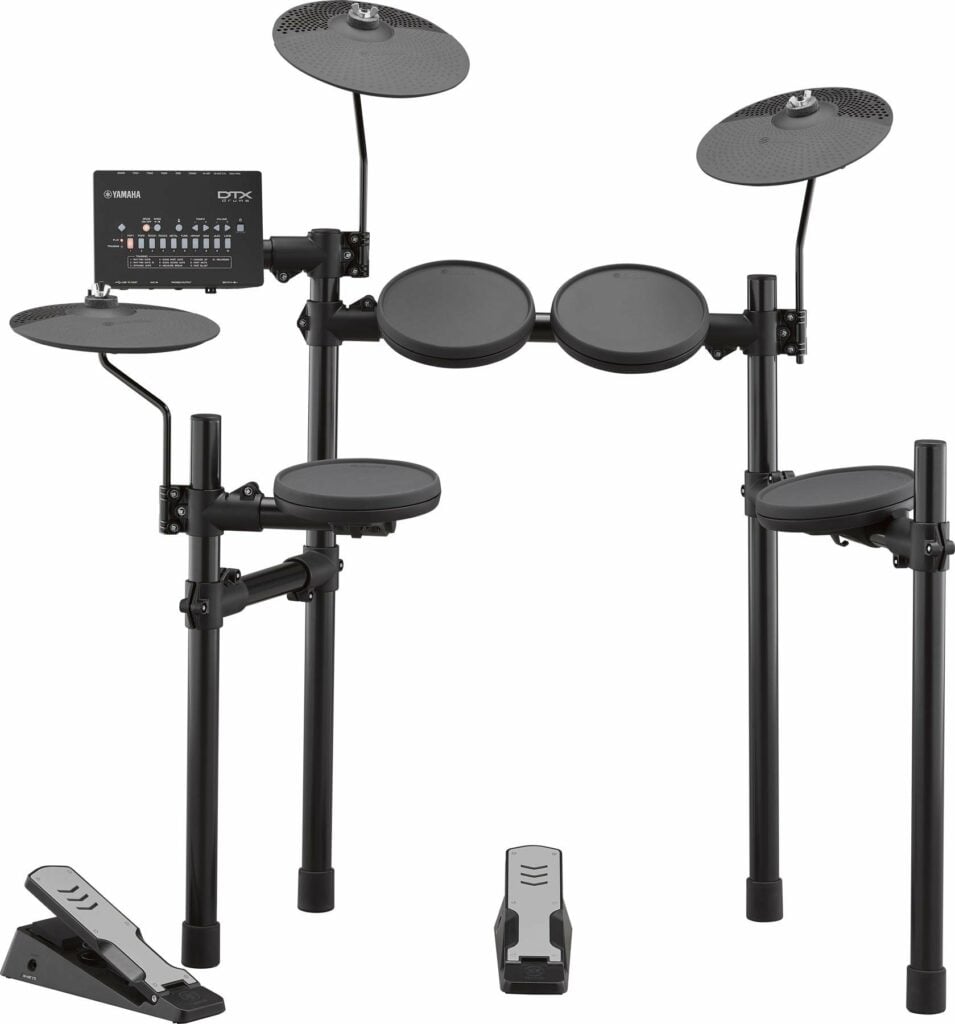 Mid-range drums have larger pads (a bigger striking area), feel more like an acoustic kit (more pieces), have more options for setup and add-ons, have more/better sound choices, and come with more module functions and connectability.
Here are three mid-priced kits ($1000-2500 USD) to check out: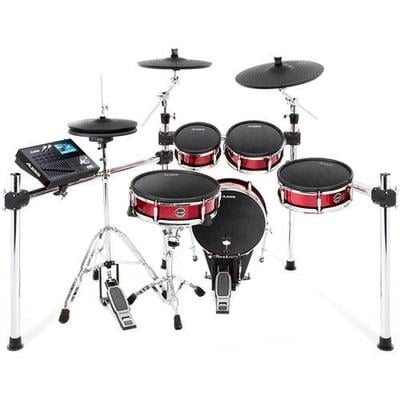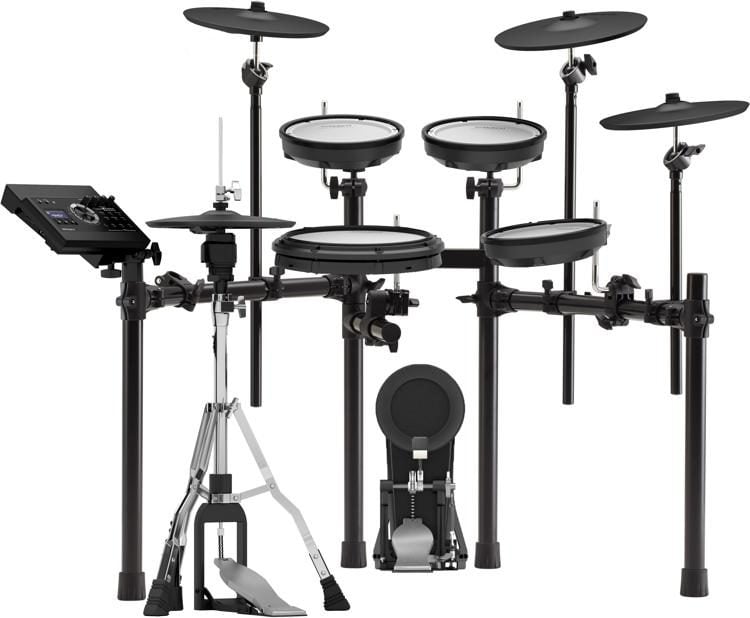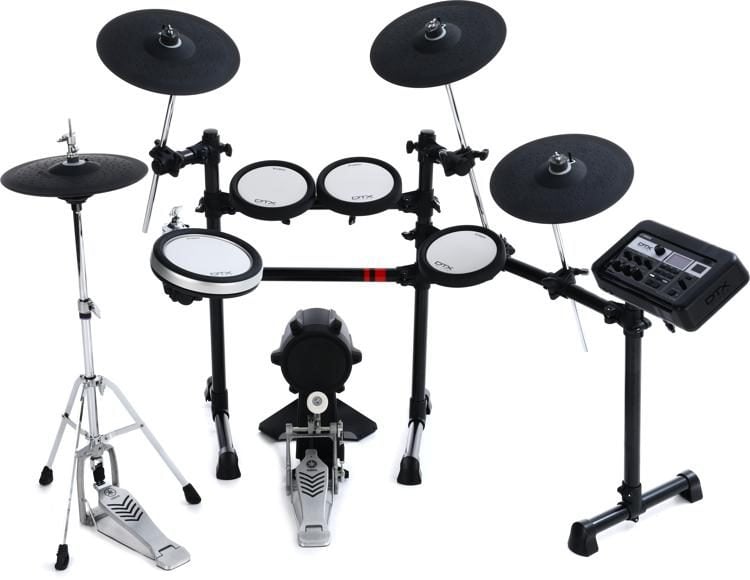 Top of the line drums have the best sounds, the best triggering, more recording options, and are the closest you can get to an acoustic kit, including the most realistic feel and look. Most high-end kits don't come with a hi-hat stand, snare stand, bass drum pedal or throne, so make sure you get the accessories you need to complete the setup.
Here are three quality kits ($2500+ USD) to check out: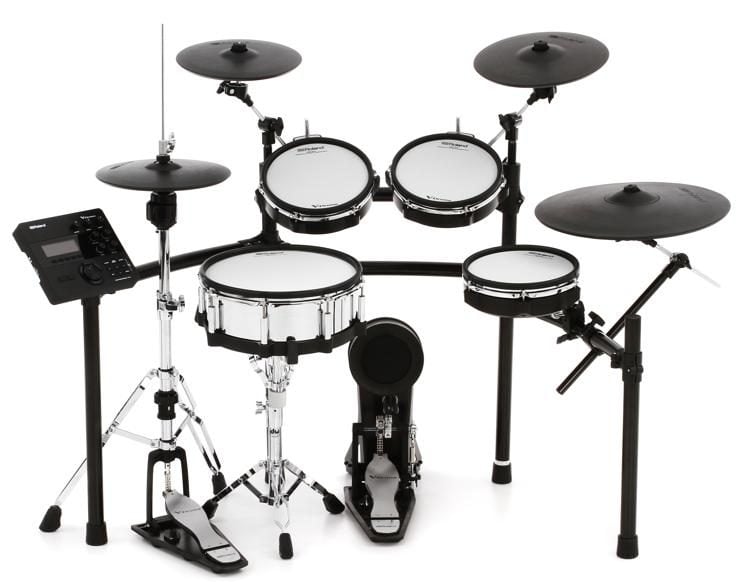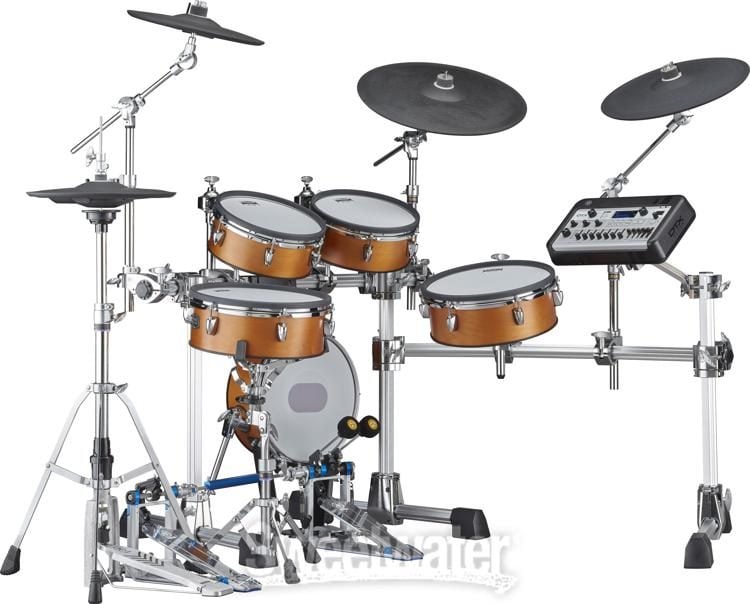 Choosing headphones/speakers
Here are some dos and don'ts when it comes to choosing the right headphones.
Do:
Make sure they're comfortable (and aren't pushing too hard on your head).
Get headphones with a closed back design to isolate any outside sound.
Get in-ear monitors if you don't want over-ear headphones – they fit in your ears like ear buds and sound great!
Don't:
Use anything with Bluetooth technology (like AirPods). Even if your e-kit has Bluetooth connectivity, you might experience a slight audio delay (latency), which will drive you nuts.
Use cheap headphones that came with your phone or tablet – they don't sound good, they don't properly block out external noise, and they don't fit in your ears comfortably.
Use headphones/ear buds that have a built-in mic; they probably won't work with your electronic drum set.
If you'd prefer to use a speaker or want others to hear your kit's audio, make sure you use something with full range support. Bass amps are perfect for electronic drum kits. Avoid guitar amps as they're built for distortion and they're too mid-range heavy. Roland, Alesis, and Simmons all make dedicated electronic amps for drums if you want to go that route.
Powered PA speakers are also great for e-kits. If you're performing live, you'll want to plug into a full PA system. The bigger and badder the speaker, the bigger and badder your drums will sound.
How to set up an electronic drum set
Follow the instructions that came with your kit, or look for a downloadable manual online if you bought it used.
When it comes to where you should set up, there's one important thing about electronic drums you need to know right off the bat.
You might have bought them thinking you'll be able to drum quietly in your apartment whenever you want, and you won't bother anyone. If you're wearing headphones, no one can hear you, right?
Unfortunately, if you share walls with a neighbor (or someone else at home), your drumming may resonate through them. It's not that you're hitting the pads too loudly – it's the vibration of your feet using the pedals that can transfer through walls and floors.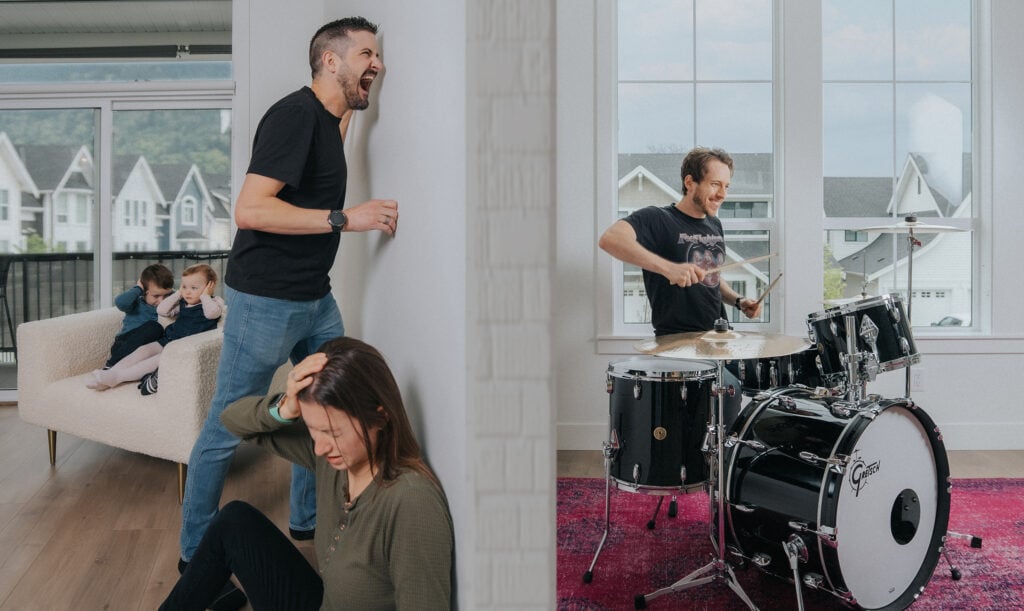 Set up the drums on a carpet to add a layer of dampening. But if it's too plush, the kit won't be as stable and might shake or move. You can pick up a 4'x6′ rubber-backed floor mat with a low pile at your local hardware store.
Furniture (like couches and wall hangings) can also help soak up the noise. The further away the kit is from any wall, the better.
Once you're all set up, here are a few more tips to make your e-drums experience even better:
Get an aux cable to connect a device (like a phone, laptop, or tablet) to your e-kit's module. Look for the module's 'AUX' input and plug in your cable so you can play along to music while hearing the drum sounds simultaneously.
Pick up a mount and phone/tablet holder so you can have your device close enough to you to read online sheet music or follow along with your favorite online drum lessons. You can also use a small table or flat music stand to hold a laptop.
Record and film your drumming
While it can take some pricey equipment and time to capture your performance on an acoustic kit, electronic kits are usually plug and play – no mixing or editing required! Filming and recording is a great way to track your progress or share your playing with your drum teacher, friends, or social media community.
Pick up an audio interface like a Behringer UCA222 or an iRig 2 so you can listen to a song, record the audio, and film yourself on your phone or tablet. Make sure the interface is class compliant, which means you can plug it in and be ready to go right away. Connect your e-kit's module (through the main output) to the interface, and connect the interface's output to your device. You may have to plug your headphones into the interface rather than into the e-kit module.
And there you have it – 'Electronic Drums For Drummies'! Check out these tips for playing electronic drums to get the most out of your kit. If you've read this far and watched the video at the top of this page and still aren't sure what to do, hit us up with your questions on Instagram.
*This article contains affiliate links, which means we might earn a small commission from the product seller if you make a purchase. For more info, check out our privacy page.
SHARE THIS: