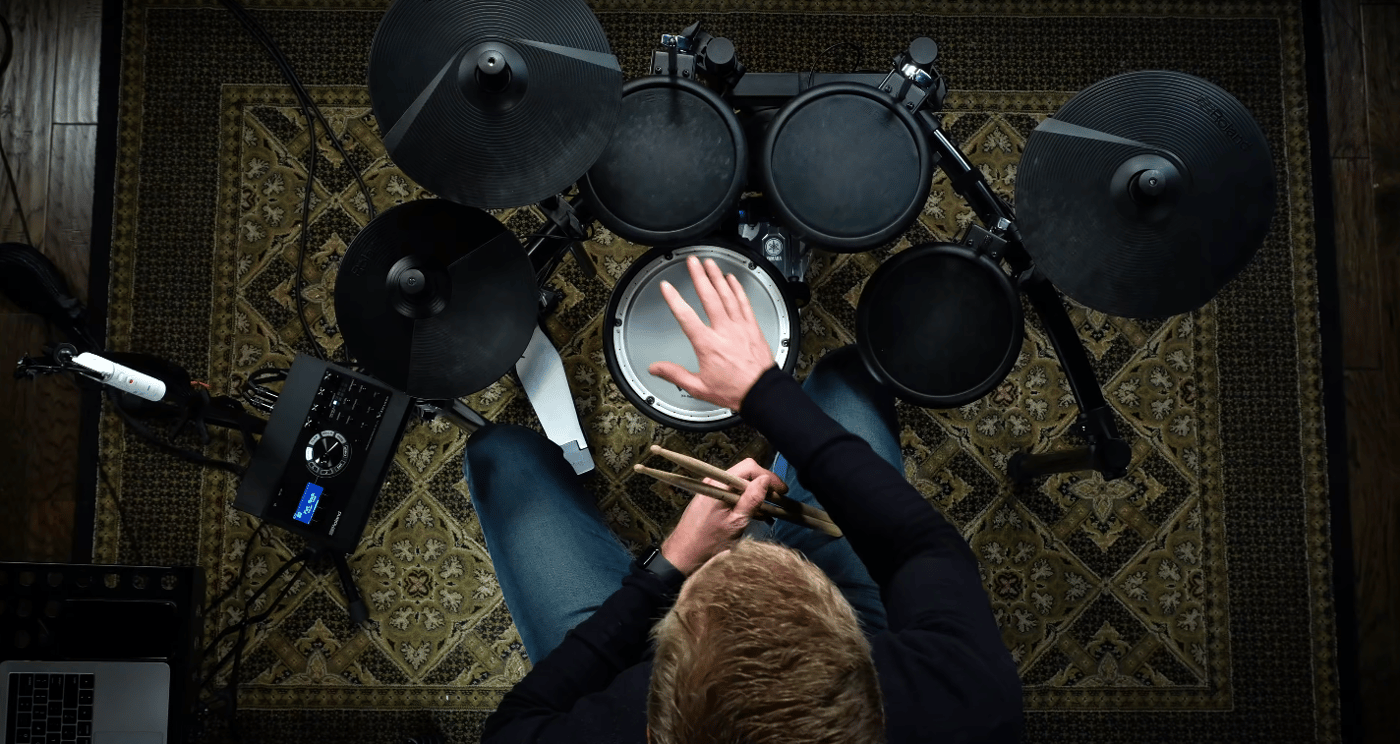 Advances in the world of digital percussion over the last ten years have resulted in a whole new breed of electronic drums. Mesh heads, improved pad sensitivity, and studio-quality drum samples are just a few of the reasons why e-drums sound and feel more than ever like the real thing.
With more drum companies getting in on the trend, the consequence has been a wider range of models and prices, making electronic drums available to players at almost any level. Below we've outlined the reasons why you might consider an e-kit for your next drum purchase.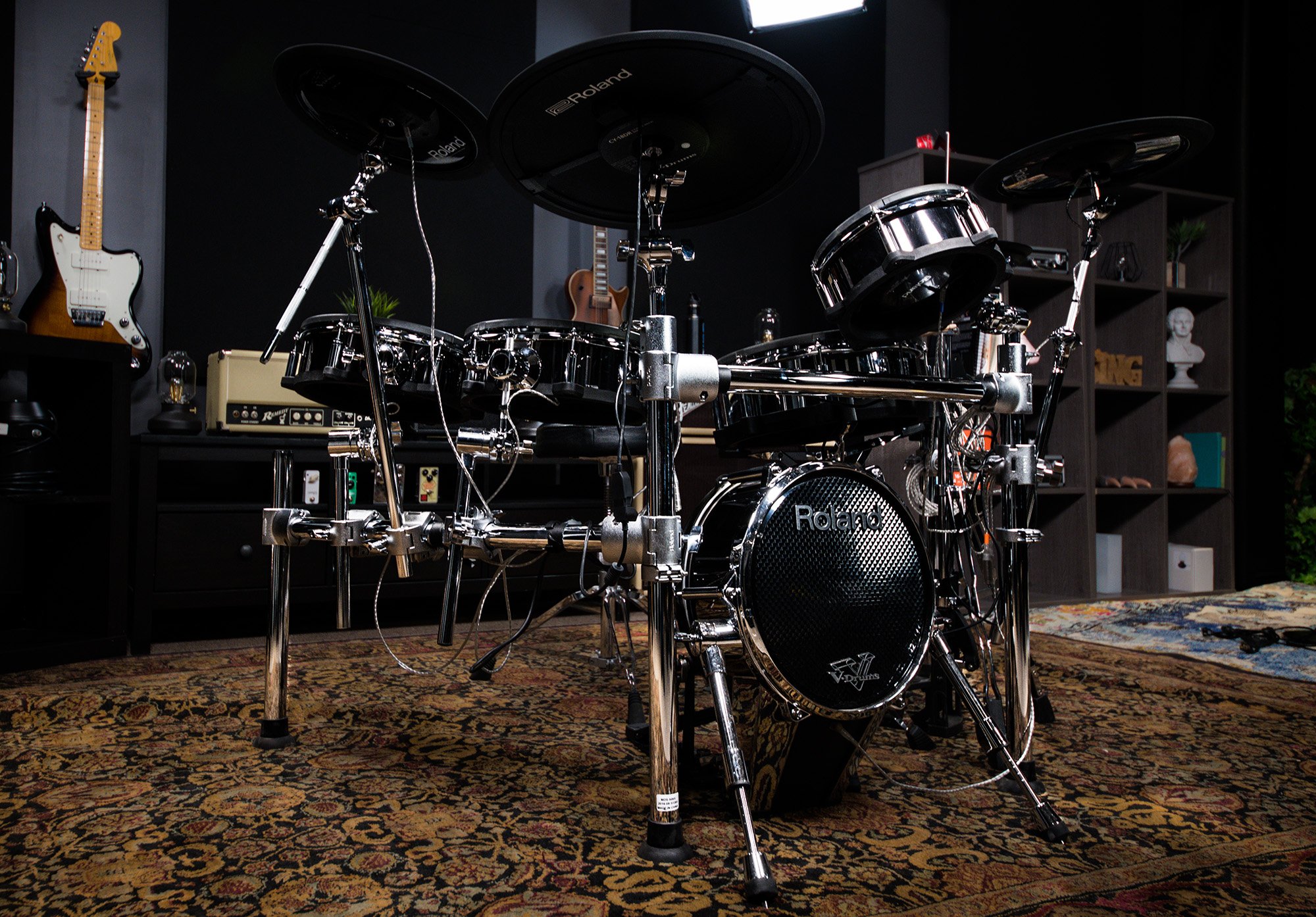 What are electronic drums?
Electronic drums consist of a "sound module" that generates synthesized and sampled sounds that are then triggered by pads equipped with sensors. The pads are made of either rubber or woven mesh, provide stick rebound similar to an actual drum head, and are typically mounted in a configuration similar to acoustic drums. The sound signal from the module is heard either through an amplifier speaker, headphones, or both.
The benefits of electronic drums
Low volume
The (likely) number one reason people buy electronic drums is for playing quietly at any time of day, the only ambient sounds being the sticks and kick beater striking the pads (beaterless kick pedals can bring the volume down even more). Even the vibration on the floor from the hi-hat and kick pedals can be reduced by using what's called a sound isolation board. Just plug your headphones into the module of the e-kit and play to your heart's content, all without bothering your family or neighbors.
(And an added bonus: you won't need ear protection as you do with real drums – just keep the levels low on your headphones or amp!)
Small size
Because they're just a set of pads, electronic drum kits are generally more compact than acoustic sets and can fit in smaller spaces or in a corner of a room. You can even store them in a closet or under a bed when you're not using them. And since a pad doesn't have the depth dimension of an acoustic drum, it can be easier to adjust them for your individual height (for example, tom pads can be closer together, and snare and toms can be lower to the ground).
Variety of sounds
Electronic drums let you literally change your sound with the touch of a button. Most modules have hundreds of built-in sounds, including not only electronic sounds, but studio-quality acoustic drum samples as well (including effects like reverb and delay). A lot of e-drum models come with the ability to load in your own custom samples too, making your sonic choices virtually endless.
Mix and match various snares, bass drums and cymbals, and transform the tone and sensitivity of each pad to create tailor-made virtual kits. On some higher-end models, you can swap out drum heads, change beaters, add muffling, and edit the ambient environment. You can even include sounds like brass, strings, choirs, and sound effects with electronic percussion plug-ins.
Portability
Electronic drum kits are light and easily carried, and when broken down can fit in a couple of cases (some portable kits even come with their own carrying bag). They offer a movability that acoustic sets just can't match.
Good for kids
If you're looking for something the little ones in your life can bang and learn on, an electronic drum set may be the way to go. The variety of sounds could keep them busy for hours, models with rubber pads offer good durability, and the small size means the whole kit might fit in your child's bedroom. The adjustability alone of an electronic drum kit is something to consider: since the snare is just a pad on a rack-mounted arm, it can go as low to the ground as needed to fit your child's height (and can be adjusted as they grow). And since some electronic hi-hat and bass drum pedals aren't attached to stands or actual drums, they can be placed as close as needed for little legs.
What else can you do with electronic drums?
Learning and practice
Most electronic drums come with metronomes and play-along tracks already in the sound module, and many include training tools like exercises and drills. Virtual coach options can help with your accuracy, timing, and coordination, and combined with the ability to record and listen back in real-time, it's like having a helpful instructor right next to your drum set.
Explore different drumming styles by playing along with onboard songs and musical patterns, play song files off of a USB thumb drive, or use the aux jack to connect your phone or another playback device so you can jam along to songs. USB/MIDI ports even allow you to hook up to drum tutorial software from your laptop.
Recording
Most e-drums have built-in recording options so it's easy to create professional sounding tracks without the need for microphones and preamps. This includes being able to connect directly to an audio interface and into a DAW (USB and MIDI jacks come standard in almost all models). No more sound-proofed studio rooms and hours of checking drum mics and volume levels. With electronic drums, you just plug into the recording console and you're ready to go.
Live sound
Control over your acoustic drum sound at gigs can be challenging since trusting an audio engineer with mics, levels, and EQ settings is a gamble to say the least. With an electronic drum kit, you just hand them a pair of cables. Since there are no mics or ambient sounds, it's much more likely that whatever audio you send to the sound person from your kit is exactly what the audience will hear.
Playing with samples
If you're thinking about buying a multi-pad device like an SPD-SX to incorporate samples into your playing, it might be easier and cheaper to use electronic drums instead. While they're typically used to trigger drum and percussion sounds, e-kit models that allow drummers to load their own samples can let you trigger any type of MIDI or recorded sound. If you already have electronic drums or are thinking of buying some, using samples might be a function that's already included in your kit.
Synth-based/electronic music
It almost goes without saying that if this type of music is your jam, electronic drums will be a great fit. While many drummers with e-drums are trying to get them to sound like acoustic drums by using samples, you can use the already-included digitally generated sounds to perfectly complement any electronic genre.
What to expect
Rubber pads vs. mesh heads
One of the primary differences in both the quality and price of an electronic drum kit is the type of pads it comes with.
Mesh heads have a woven cloth-like surface and less ambient noise, and they resemble acoustic drums in both appearance and feel (especially because their tension is adjustable, like a real drum head).
Rubber pads are similar to a practice pad in feel but are typically cheaper and more durable than mesh heads. And while they have an improved design from years past, rubber pads still have more ambient noise when hit with a stick (and they don't feel as realistic as mesh).
It's worth trying kits with both types of pads at your local music store to see which fits your needs and price range.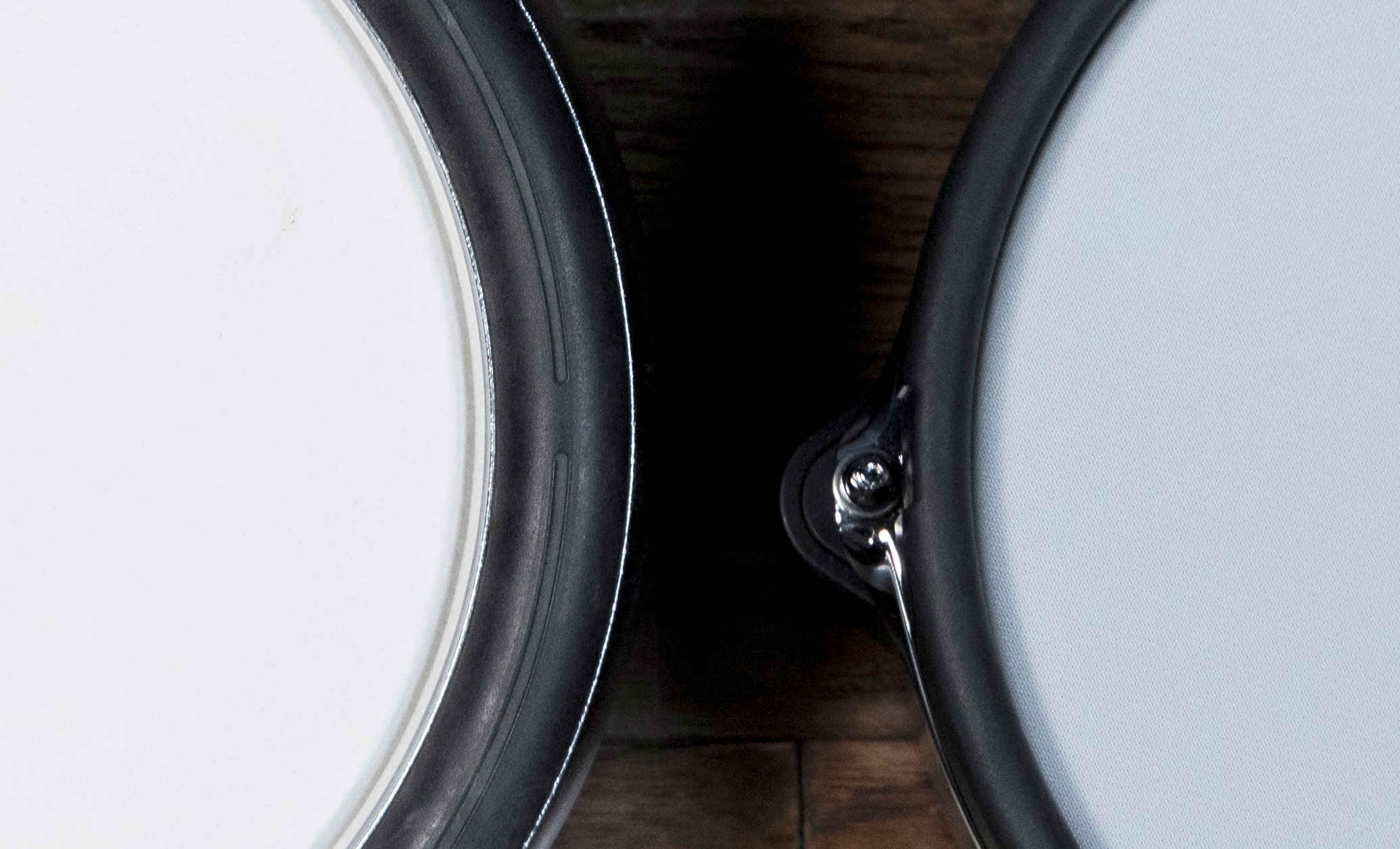 Different feel and response than acoustic drums
This is probably the main complaint from acoustic players about electronic drums since no matter how carefully a sample is created, there's still a limit to how many dynamic levels it has available for a single stroke on a pad. That said, mesh heads have gone a long way to create the same feel as an acoustic drum, and there are many sensitivity settings a player does have control over. Because the technology on e-drums is improving constantly, don't assume sight unseen that they just "won't be the same". Try it for yourself!
Takes some tech-savvy to dial in what you're looking for
To adjust things like sensitivity and dynamics, create virtual kits, and import samples, it takes some deep-diving into the nested menus of an electronic drum module in order to change specific settings and parameters. If you're going to buy an e-kit, expect at least a minor learning curve to tailor the response and sounds to fit what you're looking for.
Positioning the drums
Unlike an acoustic kit which typically has separate stands for each component, the drum pads, and cymbals on an electronic drum kit are mounted on a rack, so moving drums into the positions you want for your height and preference can be a little tricky. Just get out your drum key and experiment to find the best ergonomic position.
Amplification needs
If you want to hear your electronic drums without wearing headphones, you'll need an amplifier and speaker (a monitor). There are monitors specifically made for electronic drums, and keyboard amps and PAs also work well. Look for something with a wide frequency range to handle the highs of the cymbals and the lows of the kick drum.
The holy grail of electronic drums is the feel and response of an acoustic kit with the sounds and versatility (and connectivity) of electronics. The technology available today makes combining these two worlds closer than ever before. If you've ever wondered about electronic drums, now might be the time to check them out.
*This article contains affiliate links, which means we might earn a small commission from the product seller if you make a purchase. For more info, check out our privacy page.
SHARE THIS: