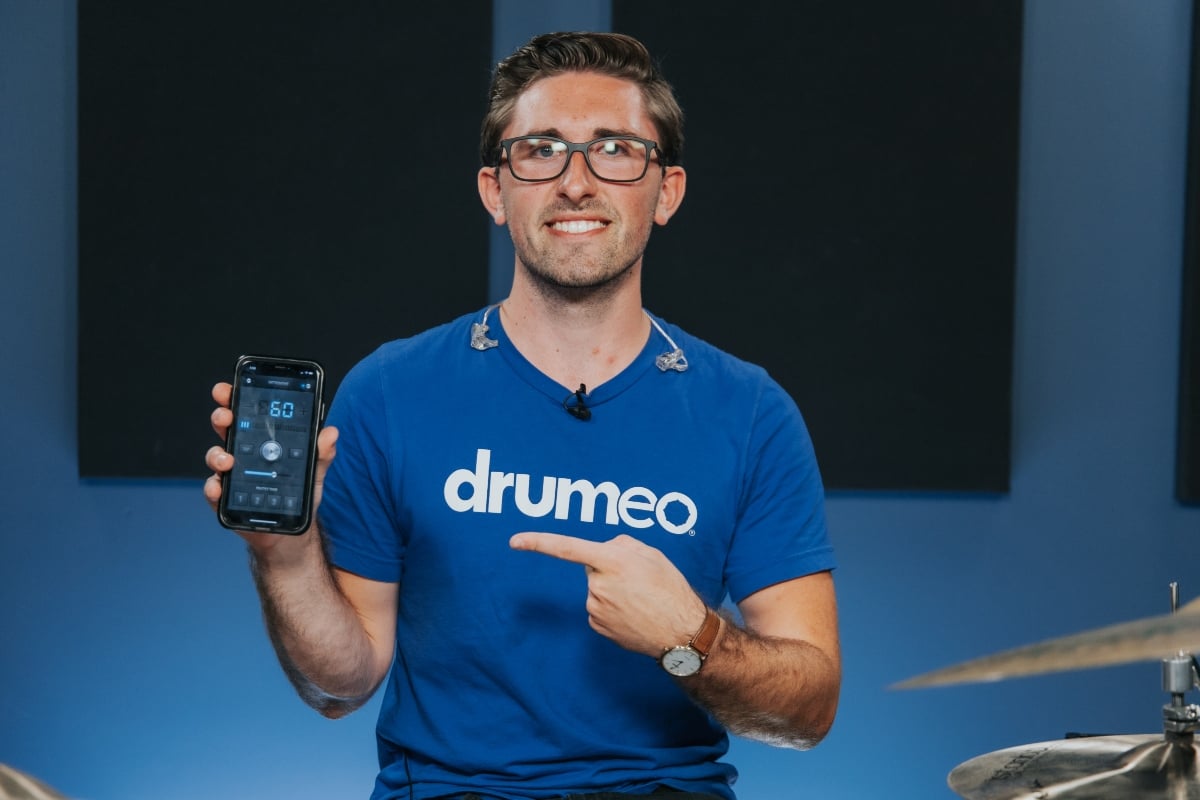 Free tools for drummers? But all you need is a drum set, right?
Sure, but there are so many awesome resources out there that can make it way easier to learn, perform, and record drums. The rabbit hole is deep.
We've put together a list of tools and resources any drummer can use. Everything here is either free or has a free version that's worth trying. Let's jump in!
Table of Contents
1. Free drumless tracks
Why would a drummer want a track without drums? Well, here are two main reasons:
So you can hear yourself better while playing along to a song
To record your own drum part on top
Normally, if you want a drumless version of a popular song, you need to see if the producer on that recording has released the stems (the original pieces/tracks that make up the song). That can be tricky because most of these files aren't publicly available.
If you're a Drumeo member (try it free for a week by clicking here), you'll get access to thousands of drumless play-along songs: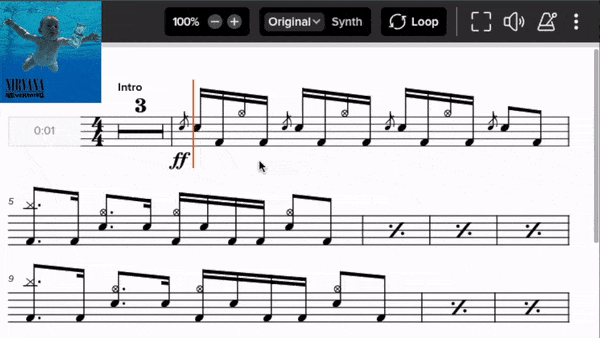 But if you're just looking to find songs to play along to and don't care if they're your favorite tunes, check out 9 free drum playalongs (they come with playback/metronome tools, reference videos and sheet music).
An awesome modern resource that artificially removes the drum track from existing music is Moises.ai. The free version lets you download 5 songs a month, but the paid version is only $3.99/month and is worth it if you're regularly looking for drumless tracks.
2. Free metronome apps
Gone are the days of needing a standalone physical metronome device. You can now download an app right to your phone!
There are some great free metronomes out there like Tempo Lite (iOS | Android). On top of the basic click function, the app lets you create a setlist and comes with a tempo automator that lets you slowly increase the speed as you work your way up through a warmup or exercise.
The free version won't have advanced features like click mapping, but it's perfect for practice.
3. Free DAWs
A DAW (Digital Audio Workstation) is music production software you install on your computer. You can visualize, cut and edit audio files (among thousands of other features) and while many DAWs can cost you a good chunk of change, there are some free versions that offer decent capabilities.
Here are three free DAWs drummers can download:
Pro Tools Intro: Pro Tools is the granddaddy of DAWs and arguably has one of the nicest interfaces, but it's also the most expensive. The free version is limited, of course, but if you only need eight audio tracks, it has a ton of built-in sounds and plugins to get you started.
Audacity: This free open-source DAW is great for beginners who are looking for a no-frills option. However, it's not as user-friendly as other DAWs and can be a bit clunky.
Reaper: With a 60-day free trial that feels endless, even pros sometimes defer to Reaper because it's affordable and comes with all the features a drummer could need to record their playing.
4. Free drum VSTs and samples
Firstly, what's a VST (Virtual Studio Technology)?
A VST is a plugin (or tool/add-on) you can install within a DAW to help you produce music. In this case, we're talking about VST instruments which – in the simplest terms possible – are basically audio files that generate instrument sounds. You can find VSTs of most instruments, but in this case we're only referring to drum VSTs.
You can layer these sounds with real recorded drums, or you can use them when writing in MIDI and get a great-sounding drum track from scratch without ever having to sit down on the kit.
A drummer might use a drum VST to augment their drum recording or to write demo tracks without needing a full drum recording setup. Paid options include Superior Drummer, EZDrummer, Steven Slate Drums, GetGood Drums (from Matt Halpern/Periphery) and DrumForge.
A quick Google search will turn up a ton of free drum VSTs. But if you don't have time to search around, try the Steven Slate Drums 5.5 demo, which comes with a great-sounding kit and several presets.
VSTs use samples (audio files) to play sounds. You can also find a ton of free drum samples and even full sample packs online, whether it's a promo from a VST company or a pro drummer.
5. Free drum lessons
Many people know about Drumeo from the hundreds of free drum lesson videos on our YouTube channel. But not everyone knows about our epic paid membership platform.
If you're just discovering Drumeo and aren't ready to commit to a membership, you can try it for free for a week by clicking here.
You'll get full access to Drumeo's premium content, including:
5000+ songs and practice tools (so you can slow down and loop parts while you learn)
Step-by-step learning paths
2500+ drum lesson videos and courses from hundreds of the world's top drummers (including ones from some of your favorite bands)
Personalized feedback
Live Q&As
Dozens of drumming documentaries and shows
Killer deals on Drumeo products (like the QuietKick, QuietPad, drumsticks and more)
A supportive and eager community of drum students just like you
6. Free music transcription/scoring programs
Like DAWs, the best music transcription software can cost hundreds of dollars or more (and for good reason). But there are some free options that'll get the job done almost as well.
Musink Lite's interface is great for drummers – you can quickly click around on the staff to place notes as you come up with beats. Read this article on how to quickly notate creative drum ideas so you can try them out on the kit later.
MuseScore is totally free, open-source software that lets you click and drag notes or input using a MIDI keyboard.
If you just need to use it a few times or want to make sure you're happy before paying for it, Finale (one of the most popular scoring programs) offers a 30-day free trial. You can easily move notes around, assemble complex drum beats and time signatures, share your scores with friends and more.
You might also like Guitar Pro, which – don't let the name fool you – is another good option for programming drum beats and more. Click here for their 7-day free trial (and if you're looking for a template to get started, download 10 free Guitar Pro drum beats here).
7. Free drum notation PDFs
If you know how to read drum music and that's how you learn songs best, the internet is full of free sheet music. We've got a few pages of our own that offer huge free collections of drum notation PDFs, so if you're a rock fan, check these out:
8. Virtualdrumming.com
If you don't have a drum kit or want to practice tapping out rhythms on your work break, virtualdrumming.com has some fun free features. Build your own virtual drum kit, tap along to songs and learn more about kits that belong(ed) to your favorite drummers.
9. Wambox
Wambox is a free tool for programming drum beats. Its interface is user-friendly and is a great option for anyone who wants to quickly 'jot down' an idea for a beat or fill – especially if you don't know how to read and write drum music.
You can download your beats for later reference, too.
Did we miss any cool free tools for drummers on this page? Hit us up on our social channels and let us know what we should add.
Edited by Sam Landa, Content Marketing Manager at Drumeo
SHARE THIS: