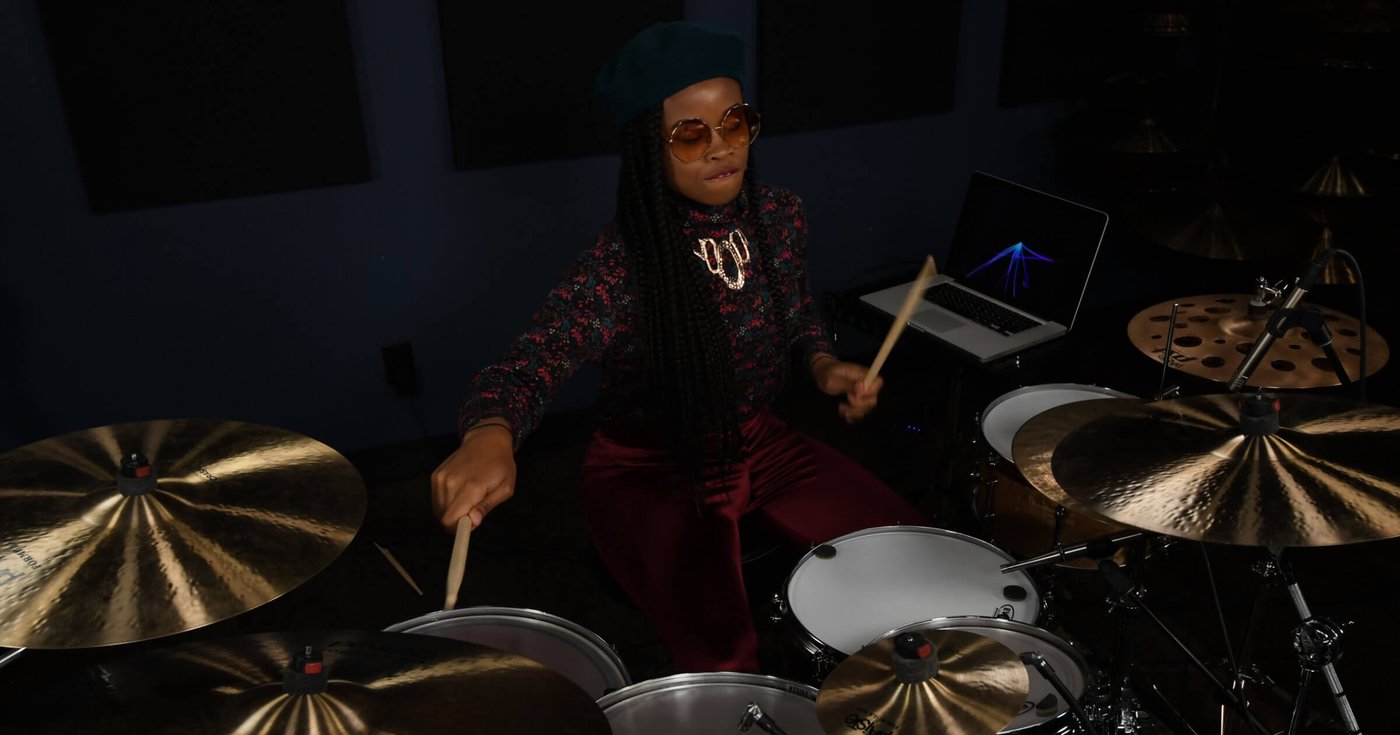 "Real pocket determines how they dance, and how they move to it. It's the movement of the music."
Taylor Gordon has carved out a niche for herself as 'The Pocket Queen', known for her incredible feel and groove. If you've ever seen one of her videos on Instagram or YouTube, you've seen her positivity and passion as well.
In this Drumeo live lesson, Taylor talks about what it means to be 'in the pocket'. She defines it not as the notes being played, but the spaces between the notes and the feel of those spaces. She also dives into a great point about how the drums – and where the beat lies – can give direction to a song. How do you want the audience to move to the music, and how do you want them to feel?
Taylor views drumming and music in a somewhat unconventional way: she associates grooves with shapes and waveforms. Some are square, others are circular, and others have a jarring up-down pattern. While she says she doesn't think she has synesthesia, she describes it in a way that could really benefit drummers who are visual learners.
Mid-lesson, Taylor breaks down how she builds grooves. She says not to fear repetition, and demonstrates how a small addition or subtraction from a groove can change everything. And when you're learning something new, you should vocalize it and feel it: does it make you move the way it did when you first heard the song?
The Pocket Queen also shares some great tips for beginners who are having trouble getting into the pocket. The key is the technique – and how you strike the drum – that makes the groove "pop". You'll see what she's talking about in the video.
If you liked the tunes Taylor plays in this live lesson, you can download them on Drumeo Edge, plus access more inspiring lessons and performance videos. Not a member yet? Check it out!
Lesson Index:
0:29 – SONG: "Quest For Pocket" by Nikko Ielasi
4:48 – Introduction
6:10 – SONG: "Greyson's Ladder" (Drumeo Edge Drumless Track)
10:08 – Defining 'pocket'
13:05 – Seeing shapes and waveforms
19:14 – How Taylor builds grooves
31:35 – How beginners can improve their pocket
36:02 – SONG: "U2 Are Led" (Drumeo Edge Drumless Track)
About Taylor:
Taylor Gordon is a professional drummer and Berklee graduate based in Los Angeles. She has shared the stage with major artists including Beyonce, Musiq Soulchild, Robert Glasper, Tye Tribbett, Michelle Williams and Stevie Wonder, and musically directed performances for American Idol Winner Candice Glover, recording artist Ravaughn, and television personality Wayne Brady. Taylor endorses Paiste Cymbals and Vater Percussion. When she isn't performing, she produces music for both independent and major label artists.
Follow Taylor:
Facebook
Instagram
YouTube
SHARE THIS: