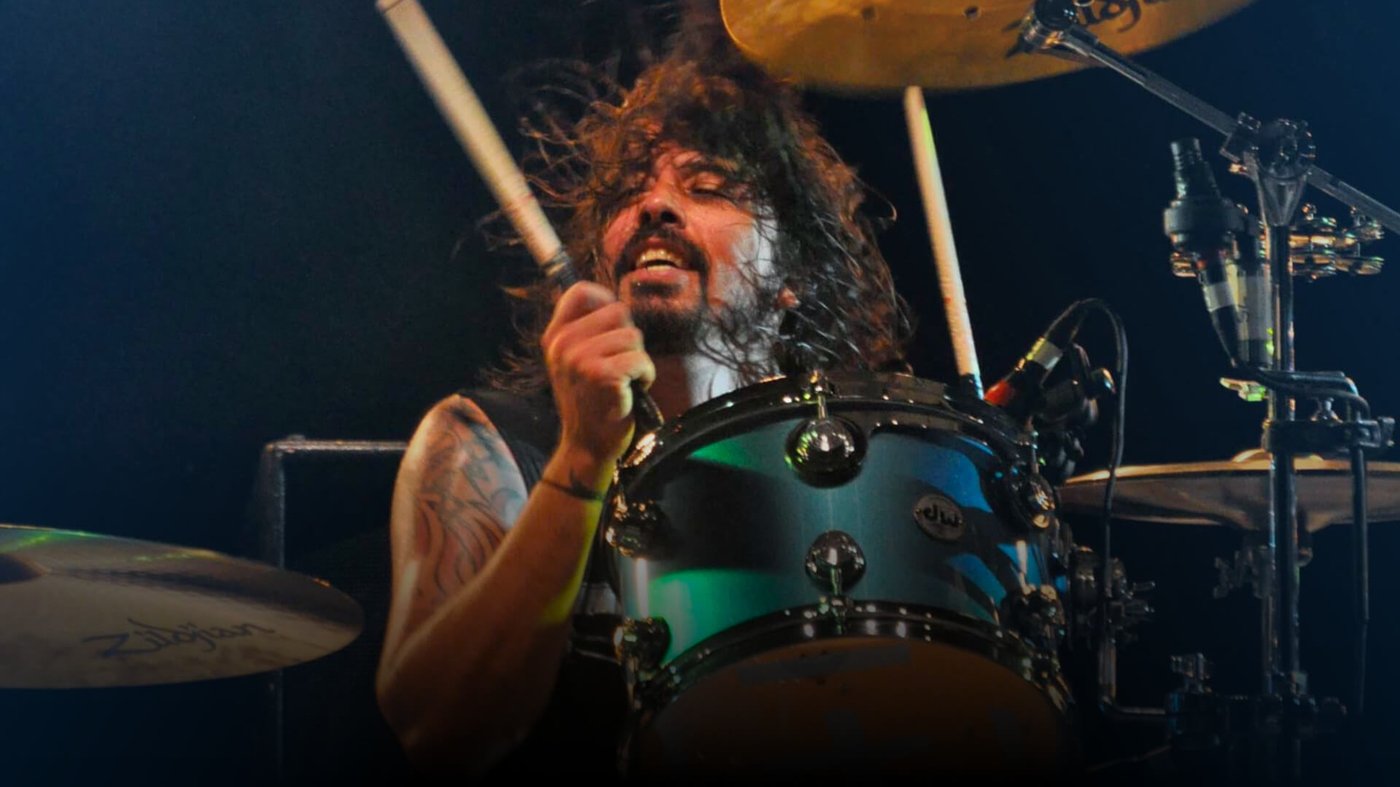 Dave Grohl has written so many epic drum beats over the years, it's tough to have a conversation about memorable grooves without mentioning his name. He really is one of the top drummers of all time.
That's why we've put together a video breaking down 12 of his must-know drum beats. You can probably guess a few of them, but you might also find a few obscure surprises.
Whether you're a rock drummer or just a fan of Grohl's work with Nirvana, Foo Fighters and Queens Of The Stone Age, if you've got a hankering for fun and interesting beats to play, this video should scratch the itch.
1. "Smells Like Teen Spirit" – Nirvana
Yep – you guessed it – this one had to make the list. This song is the opening track from Nirvana's 1991 release, Nevermind, and one of the band's most popular songs. This beat is a go-to for beginner drummers and beyond. Hit that crash on beat 1 and the hi-hat on the other quarter notes. Take the syncopated kicks and 16th note snare hits to the next level by infusing as much power and energy into it as Grohl did.
Click here for a breakdown of "Smells Like Teen Spirit" for drummers of all levels.
2. "My Hero" – Foo Fighters
Almost as recognizable as the beat in "Smells Like Teen Spirit", Dave Grohl recorded this beat, which Foo Fighters drummer Taylor Hawkins played live for the duration of his career with the band. This is the chorus groove, featuring lots of flams on the backbeats and double stops on the toms.
3. "Scentless Apprentice" – Nirvana
This intro often goes under the radar, but it's classic Dave Grohl. You'll find this track on Nirvana's album In Utero. Watch for the open hi-hats in bars 1 and 3, the groups of 4 bass drum strokes in bars 2 and 4, and those flams in measures 1 and 3.
You'll find this cool ride groove on Tenacious D's album The Pick Of Destiny. With floor tom fills and a cymbal choke halfway through, it's definitely a great groove.
5. "All Apologies" – Nirvana
This simple groove is a four bar phrase that's notable because of how it's played so musically in the context of the song.
6. "Song For The Deaf" – Queens Of The Stone Age
The title track from the QOTSA album Songs For The Deaf features this 8 bar phrase in the verse section. It's in 3/4 time and has cool displaced figures on the kick drum to give it a unique feel.
7. "Elephants" – Them Crooked Vultures
In this verse groove, you'll notice an open-handed pattern (with the left hand on the hi-hat and the right hand on the floor tom) where the backbeats are played with flams on the snare drum. There's definitely a disco influence here, which Dave Grohl has said was a huge inspiration for his drumming.
8. "In Bloom" – Nirvana
Nope – this isn't the classic drum intro. We wanted to highlight the verse groove here. Check out the 16th note kicks on the 1e and the 2e.
9. "Everlong" – Foo Fighters
We couldn't have a Dave Grohl groove list without "Everlong". While the chorus is 50% fills (click here to learn the chorus from Everlong), it's the verse groove that deserves recognition. It takes a lot of endurance to maintain those fast 16th notes on the hi-hats!
10. "Implant" – Killing Joke
This one's a deep cut from an album Grohl recorded in 2002, and not many people know he appears on this album. It's in 3/4 time, and we really like that fast syncopated groove at the beginning.
11. "First It Giveth" – Queens Of The Stone Age
Like Tenacious D's "The Metal", we think you'll like the conversation happening between the snare and kick. Straight forward, but interesting!
12. "Reptiles" – Them Crooked Vultures
We saved a tough one for last. There's lots of bass drum action in this one. It's a 12 bar phrase at the beginning of the song with over the bar line rhythms that might throw you off (so learn it slowly). The kick groupings can be challenging to play up to tempo.
That's it for Dave Grohl's signature drum grooves. For more Grohl gold, check out this video, 7 Reasons Why Dave Grohl Is A Drumming Genius!
SHARE THIS: