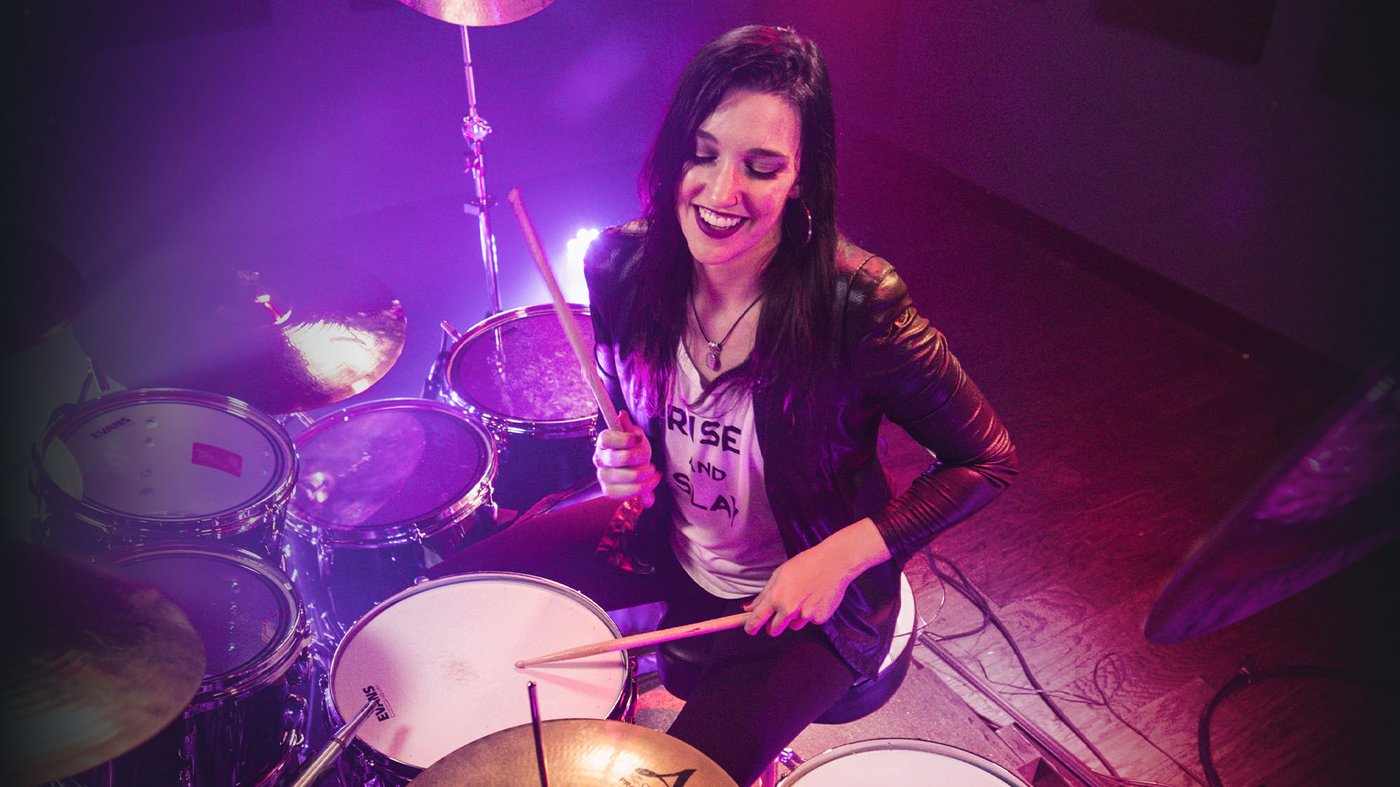 Hannah Welton thinks every drummer should have these 10 funk beats in their arsenal.
You may already know these songs, but have you tried learning them on drums? According to the former Prince drummer, funk has a certain irresistible feel. It emerged during a time in history with political hardships and tension, and you can hear how artists like James Brown used the musical style to make a statement and an impact we can still feel decades later.
Here are 10 of the best funky grooves in the scene:
1. "I Got The Feelin'" – James Brown
In this energetic live version of the James Brown hit, you can "feel the energy oozing through the track." You'll notice the hi-hat barks fall on the upbeats to give the groove some extra spice. Try it at a lower tempo; the slower you play it, the more space you have to fill in with flurries of ghost notes.
The bark placement doesn't need to be exact to how the drummer (Clyde Stubblefield) did it on this recording; make the beat your own and change it up.
2. "I Got You (I feel Good") – James Brown
You know this one. Classic, simple, legendary.
The verse is played with a cross-stick and also features hi-hat barks on the upbeats.
Be sure to use the tip of your stick on top of the hi-hat so your 8th notes are extra crisp.
3. "Flashlight" – Parliament
"So stanky, so funky".
Lay into that hi-hat; it's driving the groove alongside the kick. Use the shoulder of the stick and dig right into the edge of the hats.
Make sure you're playing even strokes (no accents or ghost notes!) – that's your metronome. Lay into the kick to get a solid 1 and 3.
Even though it's a straight-ahead groove, you can throw in the odd ghost note to give it a tiny pickup with the snare – it makes it feel swung for a moment.
4. "Musicology" – Prince
Prince was a funk master. You can't go wrong learning any of his grooves!
Prince's drummer teaches you how to write the perfect drum parts
Hannah Welton is a pro at crafting drum parts that make a song groove. In this Drumeo course, you'll learn how to create a catchy chorus, write a killer drum solo, and support a live band and soloist.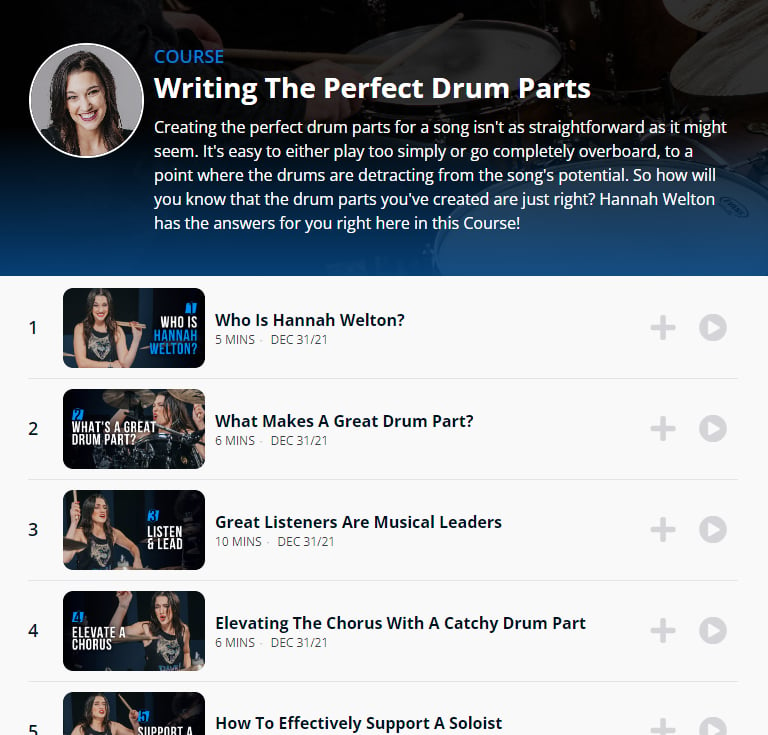 Drumeo is the perfect place to learn at your own pace! If you want to get your funk on (and more), become a Drumeo member today.
5. "Funky Drummer" – James Brown
"Funky Drummer" contains one of the most sampled beats of all time. You've got to know it!
One way to learn a beat like this is to strip it down to the basics. Analyze what the hi-hat is doing first. What's it doing? How does it go together with the kick? What's the snare doing?
Learn each part individually, then combine them all. Hi-hat and kick, then hi-hat and snare, then kick and snare.
If you can get "Funky Drummer" to the point where it's pocketed between a straight and swung feel, you're doing it right. "There's a sweet spot in the middle of those two feels where this groove really shines."
6. "Cold Sweat, Part 1" – James Brown
The first hi-hat accent is on the downbeat in this song. And something interesting to note: funk drummers used to rarely hit the crash at the top of the bar like many modern drummers do now. On old tracks, these players are just grooving.
7. "Jungle Boogie" – Kool & The Gang
Now that's a heavy funk groove! Even though you'll be playing 16th note doubles on the kicks, you don't want those two notes to be too close together. Leave enough space to almost swing them.
You can hear the authenticity on those old funk records. It's clear a real person is playing them; it's not perfect, and it's a little different every time. "Allow yourself to get a little sloppy, so to speak – that's where that real funky feeling comes from."
8. "Thank You (Falettinme Be Mice Elf Agin)" – Sly & The Family Stone
When Hannah Welton was drumming with Prince, Larry Graham of Sly & The Family Stone would often come to Paisley Park (Prince's studio) to jam, often jamming this tune.
Larry is said to have invented the 'slap' style of bass playing, so you know anything from this group is going to be next level on the funky scale.
A similar groove to Prince tracks like "Purple Rain" and "Let's Work", Hannah would put in a bit of a swung kick or a quick ghost note on the snare as she turned the phrase around in "Thank You" – a trick Prince said would give it that extra push.
9. "Use Me" – Bill Withers
Bill Withers may have been more of a soul/R&B artist, but you don't have to be in the funk genre to be funky.
Hannah used to jam this song with Prince, and it features another great cross-stick groove. Make it your own – the drummer doesn't always play this beat the same way every time. Once you understand the basic structure, add your own flavor with hi-hat accents, cross-stick hits and whatever you think feels right.
10. "Jungle Love" – The Time
A similar groove to Prince's "Let's Work", Hannah used to jam this with Prince on stage.
Pay attention to where the upbeat accents on the drums (played by Jellybean Johnson) match the rest of the band.
Can't get enough of the funk? Grab a Drumeo membership for hundreds of hours of courses and videos from:
…and more from Hannah Welton!
SHARE THIS: