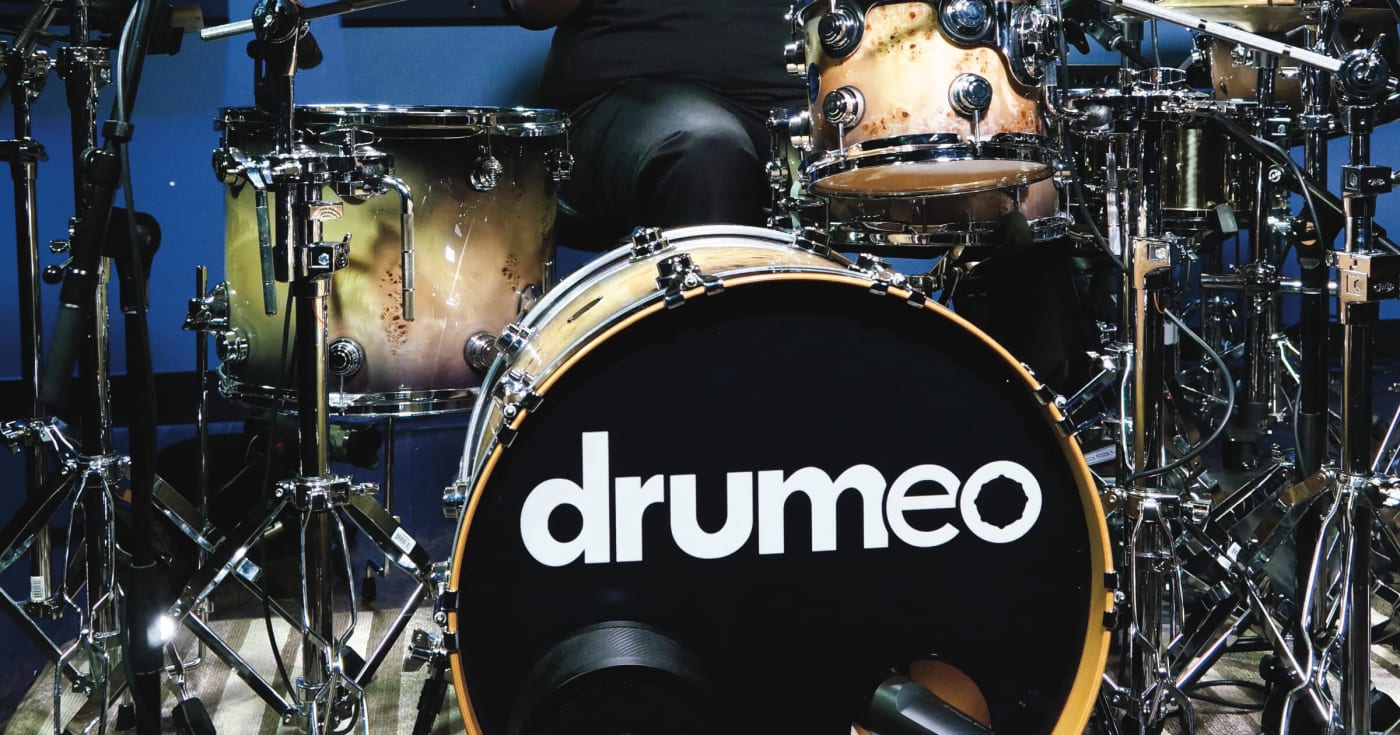 2017 was a great year at Drumeo! We clocked in just over 25 million views across all of our videos. Thank you so much for your support! Here are the top 10 videos we released on our YouTube channel in 2017.
This is just a taste of what we offer in the Drumeo members area. For even more content by the drummers in these videos, check out Drumeo Edge.
---
10. John Wooton: Play Music, Not Rudiments
In this hour-long free lesson, world-renowned marching percussionist John Wooton teaches you how to apply rudiments musically around the drum set. This includes learning several variations of commonly used rudiments, rudiments for articulation purposes, as well as how to use snare drum solos to help you hone in on your technique and musicality at the same time.
You'll see how to break up paradiddle sticking between snare and hi-hat (check out how John plays it over a track at 14:21) and later how to apply flam taps, six stroke rolls, ratamacues, and other versions of rudiments around the entire kit. John emphasizes efficiency, practicality, and working towards being ambidextrous.
He encourages drummers to always be building vocabulary. "Rudiments are a tool, like a hammer or a screwdriver. What kind of house you build with those tools is up to you."
John also discusses the 4 "real" rudiments. Can you guess what they are?
---
9. David Garibaldi: Building Coordination
David Garibaldi has been one of our most highly requested guests, and it's an honor to host him in our studio. He's prepared a lesson jam packed full of knowledge, so download the PDF sheet music and MP3 tracks and buckle up!
David goes over the development of sound levels on the drums (such as stick tip versus shoulder on the hi-hat, and full stroke versus ghost note on the snare), then demonstrates these dynamic voices with accent permutations and paradiddles in a tricky coordination exercise.
You'll learn some of his signature Tower of Power grooves (including the Oakland Stroke) and how to break away from the two and four, plus how important it is to count while learning off-time rhythms.
"Any idea will work…as long as it's in the right context."
---
8. 5 Tips For The Self-Taught Drummer
These days, it seems like more and more drummers are self taught, opting not to take one-on-one drum lessons from a teacher. In his 16 years of playing, Jimmy Rainsford has never had a drum instructor. In this video, he offers five tips for those drummers who have also decided to tackle this instrument solo. In fact, even those who have taken lessons should take Jimmy's advice!
If you feel like you can't get access to a teacher right now (psst: you can get unlimited lessons with Drumeo Edge for less than $20/month), Jimmy elaborates on the following five tips:
1. Play to your favorite music
2. Play with other musicians
3. Play to a metronome
4. Record your playing
5. Listen to all styles of music
---
7. Derek Roddy: The Truth About Developing Speed
One of the most common drumming questions is "how do I develop speed?" As an extreme metal player, Derek Roddy hears it a lot. The typical answer in other styles is to simply start slow and work your way up, but when you're playing fast music, starting slow isn't always the best tactic.
In this full lesson, Derek brings forth some great insights on efficient ways to hit those top speeds, including exercises that give each foot an opportunity to develop.
He covers strategies such as jumping in and pushing through fast songs repeatedly to let your arms and legs adjust to the motions (even if you play sloppily), and developing technique by listening to your body. You'll also learn how positive thinking goes a long way.
---
6. Anika Nilles: Grooves & Fills From Pikalar
It's Anika Nilles' second round at Drumeo (last time we explored quintuplets)! In this lesson, Anika will teach you to play beats and fills from four songs featured in her album, Pikalar.
A master of subdivisions and metric modulations, Anika's skillful approach to writing grooves come through as she covers entire tracks like 'Synergy' and key points from others like 'Orange Leaves.' In this video, you'll learn odd-time patterns in 3/4, 5/4, 5/8 and 7/8, as well as a 4-over-5 groove.
For those hoping to practice this kind of progressive drumming, Anika offers a couple of tips for learning tricky polyrhythms – but you'll have to watch the video to find out more. Click here to download the sheet music.
---
5. Luke Holland's Favorite Drum Beats & Fills
Here's a collection of ten grooves and fills that have become Luke Holland's favorites throughout his drumming career.
From turning paradiddle-diddles into a unique tom-and-splash groove (for his popular YouTube cover of 'Humble' by Kendrick Lamar) to his flashy 'monster fill' from his version of 'Sorry' by Justin Bieber, Luke breaks down how he brings his signature chops and style to drum covers and more.
He goes over funky hi-hat patterns, pulls out his 'go-to beat', and features other excerpts from his own songs, including a full playthrough of 'Retrograde' from his project with guitarist Jason Richardson.
Get the sheet music right here.
---
4. Dennis Chambers: Legendary Tips For Modern Drummers
It's been a long time coming! We've received hundreds, if not thousands of comments from all of you requesting Dennis Chambers to come onto Drumeo. And it finally happened!
This video is a little different from our traditional lessons. We won't be talking about any specific grooves, fills, or exercises; but rather essential tips and concepts that will help you better understand this beloved craft. Dennis covers everything he thinks some modern drummers are lacking these days such as playing in the pocket, having good technique, and overall developing a better understanding on how to serve music.
There are only a few drummers who come to mind who could justify this lesson title. Dennis Chambers is one of them.
---
3. Todd Sucherman: "Sounds & Choices", More Methods & Mechanics
Todd Sucherman packs every second in this full lesson with tips every drummer can apply immediately. From 'going back to basics' and making sure you have a firm grasp on the fundamentals of drumming (while having a loose, natural grasp on the sticks), Todd covers both the mental and physical approach to playing the drums so you can enhance your rhythmic vocabulary.
He emphasizes taking a 'sound-driven' approach to your playing and gives examples of how he adds personality to each song. You'll also learn how to rethink old habits in technique, posture and ergonomics so you play with less effort and strain.
We mean it when we say this lesson will make you rethink what you know, and what you actually apply in your drumming. Todd's body of work and continued growth as a musician (and teacher) have earned him an insurmountable wealth of knowledge, some of which you'll tap into in this video.
"You can't build your building starting on the 10th floor. You have to have your foundation."
---
2. The Most Important Beat I Ever Learned
As we were discussing his lesson material for Drumeo, David began talking about a drum beat that heavily influenced his own playing and was popular amongst drummers in the early 70's: the "King Kong" (created and coined by Pete DePoe).
In this short video, David demonstrates and teaches the groove that inspired his overall sound. He starts by breaking it down with just the hi-hat-to-snare pattern, showing how it shares similar features with the traditional paradiddle before adding the layering and completing the groove.
Give the King Kong a shot, especially if you want to get out of the 8th and 16th note habit.
Download the sheet music here!
---
1. Gavin Harrison: How To Create Amazing Drum Parts
Arguably the most requested drummer by our viewers, Gavin Harrison is here at Drumeo to share his tips and methods for coming up with tasteful drum parts, how to improve your creativity, and the general mindset to have when playing the drums in studio and live environments.
He describes his 'CPU' theory, where your brain is your central processing unit: if you're working at the top of your ability, you have no room left to listen, which will have an effect on what you can play in the moment. Gavin also plays several tracks from his solo project, Cheating the Polygraph, as well as a track from The Pineapple Thief.
In this hour-long lesson, you'll see why it's important to be musical as a drummer, give up your ego, and choose what you feel is right for the song. You'll walk away from this video with a new repertoire of incredible knowledge, so pay attention!
SHARE THIS: