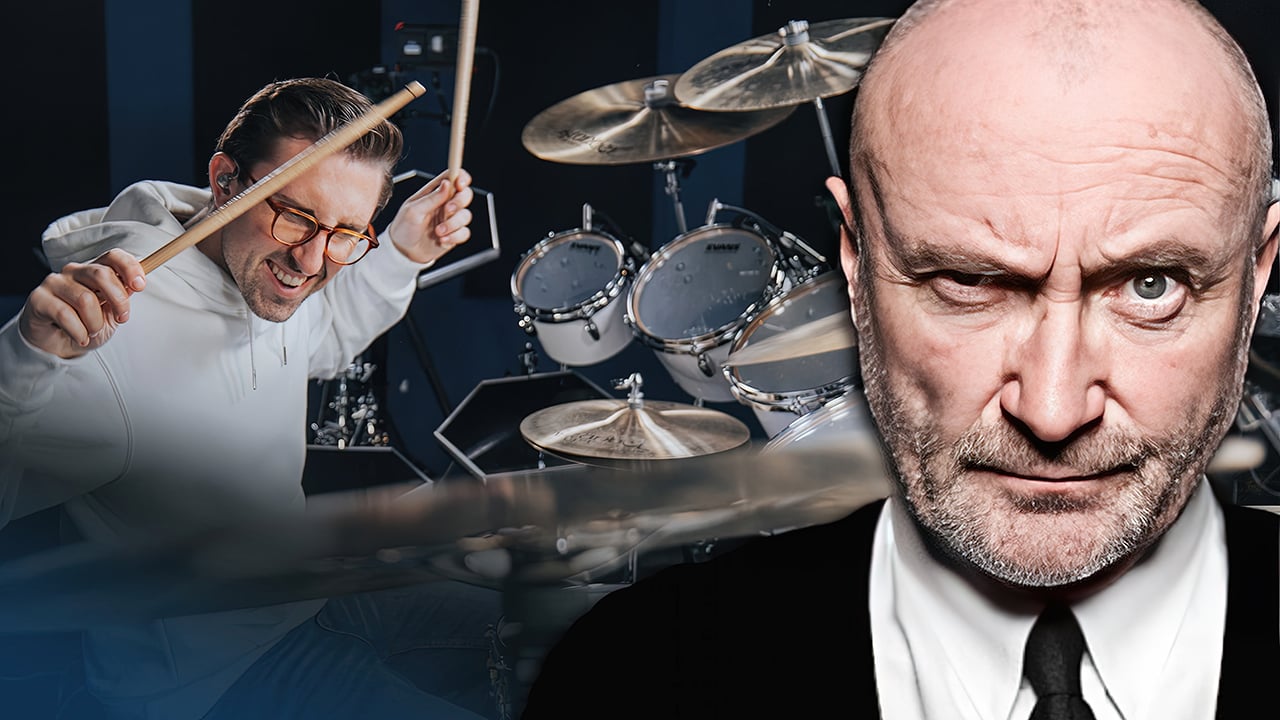 Phil Collins has created an incredible legacy with an impressive body of work, which includes at least one of the most iconic drum fills of all time.
You know the one. And you've been playing it wrong all along.
If you aren't already a fan, buckle up and get ready to change your tune – because in this video, Brandon Toews breaks down 12 iconic drum beats and fills from Genesis, Phil Collins' solo career, and Brand X.
Read: 5 Reasons Why Phil Collins Is A Drumming Genius
(You can find a ton of complete Phil Collins transcriptions and play-along tools in the Drumeo members area. Click here to get a free 7-day trial if you haven't joined Drumeo yet!)
1. "In The Air Tonight" – Phil Collins
Yep – you knew this one would be here. Let's get it out of the way. It's the drum break from Phil Collins' solo album Face Value, and it's probably one of the most air-drummed parts of all time.
Phil told us that most drummers play it wrong without realizing it! There's no kick in between the last tew tom hits. Oops.
2. "Easy Lover" – Philip Bailey & Phil Collins
He teamed up with another Phil – Philip Bailey of Earth Wind & Fire – and it resulted in a hit duet with a cool 8-bar drum intro. Get used to going back and forth between two rack toms and coming back with a flam on the snare.
If you've got the gear, break out the Rototoms at the end.
3. "Watcher Of The Skies" – Genesis
This classic Genesis tune features a 6/4 groove that drives the tune forward. Learn that snare pattern first before you start moving things around, and start slow (especially to nail the four consecutive one-handed strokes).
4. "The Cinema Show" – Genesis
You can find this 7/8 groove in one of the tune's solo sections. Learn this one slowly so you nail the hi-hat opening after beat 6. It sounds awesome at full speed!
5. "Behind The Lines" – Genesis
This part is from the opening track on Genesis' 1980 album Duke. It might sound like it's in odd time, but it's actually in 4/4 – and the crash accent might throw you off. But the unique cymbal work gives it a unique sense of movement.
Our notation is based on the framework of the intro section. Phil builds on this idea more on the actual recording, so give it a listen and play around with it.
6. "Dancing With The Moonlit Knight" – Genesis
A fan favorite, "Dancing With The Moonlit Knight" has a great-sounding, heavy groove in one of the verses near the end of the song. Crash shots, china, open hi-hats and ghost notes…what more could you ask for?
7. "Dance On A Volcano" – Genesis
The opening fills in this song are so cool.
8. "Nuclear Burn" – Brand X
It's tough to play such an intricate groove at full tempo, but it's worth it. You could think of this 11/8 part as a bar of 4/4 followed by a grouping of six 16ths at the end (or two groupings of three 16ths).
9. "Firth Of Fifth" – Genesis
If you like odd time grooves, you'll dig this one. Don't let that bar of 13/16 throw you off!
10. "Supper's Ready" – Genesis
If we had to choose the coolest part from this 23-minute masterpiece, it'd be the section the band calls "Apocalypse In 9/8".
You'll hear Phil adding in some hi-hat footwork on the recording, but it's inconsistent so we didn't notate it here. Feel free to add it in once you've got this down.
11. "Undertow" – Genesis
A classic Phil Collins fill that uses the entire kit!
12. "Second Home By The Sea" – Genesis
We couldn't cover Phil Collins' parts without doing at least one on a Simmons SDSV kit. We set it up as close to Phil's '80s touring configuration as we could.
Here are the Simmons pads we used at Drumeo for this video: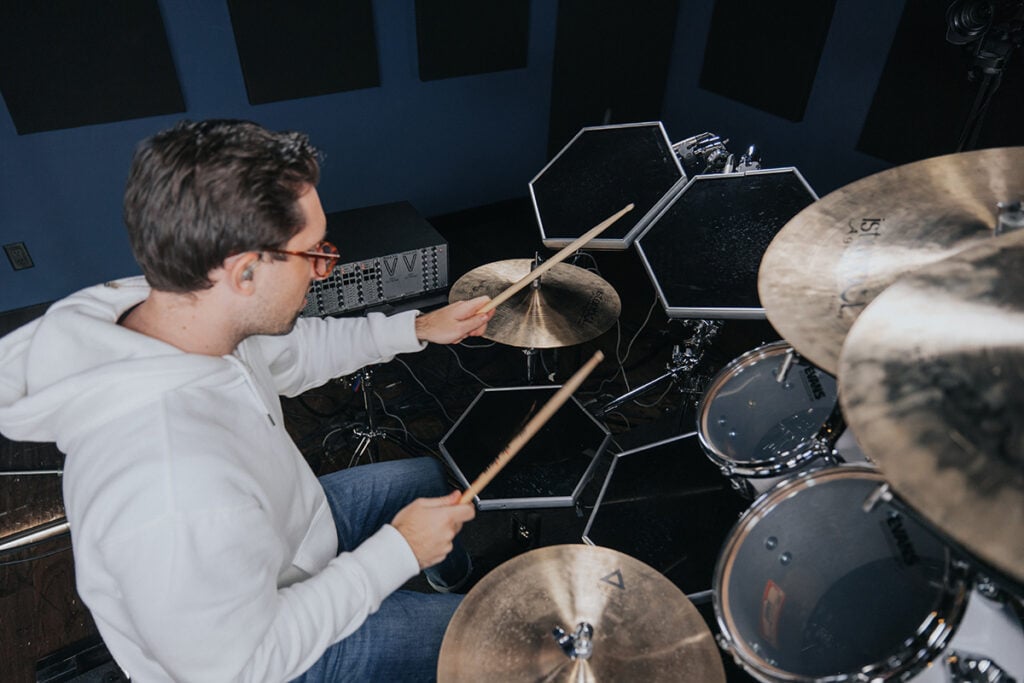 If you're trying this on an electronic kit you can choose the closest sample that emulates that classic Simmons sound.
That concludes this list of iconic Phil Collins drum parts. We think he's one of the top drummers of all time. Do you?
Did we miss any classic grooves or fills? Which one is your favorite?
These are all great parts to learn if you're getting into prog drumming. Don't forget to check out the thousands of drum transcriptions, practice tools and more on Drumeo!
SHARE THIS: