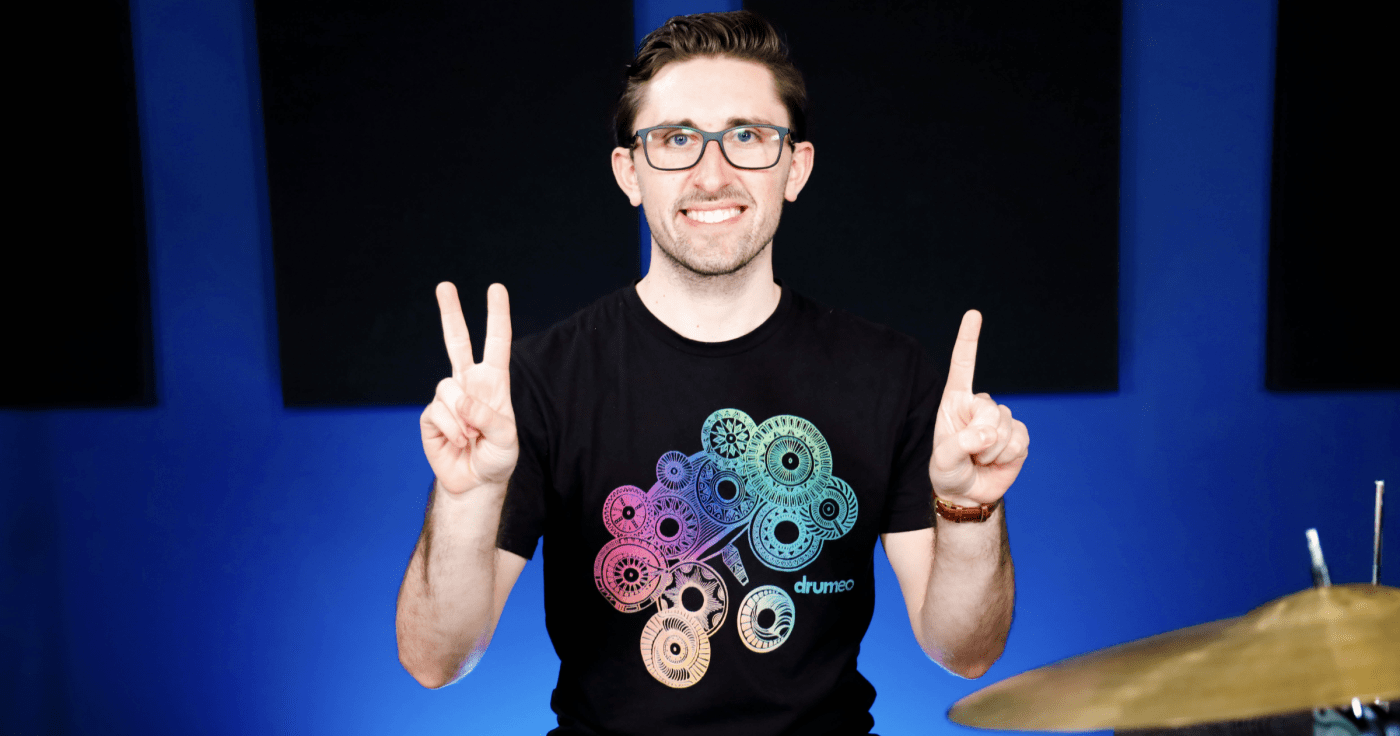 Odd time signatures are a hot topic in the drum community. While classical composers were already writing with odd time signatures in the early 20th century, pop/rock and jazz musicians began incorporating them into their music beginning in the mid-to-late 1950s. Since then, many legendary recordings in odd times have been released and have become household names in the drumming world.
This article will cover 21 Legendary Odd-Time Grooves that every drummer should know. The grooves on this list span nearly five decades and cover styles ranging from alternative rock and soundtrack music to jazz, grunge, and progressive metal.
This list was created by surveying the Drumeo community and other social media communities, and then narrowed down by several pro drummers. See if your favorite grooves made the list as we count down from number 21!
21. "Paranoid Android" – Radiohead
This groove is played by Philip Selway on the song "Paranoid Android", which was released on Radiohead's OK Computer record in 1997. While there is another 7/4 hi-hat groove that Selway plays following the second chorus of the song, this particular ride cymbal groove is featured near the end of the third verse, right before the guitar solo.
20. "Times Like These" – Foo Fighters
Taylor Hawkins played this 7/4 groove during the intro of "Times Like These" which was released on the 2002 Foo Fighters record One By One. This hi-hat groove incorporates a driving 8th note bass drum pattern, consistent backbeats, and two quick snare drum strokes at the end of the groove that reset the pattern.
19. "Heart Of The Sunrise" – Yes
In 1971, Yes released their Fragile record, which became one of their most commercially successful releases. The final track on the album, "Heart Of The Sunrise," is a prog rock classic that features the great Bill Bruford on drums. While the majority of the song is played in 3/4 and 4/4, one of the instrumental sections in the middle of the song features some alternating phrases of 3/4 and 5/8 that incorporate the single paradiddle-diddle.
18. "The Crunge" – Led Zeppelin
John Bonham plays this pattern on Led Zeppelin's "The Crunge" which was released on the record Houses Of The Holy in 1973. This is a groove that will throw you for a loop if you don't pay attention! The song starts off with a short pickup measure, and then kicks right into the main groove which is in 9/8. In classic Bonzo fashion, you'll find some hi-hat openings, quick bass drum doubles, and some tasty ghost notes.
17. "Changes" – Yes
This groove is played by Alan White during the intro of the 1983 Yes classic, "Changes," which was released on their 90125 record. The song opens with a sequenced xylophone pattern, which Alan White programmed on a Fairlight CMI synthesizer, and then it kicks into a repeating two bar snare drum pattern. This groove alternates between 7/8 and 10/8 and outlines the programmed xylophone melody heard during the intro.
16. "Whipping Post" – The Allman Brothers Band
"Whipping Post" is a blues rock classic from The Allman Brothers Band's 1969 self-titled debut record. This track opens with alternating bars of 6/8 and 5/8 (or 11/8 if you combine each two bar phrase) and features both Butch Trucks and "Jaimoe" Johanson playing drums in unison. In the words of Gregg Allman: "I just saw it as three sets of three, and then two to jump on the next three sets with. It was like 1,2,3—1,2,3—1,2,3—1,2. I didn't count it as 1, 2, 3, 4, 5, 6, 7, 8, 9, 10, 11. It was one beat short, but it didn't feel one short because to get back to the triad, you had two steps to go up. You'd really hit those two hard, to accent them, so that would separate the threes".
15. "Them Bones" – Alice In Chains
It's not every day that you hear grunge music played in 7/4. "Them Bones" from Alice In Chains' 1992 hit record Dirt features one of the most iconic 7/4 grooves of all time. This open hi-hat groove is played by Sean Kinney and incorporates three quick bass drum strokes toward the end of the bar along with a displaced snare drum backbeat. According to Alice In Chains' lead guitarist Jerry Cantrell: "Off-time stuff is just more exciting – it takes people by surprise when you shift gears like that before they even know what the hell hit 'em. It's also effective when you slow something down and then slam 'em into the dash. A lot of Alice stuff is written that way – 'Them Bones' is a great off-time song".
14. "Turn It On Again" – Genesis
What's an odd-time list without some Genesis? Drummers who are into prog rock know that the hit song "Turn It On Again" from Genesis' 1980 Duke record is played in 13/4. In the verses, Phil Collins plays this pattern that can be thought of as alternating bars of 6/4 and 7/4 (or 13/4 if you want to combine the measures). When asked about this particular song, Phil Collins explains: "You can't dance to it. You see people trying to dance to it every now and again. They get on the off beat but they don't know why". There's no doubt that a time signature like 13/4 will do that to an audience.
13. "Spoonman" – Soundgarden
In 1994, Soundgarden released their breakthrough album Superunknown. This iconic grunge track in 7/4 (yes, another one!) was originally written for the 1992 comedy film Singles, but didn't make the cut. Unknown to many, the song "Spoonman" was named after a Seattle street performer, Artis the Spoonman, who also performed on the track. Matt Cameron's groove on this song features some heavy flams and low-tuned toms, and outlines the melody of the other instruments perfectly.
12. "Keep It Greasey" – Frank Zappa
Vinnie Colaiuta's masterful drumming on Frank Zappa's 1979 rock opera Joe's Garage is absolutely iconic. There's nothing else quite like it. Colaiuta's groove in the first verse is played in 19/16 and features an 8th note hi-hat pattern, a syncopated bass drum pattern, and some ghost notes at the end of each bar.
11. "Master Of Puppets" – Metallica
The title track off of Metallica's 1986 release Master Of Puppets has become a staple for rock and metal drummers around the world. This song encompasses all things thrash metal and features some complex but iconic drum parts. Lars Ulrich's main groove played during the verses alternates between 4/4 and 13/16 and features two heavy cymbal crashes at the end of each two bar phrase.
10. "Here Comes The Sun" – The Beatles
To any drummer who claims Beatles' music is simple…think again. "Here Comes The Sun" which was released on the 1969 record Abbey Road is full of rhythmic surprises. The bridge section features repeating bars of 11/8, 4/4, and 7/8 (or 11/8 and 15/8 if you group the last two bars together). This iconic drum part is played by drumming legend Ringo Starr.
9. "The Sound Of Muzak" – Porcupine Tree 
Gavin Harrison's opening drum groove on "The Sound Of Muzak" by Porcupine Tree is a favorite among modern drummers. The song was released in 2002 on the album In Absentia and features verses, interludes, and a guitar solo section in 7/4. Gavin Harrison's drum groove features quarter note accents played on the hi-hats, a five stroke roll near the end of each measure, and a 7/16 polymetric figure outlined by the bass drum and snare drum.
8. "Seven Days" – Sting
Vinnie Colaiuta strikes again with another famous drum part from Sting's "Seven Days". This song is played in 5/4 and was released in 1993 on Sting's album Ten Summoner's Tales. Vinnie's unmistakable hi-hat groove creates a unique over-the-barline feel because of the accent placement but also outlines the downbeat of each bar with a single bass drum stroke.
7. "The Ocean" – Led Zeppelin
"The Ocean" is another Led Zeppelin classic from 1973's Houses Of The Holy that incorporates some odd time signatures like 7/8. According to vocalist Robert Plant, "The Ocean" refers to a "sea of heads in the auditoriums" that Zeppelin played in. This track also features another memorable Bonham groove loaded with ghost notes and syncopation.
6. "YYZ" – Rush
One of Rush's most popular songs is "YYZ" from the 1981 album Moving Pictures. The 5/4 rhythm heard during the intro is Morse Code for YYZ—the airport identification code of Toronto Pearson International Airport. The band chose to interpret the Morse Code rhythm using 8th notes (dashes) and 16th notes (dots). After the brief intro where the rhythm is first heard, Neil Peart enters with this extremely syncopated hi-hat groove to outline the Morse Code rhythm.
5. "Schism" – Tool
In 2001, progressive metal pioneers Tool released their album Lateralus with Danny Carey on drums. While there are many different odd-time tracks on this record, it was a no-brainer to include the song "Schism". The most iconic odd-time drum groove from this track alternates between 5/8 and 7/8 (or simply two bars of 12/8 if you think in longer phrases) and is featured during the intro and verse sections of the song.
4. "Money" – Pink Floyd
The opening track on side two of Pink Floyd's The Dark Side Of The Moon starts with a seven beat sound effect tape loop that establishes the 7/4 time signature. The loop incorporates different money-related sound effects like clinking coins, a ringing cash register, tearing paper, and a few other effects. Once the time is established along with the melody, drummer Nick Mason enters with this quarter note-based groove played with a swing feel.
3. "Take Five" – Dave Brubeck Quartet
In 1959, Dave Brubeck released Time Out with his quartet which featured jazz drumming legend Joe Morello on drums. His composition "Take Five" became one of the best-selling jazz singles of all time. The opening 5/4 pattern that Morello plays features the standard jazz ride cymbal pattern (with one extra quarter note added), a bass drum stroke played on the downbeat of beat one, and some 8th note triplet comping ideas on the snare drum.
2. "Tom Sawyer" – Rush
"Tom Sawyer" is undoubtedly Rush's most famous song, and it's considered a progressive rock masterpiece. Like "YYZ," it was released in 1981 on their Moving Pictures record and features drumming legend Neil Peart on the kit. The 7/8 synthesizer interlude in the middle of the song features one of Neil's most iconic odd-time grooves. The pattern is two bars long and features strategically placed hi-hat openings in each bar that accentuate the synthesizer melody.
1. "Theme From Mission: Impossible" – Lalo Schifrin
The original Mission: Impossible theme, which was recorded in 1967, is at the top of our list of legendary odd-time grooves. Over the years, many different versions of the theme were recorded with different drummers, but the original recording featuring prolific session drummer Earl Palmer is the version worth checking out. His driving ride cymbal groove outlines the 5/4 Mission: Impossible melody and rhythm with the cross-stick pattern and it features a strong downbeat with the bass drum at the start of each bar.
That concludes our list of 21 Legendary Odd-Time Grooves! What do you think? Are there other grooves that you think should've made the list?
Did you know that Drumeo members get full note-for-note transcriptions of each song (and over 1000 other songs)? If you want to dive deeper into these legendary odd-time songs, click here!
SHARE THIS: