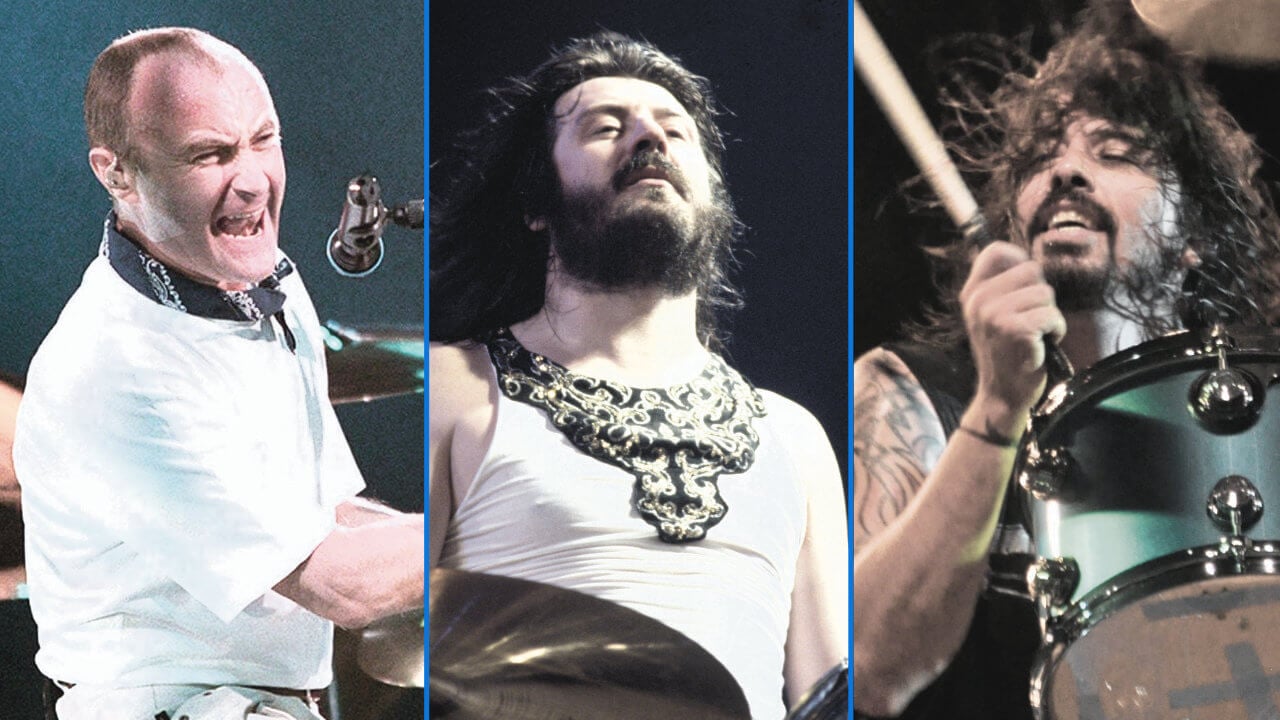 What songs do you always find yourself air drumming? What would you consider are some of the most iconic drum fills of all time?
We asked the community for their favorites, and this list is the result!
(Click here to download a PDF with all the fills and time codes)
1. "In The Air Tonight" – Phil Collins – 96 BPM
Drummer: Phil Collins
Even non-drummers know how to air-drum this one bar fill! Based on a simple 16th note feel, it's notated for five toms but you can adapt it for two or three.

2. "Wipeout" – The Surfaris – 130 BPM
Drummer: David Raven
If you're over 40, you'd likely recognize this song as soon as the drums start – even if you aren't a drummer. The rhythmic melody is instantly recognizable. Pay attention to where the accents fall. (Bonus: Click here to watch this song played in an ice rink!)

3. "Rock With You" – Michael Jackson – 114 BPM
Drummer: John "JR" Robinson

4. "Africa" – Toto – 100 BPM
Drummer: Jeff Porcaro
The list wouldn't be complete without this anthemic, air-drummable fill, which comes in around 1:07-1:17 in the song.


5. "No One Knows" – Queens of the Stone Age – 170 BPM
Drummer: Dave Grohl
It was tough to choose just one fill for this song, so we ran the whole gauntlet between 1:11-1:34. Work that triplet feel. Check out the note-for-note transcription of this song in Drumeo!






6. "Everlong" – Foo Fighters – 158 BPM
Drummer: Taylor Hawkins
This recognizable fill uses the snare as an anchor point.





Drummer: Dave Grohl
This is probably one of the most air-drummed fills of the last 30 years. Remember that every snare note is flammed.

8. "Life Is A Highway" – Tom Cochrane – 103 BPM
Drummer: Mickey Curry
In this short intro fill, the hi-hat starts on the and of 2.


9. "Back In Black" – AC/DC – 92 BPM
Drummer: Phil Rudd
It's hard to not overplay! Keep it meat and potatoes.


10. "In Bloom" – Nirvana – 79 BPM
Drummer: Dave Grohl
Simple and memorable, once you learn the one bar, you're basically good to go for the rest of the song.



11. "Whole Lotta Love" – Led Zeppelin – 84 BPM
Drummer: John Bonham
Bonzo had an instantly recognizable sound, and that includes his drum fills. We chose the two bar fill that happens around 3:52. It sounds simple, but when you break it down, the orchestration is a bit more challenging than you think.


12. "Good Times Bad Times" – Led Zeppelin – 95 BPM
Drummer: John Bonham
Don't forget the cowbell!



13. "Take The Money And Run" – Steve Miller Band – 123 BPM
Drummer: Gary Mallaber


14. "Come Together" – The Beatles – 88 BPM
Drummer: Ringo Starr
Pay attention to the sticking, and deaden the drums if you want to get that 'authentic' Ringo sound.


15. "Uprising" – Muse – 128 BPM
Drummer: Dominic Howard
Check out this anthemic flam-based fill at 3:33.


16. "Where Eagles Dare" – Iron Maiden – 226 BPM
Drummer: Nicko McBrain
It's the fill right at the beginning of the tune.


17. "Creep" – Radiohead – 88 BPM
Drummer: Philip Selway
The fill happens at 2:42. On count 3 of the second bar, there's a group of 16th note triplets and 8th note triplets.


What do you think? Did we miss anything?
SHARE THIS: