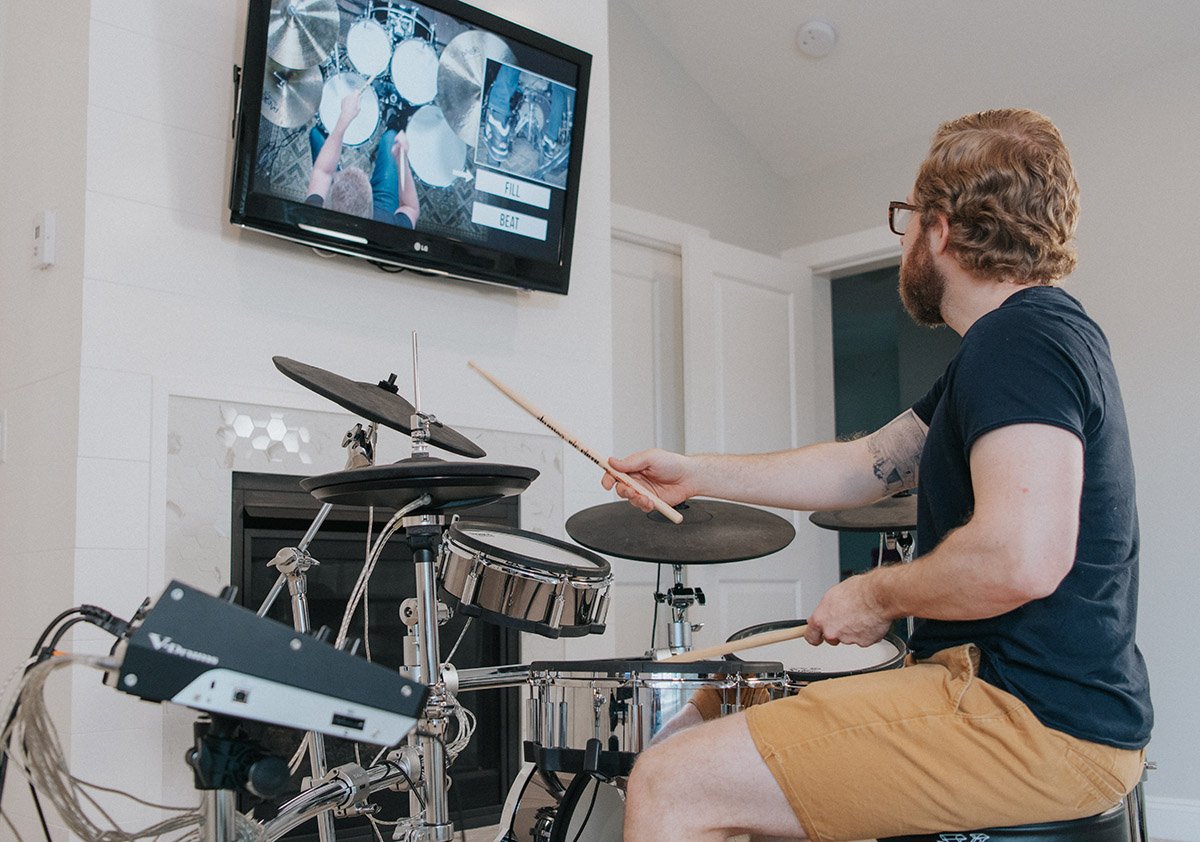 Practicing drums and going to the gym have a ton in common:
It can be fun when you're in the zone.
It takes discipline and repetition to see progress.
Progress feels awesome.
It can take time to get into a regular routine.
Sometimes you'd rather sit on the couch than getting sweaty and repeating the same thing over and over. But you need to do it to see results.
It's more fun to do it with a partner.
Studies say working out with other people helps you exercise for longer and more consistently. So why not apply this idea to the drums?
Even if you don't have another drummer in the room next to you, a drumming workout video can make it feel like you aren't alone. It can get you playing longer and even help you 'trick yourself' into practicing if you aren't feeling motivated.
Most drum videos require you to first watch quietly, then jump on your kit afterwards.
But like an exercise video, drum workout videos have you following along with an instructor as they walk you through the motions and encourage you to keep going. The lesson is the practice!
Here are three workouts to play along with (on your pad or kit):
4. BONUS: The '30-Day Drummer' Challenge (with Domino Santantonio)
If you struggle with consistency or can't seem to get motivated to play the drums every day, this is the perfect excuse to sign up for 30-Day Drummer – a guided workout program with a fun instructor that'll have you playing along every day for an entire month.
Hosted by Domino Santantonio (known for her energetic TikTok pop covers and positive personality), each daily lesson is just 10 minutes long and will help you improve your timing, feel, endurance and more.
The schedule is flexible, so as long as you put in the 10 minutes at some point each day, you'll be able to check it off!
When you sign up for 30-Day Drummer, you'll:
Get a free practice pad ($79 value) and drumsticks if you sign up by Feb. 20 – no drum set required!
Get access to a platform where you can connect with other drummers in the program and share your progress
Get weekly live Q&A sessions with Domino
Build better practice habits
Improve your timing
Boost your creativity
Play more musically
30-Day Drummer runs from February 27 to March 27, 2023. It's designed for beginners, but even advanced players who want to get back on the daily practice train will find it fun and inspiring.
For just $97, you'll get to join the program and have lifetime access to these videos. So down the road, if you feel yourself falling out of the routine, you can jump right back in. It costs less than private lessons and you're guaranteed to be a better drummer at the end of the month.
Set aside 10 minutes a day in your calendar and get ready to become a better drummer. Over 8000 drummers participated in the last 30-Day Drummer program. What are you waiting for? Registration ends soon!
SHARE THIS: