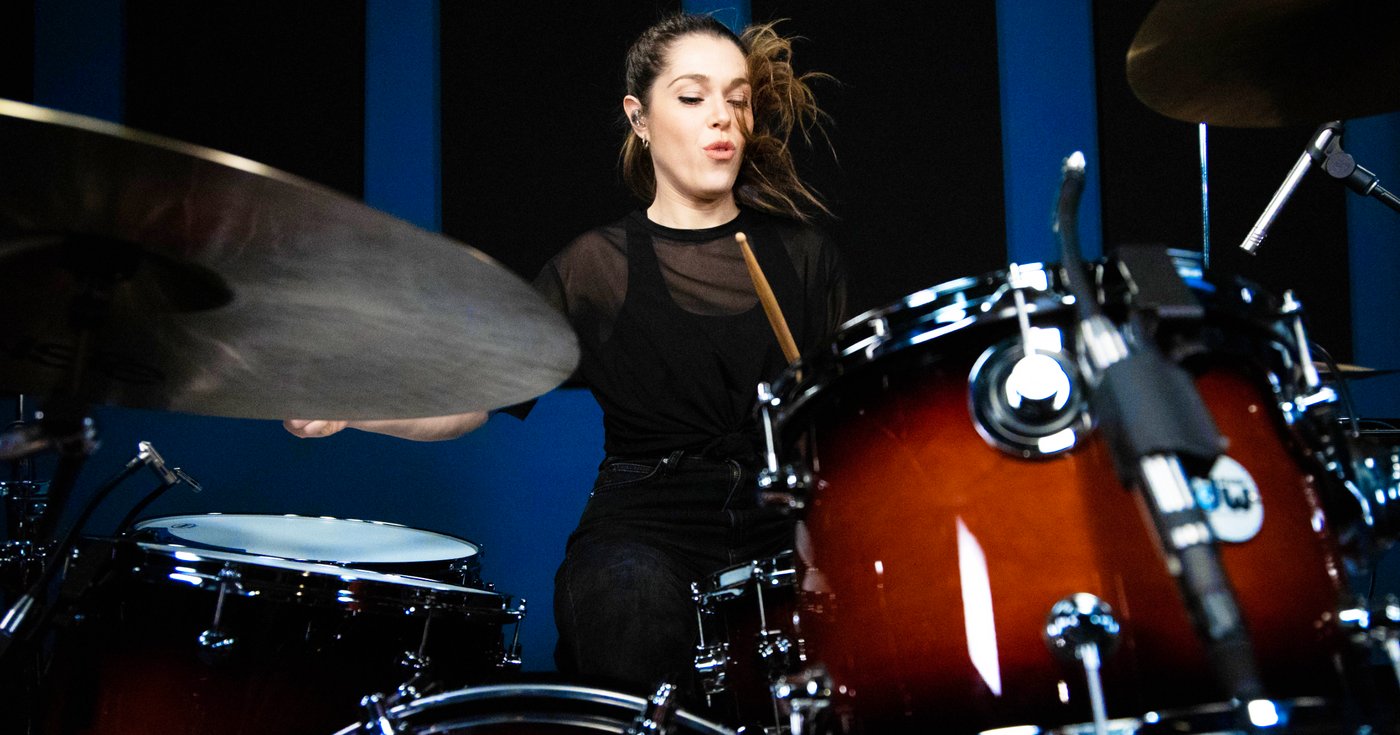 In a short period of time, Domino Santantonio has become one of TikTok's most popular drummers, with over half a million followers and counting. Her fresh takes on today's hottest pop songs – and her entertaining playing style – have propelled her to the top of the social media game. Before she got stuck in lockdown, she was also drumming with popular Quebec artist Roxane Bruneau.
This lesson on becoming a modern pop drummer focuses on two concepts: how to creatively translate electronic pop beats onto an acoustic drum kit without losing the essence of the song, and how to leverage social media as a modern drummer.
You'll learn how Domino went viral (by covering trending songs on TikTok), how to choose the right songs when you're making cover videos, why you shouldn't be afraid of social media, and more.
Lesson Index:
0:00 – SONG: "Roses" by SAINt JHN (Imanbek Remix)
3:14 – Introduction
6:30 – How to be a modern drummer
10:30 – Reproducing electronic beats on acoustic drums
19:55 – The importance of social media
25:40 – How to boost your social media presence
30:13 – SONG: "Des P'tits Bouts De Toi" by Roxane Bruneau
34:33 – Tips to stay relevant as a drummer
41:09 – SONG: "Don't Start Now" by Dua Lipa
If you liked this lesson, check out Domino's full course 'The Modern Pop Drummer', coming this spring for Drumeo Edge members. Click here to join!
About Domino:
Domino Santantonio is a professional touring and studio drummer who was known primarily for her work with Quebec artist Roxane Bruneau until she became a viral sensation on TikTok. After publishing a 15-second drum cover of Shakira's "Hips Don't Lie", she received millions of views in just a few hours and now has over half a million followers on that platform alone.
Domino Plays:
Paiste Cymbals
Vic Firth Drumsticks
Follow Domino:
TikTok
Instagram
YouTube
Website
SHARE THIS: