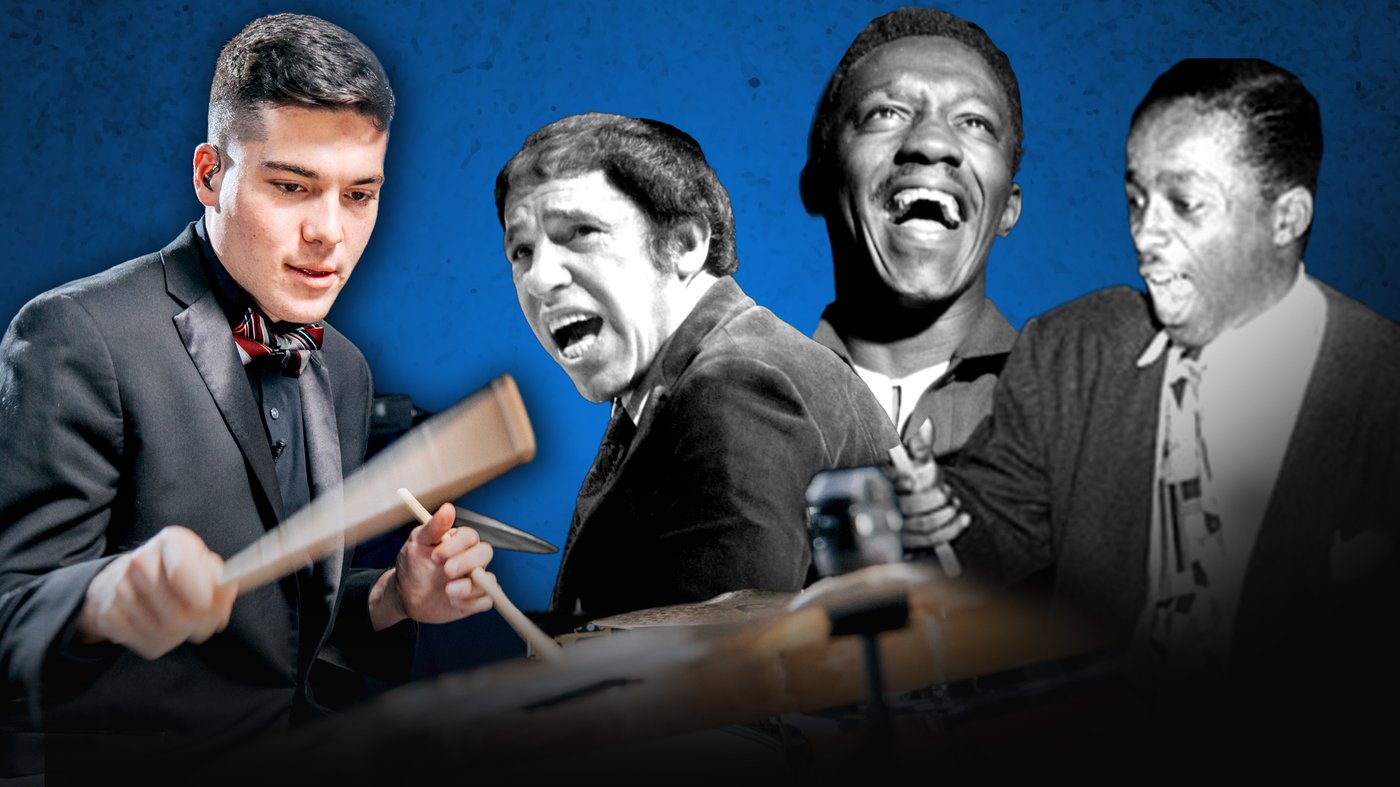 People are always comparing Greyson Nekrutman to legendary Big Band drummers. And it makes sense, because these are the drummers he's studied for years.
We are what we eat, as they say.
While Greyson has taken care to build on the concepts he's borrowed from the legends, in this video he talks about his major influences and who inspires him while he develops his own sound.
(Check out Greyson's 14-video course, "Big Band Drumming", available for Drumeo members – and available for you, too, with a free 7-day trial!)
1. Louie Bellson
Bellson was known for playing double stroke rolls on the snare while changing it up with accents. He'd keep time on his two bass drums while his hands performed in a frenzy.
Greyson also credits Tommy Igoe's lessons for helping him make sure his double strokes are consistent.
2. Buddy Rich
Rich would use his left hand to keep the flow during a drum solo, connecting the notes and staying consistent on the snare drum while his right hand would move around the kit.
► Watch: How To Drum Like Buddy Rich
► Watch: 5 Impossible Buddy Rich Licks
3. Sonny Payne
One thing Greyson loves about Sonny Payne is how he'd play a phrase on the drums and repeat that same phrase on the cymbals – like trading back and forth with himself.
4/5. "Papa" Jo Jones & Sam Woodyard
Papa Jo and Sam Woodyard would often mute a drum with their elbow or drumstick, which not only added an interesting visual element but also unique dynamics to their playing.
6. Art Blakey
A master of showmanship, Blakey would play crossovers on the drums, which also made certain patterns and melodies easier to play.
If you want to play jazz and Big Band music like Greyson – or even if you don't – you should try to incorporate these examples into your own playing.
But don't just steal them note for note; make them your own and expand on these ideas.
Every drummer should watch videos or listen to songs and pause on the parts that make you say "what the heck". Look at the drummers who came before you and learn from them – the same way most of them learned from drummers who came before them.
SHARE THIS: