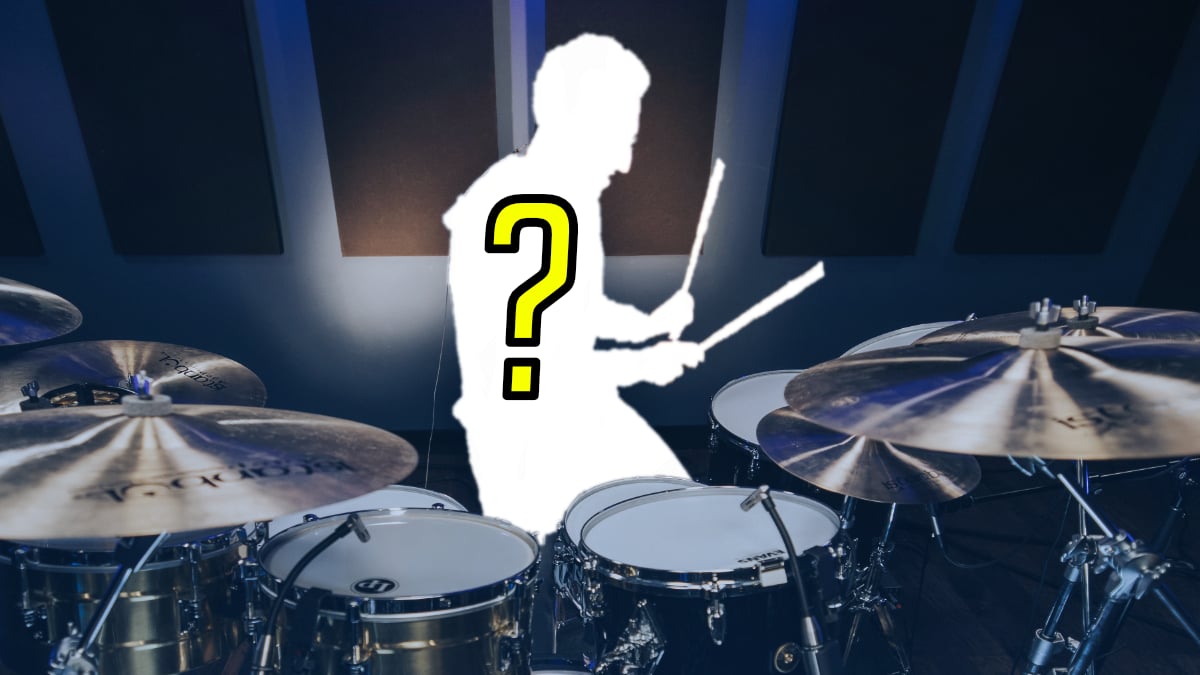 Who actually played Animal's drum solo when he faced off against Buddy Rich?
Who drummed on the theme songs to your favorite childhood TV shows?
These 12 drummers have played on some of the biggest hits of the past 60 years, but most people don't know their name. We're here to change that!
Let's kick it off with number 12:
12. Hal Blaine
Hal Blaine was one of the most important drummers in rock and roll history, and definitely one of the most recorded. He belonged to a Los Angeles-based group of session musicians called "The Wrecking Crew" – a name which he coined.
Blaine recorded on over 35,000 sessions and 6,000 singles – over 150 which made it to the top 10 in the US. Blaine was actually known to stamp all of his charts with "Hal Blaine Strikes Again" which seems fitting considering he played on so many sessions.
From The Beach Boys, Frank Sinatra, and Simon & Garfunkel to John Denver, Diana Ross, and The 5th Dimension, he did it all. Not only did he perform with artists, but he was also a regular session musician in the TV and film industry, recording soundtracks for classic shows like The Brady Bunch and Batman.
Blaine is one of the few drummers on our list who is widely recognized in the music industry as one of the greats. He was inducted into the Rock and Roll Hall of Fame in 2000 and he received a Grammy Lifetime Achievement Award in 2018. 
11. Al Jackson Jr.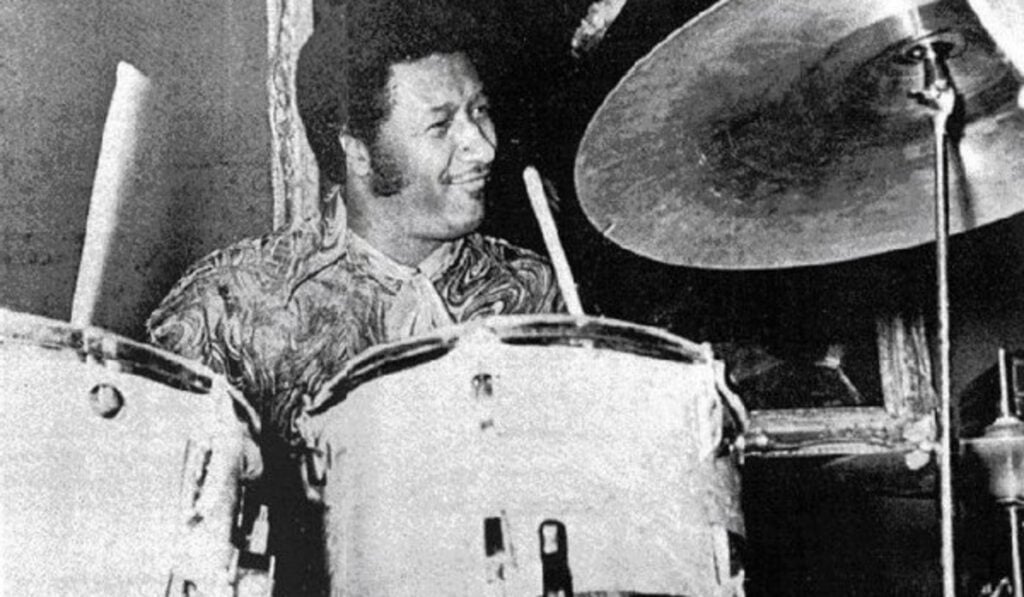 Known as "The Human Timekeeper", Al Jackson Jr. was one of the founding members of Booker T. & The M.G.s – a group of session musicians who made up the house band for Stax Records in Memphis Tennessee starting in the early 60s. They also released their own instrumental music during the 60s and 70s.
Between his sessions at Stax and Hi Records, Jackson backed some of the biggest names in music like Rufus Thomas, Otis Redding, Wilson Pickett, Sam & Dave, Eddie Floyd, and so many others. His drumming became synonymous with the sound of Memphis soul in the 60s and 70s, but that wasn't all. Jackson was also a brilliant producer and writer who worked with artists like Al Green and Albert King, among many others.
Since his tragic death in 1975, Al Jackson Jr. has been inducted into the Rock and Roll Hall of Fame and the Memphis Music Hall of Fame.
10. Benny Benjamin, Richard Allen & Uriel Jones
Sometimes the best things come in threes! These drummers worked with The Funk Brothers – the in-house band at Motown Records. These drummers were Benny Benjamin, Richard "Pistol" Allen, and Uriel Jones. Each drummer had their own unique flavor, but together they helped define the sound of Motown along with The Funk Brothers and all of the artists they recorded with.
From 1961 to 1972, these three drummers recorded on over 100 US R&B #1 singles and over 50 US Pop #1 hits. For example:
Sometimes they would even record two drummers on the same track, panned left and right in the stereo mix – like on the recording of "Ain't No Mountain High Enough" with Marvin Gaye and Tammi Terrell.
Because Benjamin, Allen, and Jones were hired as part of the in-house band, the only credit they received back then was for being part of The Funk Brothers. Individual session players were never credited.
Along with The Funk Brothers, these three drummers received Grammy Lifetime Achievement Awards in 2004 and were inducted into the Musicians Hall of Fame and Museum in 2007.
9. Buddy Harman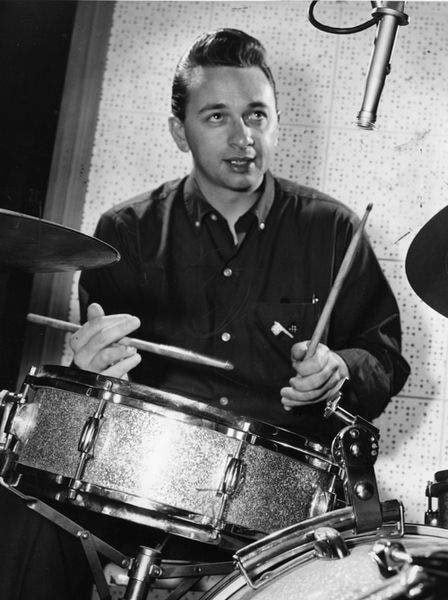 Harman basically invented country drumming. He was the first official house drummer for the Grand Ole Opry in the late 50s, even though he had to set up his drums behind a curtain because at this point, drums still weren't widely accepted in the country music scene.
The drummer on hits like "Oh Pretty Woman", "Little Sister", "Ring of Fire", "The Battle Of New Orleans" and "Bye Bye Love", Harman was a member of the Nashville A-Team – a group of session musicians during the 50s, 60s, and 70s. Over the course of his career, he played on over 18,000 recordings. 
From Elvis Presley, Roy Orbison, and Patsy Cline to Jerry Lee Lewis, Johnny Cash, and The Everly Brothers, Buddy Harman is the drummer that music fans have been listening to for nearly 70 years, but his name still goes under the radar.
8. Roger Hawkins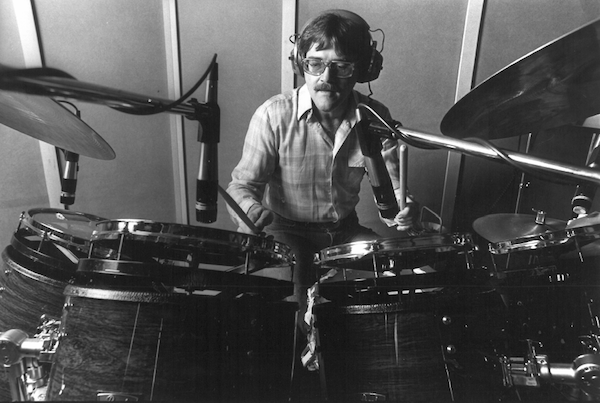 The Muscle Shoals rhythm section (also known as "The Swampers") were one of the top studio house bands in the 60s, 70s, and 80s. They played on hundreds of recordings and dozens of gold and platinum hits. Without their drummer – Roger Hawkins – songs like "Respect", "Mustang Sally", "When A Man Loves A Woman", and I'll Take You There" wouldn't be what they are.
These are some of the biggest hit songs of our time and Hawkins is laying down the grooves on all of them.
He had an extensive and impressive resume. From working with Eric Clapton, Albert King, and Traffic to Aretha Franklin, Wilson Pickett, and Paul Simon, he left a body of work that drummers will continue to study for years to come. 
7. Jerry Granelli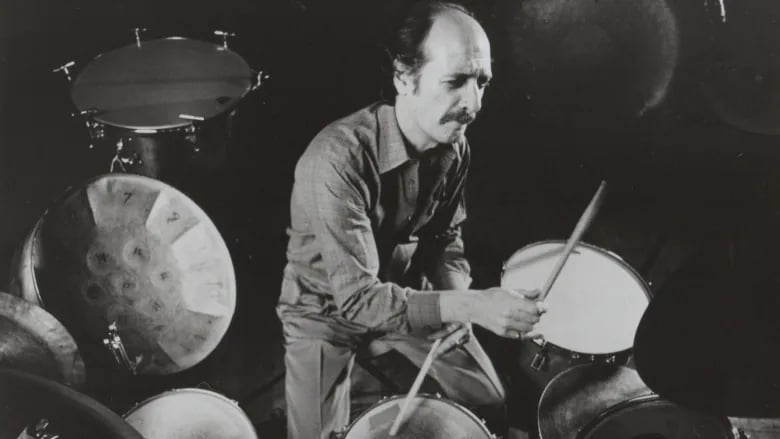 This Canadian jazz drummer played on one of the most famous Christmas albums ever released: A Charlie Brown Christmas. 
Featuring classics like "Christmas Time Is Here" and "Linus And Lucy," this soundtrack showcases Granelli's brilliant trio playing with the Vince Guaraldi Trio, even though it wasn't until years later when the full trio was credited.
The record went on to be inducted into the Grammy Hall Of Fame and added to the National Recording Registry, and has been certified quadruple platinum for album sales.
6. Buddy Saltzman
Buddy Saltzman was an American session drummer in the 50s, 60s, and 70s. He's rarely mentioned, despite some of the chart topping songs he played drums on. Hits like "I'm A Believer" by The Monkees, "The Loco-Motion" by Little Eva, "My Way" by Frank Sinatra, and "Dawn (Go Away)" by The Four Seasons all feature Saltzman's drumming.
With a resume like that, it makes complete sense why he had to hire three phone services and a manager to keep track of his session bookings.
Saltzman was known for his strong timekeeping abilities and a unique style which featured around the kit tom fills, lots of ghost notes and accents, and little to no cymbal hits!
5. Frankie Capp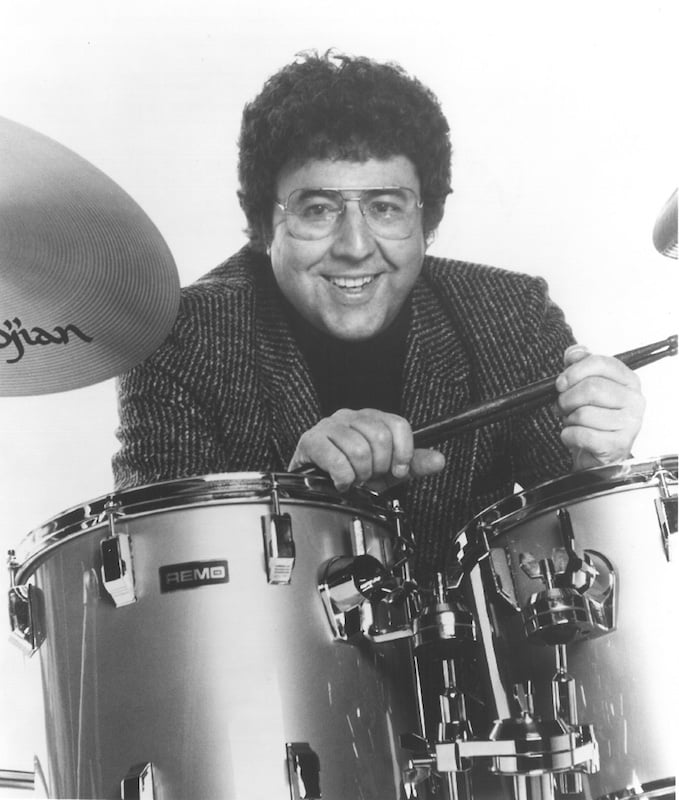 Who else was working in LA with Hal Blaine and his circle of session players? That was Frankie Capp, who played most of the percussion parts with the Wrecking Crew. Capp was primarily a drum set player, however – and one of the most versatile in the industry.
From working with Stan Kenton and Benny Goodman to Phil Spector and Harry James, Frankie Capp did it all. Classical, Big Band jazz, rock, soundtracks, you name it. He worked extensively in the film and television world performing on shows like Green Acres, The Steve Allen Show, The Flintstones, The Jetsons, and many others. Most wouldn't know it, but the drumming of Frankie Capp was being heard in homes all around the world for decades – especially in the 60s and 70s.
When Capp was asked why he's not more well-known, this was his response:
"The thing is, I got buried in the studios. After I came to California in 1953, I did nothing but play drums for a living until around 1980. By that time all the studio gigs were being given to drummers who played rock or had electronic drums. I wanted to stay in the music business – I didn't want to start selling insurance – so I started contracting for a lot of the leaders I worked for."
4. Bobby Rawsthorne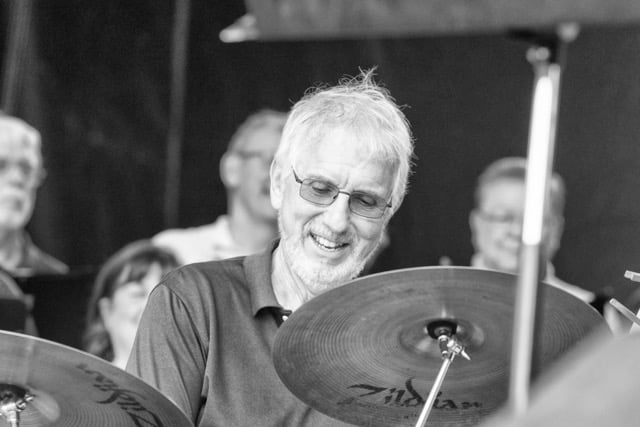 Do you remember the live band from the show Mr. Rogers Neighborhood? Even if you do, you've probably never heard the name of the drummer. His name is Bobby Rawsthorne: a drummer who performed on TV for millions of viewers of all ages.
He joined musical director Johnny Costa on the show back in 1968 and was a part of the show until 2001 when it stopped airing. He was even a featured guest on multiple episodes throughout his career. While little information can be found on Bobby Rawsthorne, he is still releasing music with the trio from the show to this day.
3. Tony Meehan
Also known as "The Baron", he was the drummer in the British rock band The Shadows from 1959 to 1961. You've probably never heard of Tony Meehan, but you've definitely heard the 1960 recording of the song "Apache" that Tony played drums on.
If you've ever seen a western movie, then you've heard this track, and probably more than a few times. The Shadows went on to become one of the most successful bands in the UK and they were a major influence on other bands like Queen, Pink Floyd, Black Sabbath, Deep Purple, and The Police.
Even though Meehan's drumming career with the Shadows was short lived, he went on to do more session and production work beginning in the mid-60s.
2. Steve Little
Drumming with Duke Ellington, playing timpani with Weather Report, and playing drums on Sesame Street? That's right. That's right. This drummer had quite the variety of gigs as a drummer and percussionist.
Little was a session musician who worked for "Children's Television Workshop" from the late 60s to the late 80s. He played on shows like The Electric Company and 3-2-1 Contact, but his biggest claim to fame was performing in the house band on Sesame Street – the popular kids show that has been watched by over 80 million viewers in the US since it started airing in 1969.
In addition to this, he played on Broadway shows like The Wiz, played a ton of jazz sessions, and still continues to perform in clubs around New York to this day.
1. Ronnie Verrell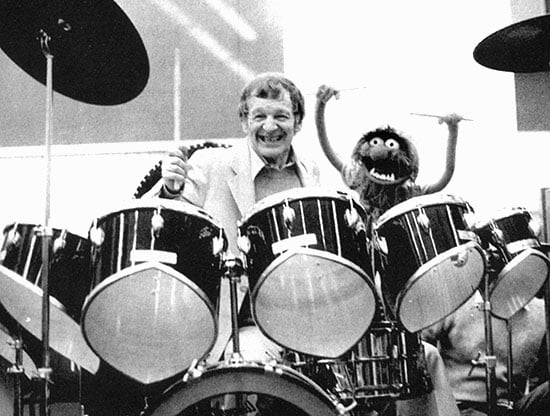 If you're like millions of other drummers out there, chances are you've seen the famous drum battle between Buddy Rich and Animal from The Muppet Show which premiered on February 15, 1981. But have you ever wondered who actually recorded Animal's drum solo? That drummer was Ronnie Verrell, the man behind all of Animal's drumming on The Muppet Show.
Ronnie Verrell was an English jazz musician born in 1926 who worked with two of England's most famous big bands: the Syd Lawrence Orchestra and the Ted Heath Orchestra. Throughout his career, he also performed with other high-profile musicians like Nat King Cole, Shirley Bassey, Tony Bennet, and Tom Jones, and recorded soundtracks for British TV shows like The Avengers, Captain Scarlett, and Thunderbirds.
The drum battle between Buddy Rich and Animal was a big moment for Verrell because he was up against one of his drumming heroes. But according to Rich in a 1981 interview, the admiration was mutual. He explained, "To play opposite Ronnie Verrell, one of my all-time favorite drummers, was a total gas to me. That one week will go down as one of the most positive weeks in my career."
Verrell passed away in 2002 and is remembered as a "driving band drummer," an "exciting soloist," and for his "rare combination of craftsmanship and bravura showmanship."
Are you familiar with any of these drummers, or were they all new to you? Who else belongs on this list?
SHARE THIS: