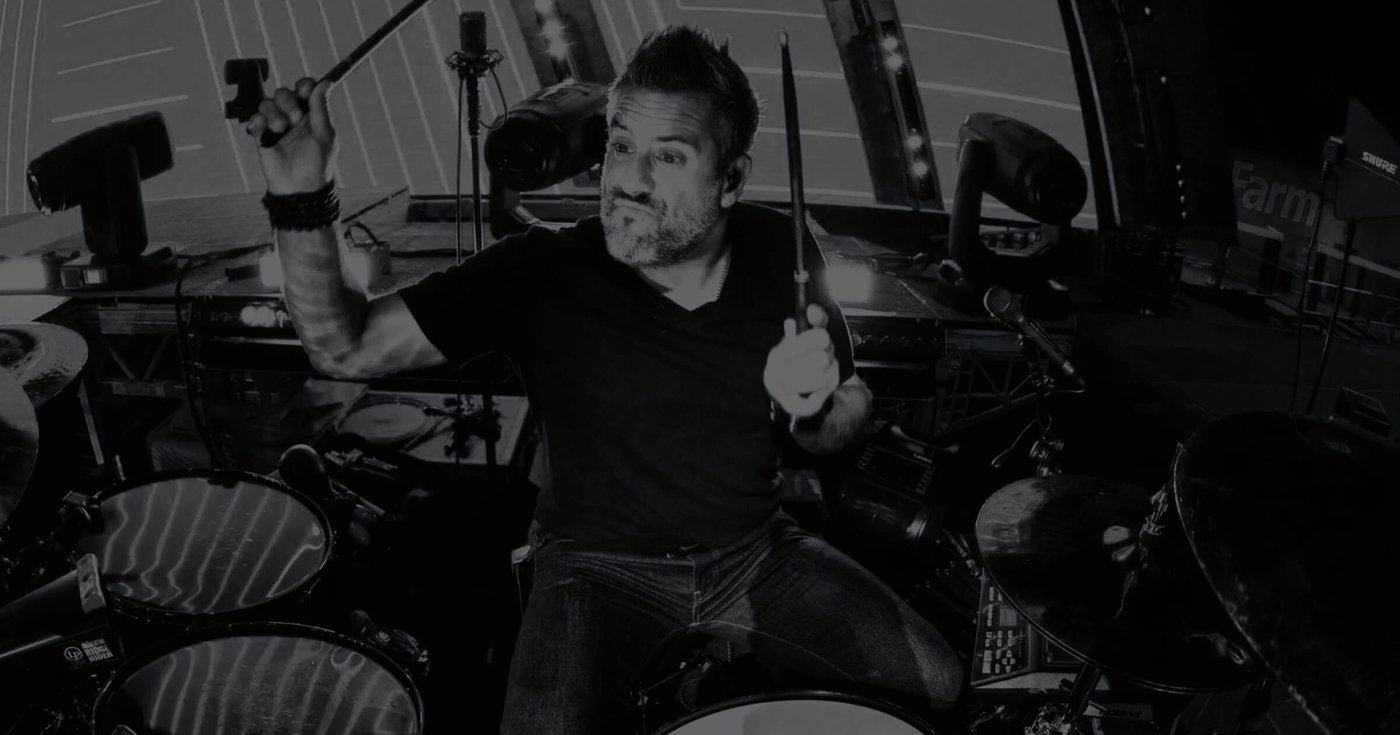 This is an excerpt from The Drummer's Toolbox: The Ultimate Guide To Learning 101 Drumming Styles. The book goes into even more detail about country drumming!

---
Country: A brief introduction to the genre
Country music originated in the southern United States in the 1920s. During its formation, the style was heavily influenced by folk and blues music. Country music didn't feature drummers until the mid-1930s and early 1940s – and even then, they often weren't allowed on stage because they were too loud. Drummers often had to play behind a curtain (especially in iconic venues like the Grand Ole Opry in Nashville, Tennessee) so the audience wouldn't see them. But by the 1960s, drummers were finally considered a regular and important part of the country music sound.
It's undeniably one of the most popular genres of music in the world today. That means every drummer should know how to play country music in order to say yes to that cover band gig, recording session, or nationwide tour. Learning how to play country music will also help you develop tons of new drumming vocabulary.
Country is often upbeat and energetic and incorporates elements of rock, jazz, and blues drumming. In fact, many of the grooves used in country music could be played interchangeably in these other genres. While each style of country music can feature slightly different instrumentation, it often incorporates fiddles, banjos, mandolins, acoustic and electric guitars, steel guitar, upright or electric bass, and drums. It's the era and specific style that determines the instrumentation.
Many subgenres of country music have emerged over the years including bluegrass, Western swing, rockabilly, country pop, country rock, and outlaw country.
---
The Fundamentals
One of the most commonly used drum beats in country music is the train beat, which is meant to emulate the sound of a moving train. Train beats can be heard on early Johnny Cash recordings from the 1960s and even on modern country recordings by artists like Brad Paisley and Jason Aldean. Here's what a train beat looks like.

Here are two other train beat variations with different accent patterns.

Country drummers will often play train beats with brushes as well. Once you've got the hang of it, try playing the train beats with brushes instead of drumsticks!
In country music, drummers are often heard playing "money beats". These are called money beats because they are heard on countless recordings. The drummers that can play these drum beats get paid! Here are three of the most common money beats that appear in countless country recordings: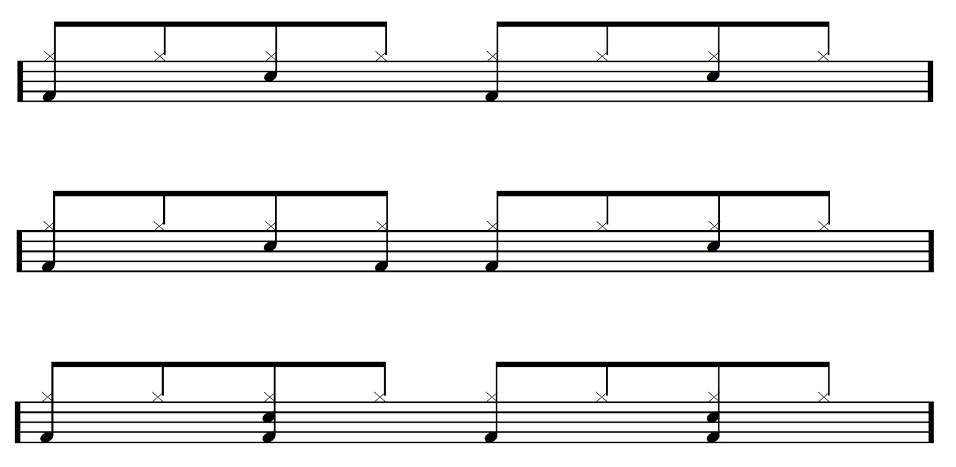 Cross-sticking is commonly used in country ballads and in the verses of many country songs. To play a cross-stick, start by placing the tip of your drumstick against the drumhead on the side of the snare drum closest to the hi-hats. Then, lay the stick down so that the butt end is resting on the rim of the snare drum. The tip should be a few inches away from the rim on the side of the drum closest to the hi-hats. Next, keep the tip of the drumstick pressed against the drumhead as you lift up the butt end of the stick. Then, force the stick downwards to play the cross-stick!
Here are two examples that can be heard in country music:

The Equipment
In modern country music, drummers will often use the same drum sets that are used in rock and pop music. They will consist of a bass drum (22"-24"), one or two rack toms (10"-13"), one or two floor toms (14"-16"), and a snare drum (14"). Country drummers will also often use deep snare drums that have a depth of 6"-8". Because country drummers often use larger drum sizes, their drums are generally tuned low.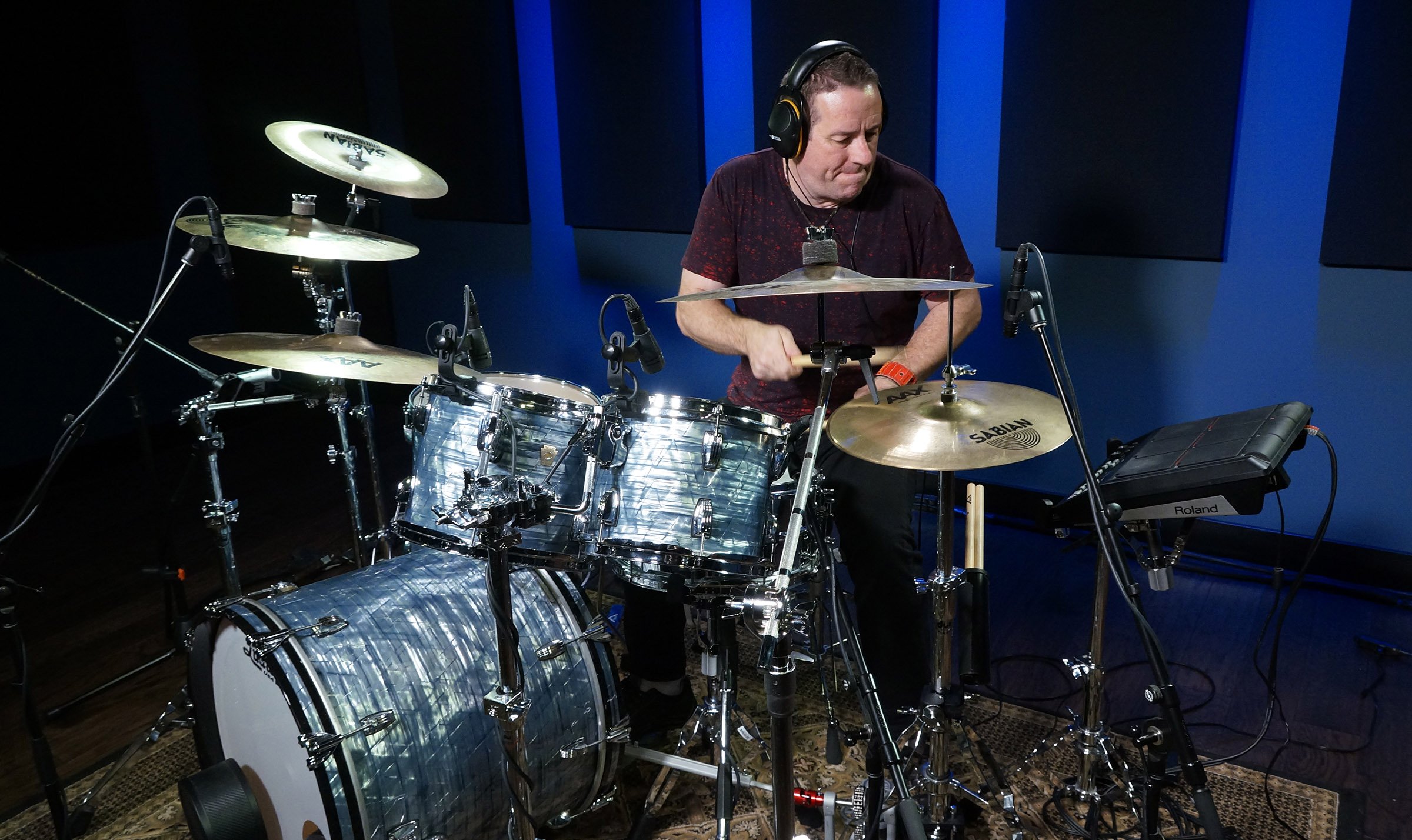 A standard cymbal setup for playing country consists of a pair of hi-hats (14"-15"), a variety of crash cymbals (18"-20"), and a ride cymbal (20"-22"). Cymbals that are used for playing country music are often large and "washy". Some drummers will even use a large, thin crash cymbal instead of a ride cymbal.
Both coated and clear drumheads are used for playing country music. The choice will depend on which specific sound the drummer is looking for.
These days, country drumming shares many similarities with pop and rock drumming. Check out the equipment section in "A Drummer's Guide To Rock" for examples of products that will work well when playing country music.
---
The Greats
Here is a list of ten drummers that have had a significant impact on country music. They have all performed with some of the genre's most iconic names during their careers. You can click on each name to watch a performance by each drummer!
---
The Records
Here are fifteen essential country albums that every drummer should check out. This list includes a mix of classic country albums as well as modern country albums.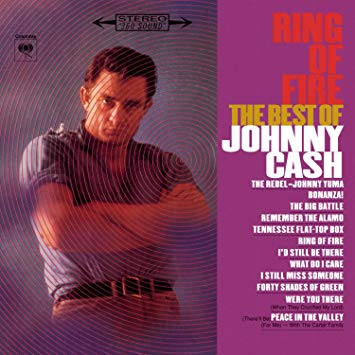 Johnny Cash
"Ring of Fire: The Best of Johnny Cash" (1963)
Drummer: Buddy Harman, Morris Palmer, W.S. Holland, Irving Kluger, Michael Kazak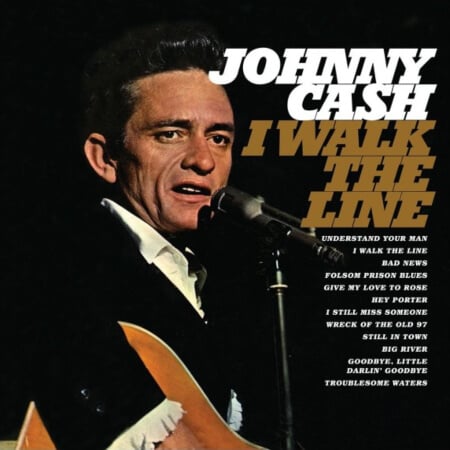 Johnny Cash
"I Walk the Line" (1964)
Drummer: W.S. Holland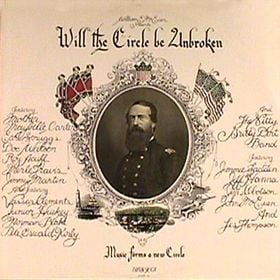 Nitty Gritty Dirt Band
"Will the Circle Be Unbroken" (1972)
Drummer: Jimmie Fadden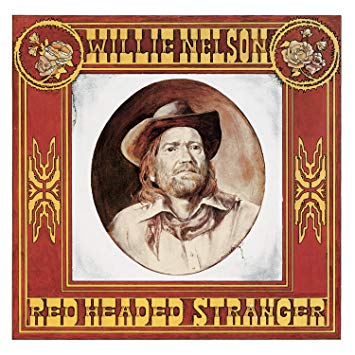 Willie Nelson
"Red Headed Stranger" (1975)
Drummer: Paul English, Billy English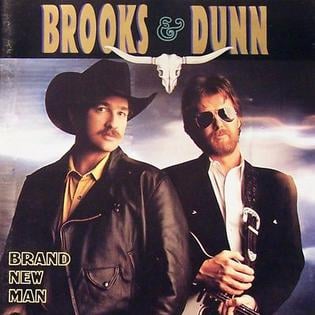 Brooks & Dunn
"Brand New Man" (1991)
Drummer: Lonnie Wilson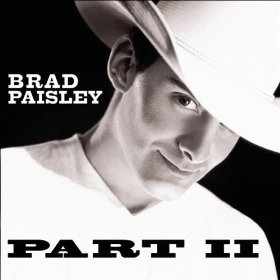 Brad Paisley
"Part II" (2001)
Drummer: Eddie Bayers, Ben Sesar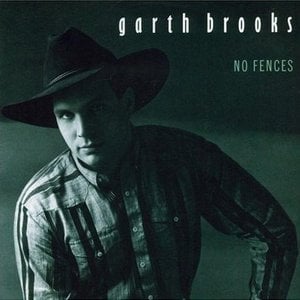 Garth Brooks
"No Fences" (2005)
Drummer: Mike Palmer, Milton Sledge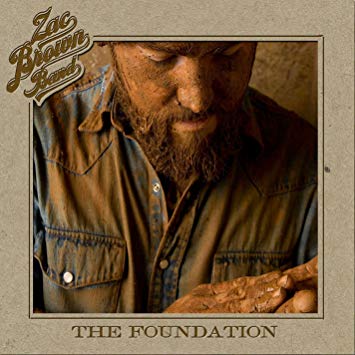 Zac Brown Band
"The Foundation" (2005)
Drummer: Chris Fryar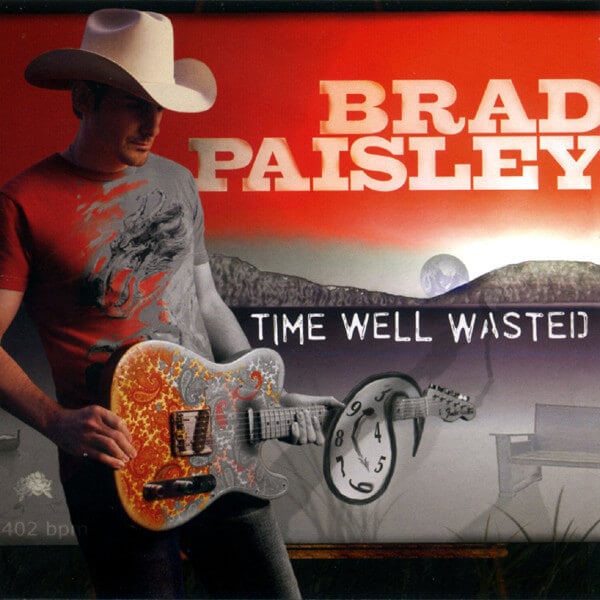 Brad Paisley
"Time Well Wasted" (2005)
Drummer: Ben Sesar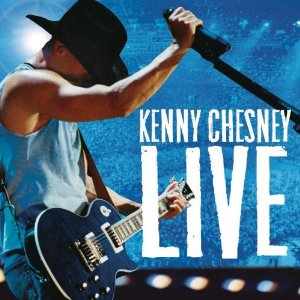 Kenny Chesney
"Live: Live Those Songs Again" (2006)
Drummer: Sean Paddock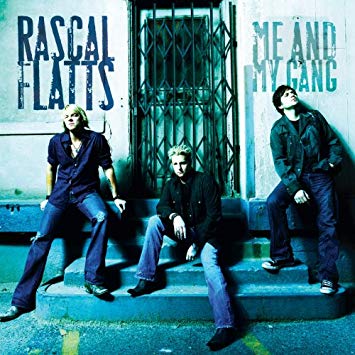 Rascal Flatts
"Me and My Gang" (2006)
Drummer: Jim Riley, Chris McHugh, Lonnie Wilson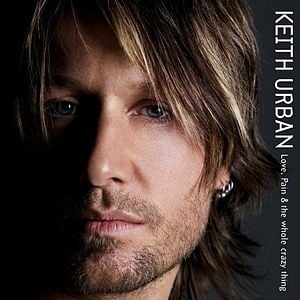 Keith Urban
"Love, Pain & the Whole Crazy Thing" (2006)
Drummer: Chris McHugh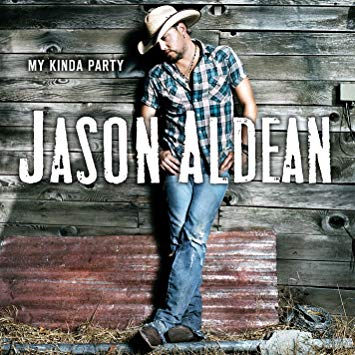 Jason Aldean
"My Kinda Party" (2010)
Drummer: Rich Redmond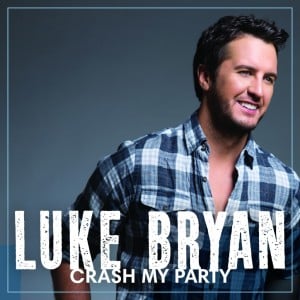 Luke Bryan
"Crash My Party" (2013)
Drummer: Shannon Forrest, Greg Morrow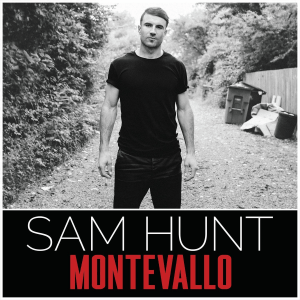 Sam Hunt
"Montevallo" (2014)
Drummer: Chad Cromwell, Fred Eltringham, Ian Fitchuk, Chris McHugh, Joshua Sales
---
Country Listening List
Enjoy this playlist that features tracks from the country style and its subgenres.
Wow! You made it to the end!
Even though it's the end of the article, it's not the end of the great content we have available. If you want to become the best drummer you can be, check out Drumeo.
We bring in the world's best drummers to teach you how to play the drums.
160+ step-by-step courses
2000+ on-demand lessons
230+ play-along songs
90+ song breakdowns
20 different genres of music
Live lessons every week
Student plans and reviews
Helpful community forums
Includes song breakdowns for:
Jason Aldean – She's Country
Darius Rucker – Homegrown Honey
Creedence Clearwater Revival – Proud Mary
Drumeo exclusive courses by:
Rich Redmond
Jim Riley
Ben Sesar
Mike Michalkow
SHARE THIS: