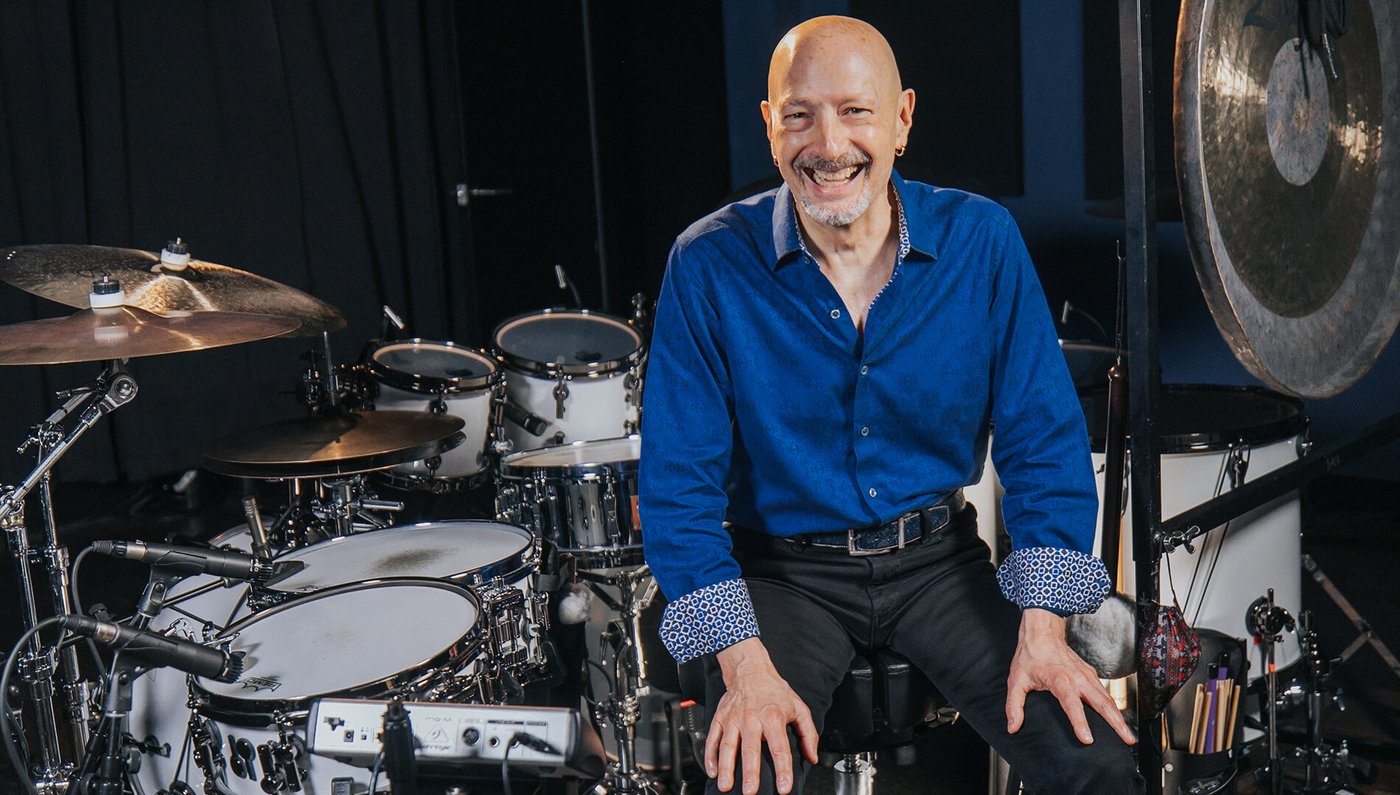 [Note: Steve Smith compiled these notes to clarify his ideas before filming his new Drumeo course, The Art Of Drum Soloing. He was happy to share his tips with you, the reader. To access his video course, get a free 7-day trial to Drumeo here!)
---
There are many ways to play a drum solo and many types of drum solos. For Drumeo, I decided to focus on the five most common ways that I play drum solos:
Playing solo drums is making music by yourself. Play the drums during a solo as you would play drums when accompanying other musicians. Vary your dynamics; don't only play loud and fast. Stay relaxed and in control of your technique, which usually requires not playing hard (which can tighten up your muscles and result in a loss of control).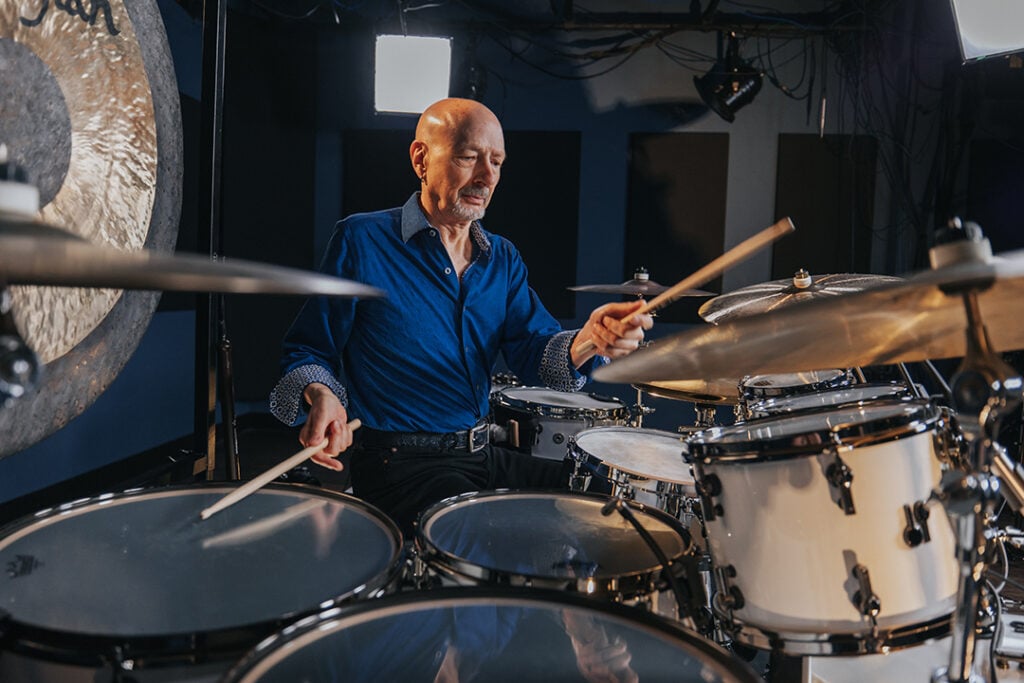 Leave space, breathe, play with clarity and play phrases. Phrasing is playing an idea and then taking a breath and leaving space. Because I've played with a lot of horn players, I've gotten used to the idea of needing to breathe and leaving natural spaces while playing.
Certain instruments require that you blow into them; for example, the saxophone, trumpet, trombone, and of course, the human voice. Some instruments – like drums, bass, piano and guitar – you can keep playing without ever stopping.
Breathing in between ideas is a key to phrasing. Follow one idea with the next logical idea, which is improvising and telling a story. 
Here are five types of drum solos, with examples:
1. Open solo as part of a song or a "drum feature"
When I played a solo with Journey, I usually soloed on the song "La Do Da." That song has a shuffle feel and a certain tempo, but the solo was open. I took on the challenge of keeping the tempo consistent throughout the main body of the solo. I allowed myself to change feels, or use metric modulations, but everything I played would relate to the original tempo. The solo would come back to the original tempo and shuffle feel in the end. I would play half time, double time, or play off of the triplet.
I think people can relate to the solo more when my playing is related to the original tempo, even if they don't understand what I'm doing. But even in that context, I am still playing eight and sixteen bar phrases, which creates a sense of form and structure.
I usually consider the room, or the space I'm in, while soloing. With Journey I was playing in large halls with a lot of natural reverb. I would take that into consideration and play with that reverb, leaving space, allowing the drums to resonate and play with a lot of clarity. The sound and tuning of the drums is also a factor.
I tended to play more toms and bass drum in the big halls as well because of the PA systems and how that low-end hit the audience. When you listen to my "La Do Da" solo from 1980, what makes it a rock solo and not a jazz solo?
The ideas and phrasing for much of the solo is right out of be-bop jazz vocabulary. What makes it "rock" is the big sound of the drums, the setting, or environment, of "The Big Rock Show," and the attitude with which I'm playing.
A lot of the ideas I was playing in the late 70s and early 80s were directly influenced by the lessons I had with Alan Dawson when I was a student at The Berklee College of Music. Alan was one of the greatest drum soloists ever. Watch some of his solos when he was playing with Sonny Rollins and Dave Brubeck. He took the ideas of Art Blakey, Max Roach and Philly Joe Jones to a higher technical level but he was not  recognized in his time in the same way those other players were.
Alan was a refined player and an incredible soloist. 
I considered the audience too. In a large hall I painted with broad strokes, which to me is clarity, but I didn't play down to the audience. I witnessed Zakir Hussain play incredibly virtuosic tabla solos night after night when I was on tour with his group called The Masters of Percussion. The people in the audience generally didn't know what he was playing. In fact, most musicians in the group, including myself, didn't understand what he was playing, but the audience responded in an overwhelming way.
To me it was reminiscent of watching a piano virtuoso playing a concert, or ice skaters at the Olympics. I may not understand the nuances of figure skating or solo piano playing, but when I witness excellence and virtuosity, it's inspiring. 
Examples of an open solo as part of a song or a "drum feature":
2. Unaccompanied (stand-alone) drum set pieces
Base your solo on a melodic theme or a melodic-rhythmic motif. Develop the theme. Build on that theme with variation and motivic development. Vary the dynamics. 
You can use a groove as a theme and play a solo that is like a song (e.g. a verse groove plus a "chorus" or "hook"). That is part of my "La Do Da" solo: I use the floor tom shuffle groove as a theme or hook. I could use that theme and play that solo as a stand-alone solo. 
A way to get started with a solo is to start with rhythm and then add melody. You can also start from a melody, but I'll start here with rhythm.
For example, that rhythm could be a paradiddle. A paradiddle is a rhythm with a built-in melody. A good example is what I call "A.T. Paradiddles." The jazz drummer Art Taylor sometimes played paradiddles with the right stick on a rack tom and the left stick on the snare; then he would move the right stick to a floor tom. With his approach you can clearly hear the melody of the paradiddle.
Examples of stand-alone drum solos:
3. Soloing over a vamp
A "vamp" is a part of a song that is a repeated phrase, or repeated riff. When soloing over a vamp, internalize the vamp, keep it in your mind as you play and listen closely to the band playing the vamp. When your solo is over you cue the band to move to the next section of the song. This is a very common type of soloing in jazz-rock-fusion and Latin music.
Examples of soloing over a vamp:
4. Soloing over the form of a song
When soloing over the form of a song, sing the melody, or the chord sequence, to yourself as you play. With this type of solo, you are keeping the tempo and form of the song going.
This is one of the most challenging ways to solo. You need to be very clear of the form of the song, and the form will give you a structure to work with. 
Examples of soloing over the form of a song: 
5. Impressionistic free-form soloing  
Free-form solos are often played out of time, but they can also be played in time or moving between the two.
This type of solo can be thematic or not. Free-form soloing may serve as an intro to a song or a segue  between songs. This can be an opportunity to play in a way that is different from your role as an  accompanist, where generally you must play at a set tempo.
This type of solo could be included in the "unaccompanied (stand-alone) drum set pieces" section, but I like addressing impressionistic free-form soloing as its own separate entity. 
Examples of impressionistic free-form solos: 
I have recorded a drum set solo album called The Fabric of Rhythm. I will soon release the album as a download on my website and I will make it available for streaming. There are 14 stand-alone solos on the 44-minute album. 
The album is currently available as a download when you buy my Modern Drummer book called Legends Vol. 7 (you can find it here). There are dozens of my drum solos on my YouTube channel as well.  
Enjoy making music by yourself! 
SHARE THIS: