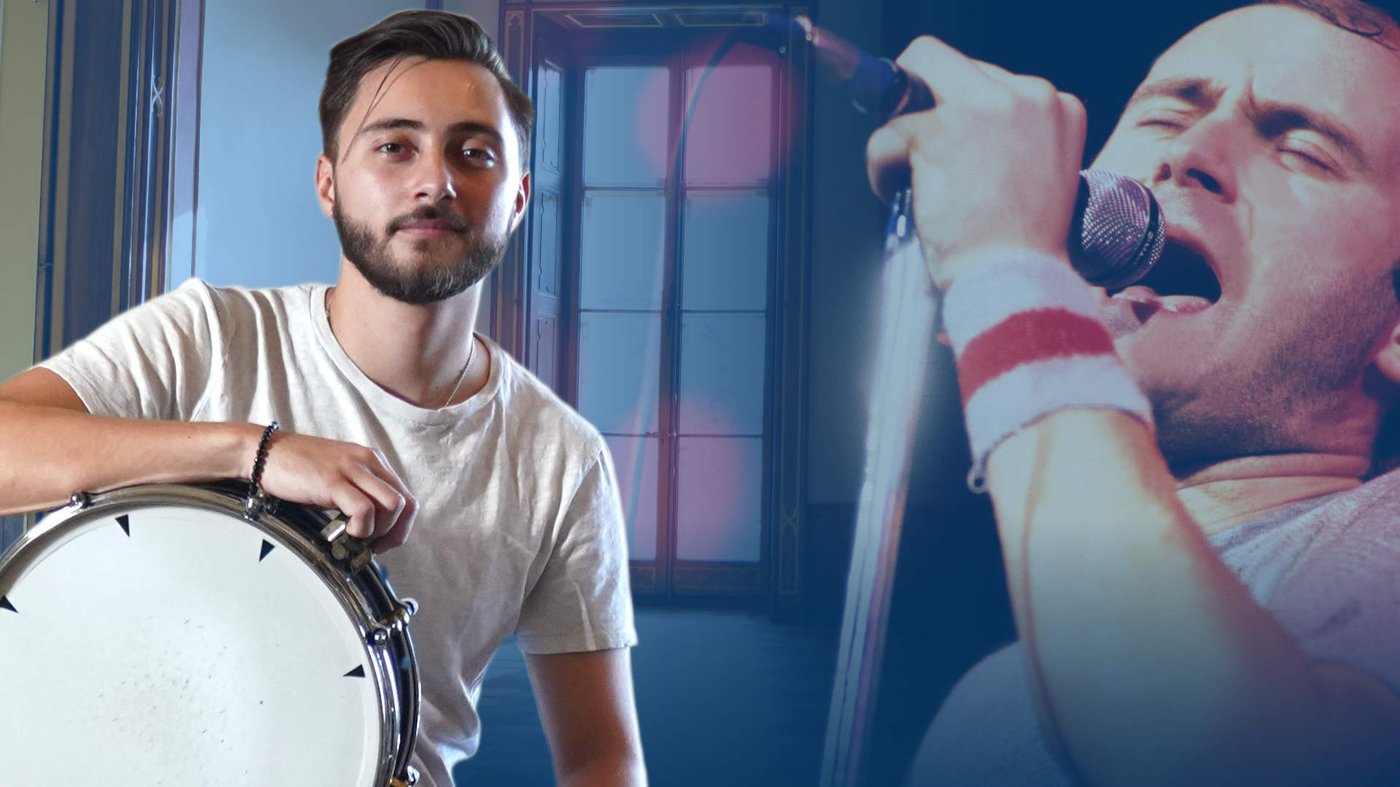 Nic Collins is the most recent drummer of Genesis. He also happens to be the son of the band's longtime sticksman, the legendary Phil Collins.
Nic filled his dad's shoes beautifully on the final Genesis tour in 2022. He's drummed on Phil's solo tours, also touring with supergroup Mike And The Mechanics, and he's been busy with his own band Better Strangers.
He has the experience of three lifetimes under his belt, and he's only 21 years old!
In this free hour-long lesson, Nic breaks down some of Genesis' coolest grooves, talks about Phil Collins' influences (from Santana to Bonham), shares a Taylor Hawkins story, demos some classic Simmons pads, and yes – he shows you the fill. The one you're probably waiting for.
Lesson Index:
0:00 – SONG: "Duke's Intro" by Genesis (live over Europe version)
3:55 – Introduction
6:15 – The fill from "In The Air Tonight"
9:00 – SONG: "The Cinema Show" by Genesis (live keyboard solo section)
14:23 – Opening ride cymbal groove from "Behind The Lines"
16:09 – Verse from "In The Cage"
21:54 – Groove from "Wot Gorilla?"
24:35 – Groove from "Watcher Of The Skies"
27:22 – Tom groove from "Duke's Travels"
31:20 – SONG: "Fading Lights" (instrumental section from the Way We Walk version)
38:00 – Groove from "Los Endos"
49:35 – Groove from "In That Quiet Earth"
43:58 – Groove from "Supper's Ready (Apocalypse In 9/8)"
47:30 – 7/8 groove from "The Cinema Show"
49:22 – The Chester fill
53:34 – The Groove from "Second Home By The Sea"
57:20 – SONG: "Raincheck" by Better Strangers
1:04:37 – SONG: "You'll Be In My Heart" by Phil Collins
About Nic Collins:
Nic Collins is a rock drummer known for playing with Phil Collins, Genesis, Mike And The Mechanics, and his own band, Better Strangers. Nic's passion for the drums began at an early age thanks to his father and that passion has only grown as time goes on.
Nic Plays:
Gretsch Drums
Sabian Cymbals
SHARE THIS: