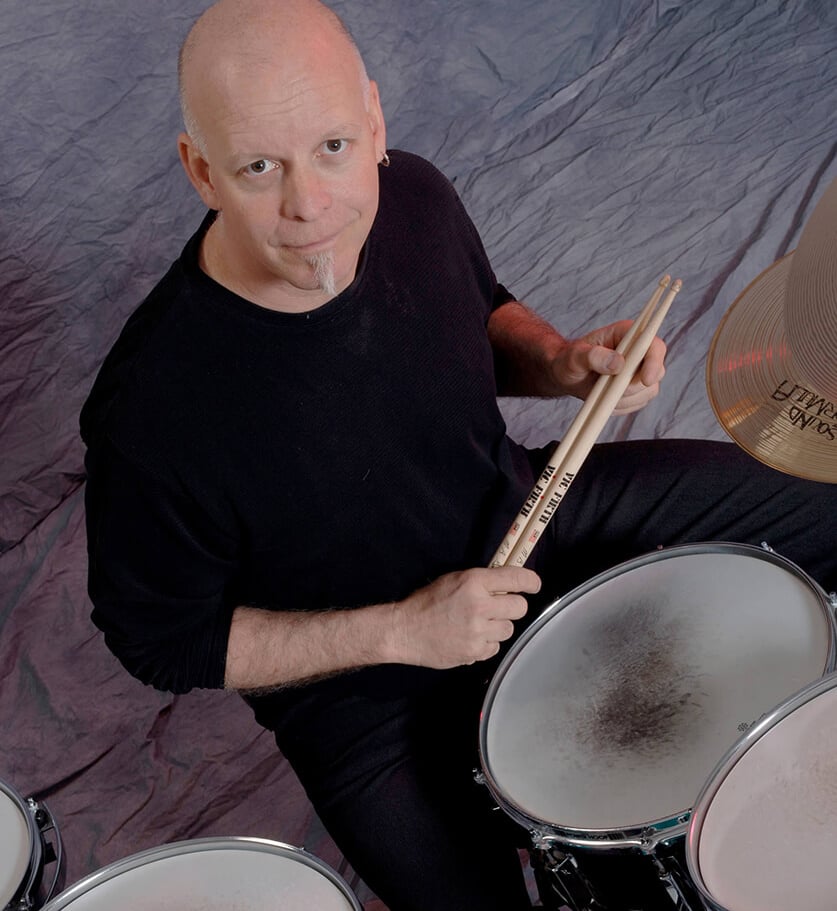 When you're watching a movie or playing a video game, do you ever wonder who's laying down those epic rhythms and suspenseful buildups? MB Gordy is an accomplished LA-based session player whose drumming you've likely heard in some of your favorite movies, TV shows, video games and albums.
How do you get gigs like this? MB talks about the importance of networking for session drummers, and why it's a huge asset to have your own gear (and then some).
---
Can you describe your role?
One of two things happens: I am either in the percussion section as a section player, or principal percussionist for the section. In the first scenario, you show up and play whatever the section leader assigns you. In the second scenario, you are also playing, but you are assigning who plays what.
Speaking from my experience as a studio percussionist in Los Angeles – particularly if you are ever going to be acting as Principal – you need to own all of your own gear, and arrange to rent anything you don't have. If you are playing drumkit, you would be on your own kit. We have cartage companies that haul all of our gear to the sessions and set it up. You then show up and do the refinement and carry on with the session.
As a percussionist, I could be playing pieces from start to finish or just sections, as well as creating effects and a mood. In my case, I am playing someone else's music, but I also compose. However, the composing that I generally do is for production music libraries.
What does an average studio day look like for you?
I'm not sure if there is a typical studio day. There are similarities with every session, of course, but they all vary as well. I may work directly with the composer in the studio to play what was written, as well as create parts from a basic chart. One thing to remember in the studio world is that reading music is of the utmost importance. If I am recording drum set or percussion at my own studio, I'll need to know in advance what we will be doing that day so I can set up beforehand.
When I am going to another studio, I need to get there anywhere from 1-2 hours in advance to set up without feeling rushed–it depends on how much gear is involved. Also, If I am section leader, I want to see the music at least a day before the session so I can look over the parts and assign them according to who I have in my section.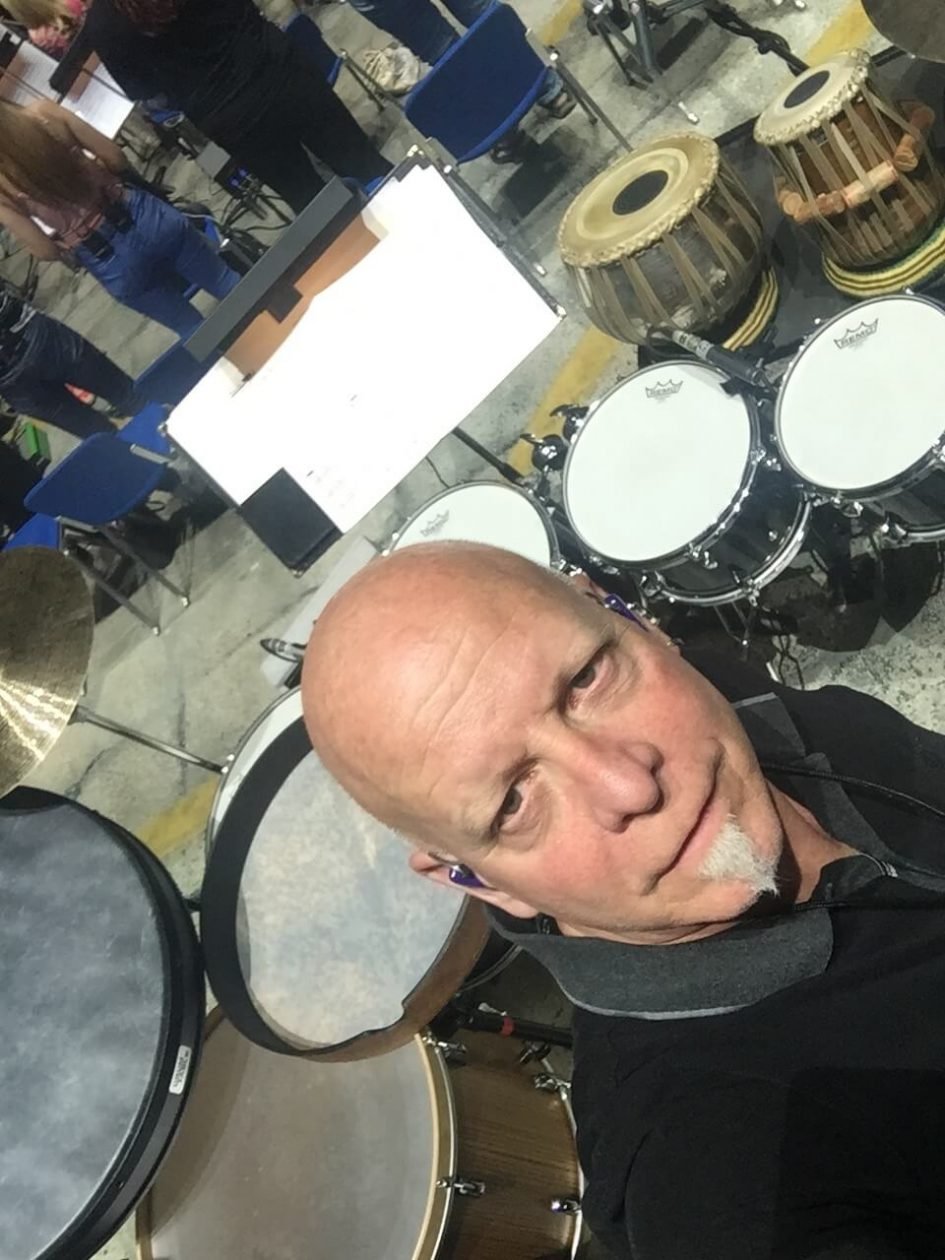 How did this part of your career take off?
Every gig in LA's session world leads to the next, so it's hard to say how I got started playing for video games or movies. It's mostly word of mouth, and of course you need to play at your highest level all the time. Being nice helps as well.
When I moved to LA after graduate school at CalArts, it was constant networking and playing any and every gig I could get. One thing would lead to the next. You meet someone who would hire you or you would recommend them, and it would go back and forth like that. To be honest, it's still that way. It never ends.
To work in this business you need to be good, of course, but also be dependable. And network like crazy.
What's one of your favorite stories from this work?
When I worked on American Sniper with Clint Eastwood, I was under the impression that there was an actual composer (my friend Joe DiBeasi), but that was not the case. Joe was the music editor, and Clint was technically the composer. When I met with Joe – who's a jazzer and likes to do things free whenever possible – there was no music written and no click. "Just look at the scenes and let's start playing."
I was a little freaked out by this. I wanted to be more prepared when we did the session so I took notes. The next day, we showed up to Warner Bros. and met Clint. We went into the booth, and since I was Principal Percussion on this one, I mentioned that it might be nice to at least try it with click, particularly since we were going to be overdubbing. So Clint and Joe agree, and we find a tempo that we like. We sculpt the track for builds and ins and outs, and then the three other drummers and I start playing.
It was basically just improvising. We got a basic track that they liked, and then we did the overdubbing.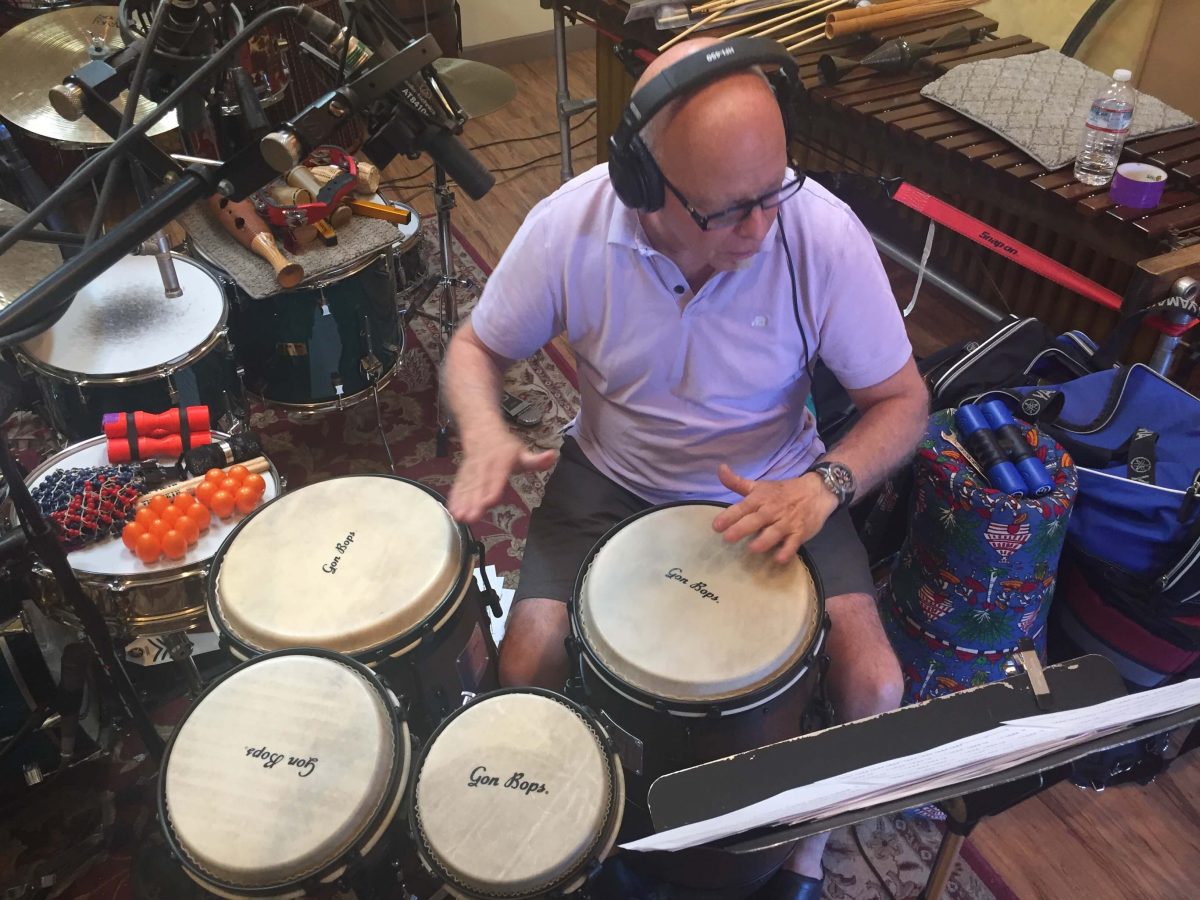 What are the biggest challenges with this gig?
The biggest challenge is buying and maintaining all of the instruments you need to own, as well as practicing everything. There are only so many hours in the day. Also, as a freelance musician, you come across many of the challenges that come with running your own business.
Be aware that there are a ton of percussion instruments in the percussion world, so the list of instruments that you need to buy and own is quite extensive. I also have a recording studio at my house, so that is yet another expense.
What's the best part of the gig?
My favorite part of the gig is the variety of music and instruments I get to play. When I was in undergraduate school, I studied classical percussion and drum set, but when I was at CalArts, I studied tabla and North Indian music as well as Ghanaian drumming and Indonesian music, and general percussion.
I also love that I get to meet and play and work with so many amazing musicians, composers and everyone involved in all aspects of the business.
About MB:
MB Gordy is an LA-based musician and producer. Over the last three decades he has worked in a wide variety of roles as performer, composer, professor, and recording musician. MB has recorded on hundreds of film and TV scores including The Bourne Legacy, Despicable Me, Fantastic Four, Frozen, Game of Thrones, Mad Men, Men in Black, Need for Speed, Spiderman, Straight Outta Compton, Terminator, Transformers, X-Men and more. You can hear his percussion in video games such as God of War, Call of Duty and Socom, and on albums with Neil Diamond, Faith Hill, Green Day, My Chemical Romance, Guns and Roses, Childish Gambino and Beck. MB is a clinician and consultant with the Yamaha Music Education Division, and his current band, Opium Moon recently won a Grammy for Best New Age Album.
SHARE THIS: