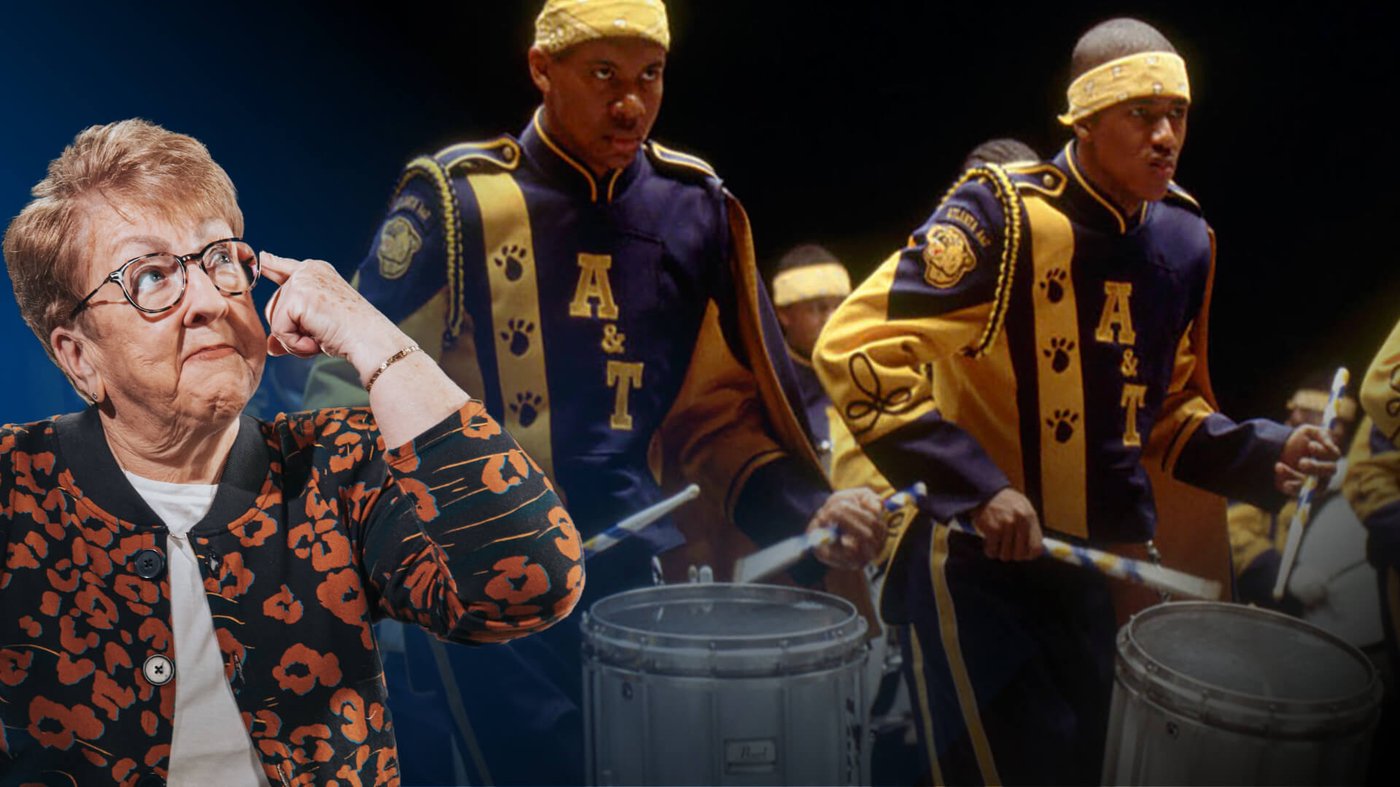 Short answer: no! But let us explain…
Dorothea Taylor – godmother of drumming and queen of drumline rudiments – has seen a lot of drummers during her almost 60 years of playing. So we asked her to break down some key scenes from the movie Drumline (2002).
When it came out. it reminded the general public that hey – drummers are pretty awesome. School drumlines have since gotten better and better, and more people have felt inspired to pick up the sticks.
Dorothea notices something while she's watching Nick Cannon's scenes in Drumline.
"Did he really play that? Or was the camera just showing hands?"
Dorothea's gut was right: Cannon was not the one with all the drumline chops in the movie. In the first film, the blazing hands belonged to a guy named Jason Price (a Florida A&M drummer who later played with the Atlanta Hawks drumline, the Atlanta Falcons drumline and more).
Blasphemy? Not so much – it's tough to find an amazing drummer who's also an amazing actor. It's common for actors to have a skilled stunt double or body double.
But Cannon did train with Price for a month to learn how to play the snare drum and how to master some of the stick tricks. Unfortunately, it just wasn't enough time to pick up the level of chops he would've needed to convincingly do it all himself.
Nick Cannon now has a daytime talk show, and he invited Dorothea to join him for a drum battle! You can watch that clip in the reaction video at the top of this page.
And in that video, Marcus Joyner (a 'hand double' for two main characters in the second Drumline movie) calls in to chat with Dorothea while she goes through scenes from the film. She also drops facts about actual drumlines and if she thinks the movie reflects reality.
Dorothea was a snare drummer in her school drum and bugle corps, and she's been mentoring and teaching drumline drummers (and drum set drummers) ever since. She's also a Drumeo coach and rudiment advocate who's always pushing outside the box.
If you like reading about drumlines, check out this interview with the Percussion Director of the Baltimore Marching Ravens.
SHARE THIS: