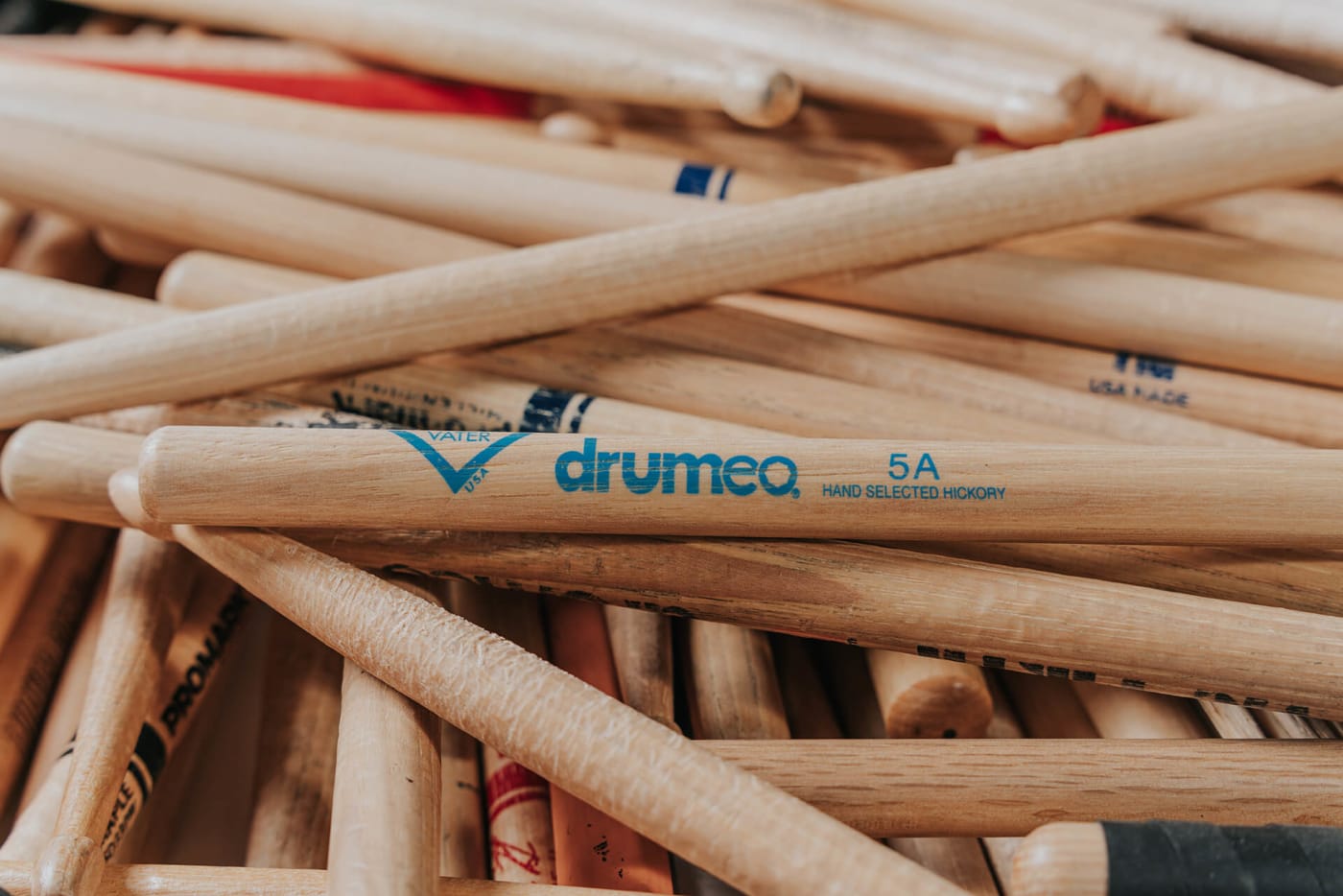 Is there really such a thing as the best drumsticks? They just need to hit stuff and not break, right?
Well, for the most part.
Many popular drum brands make drumsticks, even if their specialty is drum sets or cymbals. But not all drumsticks are made equal. Some woods are sturdier than others, they can come in different lengths and thicknesses, and they can be made of different materials.
This guide will highlight the best drumsticks for different styles so you can find the best batons for you.
Are you a new drummer?
Get access to the beginner video course that'll have you confidently playing along with your favorite songs in just 90 days: New Drummers Start Here.
---
The Best Drumsticks, Period
What makes a good pair of drumsticks? While most brands have great products and make sure each pair of sticks is perfectly matched, beginner drummers or those low on money (most pairs of basic wooden sticks are around $11 USD) might choose no-name sticks from a bargain bin.
That's totally fine, but you'll need to be aware of what to look for:
Make sure the sticks feel comfortable in your hands
Both sticks should look and feel similar (roll them on a table to be sure)
Decide if you like the feel of lighter or heavier sticks
If you live in North America, you'll probably come across at least a few of the following drumstick makers:
Vic Firth
ProMark
Vater
Zildjian
Regal Tip
Ahead
Los Cabos
There is a standard for drumstick shapes and sizes, and you'll find the most common sizes at any local music store or online drum shop.
Most pairs of drumsticks are labeled with a number and a letter. The higher the number, the slimmer the stick. The most common letters are A and B, with B being the heftier stick.
For example, a 7A is much slimmer than a 2B.
But a slimmer stick doesn't necessarily mean a lighter stick. Maple is a lighter wood than hickory or oak, so a maple 2B could feel even lighter than a 5A made of a denser wood.
You can learn more in detail about the different types of drumsticks, sizes, and materials in this article here.
The most popular drumstick models are popular for a reason: drummers love them for playing all sorts of music. They trust the brands to make good quality products and know they'll feel and sound great.
If you're playing a variety of styles, a beginner drummer, or are looking for something that 'just works' overall, here are our picks for best all-around drumsticks, which are all sized 5A and made from durable hickory:
Vic Firth 5A American Classic ($11)
Size: 5A
Material: Hickory
Length: 16″
Diameter: .565″
Tip: Teardrop
Vic Firth (the guy who founded the company) started making drumsticks not because he wanted to start a global brand, but because sticks in the 1950s weren't up to his standard. The lacquered 5A American Classic is one of the most popular options around (in fact, Vic Firth says they're the world's best-selling drumstick). They're made of solid, dense hickory for durability and a great feel and sound, and we recommend the 5A size as a happy medium for the versatile drummer.
ProMark Rebound 5A ($11)
Size: 5A
Material: Hickory
Length: 16″
Diameter: .565″
Tip: Acorn
The Rebound 5As have a long taper that help create a rear-weighted feel (which means a slightly heavier-feeling butt end) for better control on the kit. One of ProMark's best-selling drumstick models, they're super responsive and give you a nice balanced feeling in your hands.
Vater Drumeo 5A Drumsticks ($7)
Size: 5A
Material: Hickory
Length: 16″
Diameter: 0.570″
Tip: Acorn
These Drumeo-branded Vater 5As contain twice the moisture content of most regular drumsticks, making them less likely to splinter and break. All of Vater's sticks are weighted, tone matched, and hand rolled so every pair is perfect.
These are the cheapest drumsticks in this guide, and some of the most affordable on the market. But don't be fooled by the low price: these sticks are hardy as heck and will get you through rehearsals, gigs, studio sessions and more.
Watch: The 10,000 Rimshot Challenge (proving how hard it is to break these drumsticks)
The Best Drumsticks For Rock
If you're playing rock music, you're probably looking for durability and power. Rock drummers need reliable drumsticks that can carry them through both the soft and heavy parts, and the following sticks meet those criteria perfectly.
ProMark Classic Forward 5A ($11)
Size: 5A
Material: Hickory
Length: 16″
Diameter: .551″
Tip: Oval
Lacquered for a smoother finish and better grip, these ProMark Classic 5As are forward-weighted for more oomph (they have a shorter taper than the average stick). They're built to play 'into the drum' which means more power and speed with less effort on your part. These are great for heavy hitting rock drummers looking for a solid option.
Ahead 5B Rock Drumsticks ($32)
Size: 5B
Material: Polyurethane (aluminum core)
Length: 16″
Diameter: 0.595″
Tip: Oval (nylon)
If you're looking for something more durable than wood, Ahead makes awesome polyurethane drumsticks that looks just as good as they sound. They come with replaceable covers, tips and rings and "last 6-10 times longer than wood drumsticks". Ahead says they're built with over 5% more rebound, which helps you play faster with less effort (you be the judge).
They do feel slightly different from traditional drumsticks, but if you tend to destroy sticks quickly you should give these a try.
Vic Firth American Classic 2B ($11)
Size: 2B
Material: Hickory
Length: 16.25″
Diameter: 0.630″
Tip: Teardrop
The heftier 2B size means this stick is a little thicker, a little heavier, and a little longer to stand up to long rock jams. Some drummers love the feeling of something more substantial in their hands. Hickory is always a solid choice for heavy hitters and the teardrop tip will give you a nice warm tone on your cymbals. Vic Firth makes reliable drumsticks and the American Classic 2Bs are no different.
Metal has more subgenres and drumming styles than many people realize. Some metal drummers play slow and heavy while others play at such high tempos they need to hit lightly to conserve energy. The following sticks include options for both breeds of metal drummers.
Vic Firth Extreme 5A ($11)
Size: 5A
Material: Hickory
Length: 16.5″
Diameter: 0.565″
Tip: Teardrop
Take the best-selling 5A American Classic and add an extra half-inch of length and you get the Vic Firth Extreme 5A, perfect for metal drummers who want a stick that's small enough for fast, efficient playing but longer for more reach.
Still made of the durable hickory heavy drummers love, plus lacquered for extra grip.
ProMark FireGrain 2B ($13)
Size: 2B
Material: Hickory
Length: 16″
Diameter: 0.630″
Tip: Oval
These drumsticks may look like they've come straight out of a deadly blaze, but ProMark FireGrain sticks are purposely heat-tempered to make them stronger. They're forward-weighted for more power, too.
You can get these in other sizes, but we recommend the monstrous 2Bs for metal drummers who play the slow, heavy stuff.
Ahead Speed Metal Drumsticks ($37)
Size: 5A
Material: Polyurethane (aluminum core)
Length: 15.69″
Diameter: 0.540″
Tip: Teardrop
The Ahead Speed Metal sticks are based on the design formerly known as the Joey Jordison Slipknot signature model. A bit shorter than the average stick (and slimmer than a typical 5A), you can expect a quick response and a ton of control. The tough polyurethane sleeve is replaceable and holds up to more beatings than regular wood, with an inner core of aluminum to keep these sticks stupidly light. A great option for speed players!
The Best Drumsticks For Jazz
When it comes to jazz drumming, it's all about articulation and a light touch. Maple is a perfect lightweight wood for capturing the subtleties of your playing, and a nylon tip will give you crisp definition when playing swing patterns on the ride cymbal.
However, hickory performs just as well (and has added strength for long gigs) and wood tips provide a nice warm sound on any surface.
Vic Firth 85A Drumsticks ($16)
Size: 85A
Material: Hickory
Length: 16″
Diameter: 0.551″
Tip: Teardrop
The 85A is sized right between the 8D and 5A, a perfect balance of length and diameter for jazz or fusion drummers. For those unfamiliar with the 8D, they're like a longer version of the 7A and super lightweight. The delicate stick end is great for nuanced playing and while it may be a bit harder to find than a 5A or 7A, it's worth giving this model a shot.
Vic Firth SD2 Bolero Drumsticks ($11)
Size: SD2
Material: Maple
Length: 15.75″
Diameter: 0.635″
Tip: Round
While these sticks are billed as "perfect for lighter orchestral work and pit playing", they're also a jazz drummer's best friend. The SD2 Boleros have a short taper so they're forward-weighted, and their small round tip is good for articulating intricate patterns.
If you prefer a thicker stick but want it to be light as a feather, this is the one for you.
ProMark Forward 7AN ($11)
Size: 7A
Material: Hickory
Length: 15.375″
Diameter: 0.512″
Tip: Oval (nylon)
It's lighter, it's shorter, and it's perfect for playing jazz. 7A is one of the most popular sizes for drummers who play this style, and it's not uncommon to opt for nylon tips for that perfect ting ting-tingting on the ride. The ProMark Forward 7AN is just one example of a stick size that's become a jazz standard.
The Best Drumsticks For Electronic Drums
When you're shopping for drumsticks to use with your electronic drums, you want to find options that won't damage the heads. The best drumsticks for electronic kits have nylon tips. Wooden tips can break over time and rough edges could damage mesh heads. There's nothing wrong with natural tips; you just need to be careful.
Aside from this 'head safety' consideration, you can use any regular drumstick on an electronic drum set. But be aware that nylon tips may be more likely to white marks on your rubber pads.
Read: The Best Electronic Drum Sets
Vater American Hickory 5A ($8)
Size: 5A
Material: Hickory
Length: 16″
Diameter: 0.570″
Tip: Acorn (nylon)
They're simple, solid and cost-effective. Pick up a pair of hickory 5As from Vater and drum your heart out. The nylon tips are mesh-friendly and will give you nice punchy strokes on your electronic kit. This is the most common drumstick size and material for acoustic drums as well, so you can easily transfer over to a traditional setup.
Zildjian Anti-Vibe Drumsticks ($13)
Size: 5A
Material: Hickory
Length: 16″
Diameter: 0.560″
Tip: Oval
They Zildjian Anti-Vibe drumsticks are surprisingly light for 5As and come with a rubber insert that helps to reduce vibration, which you might notice if you're playing on rubber heads. Less shock and vibration means less stress on your wrists and fingers so you can keep going for longer and worry less about injury.

Because the butt end is hollowed out to make room for the rubber insert, they feel a bit front heavy, which may or may not be up your alley. The rubber ends could be glued in more tightly, so consider adding some super glue for extra security.
Los Cabos 5A Pink Drumsticks ($10)
Size: 5A
Material: Hickory
Length: 16″
Diameter: 0.575″
Tip: Acorn
One bonus to playing electronic drums is you don't have to worry about chipping the paint on cool-colored sticks. These pink 5A drumsticks from Canadian company Los Cabos support breast cancer research. If you want to contribute to a good cause and get a solid pair of sticks at the same time, give these a go.
The brand also offers black and yellow dips (but the revenue from those don't go to a nonprofit).
The Best Low-Volume Drumsticks
While you can use rubber tips, rutes, brushes or felt mallets to play drums more quietly, drumsticks are only part of the picture when it comes to lowering overall kit volume.
If you're looking to reduce the decibels even more, read this article and learn about low-volume heads, mute pads and more.
Vic Firth Practice Tips ($7)
Size: N/A
Material: Rubber
Length: N/A
Diameter: N/A
Tip: Barrel
One pack of Vic Firth Practice Tips comes with two pairs of rubber tips that fit over most drumsticks so you can instantly turn any surface into a practice pad. These are also great for reducing the volume of a drum set; they'll just feel a bit different on the rebound.
If you prefer an oval tip and a slightly different feel, check out TAMA's Silent Tips.
ProMark Hot Rods ($20)
Size: 5A (ish)
Material: Birch
Length: 16″
Diameter: 0.560″
Tip: N/A
Hot Rods are basically the same size as a standard 5A drumstick but come with some obvious differences: they're rute sticks, which consist of dowel bundles. They create a satisfying 'tick' sound when striking surfaces and are perfect for quiet drumming on an acoustic kit or other percussion instruments. But the quietness comes at a cost: these don't feel like regular drumsticks, so expect a light feel and essentially zero rebound.
Don't try to go all out with these; they aren't built for heavy hitting and you'll likely snap some of the dowels if you wail with them.
For an even quieter and smaller stick, try ProMark's Cool Rods (they're even lighter).
More like this article:
SHARE THIS: