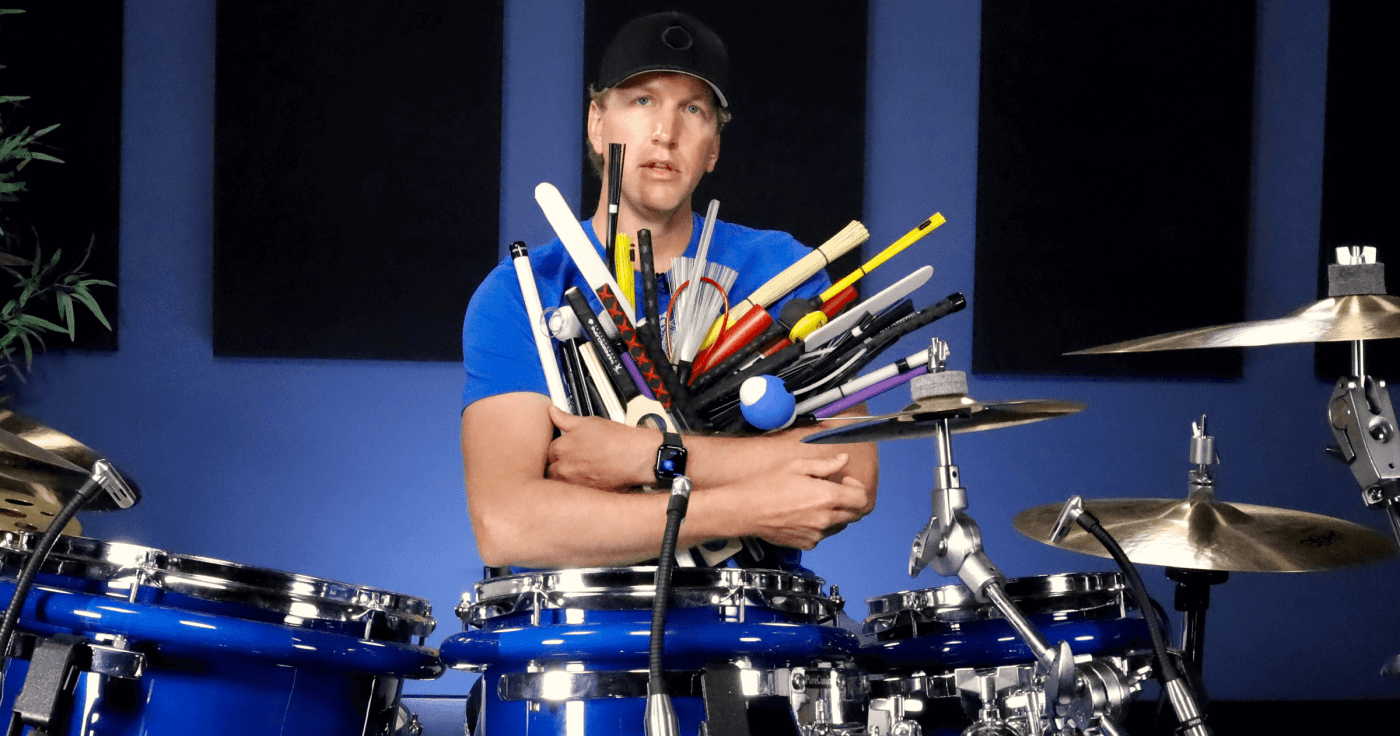 Looking at the wall of drumsticks at the store is both awesome and intimidating, especially if you're just getting started or are about to try something new. How do you choose drumsticks? How do you know what's worth it, especially if it's something you've never used before?
We spent over an hour testing and rating sticks so you don't have to.
Vater, Headhunters, and Promark generously sent us $1453.47 worth of different models, from brushes and hot rods to straight-up Franken-creations. Hopefully, this monster review will help you decide which ones will give you the unique, alternate sounds you want from your drums!
1. Headhunters Shake n' Roll ($47.99)
Imagine egg shakers attached to drumsticks, and you've got the Shake n' Roll. The weight in the middle of the stick gives these an interesting feel. You'll get a nice response and a chunky sound on the snare, but not much attack on the toms. If you're doing a lot of snare work and want to try something different, give these a whirl!
2. Promark Tubz ($19.99)
As the name implies, they look and sound like plastic tubes. You can get some good attack from them, and they have an interesting feel, but they're a little big to carry around in a stick bag. A unique drumming tool? Definitely.
3. Headhunters Crossovers II ($25.50)
Imagine Hot Rods with a rubber section mid-stick (maybe to protect the stick from rimshots?) and a traditional stick as a handle and you get these hybrids. They come with nice weight and attack and feel more like a normal stick than most dowel bundles. If you need an option for sound-sensitive situations but want the feel of a classic drumstick, give these a try.
4. Headhunters SandMan ($31.95)
Like brushes with an adjustable plastic loop, you can use these to get a fat sound out of your snare and unique sounds out of your cymbals. They're a little top-heavy, but they're well built (and the thin pieces of plastic used for the brushes are more durable than they look).
5. Vater Splashstick Heavy ($29.99)
Most sticks made of dowels are designed for situations where you can't be loud, but these are supposed to be able to handle a bit more punishment. So far, so good.
6. Headhunters Soft Corn ($36.99)
They look like tiny brooms and feel flexible and light with a thick handle. If you're looking for a warm and soft attack – like a mallet – these might be for you and are probably better suited for hand drums or subdued, textured playing.
7. Headhunters Jingle Springs ($45.99)
These are some of the most unique sticks we've seen: they have a foam ball on each stick, plus two jingle rings on one side and a spring on the other side. Make sure you play with the spring side and not the jingle side because the jingles are mounted on a pointy plastic rod that will probably dent your heads.
8. Headhunters Fat Bastards ($42.50)
While the thick handles might take some getting used to, you'll get a fat sound out of these sticks that consist of small bamboo rods bundled to form a fan.
9. Headhunters Corn Stock ($29.99)
These thick bundles are much heavier than regular 5A sticks. You can move the O-rings up or down to change the amount of fanning. We noticed lots of flex but still a solid attack.
10. Promark Brooms Medium ($27.99)
Lighter than the Headhunters corn stocks, the Promark Brooms have a squishier handle and thicker O-rings. They also have more response/rebound and feel more like a regular stick. Highly recommend!
11. Promark Heavy Brush TB6 ($35.95)
These heavy gauge steel brushes come with a good rubber handle and four settings (where, like most brushes, you can pull and push the wire out to fan it more or less).
12. Headhunters Castaways ($55.00)
Remember the Shake n' Roll from earlier? This is like that, but with clappers/castanets instead of shakers. You can adjust plastic tabs based on where you want them to make (or not make) contact with the cymbals. These are really unique – bonus points for creativity.
13. Headhunters Soft Corn With A Hard Twist ($35.99)
As if they couldn't find a new way to build hybrid sticks, these are brooms combined with plastic dowels and a white ball for a unique attack. Like several sticks in one, this eccentric combination of materials is worth a try.
14. Vater T5 Mallets ($39.99)
These traditional mallets are perfect for soft rolls on cymbals (and even on the toms for a timpani effect).
15. Headhunters Crossovers Jingles ($45.99)
Another hybrid stick similar to the Jingle Spring, these include a wooden handle with plastic dowels at the end, plastic beads for extra attack, and jingles about two-thirds down the stick. Be careful not to hit with the metal jingle side, or you might ruin your heads.
16. Headhunters Cattails ($35.00)
A collection of polycarbonate rods with movable beads for attack, you get lots of flex with these. While they're super compact, they still feel durable.
17. Vater Splashstick Light ($29.99)
The quieter version of the Splashstick Heavy, these provide a light sound for lower volume.
18. Vater Splashstick Rock ($29.99)
With medium size dowels, they feel similar – thickness-wise – to a 5A or 5B. You can get lots of attack but it's harder to play really loud; they're just not good for bashing. These were Jared's top pick of the hot rod-style options so far.
19. Headhunters Orb-X 25mm Mallets ($17.99)
Most soft mallets eventually wear away, or get 'fuzzy' and 'pilled'. These don't seem like they'd do that. They have a smaller tip than most mallets and have a nice weight to them. Very promising.
20. Headhunters Thunderclaps ($60.00)
The Thunderclaps consist of three 'flaps': the outer two are made of polycarbonate, and the inner one is maple. Four holes in the center panel give the resulting clap sound a lower pitch.
21. Headhunters Finger Flips ($35.99)
Like a weaker version of the Thunderclaps, these consist of plastic layers that smack together for a different kind of sound.
22. Headhunters Stingers ($22.95)
These sticks have a foam core surrounded by dowels. The rest of the construction seems like a standard hot rod, and they don't feel too different, but they're nice to play.
23. Headhunters Drumclaps small ($49.99)
Like a flappier version of the Castaways (the ones with the castanets), these will give you another unique way to hit your drums.
24. Vater Monster Brush ($21.95)
Surprisingly flexible, these plastic brushes are similar to brooms, and you can slide the bands up or down to fan them more or less. They feel nice (but a bit different, so you may want to try them yourself) and they look cool (bonus).
25. Headhunters Finger Snaps ($35.00)
The polycarbonate slats create sounds that imitate finger snaps, and they're pretty cool.
26. Vater Splashstick ($29.99)
With thinner dowels than the Splashstick Rock model, and despite the name, you'll get a thicker sound with these.
27. Headhunters Stinger Yellow ($22.95)
Another version of the Stingers from earlier (with a foam core and birch dowels), these get a great response, even when doing a full stroke roll.
28. Vater AcouStick ($21.99)
A mix of wood dowels with poly rods, these are supposed to be very strong. Give them a try.
29. Vater Splashstick Traditional Slim ($21.99)
This stick is very, very thin – and so is its sound. It has just. a few thick dowels and is like a jazz-sized hot rod: perfect for subtle applications.
30. Vater Splashstick Traditional ($21.99)
These are nice sticks with thinner birch dowels, and comparable to other hot rods.
31. Vater Bamboo Splashstick Slim ($21.99)
These sticks are so thin, they almost fall out of your hands. The Splashstick Slims are smaller than 7As and are suited for ultra-low volume playing.
32. Headhunters Ninja Tip II ($17.99)
Another brilliant Franken-stick, the Ninja Tip II consists of poly rods that are only exposed on the end, with the rest encased in maple. You can roll them down to expose more or less of the rods. They get a ton of rebound and really thin sound ("almost like it's got a phase on it"). You can even do proper rimshots because most of the stick is wood. Plus, the rubber shoulder gives you more surface options. Talk about versatility!
33. Headhunters Echo Ball ($35.00)
For eerie cymbal sounds, check out the video (at the top of this page) at 49:15 to see how this stick pulls a cool echo sound out of cymbals – perfect for the studio or cinematic effects!
34. Headhunters Beavertails ($27.00)
You can play these flat to get a slap sound, or on the vertical edge for more definition. The Beavertails look like flexible paddles and come with a unique sound and feel.
35. Headhunters Cyclops Brush ($40.00)
They may look like traditional brushes, but they have a plastic bead for extra attack. While they have great rebound, the sticks seem to constantly turn in your hands, which might make it tough to get a consistent sound.
36. Headhunters Dreamcatchers ($40.00)
Nylon-coated loops give these brushes more definition on the cymbals. They're very similar to the SandMans.
37. Headhunters Bing Bongs ($30.00)
The Bing Bong is a wooden dowel surrounded by plastic rods.
38. Vater Splashstick Bamboo ($21.99)
Basically your standard pair of hot rods!
39. Headhunters Rhino ($40.00)
Not your grandpa's brush, the Rhino is like the Dreamcatcher, but with a rod instead of a loop that can move up and down to get new sounds and definition.
40. Headhunters Crossovers II Poly Bead ($30.00)
A true hybrid stick, these have a wood handle with a rubber grip, topped with adjustable plastic dowels and beads.
41. Headhunters Drumclaps Large ($60.00)
It's lighter than the other Drumclap we tried, and has more holes for a higher pitch.
42. Headhunters Tublitz ($18.00)
Imagine polycarbonate 'tube tips' on hickory sticks, and you have the Tublitz. They're supposed to be good for fast playing, and they are: they're really responsive and sound great.
43. Vater Wire Tap Retractable ($39.95)
With three settings and a retractable fan, this is a great standard wire brush, something every drummer should have in their stick bag.
44. Vater AcouStick Solid ($21.99)
These hickory bundles come with protective 'sections' that give them a plastic/nylon sound on the drums, so if you prefer that organic wood sound, these may not be for you.
With so many different shapes and materials you can use to make sounds, the key is to try a few to see what you like and decide what's the best fit for your playing environment.
Which of these would you add to your stick bag?
SHARE THIS: