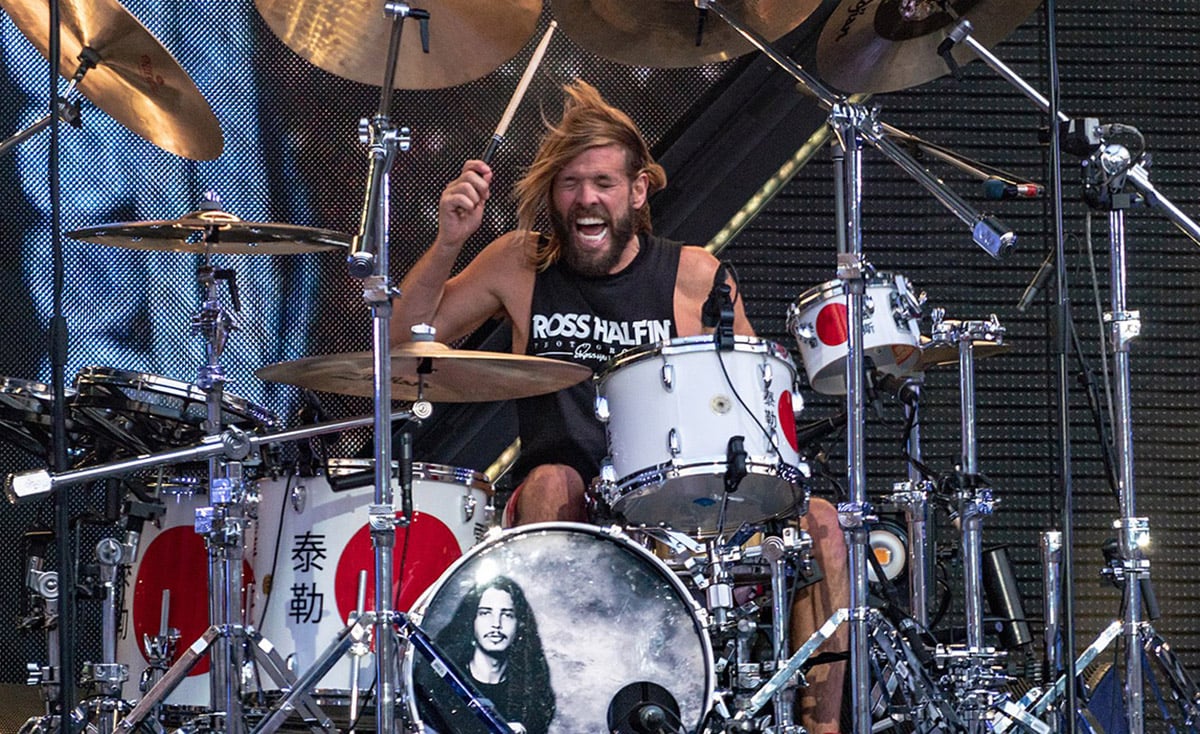 Elton John called him "one of the greatest drummers".
Paul McCartney said he was "lucky to live and work alongside him".
Jimmy Page "really admired him", and James Corden said he was "full of light and love and all the things that you want in a human being". 
These are but a handful of the dozens upon dozens of heartfelt and heartbroken tributes paid to Taylor Hawkins, beloved drummer of the Foo Fighters. 
Below are five things every drummer – every person – can learn from Taylor's example. 
Love Music
Above anything, Taylor was a music fan. His love of rock and roll permeated him like a radiating force. He was fervent about bands, records, songs, shows, and of course, drummers.
One industry rep wrote on her Instagram, "I will never forget the passionate way he talked about the latest gear, who worked for which company, who was playing in which band now. He knew about ALL of it!"
Instead of lessons, Taylor learned how to play at the age of 10 by jamming along to songs on the radio and on records, figuring out parts on his cobbled-together drum kit, and poring over album covers to study the drum sets of his idols Roger Taylor (Queen), Stewart Copeland (The Police), and Neil Peart (Rush).
As a kid, Taylor saw a Queen concert that left him with a single-minded vision that lasted his entire life. He said, "It changed everything, and I was never the same…It was the beginning of my obsession with rock 'n' roll, and I knew that I wanted to be in a huge rock band."
There are stories of Taylor as an adult finding himself in tears as he watched his heroes perform. Geddy Lee speaks in wonder about Taylor "jumping up and down like a two-year-old – so happy – full of admiration and 'rock 'n' roll joy juice'" when he introduced Rush during their induction into the Rock & Roll Hall of Fame.
Taylor had a pure love for rock music and drumming, and his style, musicianship and personality came directly from that reverence.
Be Humble
Taylor spoke about his insecurities playing drums for Dave Grohl, one of the greatest rock drummers of all time. In the beginning, he was so scared that he froze up trying to record the Foo Fighters album Nothing Left To Lose.
In his final Rolling Stone interview, Taylor choked up as he recalled being able to push through and record half the drums on the record because Dave "held my hand through it, like an older brother/best friend does".
Being Dave Grohl's drummer could have easily caused some resentment on Taylor's part. Instead, it created an inseparable bond of brotherly love between two best friends. Taylor accepted his role in the Foo Fighters with grace and humility, he played in side projects to express his own writing and arranging, and maybe most deeply, as The Chicks said of him, "He never took any of it for granted."
Taylor rarely if ever touted his own greatness or style, preferring to talk about the drummers and songs that inspired him. In his BBC Radio "drumming masterclass", Taylor spends most of the hour demonstrating the beats and fills of other drummers – his heroes, of course.
Most musicians would have used a radio broadcast as an opportunity to show off their own licks and chops, but Taylor played what he was passionate about: Queen and Police songs!
Be Yourself
Taylor took only a handful of lessons in his lifetime (he once said his chops were "stolen and fake" because he "didn't learn the 'real' way to do it"), and he didn't study with teachers. But like his drum heroes, Taylor's talent, technique and individuality were unquestionable. 
His genuine drumming style, his feel and passion, his exuberance and energy, and his own kinetic force and dynamics ("spirited enthusiasm" as Jimmy Page called it) were all under the constant threat of Dave Grohl comparisons. 
But Taylor said it was during the recording of the Foo Fighters' third album where he knew that he could "fit in this band as the drummer, not just 'the live drummer'. I can be me and still fulfill the role of being Dave Grohl's rhythm man."
"I can be me and still fulfill the role of being Dave Grohl's rhythm man."
Taylor was like an honorary second frontman of the Foo Fighters, often singing Queen and Led Zeppelin songs while Dave played drums. For a drummer to step into that role, it takes ridiculous talent, charisma, presence, and the ability to light up a room (and a stadium!) with "infectious energy and good vibes", as Lars Ulrich said of Taylor. 
Be Passionate
In 1999, a German reporter asked Dave and Taylor: "Why do you play rock 'n' roll? Rock 'n' roll is dead." Taylor replied, "Well, it ain't dead at our house, man!"
It was obvious Taylor put his entire heart and soul into his playing. Words from his tributes describe him as exuding joy as he played; that he had infectious energy, passion, and exuberance; that he was a "modern day rock star".
He once said during a chat with Chad Smith, "I like the way rock 'n' roll makes me feel. I like the way music makes me feel." Taylor expressed himself fully on the drums, and it's his spirit and love of the music we sense as listeners.
One fan wrote, "He embodied how drumming makes us feel."
Taylor told The Sunday Times in 2010: "A lot of my favorite drummers…had just as much profile as a guitar player. I guess that's what I've been strug­gling for most of my life – to make the drums as important as everything else." 
There's no question he did.
Be Inspiring 
Bob Dylan wrote: "The highest purpose of art is to inspire. What else can you do? What else can you do for anyone but inspire them?" There could be no better description of Taylor Hawkins. 
Countless drummers have written that Taylor inspired them to pick up the sticks, fall in love with the drums, set up their kit like him, learn all his parts, play drums and sing — and to have fun in their playing. 
He directly supported many drummers through mentorship, gear, advice, and most importantly, encouragement. Travis Barker wrote of Taylor, "You'd come watch me play in dive bars and be like, 'kid you're a star'. And I thought you were crazy but you gave me so much hope and determination."
The descriptions of Taylor from every corner of the music industry are profound: that he was a beautiful, fantastic, amazing person. Full of positivity and good vibes. A hero, idol, champion, and one-of-a-kind, with the most glorious, infectious, warmest smile. He was family, a brother, a beloved child.
A gem of a guy, full of love, a loving spirit with a huge heart, a sweetheart. That he had a zest for life, the force of life, that he was full of life, and seemed to always be having the time of his life. 
These are some of the most powerful words anyone could say about another person. They show a complete reverence for Taylor – and an utter shock at his passing. How can someone so alive, be gone?
As drummers, as people, let's aspire to be inspiring in the way Taylor Hawkins was. To have every person whose lives we touch, directly or indirectly, feel so good, so lucky, so blessed, just from our presence, our spirit, our love, our example. 
As drummer Micheal Quinn (Dermot Kennedy) beautifully said in an Instagram post: 
"Taylor Hawkins, thanks for inspiring me and leading the way. I'll do my very very best to carry your spirit behind the drums as I go. I just want to be like you when I grow up. Always have, always will."
From the Foo Fighters' song "Learn to Fly": Run and tell all of the angels, everything's alright. 
Taylor has passed on to your realm. 
He truly burned out bright.
Feature Image: Raph_PH on Flickr
SHARE THIS: