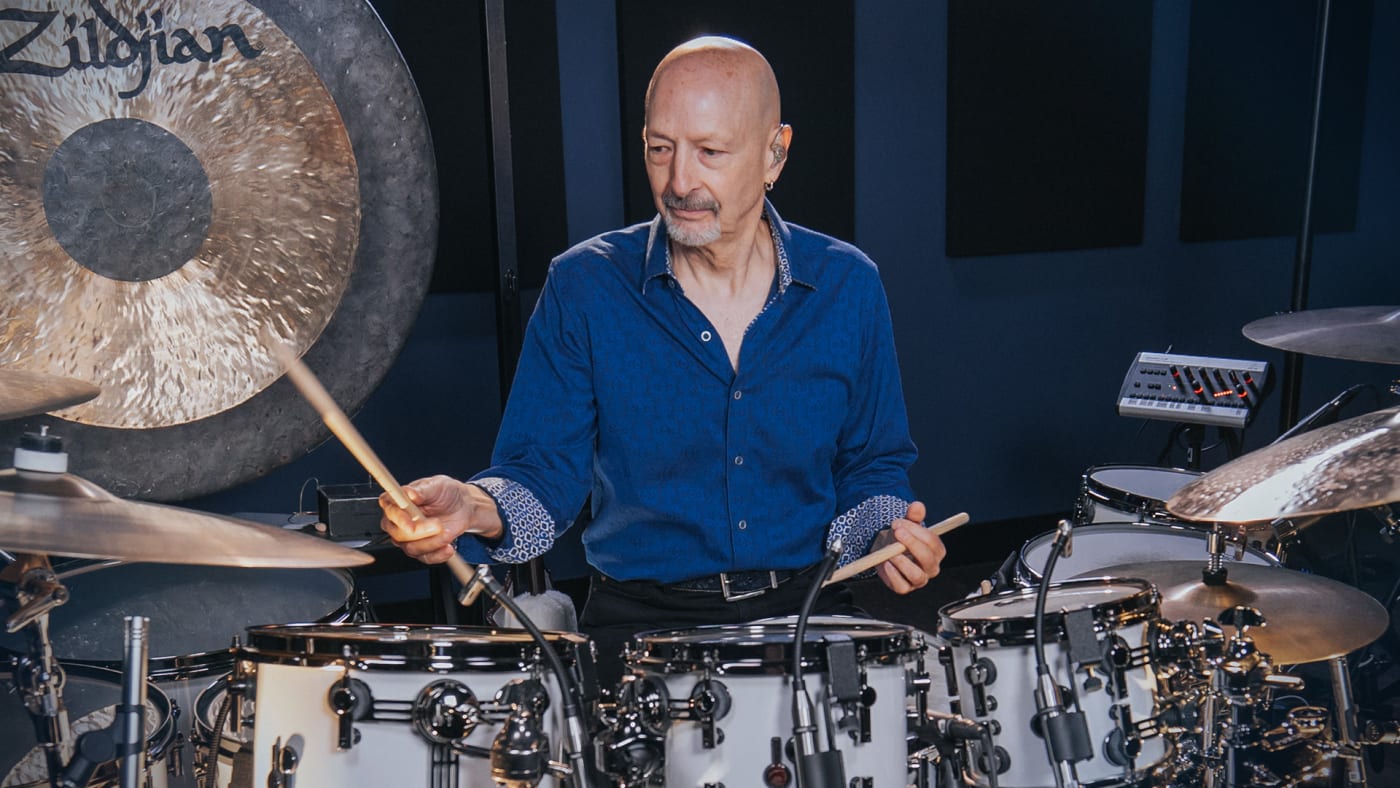 Steve Smith, drummer of Vital Information and the former drummer of Journey, has played with a variety of artists like Steps Ahead, Jean-Luc Ponty and Mike Stern. He's known for writing tasteful drum solos and musical drum parts, and for incorporating different styles into his playing.
He also played drums on what's now one of the most popular karaoke tunes of all time.
In this full lesson, not only will you see Steve break out the 24″ Zildjian Ping ride used on his Journey records (after 30 years in storage), you'll learn:
What Steve means when he says "everyone is self taught" when it comes to music
An easier way to count in 15
How Steve orchestrates Indian rhythm systems on the kit
How you've been playing "Don't Stop Believin'" wrong
How Steve became an open-handed player just to be able to play parts he was hearing in his head
For in-depth, step-by-step lessons with Steve Smith on building musical drum solos and more, check out his brand new Drumeo courses "The Art Of Drum Soloing" and "Beyond The Books".
Get a free week trial of Drumeo here!
Lesson index:
0:00 – SONG: "Separate Ways" by Journey
5:29 – Introduction and counting in 15
8:41 – SONG: "Seven And A Half" by Vital Information
15:15 – Breaking down Indian rhythms/konnakol
20:26 – SONG: "Interwoven Rhythms – Synchronous" by Vital Information
23:49 – Continuing the konnakol story
29:34 – Solo excerpt from Journey's "La Do Da" (full solo available inside Drumeo)
36:00 – Introducing the legendary ride cymbal
38:56 – SONG: "Don't Stop Believin'" by Journey
43:10 – Breaking down "Don't Stop Believin'"
47:29 – Final thoughts
49:23 – SOLO: "Choreography Of Sound"
About Steve:
Steve Smith is a treasure to drumming culture. He was inducted into the "Rock and Roll Hall of Fame" and voted "Best All-Around Drummer" five years in a row by Modern Drummer's readers poll. Steve is perhaps best known as the drummer for Journey. He would end up recording six albums, including Journey's most popular album Escape, during his tenure with them. However, Steve is a jazz drummer at heart. He has been the bandleader of his group Vital Information since the early 1970s and has been a sideman for artists such as Jean-Luc Ponty, Steps Ahead, Dweezil Zappa, Bryan Adams and Savage Garden, among many others.
Steve Plays:
Sonor Drums
Zildjian Cymbals
Remo Drumheads
Vic Firth Drumsticks
Follow Steve:
Instagram
Facebook
Website
SHARE THIS: