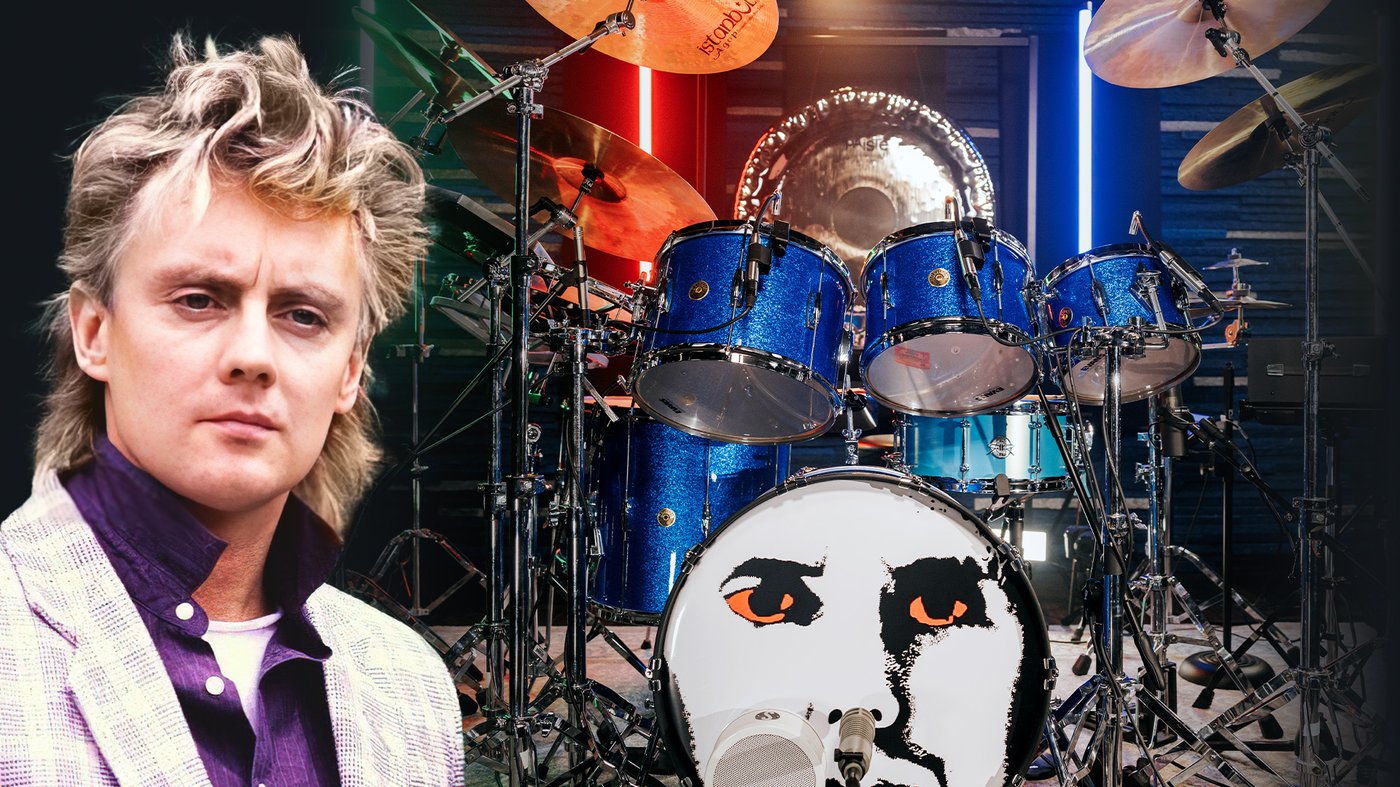 There are legendary bands…and then there's Queen. 300 million record sales and an induction into the Rock & Roll Hall Of Fame later, it's safe to say drummer Roger Taylor contributed heavily to the iconic stadium sound that defined the '70s and '80s.
He cowrote some of Queen's biggest hits, contributed vocal harmonies, and pursued a solo project as a singer-songwriter. Here's why Roger Taylor is irreplaceable.
1. His style is unique
One of Roger Taylor's most recognizable features is that he often barks the hi-hat with the snare to emphasize every backbeat. For example, in "Play The Game" by Queen:
And in the verse of "Somebody To Love":
If there's a snare hit on the backbeat, it's definitely going to be a rimshot in Roger's world.
Roger Taylor's cymbal work has always been next level while staying tasteful, like in Queen's "Bicycle Race":
"I love cymbals. They provide wonderful dynamics. Quite often, I'll overdub very specific cymbals…you have to know which ones to use in which places."
For example, Roger went back and overdubbed the ride cymbal in "I Want To Break Free":
Listen to the layered wood block and choked crashes in "Good Old Fashioned Loverboy":
And of course, there's also Roger's drum fills. In "Innuendo", the song opens with a triplet march on the snare that builds tension and excitement:
His fill choices (like the key fill in "You're My Best Friend" played in reverse) and his ability to use them to build energy (like in "I Was Born To Love You" and "Under Pressure") have set him apart during his 50-year career.
2. His pocket is undeniable
Whether the beat is simple or supporting complex changes, Roger Taylor's drumming has always perfectly complemented the music.
"Another One Bites The Dust" is a great example of a song that wouldn't sound quite the same with another drummer behind the kit. The part may be simple, but the pocket is perfect.
You can hear his epic pocket in "Cool Cat", "Don't Stop Me Now" and "A Kind Of Magic." Simple, sure, but his cymbal choices and feel were exactly what the songs needed.
3. He's a chameleon
Songs like "Killer Queen" and the bridge of "Crazy Little Thing Called Love" have tricky arrangements, but Roger Taylor's drum parts helped make the flow feel natural and comfortable to the listener.
He'll often make subtle but interesting changes to songs live, like subbing rim clicks with cowbell.
The drum parts even complemented Freddy Mercury's vocals. Check out "Death On Two Legs", which features fills and changes that often matched the vocal phrasing:
And the shots in the bridge of "Hammer To Fall":
While he's known for being a rock drummer, Roger has incorporated a punk edge here and there, like the snare roll and double time feel in the outro of "It's Late", or the beats in "Stone Cold Crazy" and "I Want It All".
Of course, there's also Bohemian Rhapsody (Roger sang the highest harmonies!), which has one of the most intricate and chaotic arrangements in popular rock music.
The latter half of the song wouldn't be what it is without the polyrhythmic bass drum pattern:
Beyond Queen
Like many other top drummers (Phil Collins comes to mind), Roger Taylor does a lot more than just 'warm the throne'. He's released six solo studio albums since 1981, often singing, drumming, playing guitar and more.
You can hear a nod to John Bonham in "More Kicks", which sounds a lot like Led Zeppelin's "When The Levee Breaks":
Between collaborating with legends like Gary Newman, Elton John and Taylor Hawkins, Roger Taylor is one of the world's top drummers because he knows how to support the music. What have you learned from him?
SHARE THIS: